Journal of Democracy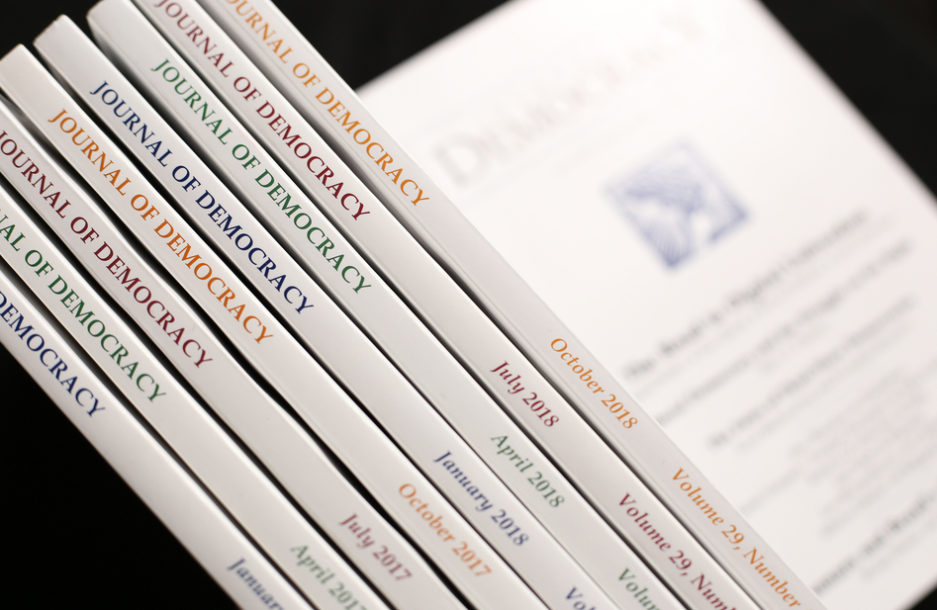 Since its first appearance in 1990, the Journal of Democracy has established itself as a leading voice in discussions of the problems and prospects of democracy around the world. The Journal explores in depth every aspect of the establishment, consolidation, and maintenance of democracy, including political institutions, parties and elections, civil society, ethnic conflict, economic reform, public opinion, the role of the media, federalism, and constitutionalism. It covers not only practical political matters but also questions of democratic theory and culture.
In addition to publishing articles on every inhabited region of the world, the Journal features reviews of important books on democracy, reports on recent elections, excerpts from speeches by leading democrats and democratic dissidents, and news about the activities of pro-democracy groups worldwide.
The Journal's authors include eminent social scientists and historians, statesmen and leaders of democratic movements, and renowned intellectuals. It is written and edited for the general reader, while maintaining the highest scholarly standards. A truly global publication, the Journal attracts both authors and readers from all over the world. For more information, please visit our website at journalofdemocracy.org.
The Journal of Democracy is published quarterly by the Johns Hopkins University Press in January, April, July, and October. Subscriptions are $50 per year for individuals and $175 for institutions. For further pricing information, including online subscriptions, please visit our website at www.journalofdemocracy.org. To subscribe, visit https://www.journalofdemocracy.org/subscribe/.

2018 issues in brief
JANUARY: The January issue included a cluster on "The Rise of Kleptocracy," with articles by Christopher Walker and Melissa Aten; Oliver Bullough; Alexander Cooley, John Heathershaw, and J.C. Sharman; Brett Carter; Cynthia Gabriel; Miriam Lanskoy and Dylan Myles-Primakoff; and Andrew Wedeman. Also in this issue, articles by Amichai Magen and by Geoffrey Macdonald and Luke Waggoner examined terrorism and democracy, and Zoltan Barany analyzed Aung San Suu Kyi's missteps in Burma. Click here to read the January 2018 issue.
APRIL: Our April issue featured analysis of "China in Xi's 'New Era'" from Susan Shirk, Minxin Pei, Shanthi Kalathil, John Fitzgerald, Anne-Marie Brady, Donald Emmerson, Martin Hala, and Orville Schell. Other highlights in this issue included a report on Freedom House's global survey for 2017 and articles on populism, liberalism and democracy by William Galston and by Yascha Mounk. Click here to read the April 2018 issue.
JULY: The July issue featured eight articles on "Explaining Eastern Europe" by Jacques Rupnik; Péter Krekó and Zsolt Enyedi; Wojciech Przybylski; Jiri Pehe; Grigorij Mesežnikov and Oľga Gyárfášová; Venelin Ganev; Alina Mungiu-Pippidi; and Ivan Krastev and Stephen Holmes. Also in this issue, Rached Ghannouchi, founder and president of the Ennahdha party in Tunisia, wrote on "Islam and Democracy in Tunisia" and Christopher Walker on "What is 'Sharp Power'?" Click here to read the July 2018 issue.
OCTOBER: Our October issue looked at recent developments in six Latin American countries, with analysis from Kenneth Greene and Mariano Sánchez-Talanquer; Forrest Colburn and Arturo Cruz S.; Laura Gamboa; Alberto Vergara; Carlos de la Torre; Jean-Paul Faguet; and Steven Levitsky. Other articles highlights in this issue included Francis Fukuyama on "Why National Identity Matters" and Tom Ginsburg and Aziz Huq on democratic "near misses." Click here to read the October 2018 issue.
Selected essays originally published in the Journal of Democracy have been collected into a series of books edited by Marc F. Plattner and Larry Diamond and published by the Johns Hopkins University Press. Journal of Democracy books and articles are used widely in university courses on political science, international affairs, and sociology. The Journal's most recent publication, Authoritarian Goes Global (edited by Larry Diamond, Marc F. Plattner, and Christopher Walker), was released in 2016. For the complete list of Journal of Democracy books, please visit https://www.journalofdemocracy.org/books/.