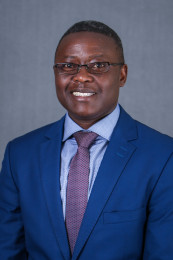 Uganda
Mr. Pepe Julian Onziema
Enhancing Participatory Democracy and Respect for Human Rights by Taking Uganda's Constitution to the Grassroots
Mr. Pepe Julian Onziema is program director of Sexual Minorities Uganda (SMUG), an advocacy network based in Kampala that works to support lesbian, gay, bisexual, transgender, and intersex (LGBTI) rights organizations across Uganda. A transgender human rights defender who has been working to strengthen the rights of sexual and gender minorities over the past seven years, Mr. Onziema serves as the LGBTI focal person on the steering committee of the Pan African Human Rights Defenders Network, speaking out on LGBTI issues at the African Commission on Human and People's Rights and the United Nations Human Rights Council. In 2012, he was awarded the Clinton Global Citizen Award for Leadership in Civil Society for his pioneering work advocating for LGBTI welfare, and also received Stonewall's "Hero of the Year" award in 2014. During his fellowship, Mr. Onziema is exploring ways in which to increase citizens' awareness of the Ugandan Constitution and Bill of Rights, with a view to enhancing their participation in democratic governance and respect for all human rights. He plans to work toward this goal by developing a training manual and booklet illustrating the rights of marginalized groups under Uganda's Constitution, with practical exercises on how specific rights may be claimed and enjoyed.
Presentations:
National Endowment for Democracy, "In the Shadows of Democracy: LGBTIQ Rights in Uganda," April 30, 2015.
GLIFAA, "Pride @ State," June 5, 2015.
Chicago, IL, Commemoration of Legacy Walk in memory of David Kato, July 9-13, 2015.
Media Mentions:
Interviews:
1201 Pennsylvania Ave, NW, Suite 1100, Washington, DC 20004