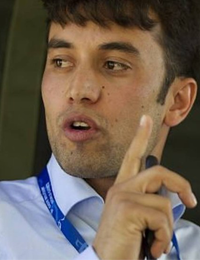 Afghanistan
MR. TABISH FORUGH
"Saudi Women: Status, Outlook, and Roadmap" Reagan Fascell Democracy Fellow: Oct 2014 - Feb 2015
Mr. Tabish Forugh was chief of staff at the Independent Election Commission of Afghanistan (IEC), where he worked to promote electoral education, build trust between the IEC and citizens, and articulate the mission of the commission. Since 2011, he was part of the decision-making team that drafted electoral laws for the approval of Afghanistan's parliament. Mr. Forugh previously served as spokesperson for the Afghanistan National Olympics Committee, where he developed communication policies and advocacy strategies for the promotion of sports diplomacy. An advocate of public participation in free and fair elections, he has written articles and given interviews on democracy, elections, and current affairs with BBC Persian Service, Channel 1, and Tolonews. During his fellowship, Mr. Forugh prepared a set of policy recommendations for electoral reform ahead of Afghanistan's 2016 parliamentary and district council elections, including reforms to election management bodies.
Publications
"The Prospects for Democracy in Afghanistan," BBC Persian, January 2, 2015.
"How to Save Afghanistan's Democracy," Foreign Policy Magazine, February 5, 2015.
"The Fate of Political Stability and the Difficult Mission of Electoral Reform," 8am Daily, February 25, 2015.
"Afghan Peace: Between a Rock and A Hard Place," Foreign Policy Magazine, April 30, 2015.
Interviews
"How to Start Electoral Reform in Afghanistan," Channel of Afghanistan," February 1, 2015.
1201 Pennsylvania Ave, NW, Suite 1100, Washington, DC 20004