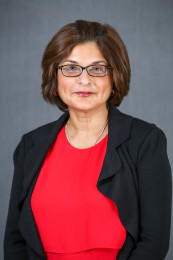 Pakistan
Ms. Farahnaz Ispahani
Women's Political Participation in the Muslim World
Ms. Farahnaz Ispahani has been a leading voice for women and religious minorities in Pakistan for the past twenty five years, first as a journalist, then as a member of Pakistan's National Assembly, and most recently as a scholar based in the United States. An advocate of Pakistan's return to democracy during the military regime of Pervez Musharraf, she served as a spokesperson and international media coordinator for the Pakistan People's Party, working alongside the late Benazir Bhutto. During her tenure in parliament (2008–2012), she was a member of the Human Rights Committee and the Women's Parliamentary Caucus. In 2013–2014, she served as a Public Policy Scholar at the Woodrow Wilson International Center for Scholars, where she completed a book on the persecution of religious minorities in Pakistan. In 2012, she was listed among Foreign Policy magazine's Top 100 Global Thinkers, as well as Newsweek Pakistan's Top 100 Women Who Matter. During her fellowship, Ms. Ispahani is exploring women's political participation in the Muslim world, both in terms of their progress toward gender equality under democratic systems and the converse rise of women as agents of extremist propaganda within the world of the Islamic State.
Written Products:
Interviews:
Conferences & Presentations:
The German Marshall Fund's Brussels Forum 2015, "Religion and the Liberal International Order," March 21, 2015.
Paul H. Nitze School of Advanced International Studies, John Hopkins University, "The Islamic State and its Impact on International Affairs in the Middle East," April 1, 2015.
National Endowment for Democracy, "The Threat of Religious Extremism to Women's Participation in the Muslim World," June 25, 2015.
The Heritage Foundation, "Reviving Jinnah's Legacy of Religious Freedom in Pakistan," July 28, 2015.
1201 Pennsylvania Ave, NW, Suite 1100, Washington, DC 20004