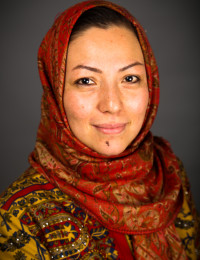 Afghanistan
Ms. Fatema Jafari
Effective Women's Participation in Good Governance in Afghanistan
Ms. Fatema Jafari is a women's rights advocate and public official recently reelected as a member of the Provincial Council of Herat, where she serves on a number of committees related to women's rights in Afghanistan. As head of the family support committee, she facilitated the creation of an umbrella group of roughly 80 women's organizations to help coordinate their efforts. Previously she participated in three loya jirgas (consultative councils) from 2010–2013. She has worked on several advocacy campaigns opposing violence against women and has pressed for greater respect for women's rights at the national level. During her fellowship, Ms. Jafari plans to identify key barriers to women's political participation in Afghanistan and assess how women may overcome them. As a culmination of her research, she hopes to develop a training manual for civil society activists, students, and public officials showcasing ways of strengthening women's political participation in Afghanistan.
Presentations:
"Women's Rights and Political Participation in Afghanistan," Kay Spiritual Life Center, American University, April 5, 2016.
"Women and Good Governance in Afghanistan: Barriers and Opportunities," National Endowment for Democracy, July 12, 2016.
Interviews
"NDI Program Participant Fatema Jafari Works for Women's Political Inclusion in Afghanistan," National Democratic Institute, June 29, 2016.
1201 Pennsylvania Ave, NW, Suite 1100, Washington, DC 20004