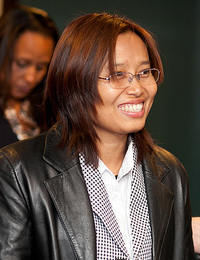 Burma
Ms. Zin Mar Aung
"Saudi Women: Status, Outlook, and Roadmap" Reagan Fascell Democracy Fellow: Oct 2014 - Feb 2015
Ms. Zin Mar Aung is co-founder of RAINFALL, a Yangon-based organization that empowers women in Burma through human-rights trainings and awareness-building at the community level. A former prisoner of conscience, she was arrested in 1998 for participating in the student-led democratic uprisings against Burma's military regime and released eleven years later. In 2009, she formed a self-help group for ex-political prisoners and co-founded the Cultural Impact Studies Club to promote the idea that democracy is compatible with Asian culture. In 2011, she co-founded the Yangon School of Political Science, a NED-funded institution that educates young activists in the values of democracy. For her efforts to strengthen women's rights, democratic values, and conflict resolution in Burma, she was awarded the International Women of Courage Award in 2012 by then–Secretary of State Hilary Clinton. During her fellowship, Zin Mar Aung is developing a roadmap for women's political empowerment in Burma, with recommendations for how women may participate effectively in political life. She is also producing a training manual as a resource for women's organizations in Burma.
Articles and Op-Eds
"US Must Address Rights Concerns Before Further Engagement," The Irrawaddy, November 13, 2014.
Interviews
"Myanmar's Military Regime Says It's Making Way Toward Democracy, But This Activist Says Freedom is a Long Way Off," PRI, November 12, 2014.
"Greta & Zin Mar Aung- Surviving Political Prison," FOX News Radio, January 13, 2015.
"Me and My Political Belief," Eternal Light Magazine, February 6, 2015. (Burmese)
Presentations
University of San Diego, Joan B. Kroc Institute for Peace and Justice, Women PeaceMakers Conference: Defying Extremism, "Comparisons for Violence, Strategies for Hope: Sri Lanka and Burma," November 19, 2014.
Foundation for a Just Society, "Myanmar: An Unequal Transition," November 20, 2014.
Congressional briefing with USCIRF, "The Ongoing Abuses Against Religious and Ethnic Minorities," December 3, 2014.
National Endowment for Democracy, "Burma 2015: The Make or Break Moment for Democratization," January 22, 2015.
American University, Kay Spiritual Life Center Human Rights Defender series, "Promoting Women's Political Empowerment in Burma," February 11, 2015.
Washington University, Center for Women and Democracy, "Meet Burmese Heroine Zin Mar Aung, International Woman of Courage- 2012," February 26, 2015.
New America, "Asia's Unsung Female Leaders: Facing Down Oppression and Hardship in the Quest for Human Dignity," March 2, 2015.
1201 Pennsylvania Ave, NW, Suite 1100, Washington, DC 20004