On March 10, 2021, a hearing of the United States Senate Foreign Relations Committee (SFRC), "The State of Democracy Around the World," discussed the importance of American investment in supporting democracy and human rights despite global trends of democratic backsliding, rising authoritarian influence, and other global challenges.
The Committee heard from three democratic activists, including Dr. Peter Biar Ajak—a South Sudanese civil society leader, scholar, and Reagan-Fascell Democracy Fellow at the National Endowment for Democracy (NED); Wai Hnin Pwint of Burma Campaign UK; and leading Hong Kong democrat Nathan Law. Former US Secretary of State Madeleine Albright and Ambassador Paula J. Dobriansky also provided testimony and made a strong case for US democracy assistance. Senator Bob Menendez (D-NJ), Chairman of SFRC, also delivered opening remarks.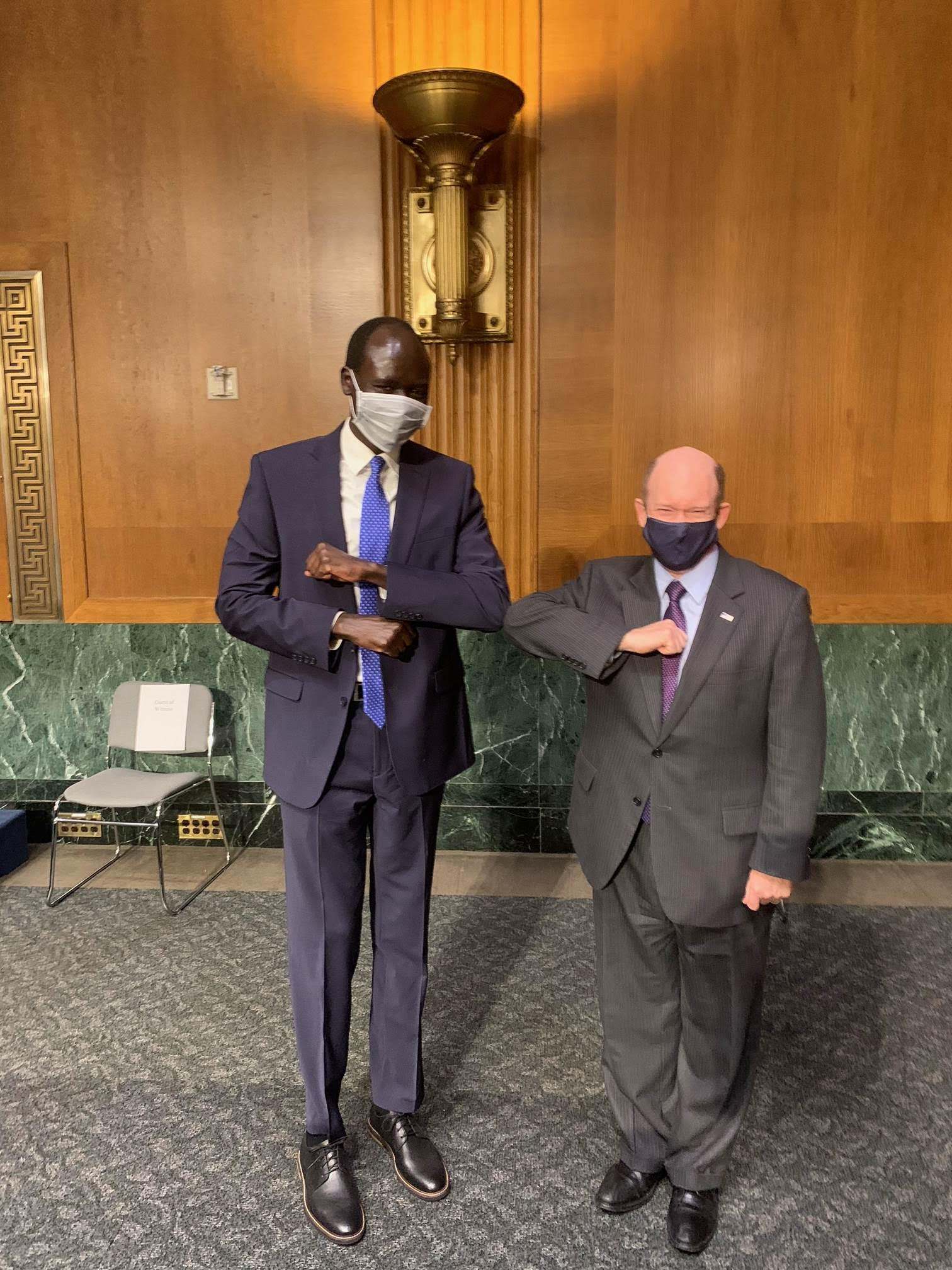 Addressing the stalled democratic transition in South Sudan, Dr. Peter Biar Ajak offered specific policy recommendations to hold the government accountable for fair and timely elections, respect for due process and the rule of law, and to take responsibility for gross human rights violations. "South Sudan highlights the challenges to democracy not only in our country, but also in the Horn and the entire continent of Africa," said Dr. Ajak, noting 13 African states will hold elections in 2021. He addressed five key issues facing South Sudan and the region: restriction of press freedom; repression of political opposition and activists; abuse of political term limits; Chinese authoritarian influence; and sham elections [Read the full testimony of Dr. Ajak here].
"Defending and promoting democracy and human rights abroad is not only a moral imperative but also a sound strategic approach," said Ambassador Paula J. Dobriansky, who previously served as Vice Chair on NED's Board of Directors. After discussing the increasing threats posed by Russia, China, and other authoritarian influences, she outlined several effective ways to defend global freedoms—including providing democracy support through institutions such as NED and its core institutes, mentioning specifically the International Republican Institute (IRI) and National Democratic Institute (NDI). [Read the full testimony of the Ambassador Paula J. Dobriansky here].
Secretary Madeleine Albright, who serves as Chairman of NDI, also highlighted the critical work of NED and its partners. "Backing for democratic values must be the centerpiece of any strategy to create a more secure, stable, healthy, and prosperous global environment—the kind of setting in which Americans can thrive." [Read the full testimony of the Honorable Madeleine Albright here].
WATCH THE FULL SFRC HEARING OF THE STATE OF DEMOCRACY AROUND THE WORLD