Cardin, Malinowski and others pay tribute to her decades-long fight for human rights in Russia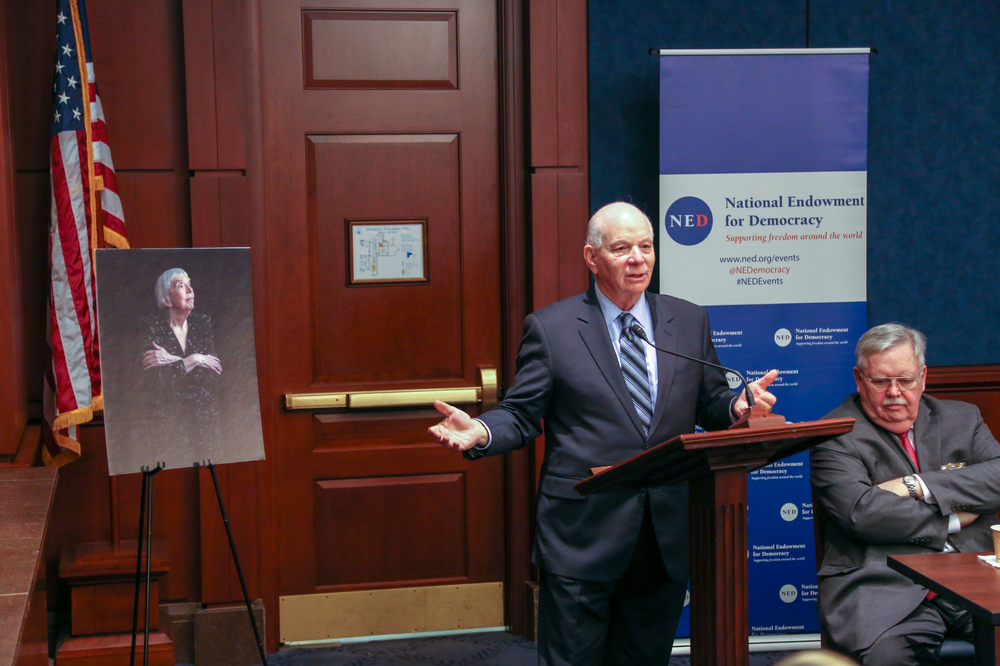 On February 14, 2019, the National Endowment for Democracy (NED) held a symposium in the US Capitol focused on human rights in Russia and honoring the life and legacy of Lyudmila Alexeyeva, who died on December 8, 2018 at the age of 91. Widely known as the "matriarch" of Russia's human rights movement, Alexeyeva was a founder of the Moscow Helsinki Group, launched in 1976 to raise the banner for human rights in the Soviet Union through the Helsinki process. That group's groundbreaking work exposed human rights abuses and advocated openly for democratic reform in Russia, despite constant threats of government retribution; it also was a model and inspiration for the creation of similar watchdog organizations all over the world. NED organized the meeting in cooperation with the Solidarity Center and the Free Russia Foundation .
The event began with introductory remarks from US Senator Ben Cardin (D-MD), the ranking member of the Senate Foreign Relations Committee. "Lyudmila Alexeyeva is a hero to us all," he said. "Lyudmila took on the challenge in Russia and was so successful in elevating democracy and human rights in that country." Cardin then spoke about the important role the US Congress can play in advancing human rights through legislation like the Global Magnitsky Act.
Newly elected US Rep. Tom Malinowski (D-NJ), a leading human rights activist who previously served as the State Department's Assistant Secretary of State for Democracy, Human Rights and Labor, also made remarks. After citing the courage it took Alexeyeva to start the Moscow Helsinki Group, Malinowski reflected on the significance of President Putin's presence at Alexeyeva's funeral. "As much as he tries to crush the ideas that this woman and the human rights community in Russia stand for, you can't really do that. You have to acknowledge the legitimacy of those ideas if you have any hope of legitimacy to lead Russia or any other country – and that is her ultimate victory."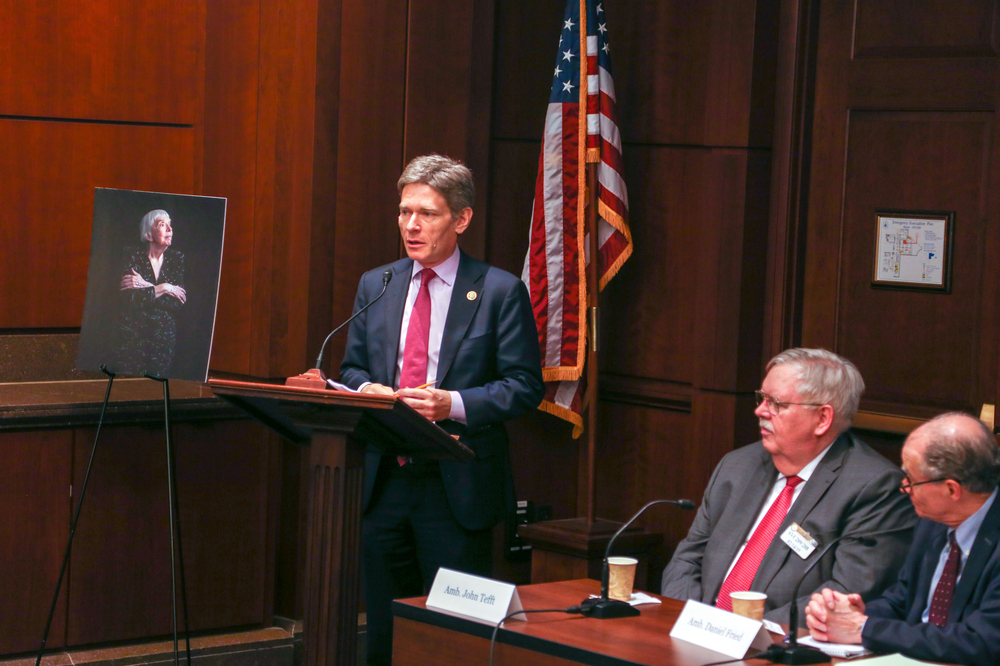 Miriam Lanskoy, NED's Senior Director for Russia and Eurasia, led the subsequent panel discussion, which featured several influential figures in Russia's human rights battle. The panelists included NED Board member Ambassador Daniel Fried, a Distinguished Fellow in the Future Europe Initiative and Eurasia Center at the Atlantic Council, who played a key role in designing and implementing American policy in post-Soviet Europe. Fried spoke glowingly of Alexeyeva's "outstanding" work, describing how "the axioms of détente were literally overthrown from below by Lyudmila…and her fellow activists." He also provided a broad historical context for US-Russian relations, and remarked that this fraught relationship could and should inform US attitudes toward other repressive nations, citing Saudi Arabia and Iran as examples.
Ambassador John Tefft worked with both Alexeyeva and Ambassador Fried for many years while serving as US ambassador to the Russian Federation, Lithuania, Georgia, Ukraine, as well as the State Department's Deputy Assistant Secretary of State for European and Eurasian Affairs. Ambassador Tefft praised Alexeyeva for having "led a life of real consequence." He also shared touching personal memories of dinners he attended at her home, speaking with obvious affection about her "kind and charming" attitude toward everyone she met, even Russian president Putin, who symbolized everything she fought against. He described the time that Vladimir Putin had personally come to visit Alexeyeva in her home, "bearing flowers, no less… [this was] obviously a thinly veiled attempt to intimidate her for being troublemaker." Ambassador Tefft and the crowd laughed as Tefft described how Alexeyeva greeted Putin cordially and proceeded to run through a lengthy list of human rights policy issues, interrogating the president on how he intended to address each one. This, Tefft said, was one of many stories that cemented Alexeyeva's reputation as a fearless advocate and "consummate diplomat."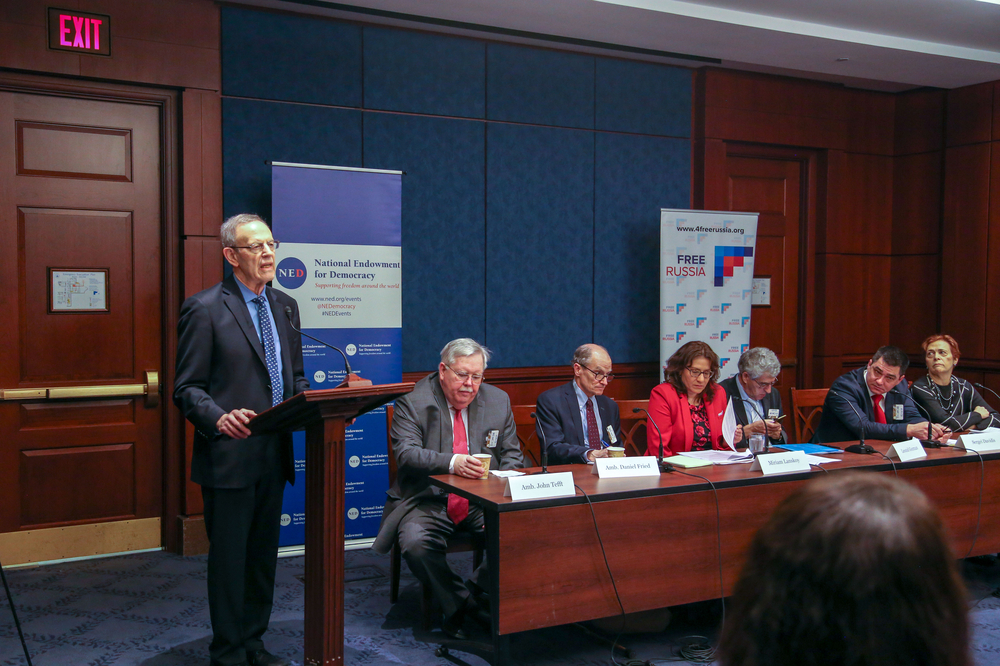 Catherine Cosman, a former senior analyst with both the US Commission on International Religious Freedom (USCIRF) and the US Commission on Security and Cooperation in Europe, shared several insights and fond memories of Alexeyeva, with whom she had been friends and colleagues for over 40 years. Cosman noted that Alexeyeva's father had lost his life when his brigade battled German troops at Leningrad in 1942, and that this seemed to inspire his daughter's fighting spirit and incredible courage. "She would speak truth to every single person, be they workers or be they Vladimir Putin," said Cosman.
Sergei Davidis, a Russian democratic activist, who leads the Political Prisoners Support Program as a means of raising awareness of the plight of Russian political prisoners, praised Alexeyeva's advocacy on behalf of victims of human rights abuses. He described an incident when several protesters were unlawfully arrested for holding a public demonstration in favor of human rights. Alexeyeva went directly to the police station where the protesters were being held and refused to leave, despite being ordered to do so by the police chief. Davidis described her exceptional ability to exert "gentle persuasion" on authority figures, which, after several hours, ultimately led to the police chief relenting and all the protesters being released.
Leonid Gozman, a longtime friend of Alexeyeva and the president of Russia's Union of Right Forces, expressed his amazement at how she stayed "fantastically busy until her last days." He described how effortlessly she introduced "moral standards" to the conversation about Russian human rights, and he compared her legacy in Russia to that of Martin Luther King Jr. in the United States: "She was needed by the people, [and she]…really believed that Russia could be democratic and free."