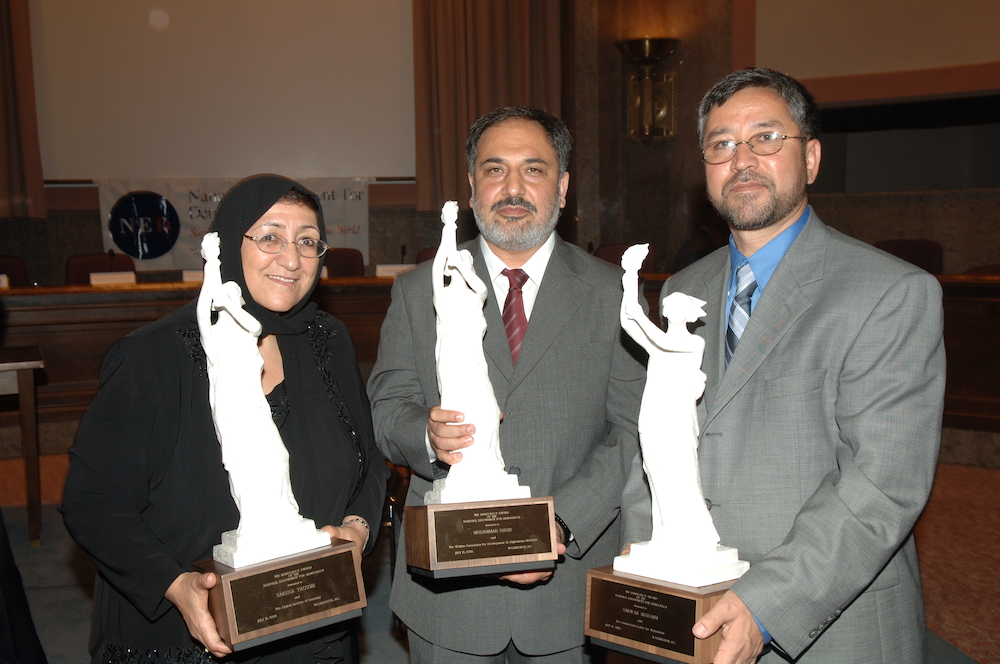 Three democratic activists from Afghanistan will receive the 2005 Democracy Award of the National Endowment for Democracy (NED), which on July 13 at an event in the U.S. Congress (note room change – this event will be held in Dirksen Auditorium SD G50). The three honorees are leaders of civil society organizations who have distinguished themselves in educating average citizens and local leaders about the basic values and principles of democracy, the rights of women and ethnic minorities, strategies for peace-building and conflict resolution and the importance of broad political participation. Under Secretary of State for Global Affairs Paula Dobriansky will make remarks at the award ceremony, and Senators Hillary Clinton (D-NY) and Paul Sarbanes (D-MD) will make award presentations.
The three recipients of the 2005 Democracy Award are:
Ms. Sakena Yacoobi, the founder and president of the Afghan Institute of Learning (AIL), a leading Afghan women's organization focused on providing more than 350,000 Afghan women and children with education, health care and human rights training, both inside Afghanistan and in refugee camps in Pakistan.
Mr. Mohammad Nasib, the director of the Welfare Association for Development of Afghanistan (WADAN), an NGO working to advance the spread of democratic principles and strengthen local governance by training a network of more than 1000 Maliks, or key local power brokers, in the concepts and practices of human rights and democracy.
Mr. Sarwar Hussaini, the chairman and director of the Cooperation Center for Afghanistan (CCA), a well established NGO working to promote citizen participation and democratic institutions in Afghanistan by empowering women and strengthening democratic practices in traditional institutions.
The Democracy Award presentation and reception will be preceded by a roundtable discussion addressing the many challenges to Afghanistan's continued democratic progress. Panelists will include the three honorees, as well as several regional experts and members of Congress.
The National Endowment for Democracy is a private, nonprofit, bipartisan grant-making organization created in 1983 to strengthen democratic institutions around the world. It is active in more than 90 countries, supporting grassroots, democratic initiatives. More information about NED and the Democracy Award can be found at www.ned.org.
What: 2005 Democracy Award of National Endowment for Democracy
When: July 13, 2005
3:30 – 5:30 Roundtable Discussion,
5:30 – 7:30 Reception and Award presentation
Where: Dirksen Senate Building Auditorium (Room SD G50), Washington, DC
Contact: David Lowe (202) 293-9072 david@ned.org