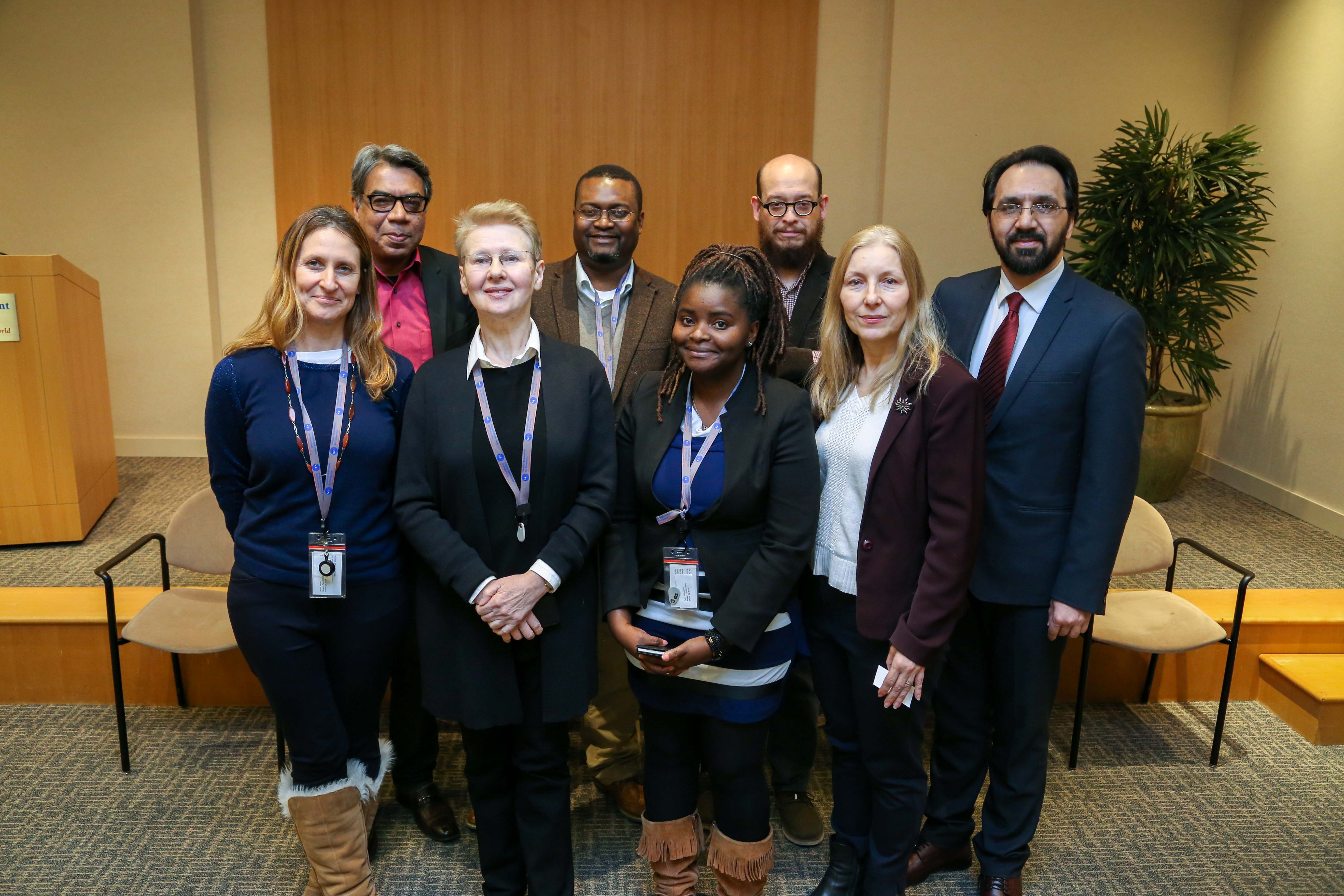 WASHINGTON—The National Endowment for Democracy (NED) is pleased to announce its Spring 2018 cohort of Reagan-Fascell Democracy Fellows, which includes leading democracy activists, practitioners, journalists, and scholars from Argentina, Egypt, Zimbabwe, Democratic Republic of Congo, Pakistan, Afghanistan, Bulgaria, Russia, and Peru.
Named in honor of President Ronald Reagan and the late Congressman Dante Fascell (D-Fl.), whose bipartisan vision led to NED's founding, the Reagan-Fascell Democracy Fellows Program seeks to expand the knowledge, broaden the perspectives, build the capacity, and boost the morale of some of the world's most committed and courageous democracy advocates.
Based in Washington, DC at NED's International Forum for Democratic Studies, the Reagan-Fascell program has enabled over 270 fellows from more than 90 countries to deepen their understanding of democracy and enhance their ability to work toward democratic change.
Spring 2018 Reagan-Fascell Fellows
Ms. María Baron | Argentina
"Evaluating Government-CSO Partnerships in Promoting Democracy and Development in Latin America"
Ms. María Baron is an Argentine journalist and global executive director of Directorio Legislativo, an organization that promotes transparency in government, democratic consolidation, and enhanced access to public information throughout Latin America. She is also founding chair of the Latin American Network for Legislative Transparency, a group comprising 24 civil society organizations across 12 countries in the region. During her fellowship, Ms. Baron is analyzing the structures that allow for successful partnerships between government and civil society in promoting democratic development in Argentina.
Ms. Aya Hijazi | Egypt/United States
"The Average Citizen's Role in Reshaping the World"
Ms. Aya Hijazi is an Egyptian-American children's rights advocate who, along with her husband, Mohamed Hassanein, founded the Cairo-based Belady Foundation (My Country: An Island for Humanity) in 2013 to support Egyptian street children, steer them away from the street culture of violence, and reintegrate them into society through counseling, education, art, music, and skill building. During her fellowship, Ms. Hijazi is working to reestablish the Belady Foundation, and is focusing on civil society and the plight of political prisoners in Egypt.
Dr. Alex Magaisa | Zimbabwe/United Kingdom
"Making Rights Make Sense in Zimbabwe: A Citizen's Manual on the Declaration of Rights"
Dr. Alex Magaisa is a prominent Zimbabwean lawyer and constitutional expert currently teaching law at the University of Kent Law School in England. He is also the author of a widely acclaimed blog offering in-depth analyses of law and politics in Zimbabwe. During his fellowship, Dr. Magaisa is writing a handbook on citizens' fundamental rights and freedoms under the new constitution, a project aimed at enhancing a culture of constitutionalism and democratic citizenship in Zimbabwe.
Ms. Passy Mubalama | Democratic Republic of Congo
"Strengthening Political Participation of Women and Girls in the DRC: Overcoming Cultural Barriers"
Ms. Passy Mubalama is a pro-democracy and women's rights activist with over 7 years of experience in promoting democracy, human rights, good governance and the rule of law in the Democratic Republic of the Congo (DRC). She is founder and executive director of Action and Development Initiative for the Protection of Women and Children (AIDPROFEN), a nonprofit organization that promotes women's rights in the eastern region of the DRC. During her fellowship, Ms. Mubalama is working on a handbook of strategies for overcoming cultural barriers to women's political participation in the country.
Mr. Nadeem Paracha | Pakistan
"Reinvigorating Civic Nationalism in Pakistan"
Mr. Nadeem Paracha, or "NFP" as he is known, is a prominent Pakistani journalist and satirist, currently serving as head of ideas and creative strategy at Adcom Leo Burnett, an independent advertising agency. A widely read columnist who has commented on topics including religious extremism and democratic values in Pakistan, he is a frequent contributor to the Dawn, Pakistan's most popular English daily. During his fellowship, Mr. Paracha is tracing the pluralistic and democratic roots of Muslim nationalism in Pakistan, a research project that will culminate in articles intended to serve as a counterpoint to the dominant extremist narrative in the country.
Mr. Khalil Parsa | Afghanistan
"Combating Corruption in Afghanistan"
Mr. Khalil Parsa is founding director of Supporting Organization for Afghanistan Civil Society, a NED grantee organization that builds the capacity of citizens and civil society organizations to report corruption. As head of the Herat Citizens Advocacy committee and as provincial director of Herat province's Monitoring and Evaluation Committee, he has coordinated governmental and nongovernmental efforts in fighting against corruption in the region. During his fellowship, he is working on a policy memorandum delineating steps that the Afghan government, civil society, and international community may pursue in combating corruption in Afghanistan.
Dr. Dimitrina Petrova | Bulgaria/United Kingdom
"Reinventing the Human Rights Movement in Eastern Europe: A New Strategy for Civic Activism"
Dr. Dimitrina Petrova is a Bulgarian human rights activist and Program Director of SOS Children's Villages. Following a career in Bulgarian politics after the collapse of communism, she has dedicated her work to defending the rights of East-Central Europe's Roma minority through her role as director of the Human Rights Project and later, as founder and executive director of the European Roma Rights Centre in Budapest. During her fellowship, she is working to devise new strategies for civic activism in East-Central Europe that better suit current geopolitical realities and antidemocratic trends in the region.
Dr. Lilia Shevtsova | Russia/United States
"Russia as the Challenge: The Art of Survival by Undermining the Global Order"
Dr. Lilia Shevtsova is a prominent Russian political scientist currently based at Chatham House in London as an associate fellow. Over the course of her distinguished career, which has included stints at the Brookings Institution, Carnegie Moscow Center, Georgetown University, Sciences Po, University of California–Berkeley, Harvard University, St. Gallen, and Cornell University, she has conducted extensive research and writing on issues relating to postcommunist transformation, democratic transitions, and relations between Russia, the West, and Eastern Europe. During her fellowship, Dr. Shevtsova is studying the role of foreign policy in preserving Russia's system of personalized power.
Dr. Alberto Vergara | Peru/United States
"Exploring Political Parties and Democracy through Fujimorismo in Peru"
Dr. Alberto Vergara is a professor at the Department of Social and Political Sciences at the Universidad del Pacífico (Lima, Peru). Dr. Vergara's work focuses primarily on representation, accountability, and subnational politics. His research has appeared in numerous academic journals, and he is the author of several books including La Danza Hostil: Poderes subnacionales y Estado central en Bolivia y Perú (1952-2012) (The hostile dance: subnational powers and central state in Bolivia and Peru). During his fellowship, he is focusing on the Peruvian phenomenon of "Fujimorismo" as a way to rethink the relation between democracy and political parties.