About NED:
The National Endowment for Democracy is a private, bipartisan foundation that works to strengthen democratic institutions worldwide. Since 1983, with support from the American people, NED has made thousands of grants to democratic nongovernmental groups in more than 100 countries, and has become a hub of activity, resources and intellectual exchange for activists, practitioners and scholars of democracy the world over.
Useful Links:
International Forum for Democratic Studies

NED grantee priorities emphasized by Clinton in Africa

The critical work of NED grantees across the African continent was affirmed at the highest diplomatic levels during US Secretary of State Hillary Clinton's 11-day trip to Africa in August. Secretary Clinton's frequent calls to end corruption, promote good governance, reform electoral systems, and combat sexual violence were consistent with the long-term efforts of many NED grantees. [read more]
NED partners under threat in DRC
In a case exemplifying recent Congolese government attacks against civil society, human rights activist Golden Misabiko had been held in jail under harsh conditions and accused of treason and threats against state security, charges that would carry the death penalty. The charges against Golden centered on a report he helped write for NED partner ASADHO criticizing recent uranium mining dealings and the legality of uranium exploitation in Katanga, the Democratic Republic of the Congo's most mineral-rich province. [read more]
NED welcomes four new Board Members
Former U.S. Representative Martin Frost (D-TX), Ambassador Princeton Lyman, Progressive Policy Institute President Will Marshall, and Ambassador Stephen Sestanovich have joined the Board of Directors of the National Endowment for Democracy (NED). [read more]

Seoul Democracy Forum highlights Korean democratic experience
Key Asian democrats gathered in Seoul, South Korea September 9 to 11 to discuss continuing efforts to advance democracy in Asia with an eye to the Korean experience at the Seoul Democracy Forum, sponsored jointly by the Korea Democracy Foundation, NED, the US Embassy, and CIPE. In a welcoming statement, NED President Carl Gershman counseled participants to "seek every opportunity to encourage relatively young democracies to continue to mature, especially during this global economic crisis." [read more]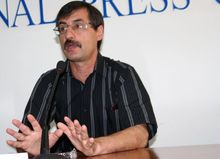 Kazakhstan: Regime politicizing tragedy?
Democracy and human rights activists are calling on the government in Kazakhstan to drop unfair charges brought against Yevgeniy Zhovtis, founding director of the Kazakhstan International Bureau for Human Rights and Rule of Law, a grantee of NED. [read more]


World Movement to hold Sixth Assembly in Jakarta, Indonesia, in April 2010
The Assembly, under the theme of "Solidarity across Cultures: Working Together for Democracy," will bring together more than 500 democracy activists, practitioners, and scholars from all global regions, and will build upon the democracy-promotion strategies developed at previous assemblies held in New Delhi, India; São Paulo, Brazil; Durban, South Africa; Istanbul, Turkey; and Kyiv, Ukraine. [read more]
Online application now available for NED Fellowships
The Reagan-Fascell Democracy Fellows Program has launched its new Online Application System. Applications for fellowships in 2010-2011 are due November 2, 2009, and are now being accepted at http://fellowships.ned.org.
Memorial symposium honoring the life and work of Leszek Kolakowski
On October 15, NED together with the Embassy of Poland will host a discussion of the legacy of Polish philosopher Leszek Kolakowski titled Democracy, Totalitarianism and the Culture of Freedom. Zbigniew Brzeskinski will moderate a discussion featuring panelists Richard Pipes, George Weigel, Abbas Milani, and Nadia Diuk. [read more]

Nathan Glazer will give Lipset Lecture on November 4
Democracy and Diversity: Dealing with Deep Divides will be the topic addressed by Harvard Professor Emeritus Nathan Glazer when he delivers the 6th annual Seymour Martin Lipset Lecture on Democracy in the World, which will be held at the Embassy of Canada in Washington, DC on November 4. [read more]

Uyghur leader Dolkun Isa prevented from attending Seoul meeting
The South Korean Government recently prevented NED Grantee Dolkun Isa, Secretary General of the World Uyghur Congress, from attending a meeting of the World Forum for Democracy in Asia (WFDA), a regional network of the World Movement for Democracy. Isa was held at the airport in Seoul for three days before returning to Germany. [read more]


U Pyinya Zawta, leader of the All-Burma Monks' Alliance took part in a September 17 press conference to launch a new report on political prisoners in Burma by Human Rights Watch. U Pyinya Zawta urged Washington to pursue "high-level engagement" with Myanmar's military leaders while tightening key sanctions. [read more]


CIPE's Tashabos entrepreneur education program in Afghanistan was featured in a story by Britain's Sky News earlier this week, reaching over 140 million households in the Sky News subscriber bases. [read more]
John Knaus, Senior Program Officer, Asia, writes on North Korea in the September 2 edition of The Korea Times on "Potential Regime Decay."
Recent CIMA reports: