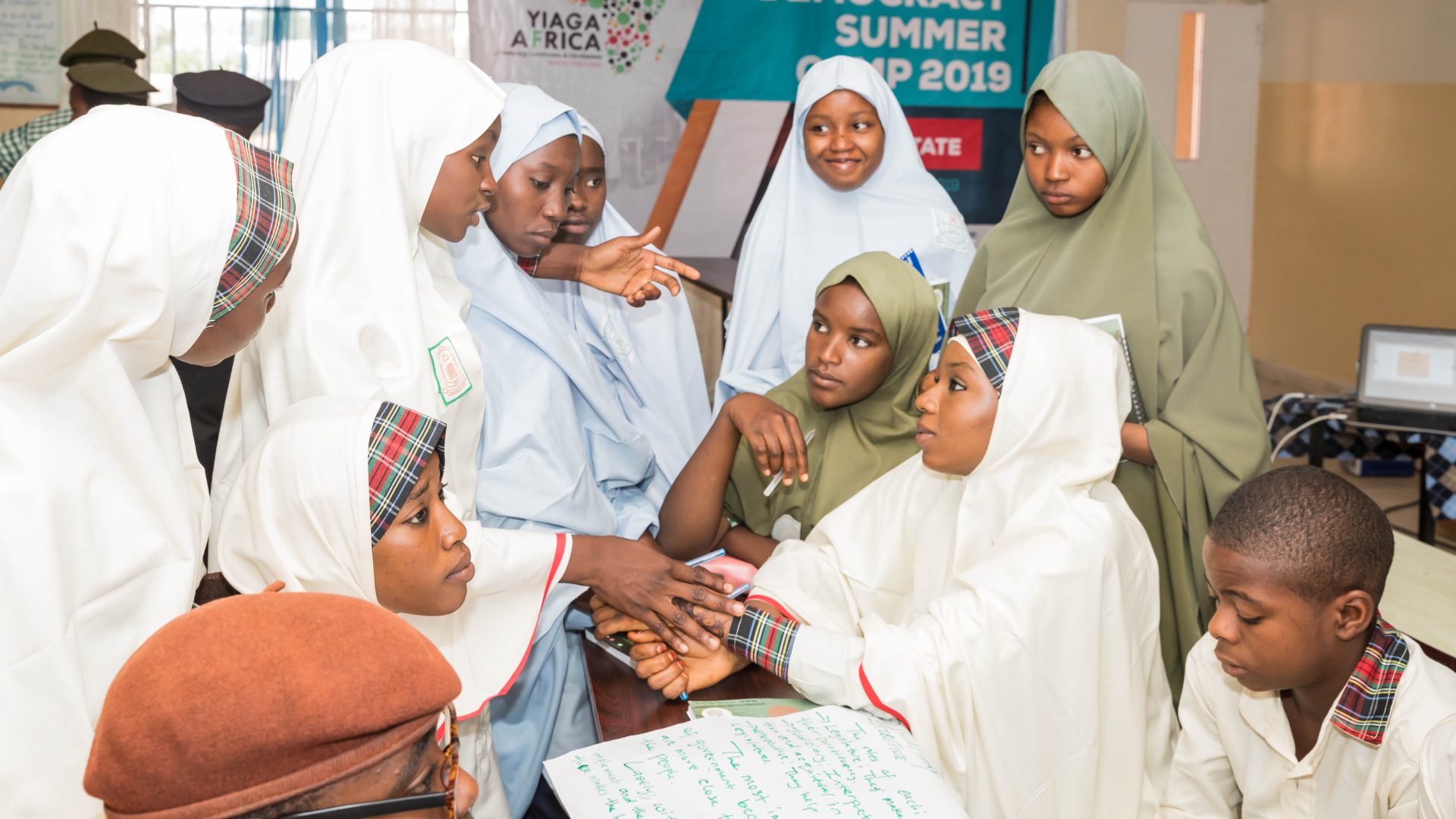 2019 Annual Report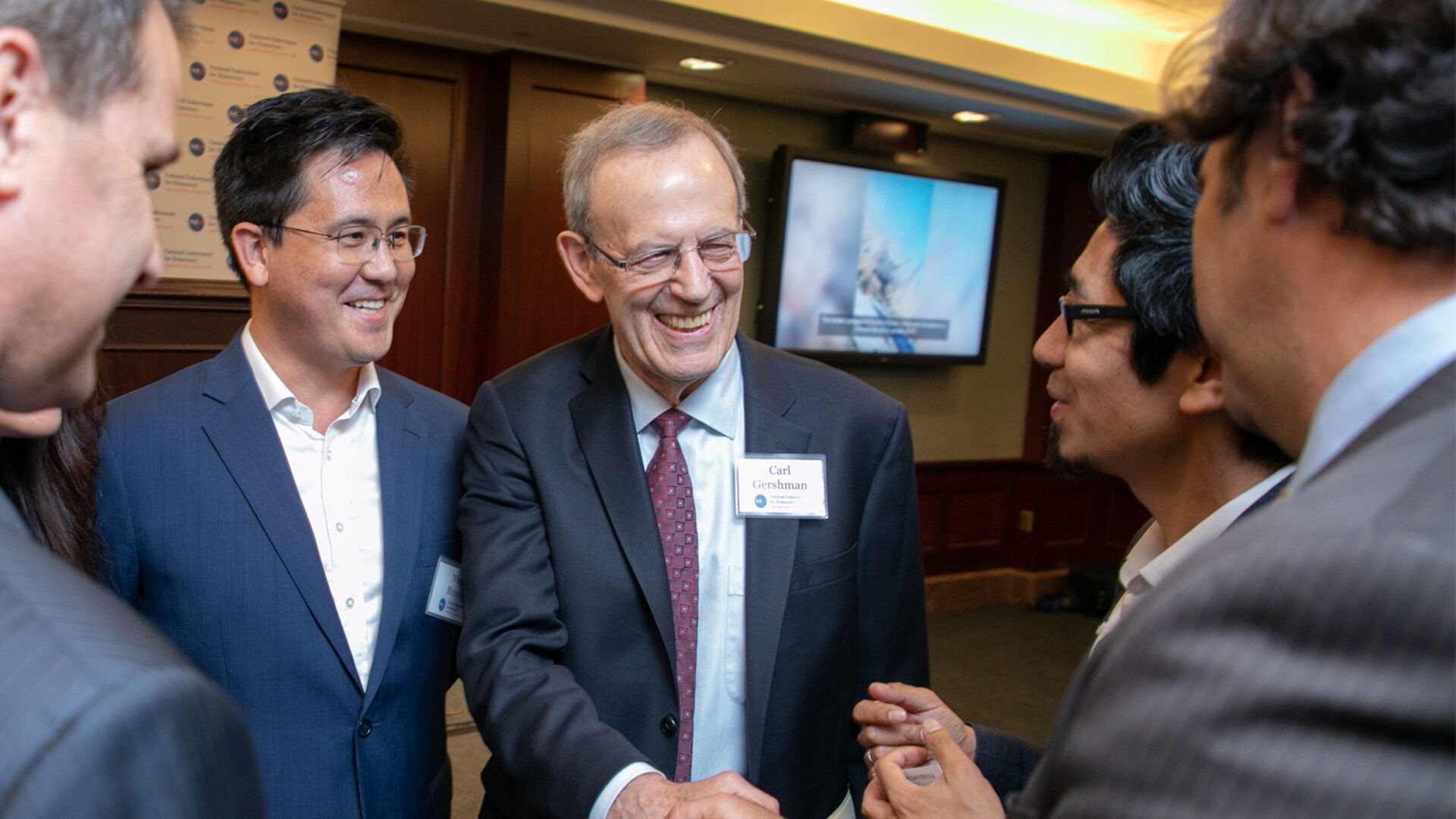 From the President
Carl Gershman
The past year, like the entire dispiriting decade that has now ended, was a time of deep concern for the future of democracy. Political rights and civil liberties declined for the 14th consecutive year, according to latest Freedom House survey, and the negative global trends that have accounted for the current democratic recession showed no signs of abating. These trends have included the increased belligerence and internal repressiveness of authoritarian regimes in China, Russia, and other countries; the illiberal backsliding in formerly democratic countries like the Philippines, Hungary, and Venezuela; and the crisis of democracy in many Western countries that are beset by the rise of populist and nationalist movements, sharp political polarization, and declining trust in the efficacy of democratic government.
Discouraging as these trends have been, they tell only part of the story. Since the spring of 2018, when authoritarian regimes unexpectedly fell in Ethiopia, Armenia, and Malaysia, grassroots movements of protest against corrupt and unaccountable autocratic governments have swept through many countries.  The protests that erupted in Hong Kong and Moscow in the summer of 2019 have received the most attention, but mass protest movements have also broken out in other authoritarian countries such as Iran and Algeria. In Sudan and Bolivia, they have even opened the way to a hopeful, albeit very uncertain, process of democratic transition.
We have therefore entered a period marked by a tension between the global democratic recession and democracy's surprising resilience. In this new period, we can expect authoritarian regimes to do everything they can to resist pressures for democratic change that they believe threaten their very existence. Since the world's leading democracies are too preoccupied with their own problems of political division to respond forcefully to the new authoritarian challenge, the NED and its core institutes have an especially vital role to play in defending democratic movements on the frontlines of political change.
In 2019, NED mounted a multi-faceted response to the difficult challenges to democracy in this new period.  It has provided a lifeline of support to civil-society activists and independent journalists who are bravely battling to defend human rights and expose official corruption in authoritarian systems in Asia, Latin America, the Middle East, Africa, and Eurasia. NED has also rushed assistance to political and social groups in newly transitioning countries like Sudan and Ethiopia, even as it has also continued its on-going efforts to support the inevitably protracted process of reform and institution building in other emerging democracies that are trying deliver on the promise of democratic government.
The newest and most complex challenge the NED faces is the battle of technology and information that has become a critical arena of contestation between democracy and authoritarianism. From disinformation and fake news to surveillance and the "end of privacy," the technology era is unleashing new threats to democracy.  Authoritarian regimes understand the power of modern technology, and they are using it to great effect to manipulate and control the information space. Since this same technology also offers a means for underdog civil-society groups to effectively challenge imperious regimes and repressive state institutions, NED's support for their work will remain a critical priority in the period ahead.
China, Russia, and other authoritarian countries are increasingly collaborating in opposing democracy and constitute what amounts to a de facto authoritarian international. NED and its institutes will need to counter this growing threat by building a stronger international coalition for democracy that is committed to effectively waging the battle of ideas.
This is what President Ronald Reagan called for in his famed Westminster Address, his speech to the British Parliament in 1982 that led to the creation of the NED a year later. One of the most memorable passages in the speech emphasizes the centrality of defending democratic values in promoting democracy. "Our military strength is a prerequisite to peace," Reagan said, "but let it be clear we maintain this strength in the hope it will never be used, for the ultimate determinant in the struggle that's now going on in the world will not be bombs and rockets, but a test of wills and ideas, a trial of spiritual resolve, the values we hold, the beliefs we cherish, the ideals to which we are dedicated."
Many people believe that this competition did not survive the collapse of the Soviet Union, which brought an end to the Cold War – yet the ideological struggle between liberal democracy and authoritarianism did not begin with the Cold War, nor did it end with the collapse of communism. The United States was seen as a champion of liberal values and an opponent of authoritarianism from the moment it rebelled against Great Britain in 1776. It was a beacon of hope for 19th Century European liberals, and it has continued to represent liberal values even after the fall of communism, as people fighting against the world's many remaining authoritarian regimes have looked to this country for political support and moral solidarity.
The recent global backlash against liberal democracy underlines the continuing importance of NED's work to the future of freedom in the world. While democracy faces greater dangers than at any time since NED was established more than three decades ago, its continuing resilience shows that these dangers can be addressed and overcome.
The world has reached a fateful juncture. The retreat of democracy could lead to a new era of turmoil and tyranny. Yet democratic renewal is also possible, though it is hard to see how that can happen without the recovery of political will, purpose, and self-confidence in the world's leading democracies. NED cannot single-handedly determine the outcome of the historic contest that is now underway between democracy and authoritarianism, but it can influence the course of events by empowering frontline democrats and amplifying their voice and impact. This is NED's mission – supporting the universal aspiration for freedom that both advances America's national interest and fulfills its highest political ideals. It has never been more important than it is today.
Carl Gershman
President's Letter cover image: Carl Gershman is shown speaking at a NED event.
Annual Report front cover image:  Students participant in an activity at  a Democracy Summer Camp run by Nigerian grantee Yiaga Africa  in April, 2019. Funded by a NED grant, summer camps held in three Nigerian states focused on preventing youth radicalization and conflict resolution.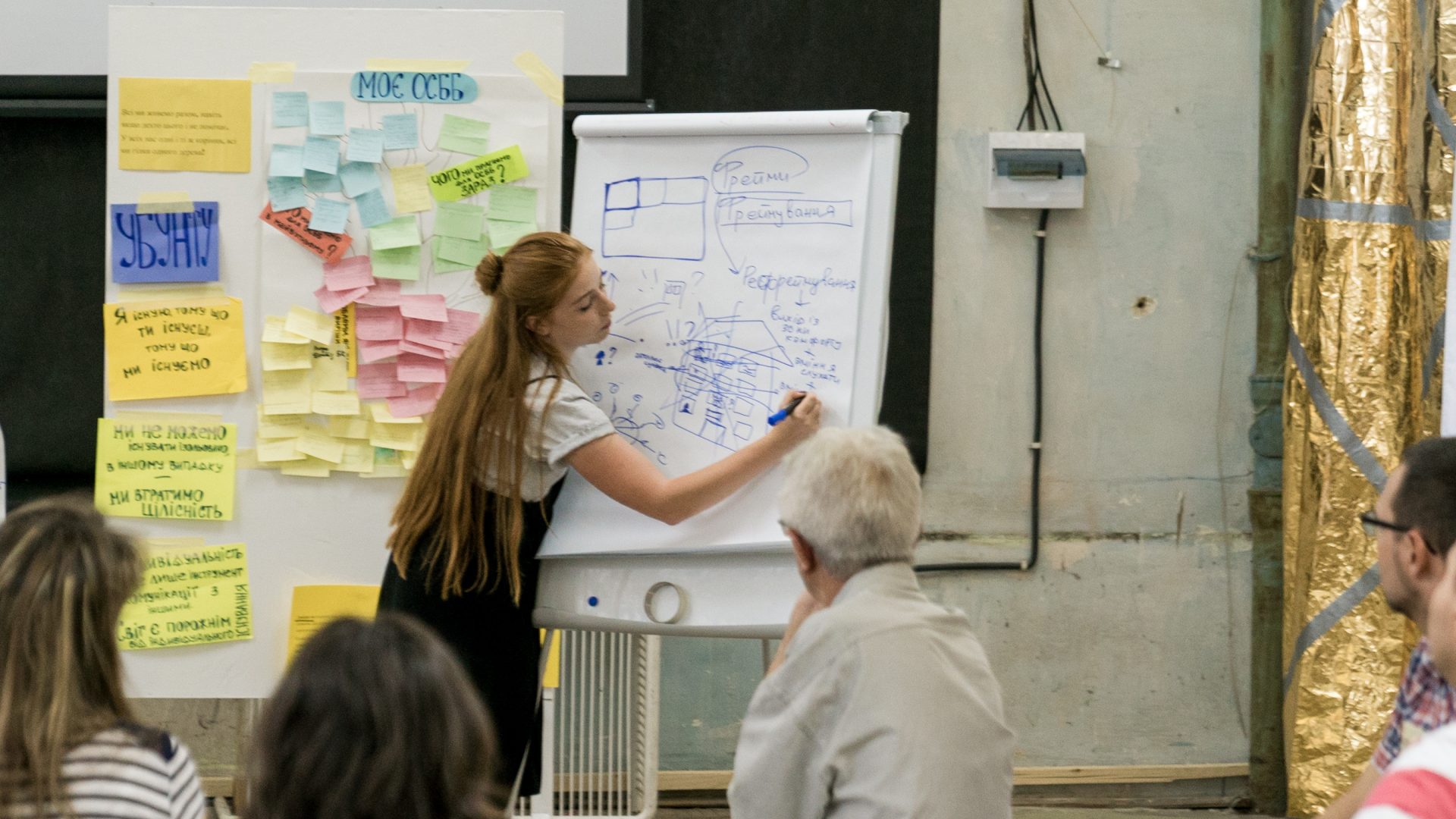 Year in Review
In 2019, the National Endowment for Democracy (NED) awarded a record 1,684 grants in 97 countries. NED complemented this robust program with an exciting array of events and activities that leveraged and enhanced the work of NED grantees. Through public events, publications, fellowships, and networking opportunities, NED made the most of its resources to advance democracy on multiple fronts.
Highlights of the year included the annual Democracy Awards honoring defenders of human and religious rights in China, a celebration of the 30-year anniversary of 1989's democratic breakthroughs featuring a tribute to Lech Wałęsa, the presentation of the Democracy Service Medal to the late Senator John McCain, and the 2019 Lipset Lecture delivered by Alina Mungiu-Pippidi.
NED's International Forum for Democratic Studies provided incisive research and analysis on democratic development and progress through the publication of the quarterly Journal of Democracy and independent research papers and books. The Forum hosted a wide range of colloquia, bringing together experts and activists to explore critical democratic issues. The Forum welcomed activists, journalists, and scholars from around the world as Reagan-Fascell Democracy Fellows. Fellows spend five months at NED conducting independent research on democratic issues and outreach to promote democracy worldwide. Learn more about the International Forum's work in 2019.
NED's Center for International Media Assistance (CIMA) provided thought leadership to strengthen media systems, improve the effectiveness of support for media development, and bolster the media's essential role in sustaining democracy. The Center conducts research on the major issues affecting global media today in markets, politics, and society. CIMA also convenes donors, implementers, academics, journalists, and other stakeholders in the media development community to help them collaborate and act strategically. Learn more about CIMA's work in 2019.
NED's Penn Kemble Democracy Forum connected dozens of rising foreign policy professionals with the NED's work. Fellows had the opportunity to engage in bipartisan conversation with experts and activists on the role of democracy and human rights and connections to a broad range of policy issues. Learn more about the Penn Kemble Forum's 2019 class.
The National Endowment of Democracy thanks its grantees and supporters all over the world for its support in 2019, and invites you to read on to learn more about our work during this eventful year.
Cover image: A young woman leads a discussion group in a working space created by NED grantee Teple Misto in Kyiv, Ukraine.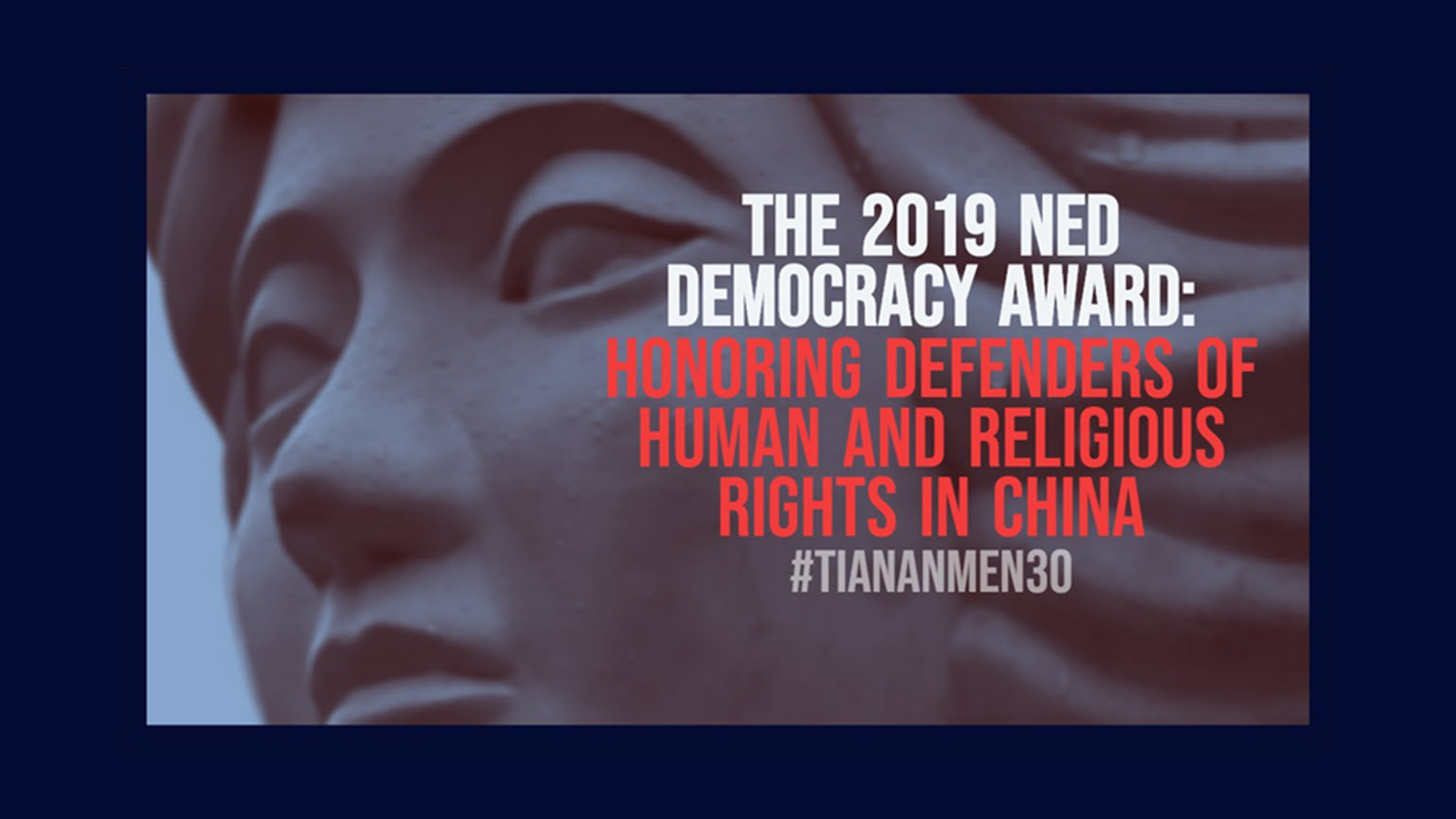 2019
NED LEADERSHIP
Board of Directors
OFFICERS
Chairman

Andrew Card

Secretary

Marylin Carlson Nelson

Vice Chairman

David Skaggs

Treasurer

Robert Tuttle

President

Carl Gershman
DIRECTORS
Anne Applebaum
Karen Bass
James Boland
William J. Burns
Marlene Colucci
Eileen Donahoe
Michele Dunne
Daniel Fried
Francis Fukuyama
Barry Jackson
Tim Kaine
Jayne Kurzman
Mel Martinez
Victoria Nuland
Dayton Ogden
Fred Redmond
Ileana Ros-Lehtinen
Peter Roskam
Ben Sasse
Nadia Schadlow
David Skaggs
Elise Stefanik
Linda Thomas-Greenfield
Richard Verma
Melanne Verveer
George Weigel
Ken Wollack
Elliott Abrams (on leave)
PAST CHAIRMEN
Dante Fascell (1917-1998)
John Richardson (1921-2014)
William Brock
Winston Lord
John Brademas (1927-2016)
Vin Weber
Richard Gephardt
Martin Frost
Judith Shelton