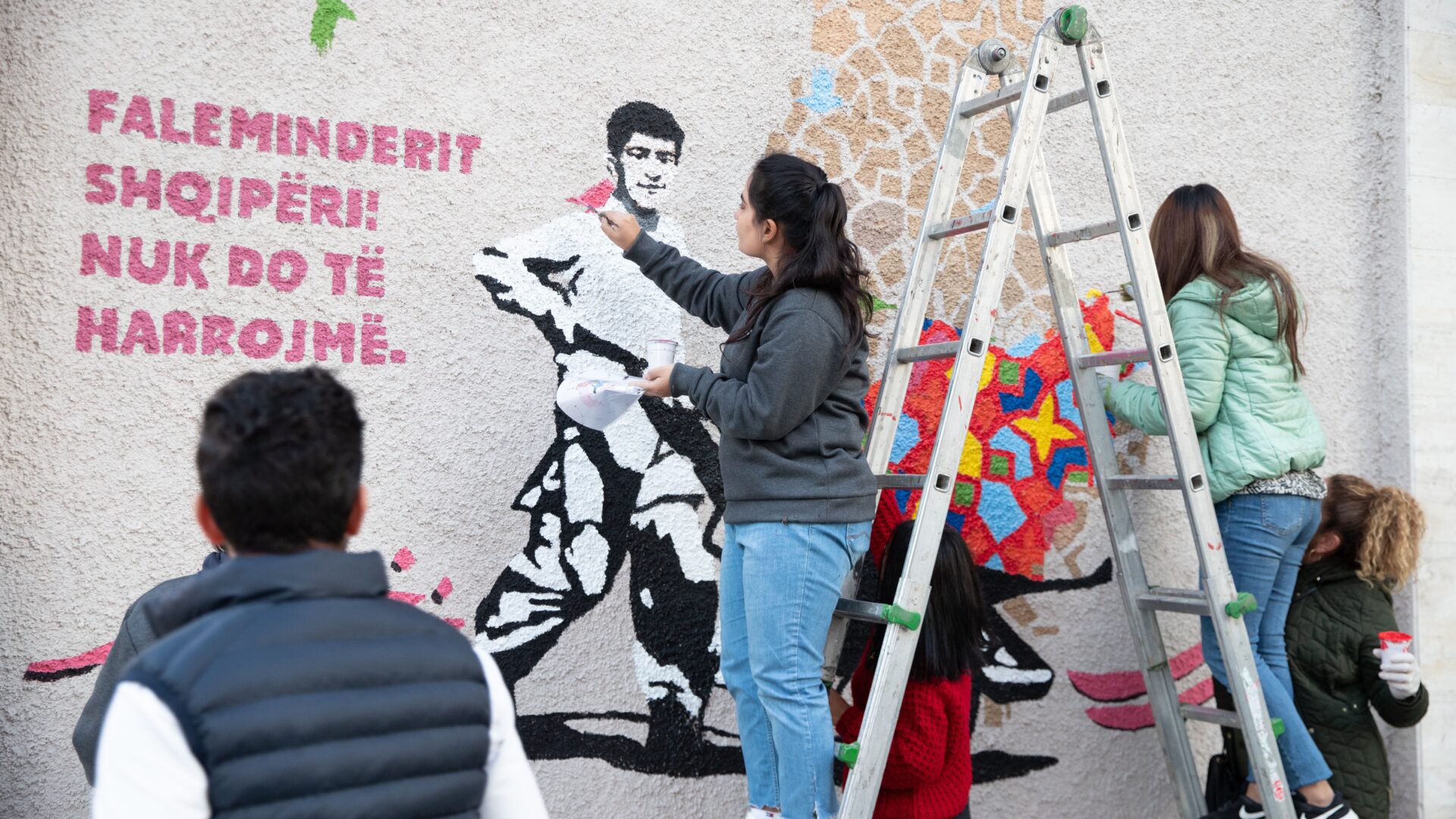 2021 Annual Report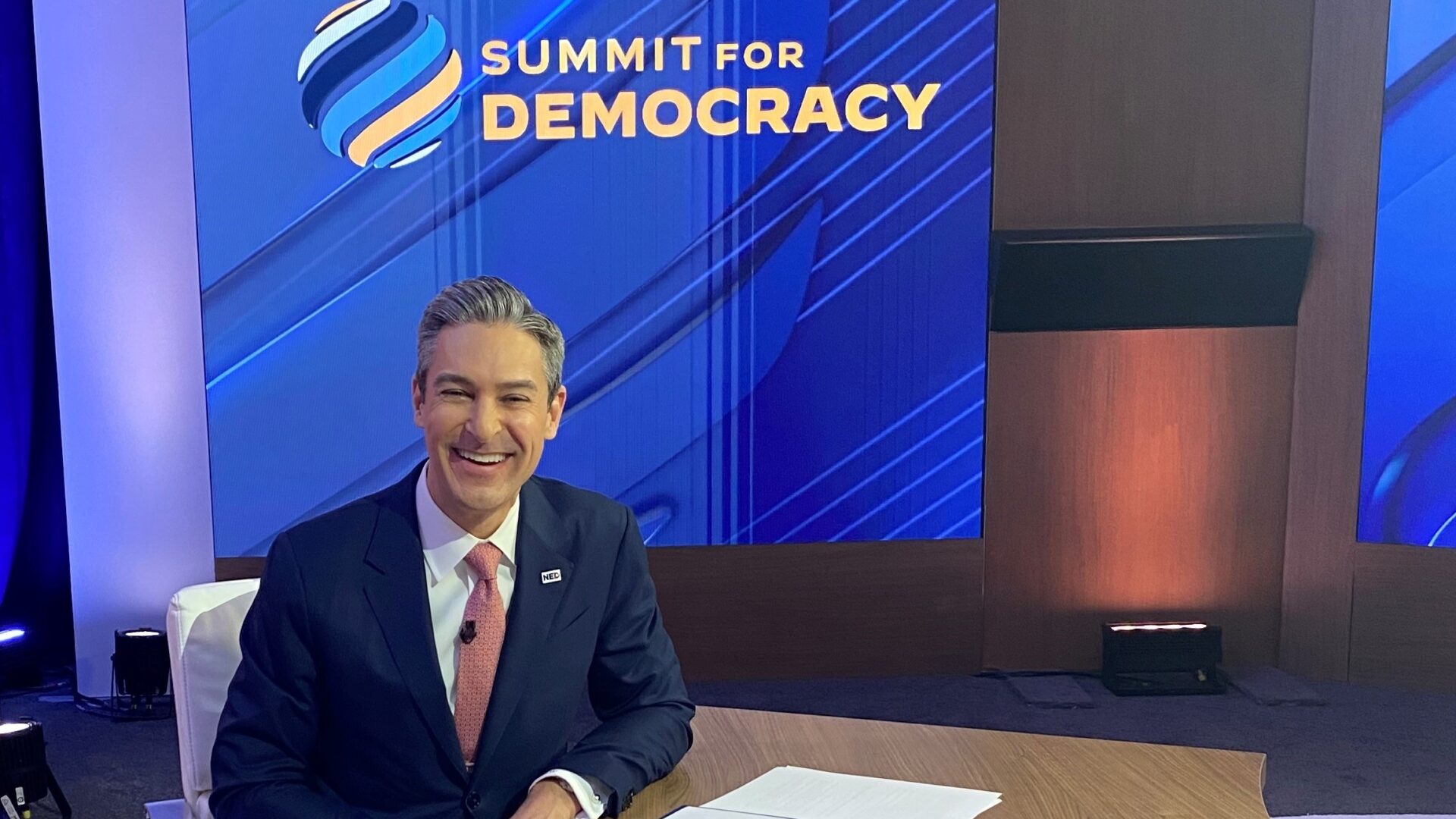 From the President and CEO
Damon Wilson
2021 saw democracy under siege. The world witnessed coups in Mali, Burma, Guinea, and Sudan; a power grab in Tunisia; the rollback of freedom in Hong Kong and ongoing genocide of Uyghurs in East Turkestan; sham elections and increased repression in Nicaragua, Russia, and Venezuela; dashed democratic aspirations in Belarus, Ethiopia, Algeria, and Cuba; the rise of populists in El Salvador, Turkey, and Hungary; and the militarized intimidation of Ukraine and Taiwan. Meanwhile, China and Russia are increasingly working to rewrite international rules and reshape international norms, leading the way for other authoritarians to follow. The fall of the government in Kabul at the hands of the Taliban was a coda to a difficult year, as articulated by NED Board member Anne Applebaum in her cover story for The Atlantic, where she argued that "the bad guys are winning."  
Despite these challenges, the demand for democracy remains resilient and robust. Elections and mass protests across the world proved the courage and unrelenting appetite of everyday citizens for accountability, rights, and representation. The power of civil society and independent media made headlines as enterprising journalists reported on the Pandora Papers and the Pegasus Project, while the Nobel Peace Prize recognized the hard-hitting reports of investigative journalists. Support for Uyghur Muslims materialized in the U.S. Congress, and an independent Tribunal ruled that the Chinese Communist Party had committed genocide against the Uyghur population. We also watched the emergence of activated "democratic diasporas," as democratic activists—forced into exile by repressive regimes—have set up shop to continue their work for a democratic future.  
In July, I was honored to succeed NED's Founding President Carl Gershman as NED's second president. Three weeks after I joined the organization, Kabul fell to the Taliban, triggering NED's institution-wide emergency response to help our partners: human rights defenders, journalists, educators, political leaders, and other courageous civil society activists. We ended the year proud of our efforts to assist in the evacuation and resettlement of 926 Afghan partners, core institute staff, and their families—while doubling down on our support for civil society, women's rights, and media inside Afghanistan.  
As freedom is under intensifying pressure globally, NED is innovating to face emerging complex challenges to democracy, ranging from kleptocracy to digital authoritarianism. NED's nimble and flexible approach allowed us to provide emergency funding to support civil society groups following the military coup in Burma, as well as contingency funding to respond to fast-moving developments in Afghanistan, Belarus, Moldova, and Sudan.   
In September, we launched the Carl Gershman Fund for Democrats at Risk to enable civic leaders, media professionals, and other activists under severe threat to safely continue their work defending democracy.  
"The challenges facing the media are immense," said Maria Ressa, founder and editor of Rappler, a NED grantee, in her 2021 Nobel lecture. "We need to help independent journalism survive, first by giving greater protection to journalists and standing up against states which target journalists. Then we need to address the collapse of the advertising model for journalism." To address these challenges, NED bolstered its role as one of the largest international funders of independent media and freedom of information.  
As the Endowment continues to adapt and change – to innovate, pivot, and scale our efforts – other critical factors will remain constant: our democratic values; our bipartisan and open community, which includes Republicans and Democrats, business and labor; our global approach to collaboration and solidarity; and our belief that freedom is a universal human aspiration.
The pathway to a democratic renewal begins by supporting those on the front lines of the fight — whether an anonymous blogger, an imprisoned human rights defender, a next generation political leader, or a Nobel Peace Prize-winning journalist, all under pressure from autocrats. The brave efforts of our partners underscore our belief that democracy will ultimately prevail.   
Damon Wilson 
President's Letter photo: NED President and CEO Damon Wilson participated in the Summit for Democracy with USAID Administrator Samantha Power in December 2021.
Annual Report Cover photo:  NED partners, NED staff, and other activists gathered to paint a mural on a building in the center of Tirana, Albania to thank the Albanian  people for hosting  Afghans evacuated after the Taliban takeover in August 2021.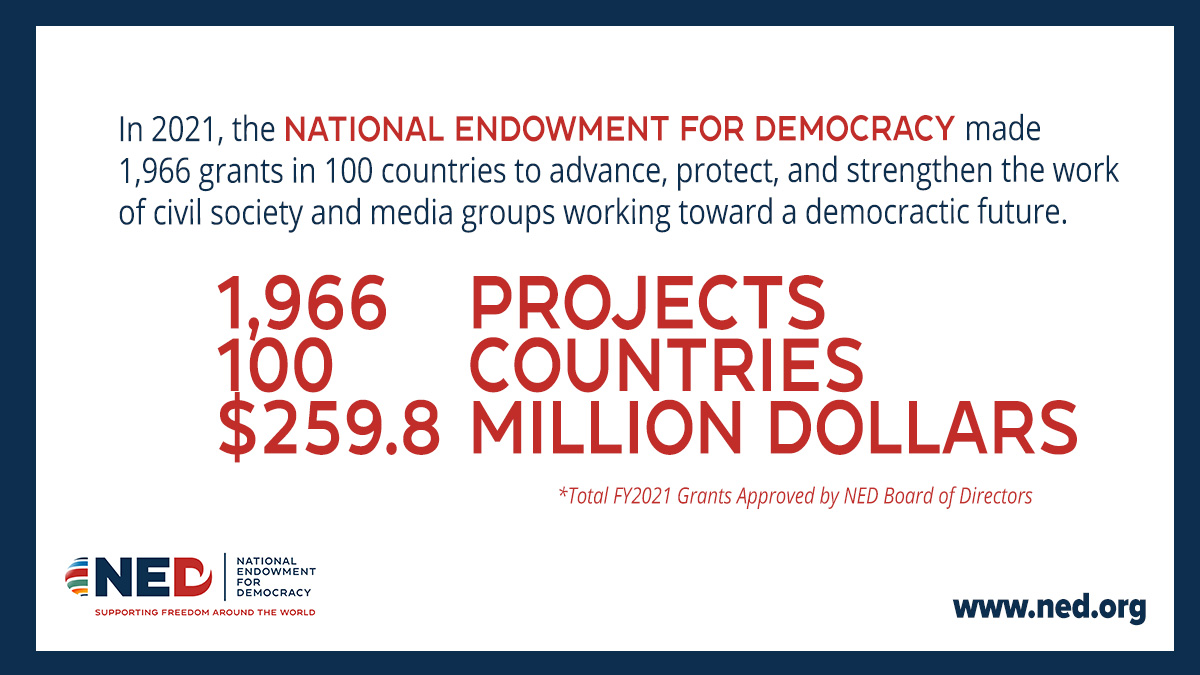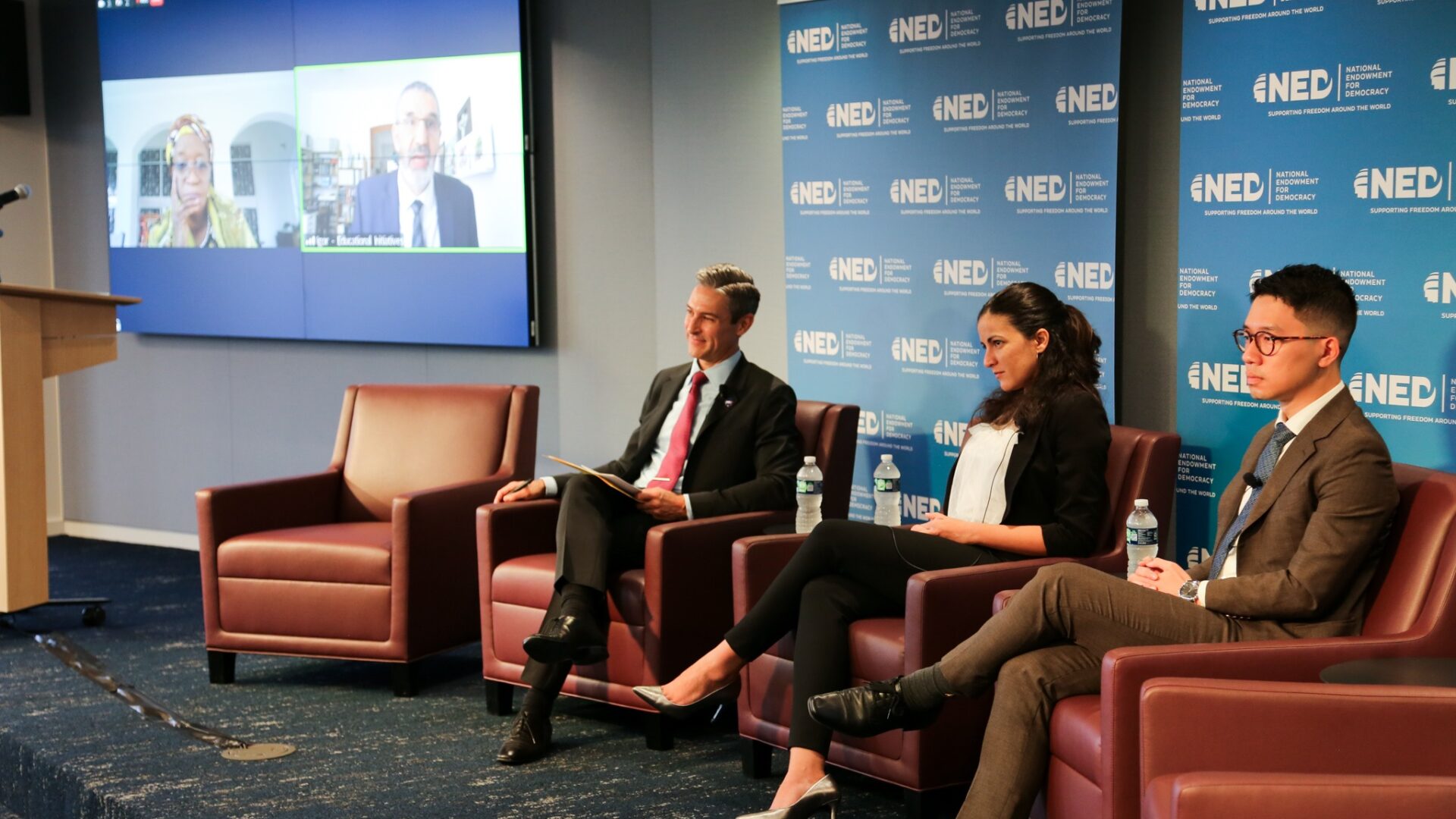 Year in Review
2021
Last year brought significant change, both at NED and for those striving for a democratic future around the world.
At a time of great challenge to democracy in all regions of the world, NED stepped up. We approved a record $259 million in grants in 2021, to support 1,966 projects of grassroots organizations and independent media in 100 countries—a 6 percent increase from 2020 and a 65 percent increase over 2019. This was made possible due to a significant increase in resources for NED—a bipartisan expression of confidence from the U.S. Congress in our mission and impact.
Support to NED's four core grantees, the International Republican Institute (IRI), the National Democratic Institute (NDI), the Center for International Private Enterprise (CIPE), and the Solidarity Center, accounted for $122 million of NED grantmaking to support programs worldwide in the areas of pluralism, political party development, free enterprise, and worker rights.
In 2021, the Communist Party of China stepped up its repression at home, crushed freedoms of Hong Kongers, continued its genocide against Uyghurs, and accelerated the export of its tactics and tools of repression to autocrats around the world. In response, grants related to China and its global reach emerged as NED's largest portfolio, including mainland China, Tibet, Hong Kong, East Turkestan, as well as a growing number of "China in the World" projects that address Beijing's sharp power projection around the world.  
NED's largest single country portfolio remains Russia, as Vladimir Putin's repression at home intensified, in part setting the scene of his invasion of Ukraine. We sustained our enduring commitment to Cuba, our third largest program, during a year of historic protests and resistance on the island.  
Our most extraordinary investments during the year came in the wake of the fall of Afghanistan as we mobilized to support the evacuation of the staff and families of the core institutes as well as our long-term partners, even as we remained committed to supporting the Afghan people under Taliban rule.
Reflecting both investments in opportunities and our commitment to tackling challenges globally, NED's other most significant programs included Ukraine, North Korea, Burma, Venezuela, Pakistan, Kenya, and Belarus. Meanwhile, NED provided critical emergency support to courageous partners following the military coup in Burma, as well as contingency funding to partners to respond to a popular uprising in Belarus, a democratic breakthrough in Moldova, and resistance to a rollback of a democratic transition in Sudan, in addition to the Afghanistan crisis.
NED's founding President Carl Gershman announced his retirement at the beginning of 2021 after 37 years of outstanding leadership. In July, Damon Wilson joined NED as President and Chief Executive Officer. NED also moved to a new location on Pennsylvania Avenue and refreshed its logo and brand identity. 
As the Covid-19 pandemic continued, NED hosted engaging virtual and hybrid events, from celebrating Carl Gershman's legacy on Capitol Hill, to gathering Nobel Peace Prize Laureate Maria Ressa, frontline democratic activists, U.S. legislators, experienced democracy advocates, and former political leaders from around the world on the eve of the Biden Administration's Summit for Democracy to share insights on rebuilding democratic momentum.
Through NED's 2021 Democracy Awards, NED honored four Central American civil society organizations dedicated to advancing democracy, the rule of law, accountability, and transparency across the region. The Embassy of Canada and NED's International Forum for Democratic Studies also presented the 18th Seymour Martin Lipset Lecture on Democracy in the World—featuring Ronald Diebert's compelling lecture on the undermining of democratic institutions through new digital tools such as deep fakes, spyware, and surveillance.
Our Democracy Support Activities continued to provide incisive research and analysis on the most pressing issues confronting democracy worldwide, from transnational kleptocracy to emerging technologies and protecting the information space. The International Forum for Democratic Studies launched a unique Sharp Power Research Portal with over 750 resources in five languages to help researchers study the increasing efforts by authoritarian governments to manipulate democratic institutions. The quarterly Journal of Democracy was the epicenter of the most important discussions on democracy, releasing features covering China's totalitarianism, political shifts in Latin America, and Russia's road to autocracy.
The Center for International Media Assistance (CIMA) responded to harsh new restrictions and threats to independent journalism around the world, reporting on the assault on press freedom and the increased use of targeted spyware by governments around the world to crack down on independent media.  
The World Movement for Democracy, a global network of democracy activists with a Secretariat based at NED, held its 10th Global Assembly virtually, bringing together over 500 democracy advocates, policymakers, journalists, and scholars from around the world for regional and national discussions, plus a two-day Global Exchange.  
Supporting democrats at risk, the World Movement hosted four Hurford Youth Fellows, and NED welcomed 2021 Reagan-Fascell Democracy Fellows both virtually and in-person at Washington, D.C. NED's Penn Kemble Democracy Forum also convened 31 rising foreign policy professionals for bipartisan conversations with democracy and human rights experts and activists.  
2021 marked a new era for the NED. As the challenges to democracy and freedom around the world mount, NED and its partners are meeting the moment by tapping into the resilience of the demand for democracy around the world and adapting for the future. NED must be ready for emerging complex challenges in a changed landscape, able to nurture the democratic resilience and unity required for democratic renewal. NED is built for tough times. Together, we and our partners are redoubling our commitment to defending, protecting, and advancing democracy around the world. 
Read more 2021 highlights below about NED's partners, work, and impact. 
Year in Review photo: NED President and CEO Damon Wilson hosts a panel with democratic activists Igor Blaževič, Rosa María Payá Acevedo, Nathan Law, and Zainab Bangura at the Carl Gershman Democracy Symposium in September 2021.
NED LEADERSHIP
Board of Directors
OFFICERS
Chairman

Kenneth Wollack

Secretary

Michele Dunne

Vice ChairmEn

Karen Bass

Peter Roskam

David Skaggs

Treasurer

Jayne Kurzman

President

Carl Gershman (January-July 2021)

Damon Wilson (July-December 2021)
DIRECTORS
Elliott Abrams
Jessica Adelman
Anne Applebaum
Stephen Biegun
Reuben Brigety
Roxanne Brown
Scott Carpenter
Marlene Colucci
Kelley Currie
Eileen Donahoe
Daniel Fried
Barry Jackson
Tim Kaine
Mel Martinez
Dayton Ogden
Minxin Pei
Marc Plattner
Ben Sasse
Nadia Schadlow
Elizabeth Schuler
Elise Stefanik
Scott Taylor
Richard Verma
Melanne Verveer
PAST CHAIRMEN
Dante Fascell (1917-1998)
John Richardson (1921-2014)
William Brock (1930-2021)
Winston Lord
John Brademas (1927-2016)
Vin Weber
Richard Gephardt
Martin Frost
Judith Shelton
Andrew Card
Africa 2021
Year in Review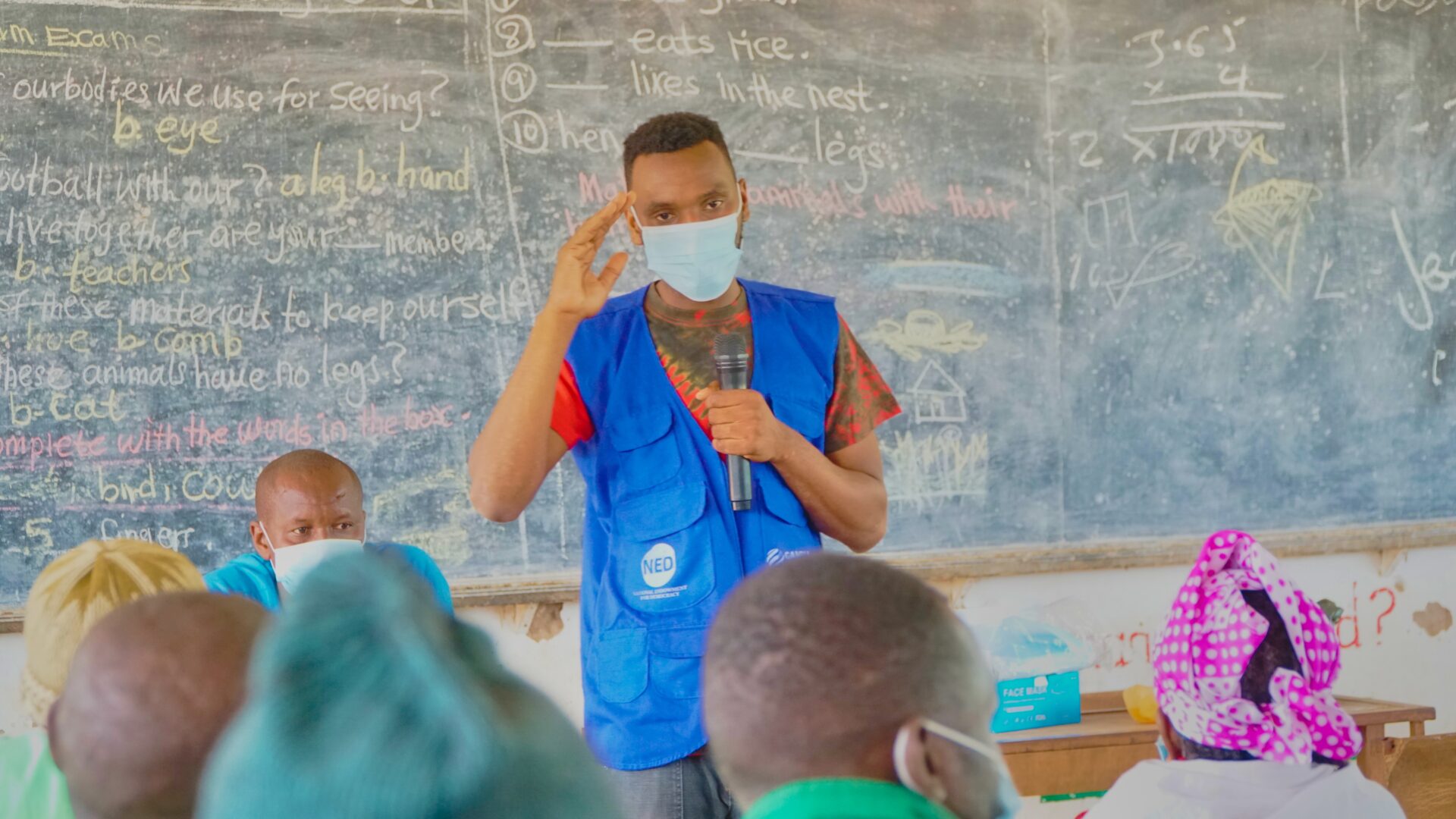 Africa Regional Overview
Democratic hopes in Africa were tempered in 2021 by civil war in Ethiopia, military coups in Sudan, Mali, Guinea, and Chad, and the entrenchment of authoritarian governments across the continent. At the same time, there was also evidence that democratic resilience and popular demands for change remain strong throughout the region. Zambia and The Gambia conducted peaceful elections with high turnouts, and Malawi, Niger, Sierra Leone, and Cote d'Ivoire all saw democratic progress. NED's Africa program focused on supporting democratic transitions and providing support to civil society organizations and political movements working to resist closing democratic space.  
In 2021, NED maintained robust programs in three African countries where democracy is under pressure. In the Democratic Republic of Congo, NED's civil society partners continued to fight against corruption and promote human rights, political reform, and freedom of the press. In Nigeria, NED's partners worked to fight corruption, reduce insecurity and ethnic conflict, and promote judicial reforms and the rights of women, youth, and religious and ethnic minorities. In Kenya, the Endowment supported organizations that help citizens call for change at the local and national levels. 
As war and ethnic conflict threatened to derail Ethiopia's democratic transition, NED provided support for media and civil society projects promoting dialogue, tolerance, reconciliation, democratic norms, and respect for human rights. In Sudan, the NED family continued to support democratic activists standing against a return to military dictatorship. 
Strengthening civil society and independent media was a priority across the continent, especially in fragile or faltering democracies such as Guinea, Somaliland, Liberia, and Burkina Faso. In Zimbabwe, NED supported organizations working to expose corruption, advance human rights, and build grassroots community networks. NED's partners in Uganda and Tanzania focused on increasing pressure on the respective regimes to restore basic human rights and freedom of speech and assembly.  
In entrenched dictatorships in Cameroon, Chad, Equatorial Guinea, Congo-Brazzaville, Eritrea, Eswatini, Rwanda, Burundi, Djibouti, and Togo, NED provided assistance for incremental reformers, courageous activists, and exiled dissidents as catalysts for democratic change. 
Africa Overview photo:  NED grantee Gambia Participates conducted voter education sessions ahead of the 2021 presidential elections in The Gambia.
2021 NED Grants in Africa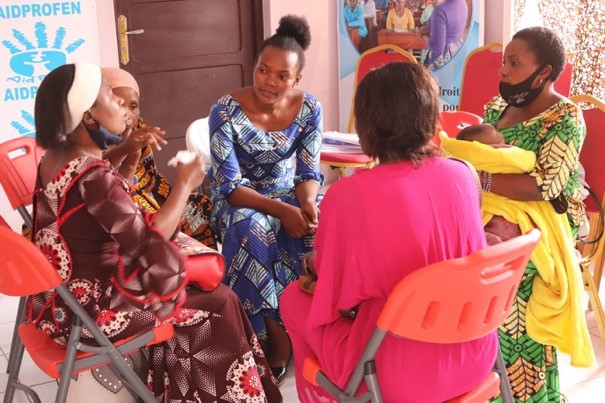 In Focus: NED Grantee Strengthens Political Participation of Women and Youth in DRC
The Congolese women's rights NGO Action and Development Initiatives to Protect Women and Children (AIDPROFEN) engages and assists women and youth in eastern Congo while empowering them to participate in politics and advocate for their rights.
Read More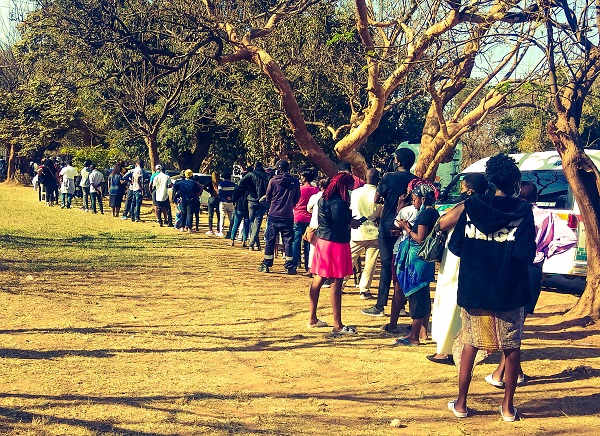 In Focus: Zambia's Election Brings Hope for its Democratic Future
NED partners Chapter One Foundation and Bloggers of Zambia worked to combat the government's repressive tactics, inform voters, and get out the vote ahead of the country's 2021 presidential election.
Read More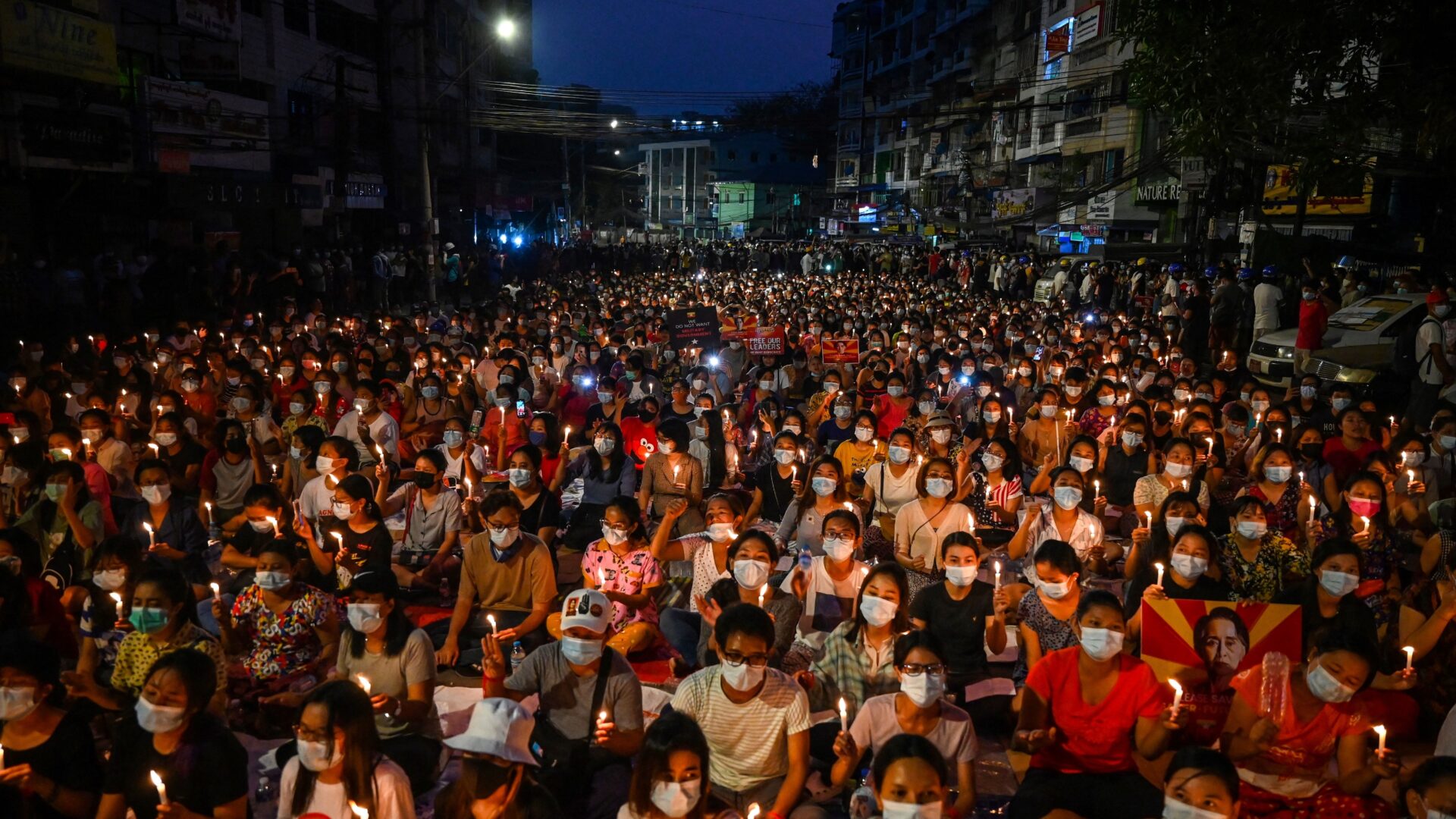 Asia Regional Overview
Democratic norms and institutions were challenged by authoritarian and illiberal forces across Asia in 2021. From the democratic setbacks in countries and regions such as the Philippines, Thailand, and Sri Lanka, which were once some of the most liberalizing countries in Asia, to the increasing use of surveillance and digital technologies to monitor citizens throughout the region, to the continuing rise of an increasingly authoritarian China and the Chinese Communist Party's (CCP) desire to reach beyond its borders, democratic rights and freedoms have been both slowly eroding and quickly repressed.   
To counter these trends, the Endowment continued to support organizations working to promote democratic institutions and processes. For example, the Endowment's efforts to work with the core institutes to promote democratic unity in the region as well as increase attention on the influence of China in the World form the basis of a strategic framework to address the challenges presented by the CCP and strengthen democratic norms and values throughout the region. 
Despite these challenges, a more positive narrative has begun to emerge – a pattern of democratic resilience and change. From the nationwide protests that swept through Burma following the February 2021 coup, to Hong Kong activists in exile regrouping to continue to fight for freedom, to innovative efforts to break through the information blockade in North Korea, it is apparent that the desire to expand civic space, advance human rights, and retain and expand democratic ideas and values remains strong throughout the region. To reinforce this movement for democratic rights, NED worked with partners throughout the region to protect independent free media, cultivate emerging leaders, improve the capacity of civil society, and promote active citizen engagement. 
Read more about NED's work in Asia. 
Asia Overview Photo: Protesters take part in a candlelight vigil to honor those who have died during demonstrations against the military coup in Yangon on March 13, 2021. (Photo by STR/AFP via Getty Images)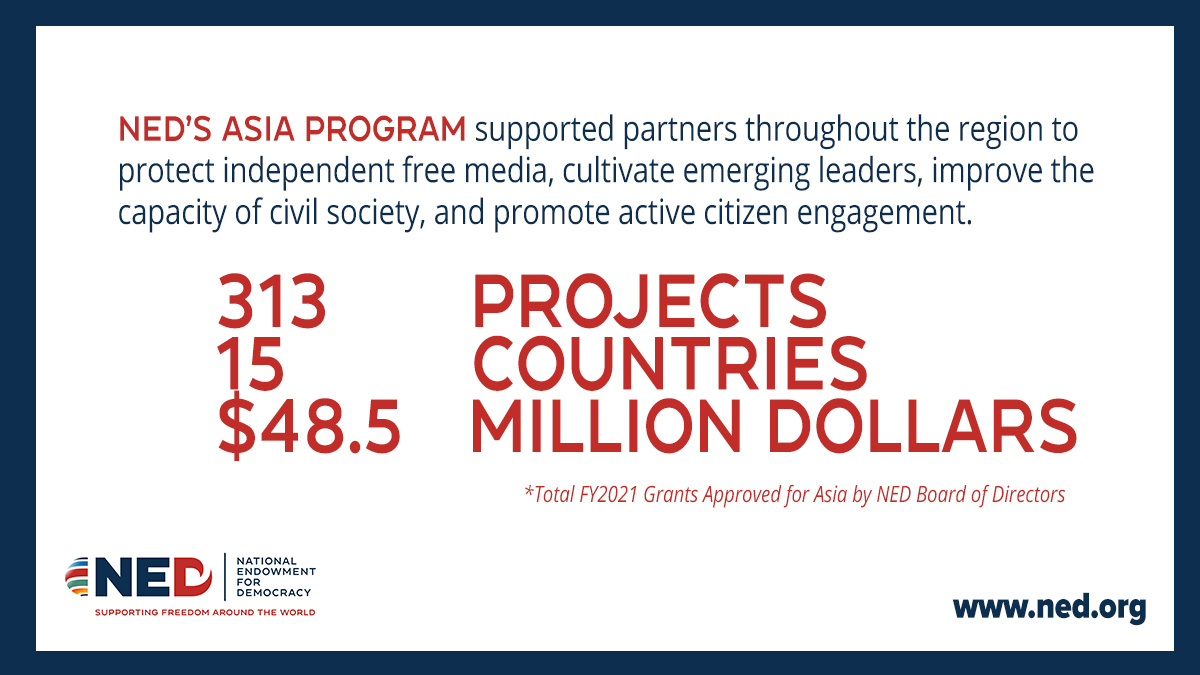 2021 NED Grants in Asia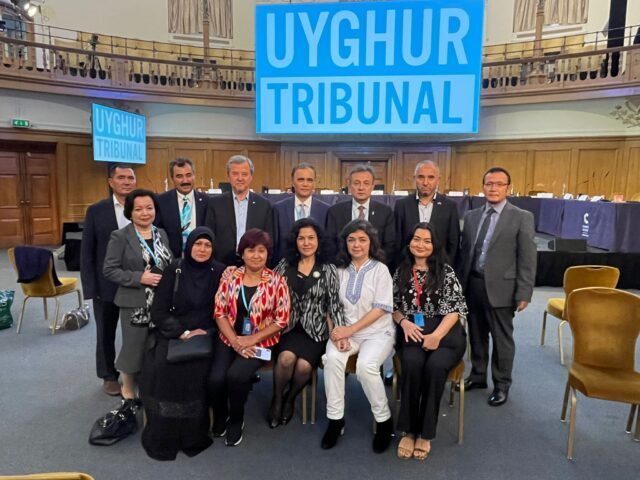 In Focus: Independent Tribunal Evaluates Evidence of Genocide in East Turkistan
In December 2021, after months of hearing testimony from victims, witnesses, and human rights experts, the independent Uyghur Tribunal issued a judgment that the government of the People's Republic of China committed genocide and crimes against humanity in East Turkistan. The ruling was a critical step for civil society organizations, including NED grantee the World Uyghur Congress (WUC), which has worked for years to raise international awareness about the ongoing repression of Uyghurs by the Chinese government.
Read More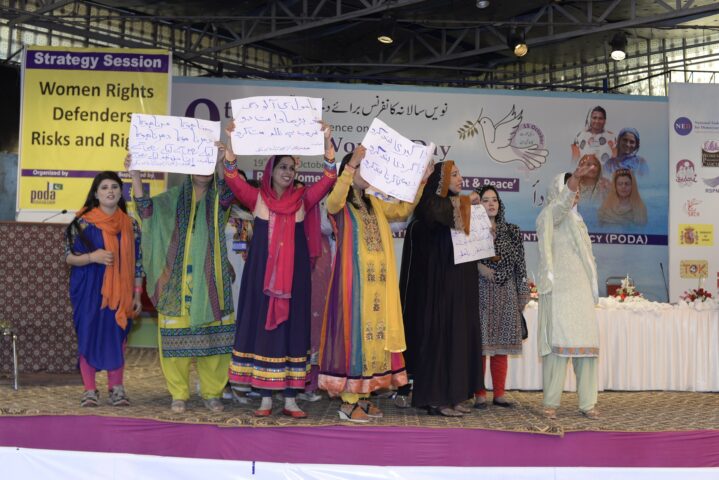 In Focus: NED Grantee Connects Marginalized Women Across Rural Pakistan
Through an annual leadership conference and creating a weekly webinar series, the women's rights NGO Potohar Organization for Development Advocacy (PODA) has founded the largest network of independent rural women leaders to amplify their voice and visibility.
Read More
Central and Eastern Europe
Year in Review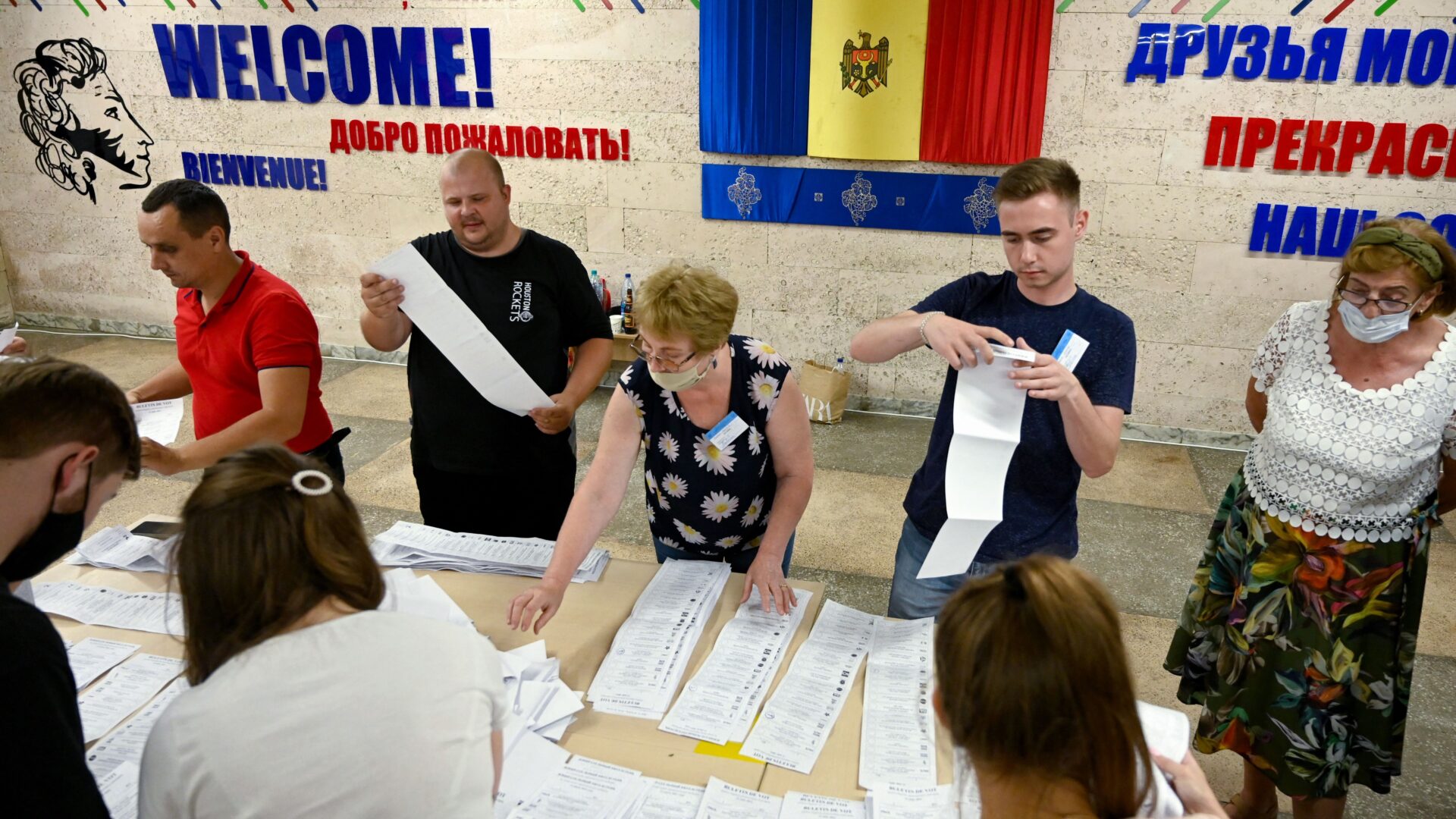 Central and Eastern Europe Regional Overview
As the Covid-19 pandemic continued to compound the region's democratic challenges, civil society and independent media remain resilient across Europe, even in the most repressive countries like Belarus. At the time, when every country in the region has been facing the big issues of corruption and disinformation, which undermine public trust in democracy and democratic values, NED supported civil society organizations promoting transparency, civic participation and good governance. In an environment rife with disinformation, which also contributes to polarization and the rise of nationalistic anti-democratic narratives, NED prioritized independent media and investigative journalism outlets, political and historical reconciliation programs, and initiatives to counter malign foreign influence.  
Ukraine remained a major focus for the Europe program in 2021, as decentralization reform created new openings for civic engagement. NED prioritized assistance to organizations promoting accountability and transparency at the local level, with an emphasis on areas where political participation and donor funding is historically low. It also continued to support independent media which constituted almost one third of all programs. 
Moldova's new pro-reform government came to power with an ambitious agenda to implement overdue democratic political and economic reforms and faced Russia-created energy crisis and disinformation campaigns. NED partners worked to seize the democratic opening and promote greater transparency and anti-corruption reforms, while continuing their support to independent media.  
In Belarus, citizens continued to demand change after rigged presidential elections in 2020. Although the government responded with waves of ruthless repression, NED funding still served as the lifeline for civil society, media, and pro-democracy forces.  
In the Western Balkans NED's focus on supporting civil society organizations and political actors working to counter deepening polarization that is undermining stability in countries like Bosnia and Herzegovina, North Macedonia, and Montenegro remained, coupled with programs on investigative journalism, accountability, and youth civic engagement.   
In Central Europe and other EU member states such as Hungary, the Europe program funded regional initiatives to counter disinformation and increased foreign malign influence from Russia and China, as well as  promote accountability and human rights. 
Europe Overview photo: Members of a local electoral commission count ballots at a polling station during parliamentary elections in Chisinau, Moldova on July 11, 2021. (Photo by SERGEI GAPON/AFP via Getty Images)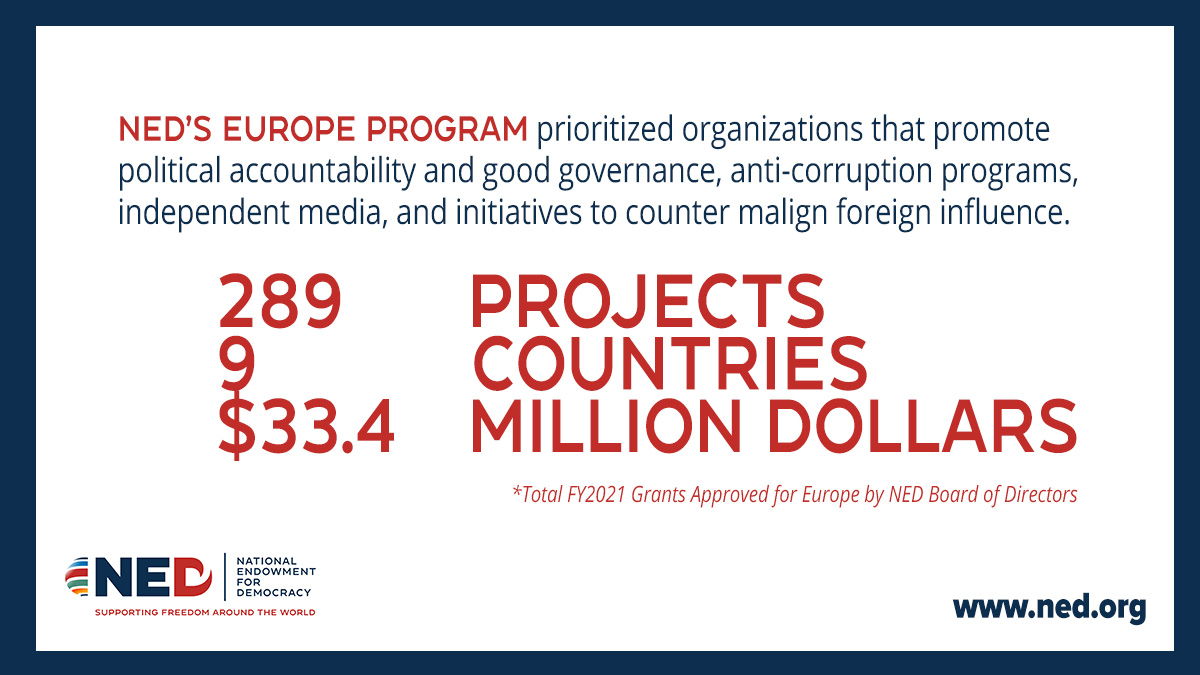 2021 NED Grants in Central and Eastern Europe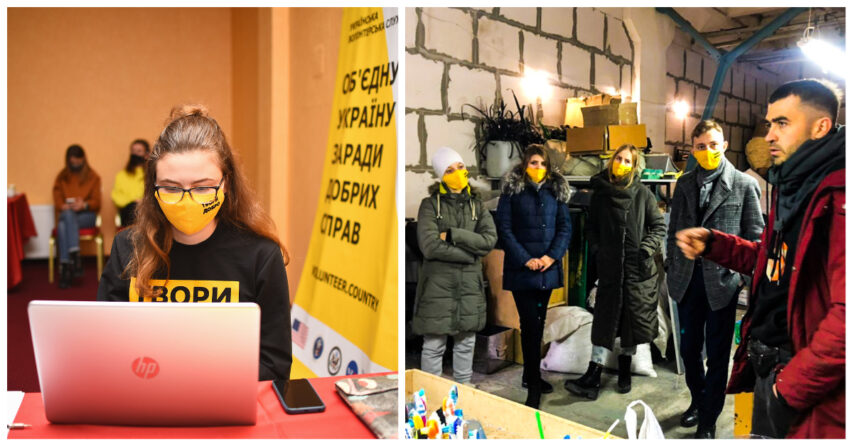 In Focus: Ukrainian Volunteer Service Connects Activists Across Ukraine
As Ukraine confronted Russia's build-up of thousands of troops and equipment along its borders and in Crimea throughout 2021, activists remain connected across the country. The Ukrainian Volunteer Service (UVS) continued to develop a culture of volunteering by providing opportunities for democratic engagement at the local level in Ukraine. 
Read More
In Focus: Reporting on the Pandora Papers, NED Partners Expose Corruption Across Europe
Through the Pandora Papers investigation in October 2021, NED partners across Europe joined the network of over 600 journalists worldwide to report on the secret wealth, tax avoidance, and money laundering of politicians and elites revealed by the trove of almost 12 million financial documents.
Read Article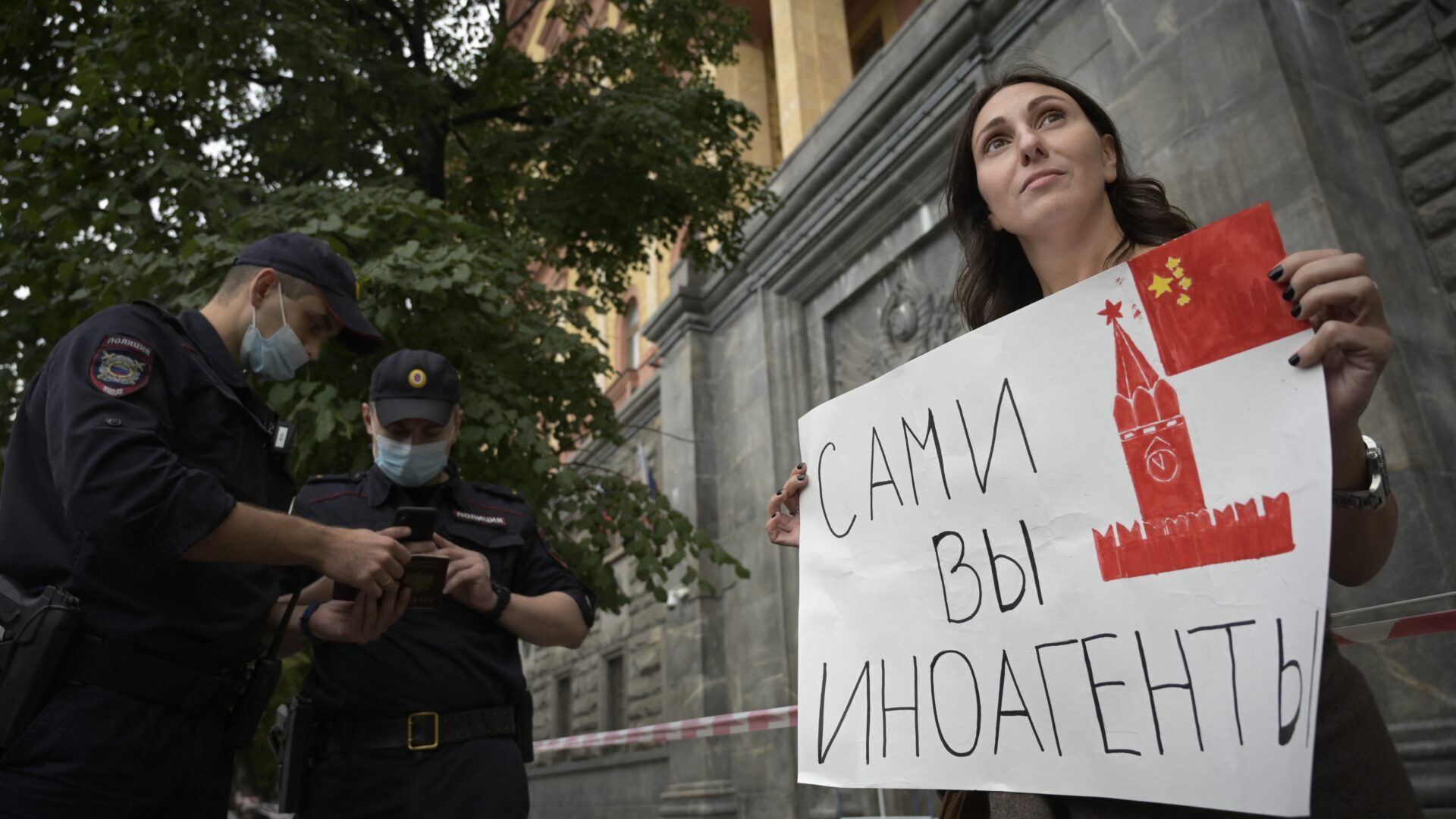 Eurasia Regional Overview
Civil society and pro-democracy networks across the Eurasia region remained resilient in the face of continued authoritarian repression in 2021. As conflict, instability, and crackdowns on civil society threatened the region's democratic momentum, NED partners continued to find opportunities to engage a new generation of democratic leaders and activists and improve communication among civil society organizations.  
Russia remains a top priority as the Putin regime continues its attacks on civil society and the opposition. NED supported initiatives promoting a free and open internet, investigative journalism to combat kleptocracy and corruption, and the adoption of digital tools to increase citizens' access to information.  
NED increased funding for programs in Armenia, where NED partners worked to advocate for reforms, provide access to accurate news and information, and build the capacity of trade unions, business associations, and political parties. In Azerbaijan, the Endowment supported independent media and organizations aiding political prisoners and raising awareness about the government's human rights abuses. With ongoing political turmoil in Georgia, NED also worked to lift emerging political voices and encourage a culture of policy debate. 
Rigged elections and a greater consolidation of power posed a grave threat to democracy and civil society in the Kyrgyz Republic. NED and its core institutes focused on support for independent media, grassroots pro-democracy coalitions, and election monitoring. In Kazakhstan, public discontent with the lack of democratic reforms, widespread corruption, and the government's handling of the Covid-19 pandemic spurred calls for reform. NED supported trainings in Uzbekistan for civic activists, human rights monitors, lawyers, and journalists. In Tajikistan and Turkmenistan, NED maintained its support for partners that monitor and document human rights abuses and raise international awareness of government repression. 
Eurasia Overview Photo: A journalist holds a placard which reads "Foreign agents yourself" during a protest of solidarity with colleagues who were added to the list of "foreign agent" media in Moscow on August 21, 2021. (Photo by NATALIA KOLESNIKOVA/AFP via Getty Images)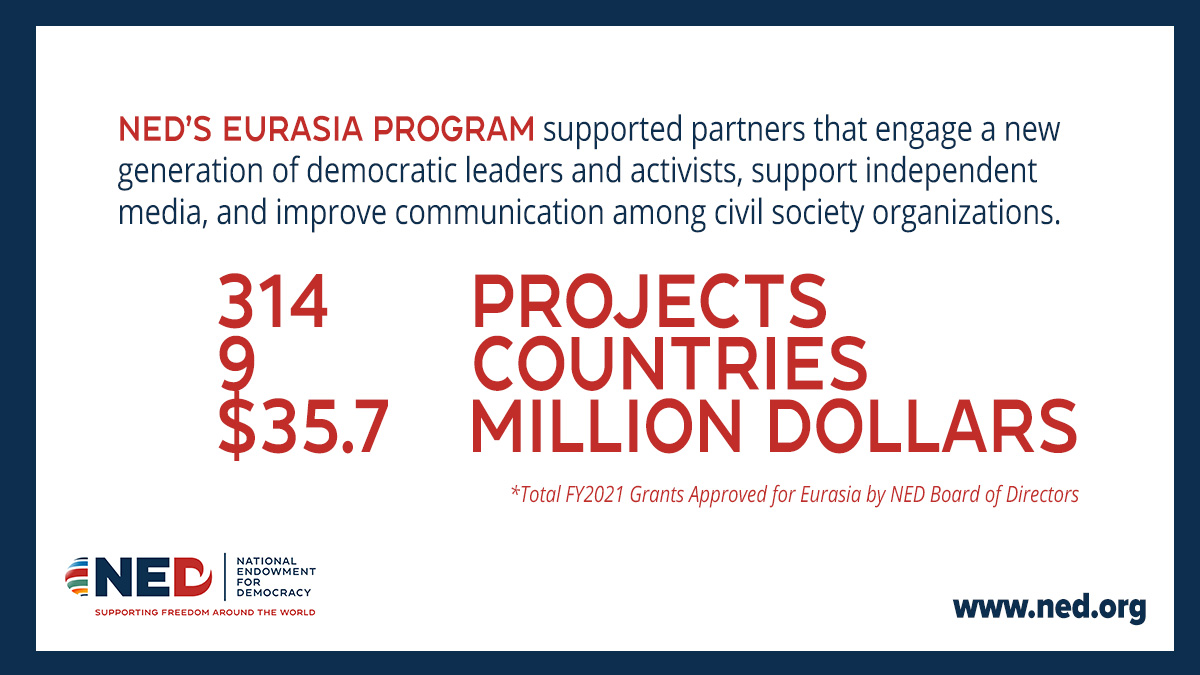 2021 NED Grants in Eurasia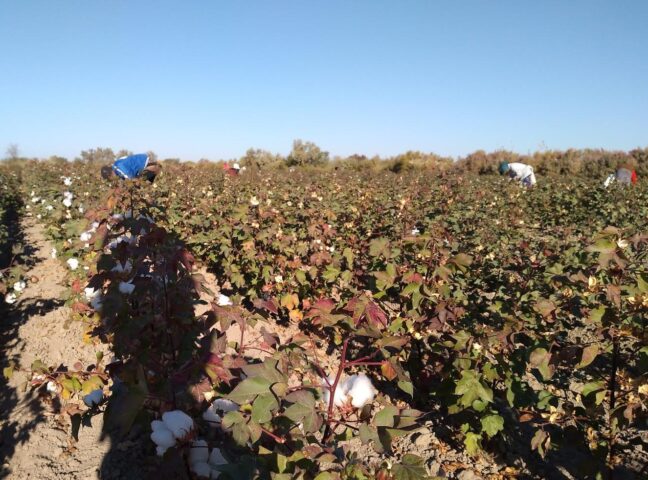 In Focus: NED Grantees Expose Forced Labor in Turkmenistan
Leading human rights groups in Turkmenistan, Turkmen News and the Turkmen Initiative for Human Rights—NED grantees and members of the Cotton Campaign coalition—released a new report exposing systemic forced labor and extortion during the country's cotton harvest.
Read More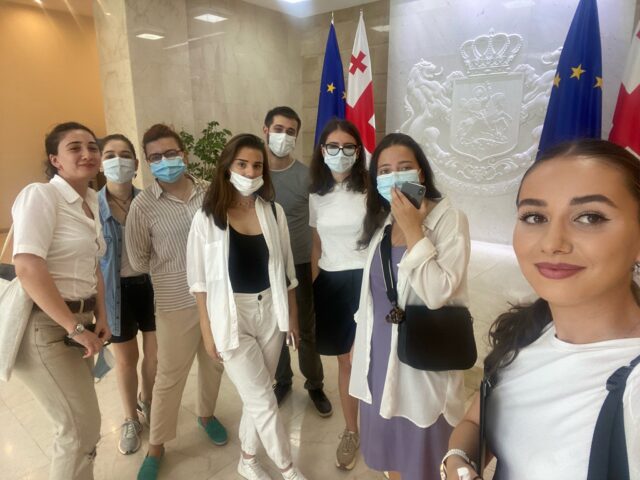 In Focus: Students Advocate for Rights in Georgia
Thirty years after the collapse of the Soviet Union, Georgia's transition remains incomplete. Although there is substantial freedom to organize and participate in politics, many groups­—such as youth—are excluded, marginalized, and apathetic. NED grantees, including youth advocacy organization Center for Progress, empower youth to become active in their universities, communities, and in political processes.  
Read More
Latin America and Caribbean
Year in Review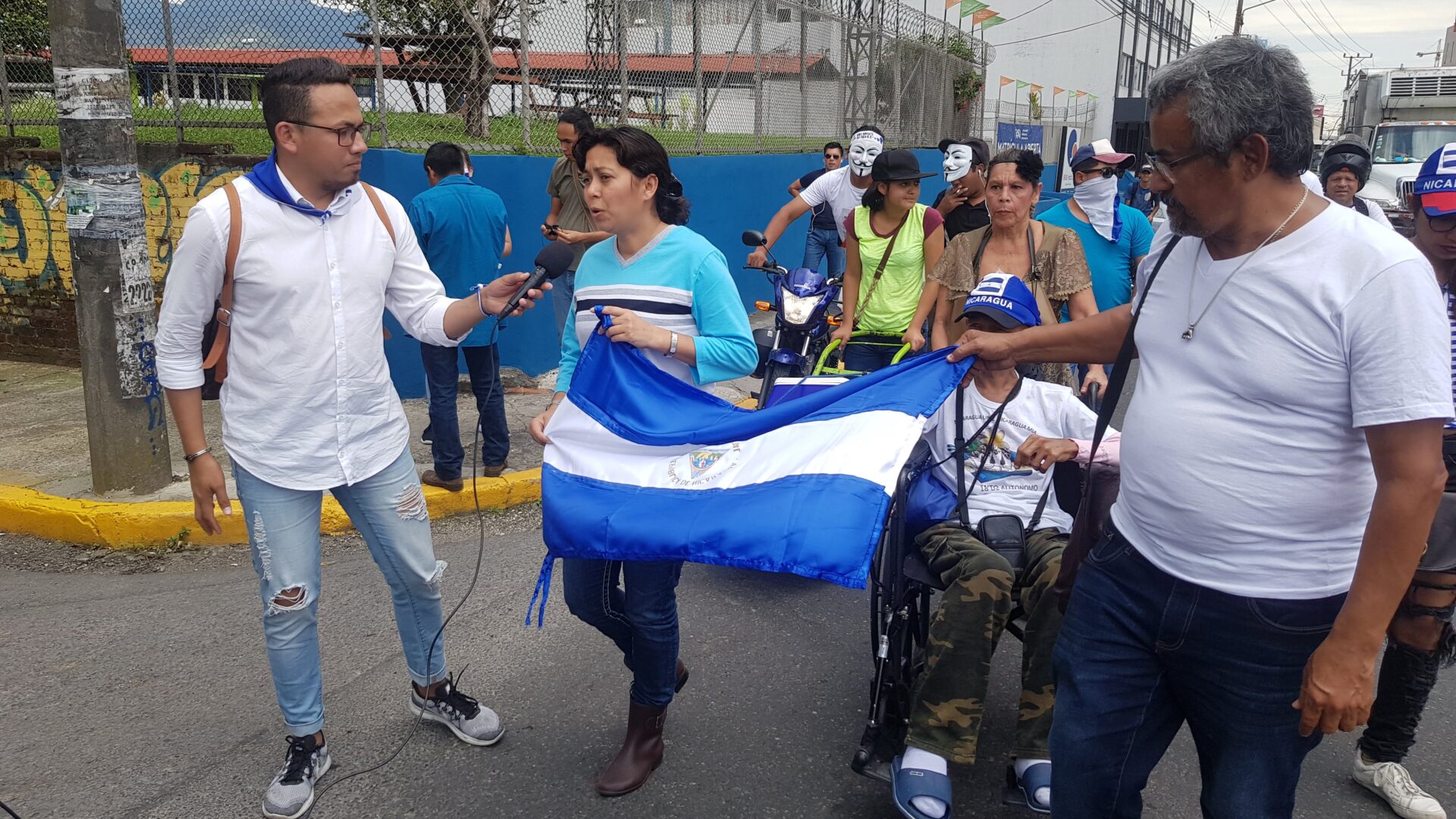 Latin America & Caribbean Regional Overview
The Latin America and the Caribbean region (LAC) continued to face a range of democratic challenges in 2021. The Covid-19 pandemic exacerbated pre-existing conditions such as weak governance and widespread inequalities. Human rights defenders, journalists, and activists faced threats from hostile governments and criminal actors. Citizens expressed dissatisfaction with elected leaders through elections in 2021, reshaping governments and political alignments across the region.  
In 2021, the LAC program at NED prioritized support for civil society in the countries under authoritarian regimes–Cuba, Nicaragua, and Venezuela, focusing on sustaining domestic democratic actors, raising international awareness, and forging solidarity in the fight for democracy and human rights. 
In 2021, the LAC program expanded its work in Central America, including El Salvador, Guatemala, Honduras, and sub-regional programs. The Endowment honored four Central American civil society organizations advancing democracy, the rule of law, accountability, and transparency with the 2021 Democracy Award. 
NED worked to strengthen democratic transitions and counter democratic backsliding in Ecuador, Bolivia, Colombia, Peru, and Paraguay and explored new programs in Guyana and countries in the Caribbean. In Haiti, the Endowment supported civil society efforts to counter corruption, defend civil rights, and strengthen checks and balances. In stable democracies facing deconsolidation threats—including Brazil, Mexico, and Argentina—NED partners worked to strengthen citizen participation and counter attempts to weaken independent democratic institutions.  
Regional programs in 2021 addressed global challenges, such as pervasive corruption, kleptocratic practices, and growing online disinformation. NED partners also worked to address increasing foreign malign influence in Latin America.  
 LAC Overview photo: Human rights defenders from Colectivo de Derechos Humanos Nicaragua Nunca Más march in protest of the Nicaraguan government's repressive actions. Image courtesy of Nicaragua Nunca Más.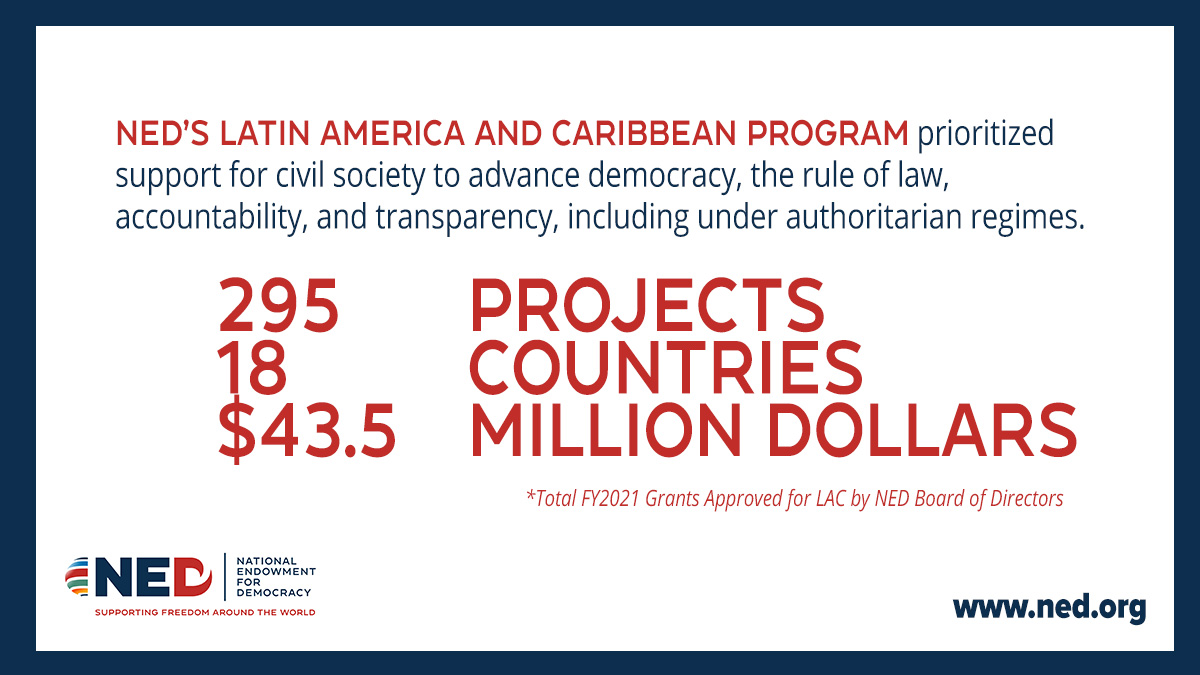 2021 NED Grants in Latin America and Caribbean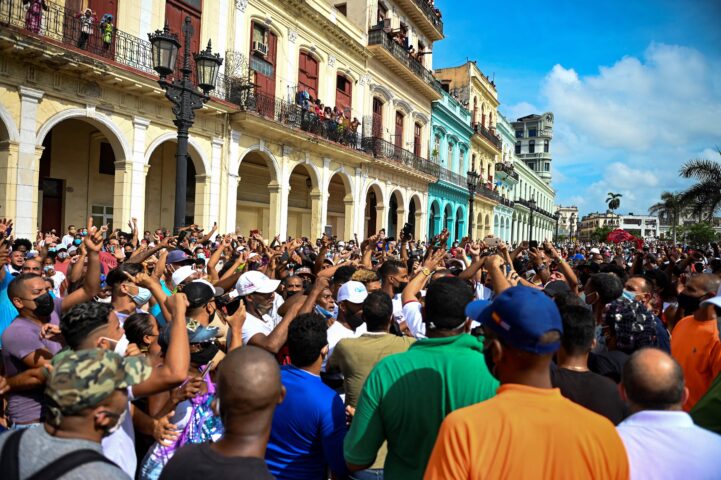 NED Grantee Elevates the Voices of Women, Afro-Descendants, and LGBTI People in Cuba
After widespread protests in July 2021, Cuban human rights organizations—including NED grantee the International Institute on Race, Equality and Human Rights (Race and Equality)— redoubled their efforts to call for accountability for the Cuban government's abuses and give a voice to victims and their families.
Read More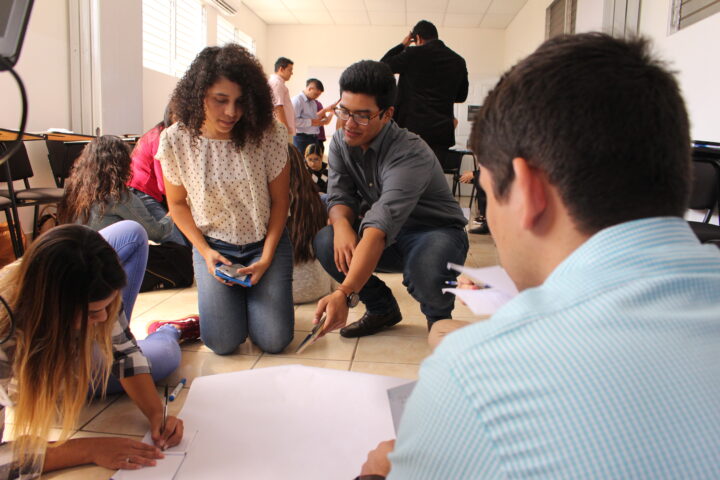 In Focus: Central American Civil Society Champions Accountability, Transparency, and the Rule of Law
Across Central America, the future of democracy looks bleak. Authoritarians are consolidating power, eroding democratic freedoms, and increasingly threatening civil society and political opposition. Because of this growing crisis, NED paid tribute to Central American civil society with NED's 2021 Democracy Awards.
Read More
Middle East and Northern Africa
Year in Review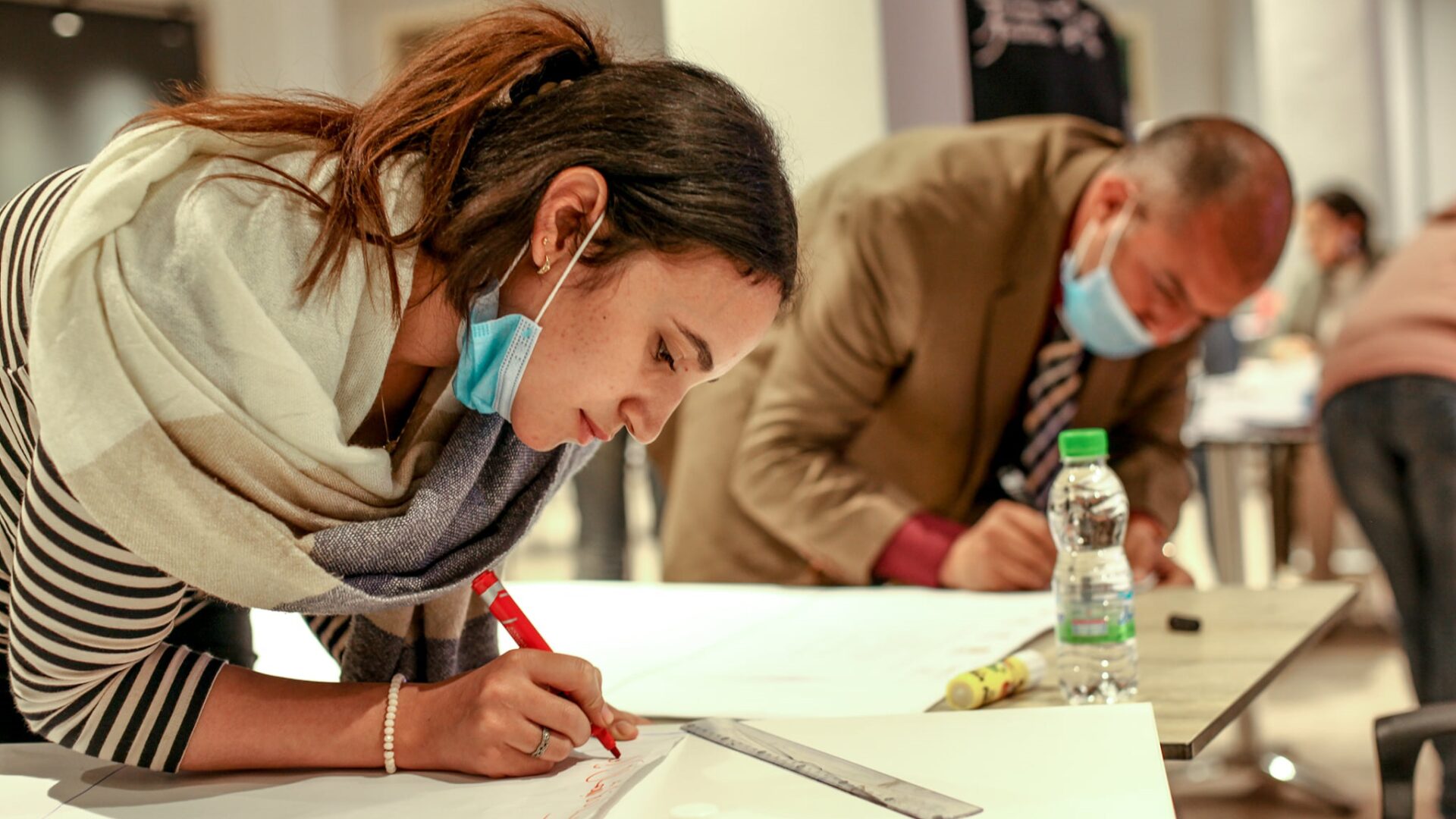 Middle East and Northern Africa Regional Overview
In 2021, NED continued to prioritize fragile and nascent democracies in the Middle East and Northern Africa (MENA) while also responding to emerging crises. Democratic progress and reform were challenged across the region as the Taliban seized power in Afghanistan, the president froze parliament and invoked emergency powers in Tunisia, and economic and financial crises challenged Lebanon. Elsewhere in the region, ongoing conflict, violent extremism, worsening economic conditions, and rising authoritarianism have shaken public confidence in democratic governance and institutions. While these developments are discouraging, citizens in the region continue to call for reforms, and NED remains a committed supporter of the resilient civil society organizations across the MENA region.  
In the immediate aftermath of the Taliban takeover in Afghanistan, the Endowment focused our efforts on the protection and security of our grantees, evacuating and resettling vulnerable Afghan partners, and continuing to support Afghan civil society inside the country and in exile to protect the democratic gains earned over the past two decades. 
Tunisia's democratic transition was curtailed after President Kais Saied's seizure of power in July. NED continued to support Tunisian civil society efforts to protect democratic institutions, safeguard rights and freedoms, and promote a return to Tunisia's democratic path.  
While the 2021 parliamentary elections in Iraq did not produce fundamental changes, they resulted in seats for reformists and new parties that emerged from the 2019 anti-corruption protests. NED efforts there have focused on building public confidence in democratic institutions through strengthening accountability and governance and empowering a new generation of leaders capable of advancing democratic reforms. In Lebanon, NED supported independent media and partners advocating for anti-corruption reforms in the midst of economic and political crises.  
NED partners worked to protect and defend civic space and independent media in countries experiencing an authoritarian resurgence and backsliding, including Egypt, Turkey, Jordan, and Morocco. NED continued its support to democratic actors from the regions' most repressive authoritarian states- Iran and the Gulf States– to promote democratic values and accountability. 
NED also supported organizations in countries experiencing conflict, including Libya, Syria, and Yemen, to prepare democratic actors to contribute to post-conflict political transitions, as well as groups protecting space for democratic freedoms in Algeria, Jordan, Mauritania, and the West Bank and Gaza. 
MENA Overview photo: NED grantee Association Jeunes pour Jeunes (Youth for Youth) holds trainings on governance and accountability in Morocco. (Photo courtesy of Association Jeunes pour Jeunes) 
Learn more about NED's work in the Middle East and Northern Africa.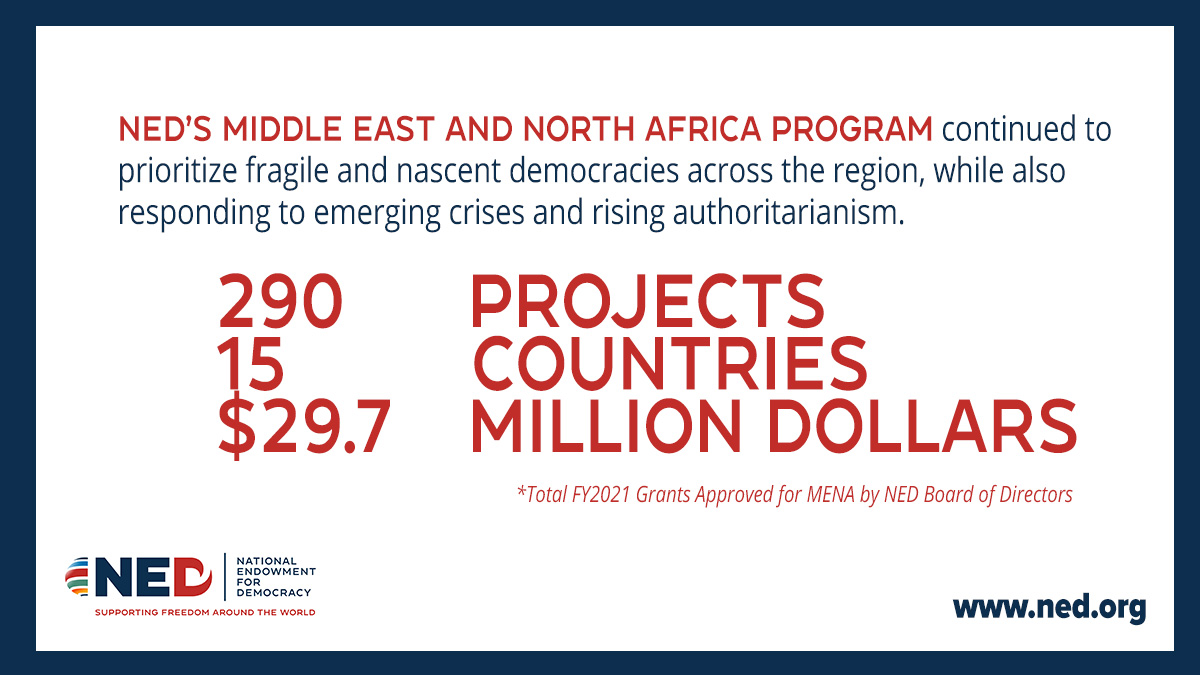 2021 NED Grants in Middle East and North Africa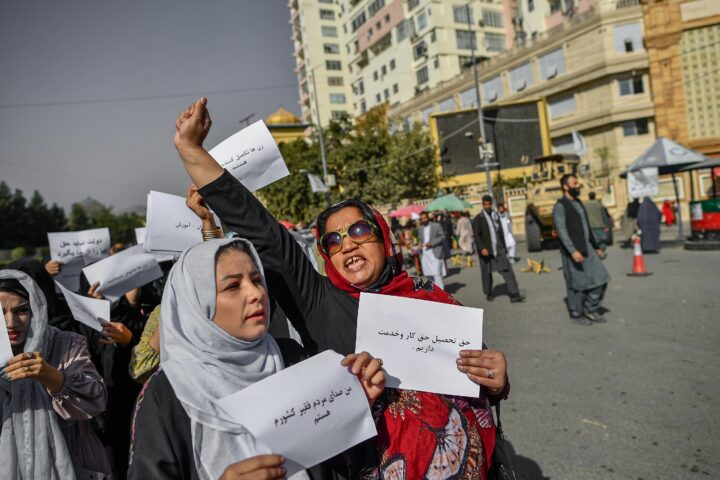 In Focus: Crisis in Afghanistan: NED Protects, Evacuates, Sustains, and Resettles At-Risk Afghans
When the Taliban seized control of Afghanistan in August 2021, NED mobilized an institution-wide emergency response to help journalists, artists, advocates of women's rights, educators, political leaders, and other civil society activists who risked their lives to champion a democratic future.
Read More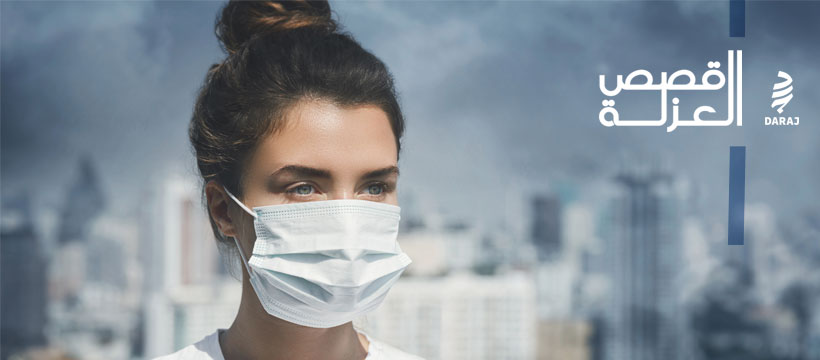 In Focus: Journalists Investigate State Responses to Covid-19, Corruption
Pan-Arab media group Daraj aims to provide independent media coverage for MENA countries, with an emphasis on engaging videos, social media campaigns, and extensive media partnerships. 
Read More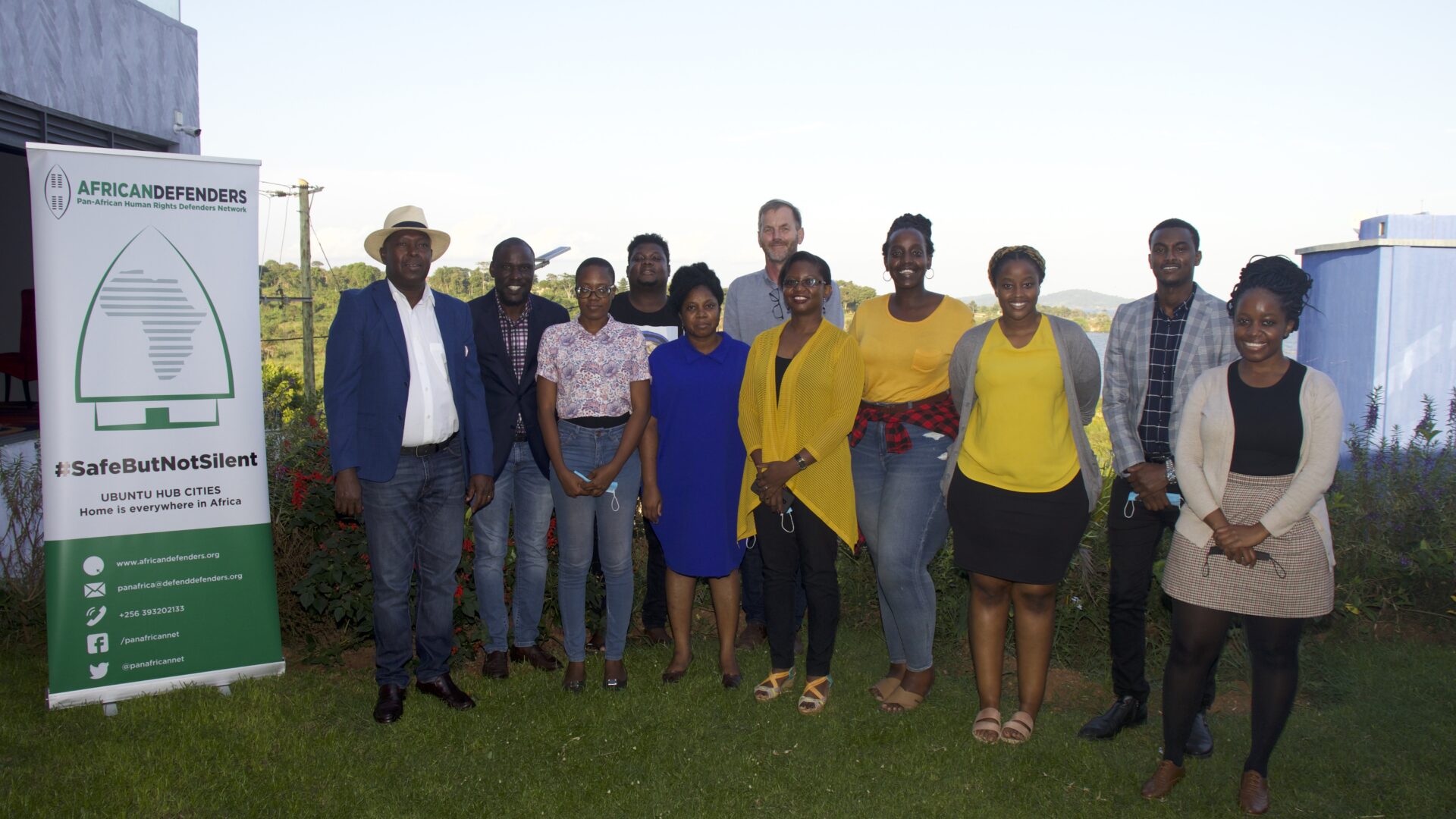 Global Overview
The political, social, and economic consequences of the Covid-19 pandemic continued to shape the global landscape in 2021, exacerbating the already formidable challenges faced by democratic advocates across the world. Activists had to navigate new realities on the ground, push back against increased repression in closing spaces, and take advantage of opportunities to advance democratic reforms where there were openings. This effort required strong support from and cooperation among the global community to reaffirm democratic values and norms, strengthen transparent institutions, and explore innovative responses to new challenges to democratic development. 
The NED Global program supports multi-regional initiatives that complement and bolster the country-level work of democrats. The program connects activists working in different regions and provides them with opportunities to learn from one another and work together to address cross-cutting challenges in areas such as human rights, democratic governance, political processes and institutions, independent media, freedom of association, and market-oriented reform. 
In 2021, NED's Global program focused on fostering collaboration across a broad range of groups and sectors to share best practices on effective democratic governance and to address policy challenges that worsened during the Covid-19 pandemic. Support was also prioritized for initiatives that examined the intersection of technology and democracy —ways to respond to technological innovations used to curtail rights as well as ways technology can support democratic processes. Other civil society projects included mobilizing action to resist malign authoritarian influence, defending freedom of expression and independent media, strengthening protection of human rights defenders, and pushing back on restrictions of civic space.   
Global Overview photo: Members of NED grantee AfricanDefenders join a workshop in Kampala, Uganda to strengthen the capacity of the organization's Ubuntu Hub Cities network of safe havens for human rights defenders.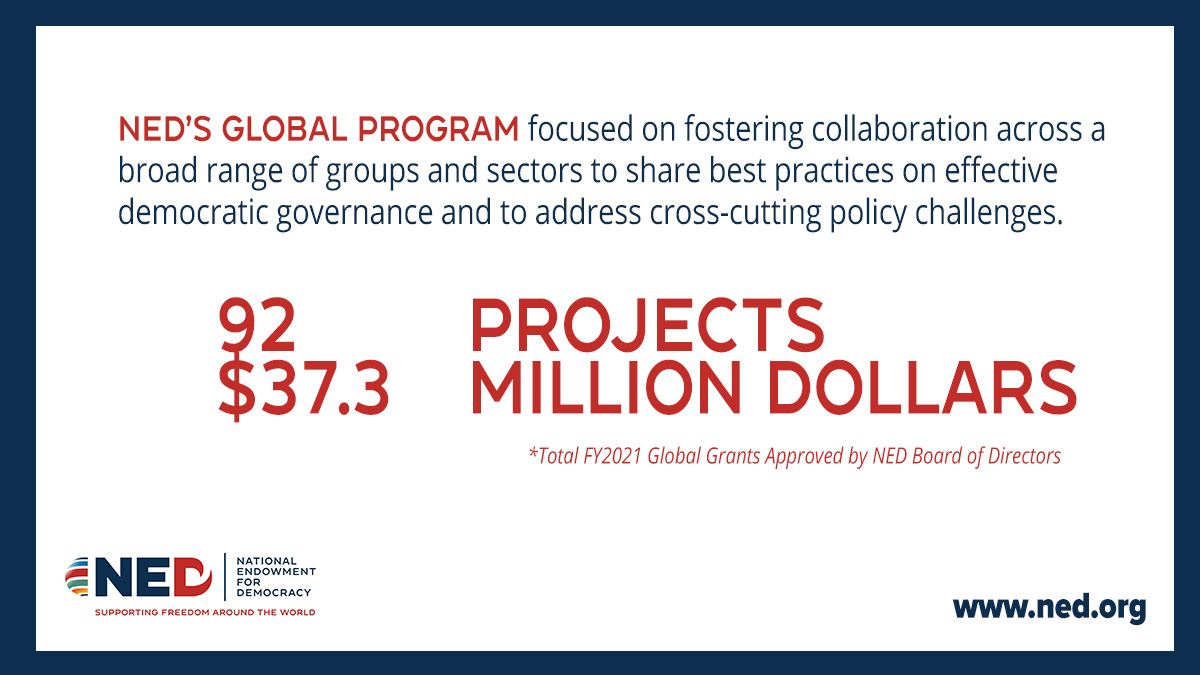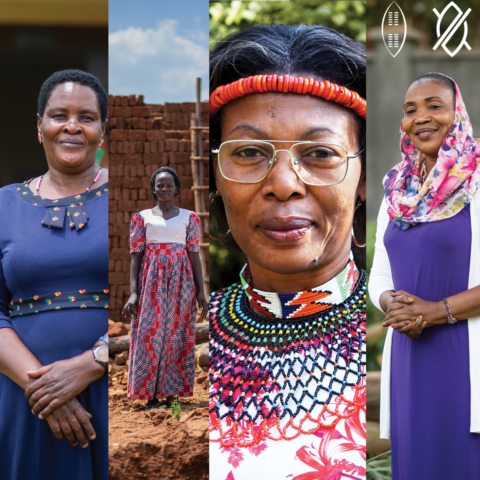 In Focus: NED Grantee Works to Keep Human Rights Defenders Across Africa Safe but Not Silent
In 2021, human rights defenders across Africa faced increasing isolation and persecution due to the global pandemic and conflicts across the region. In response, human rights organizations, including the Pan African Human Rights Defenders Network (AfricanDefenders), mobilized to protect human rights defenders at risk.
Read More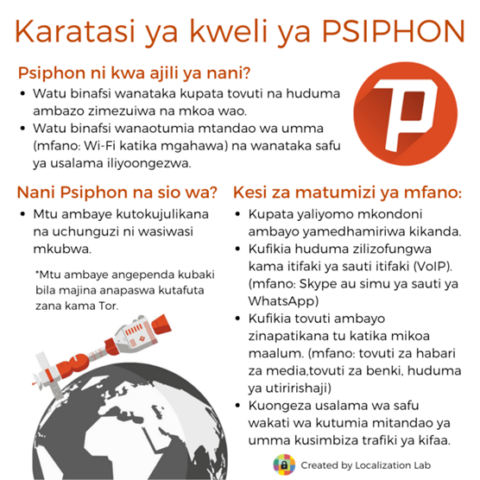 In Focus: NED Grantee Connects Activists with Digital Tools in Local Languages
Localization Lab supports civil society groups around the world to help them navigate technical challenges and restrictions and access secure communication tools, connecting the most-affected communities with digital resources in local languages to continue their critical work. 
Read More
NED's Democracy Support Activities
Center for International Media Assistance (CIMA)
Year in Review
CIMA Overview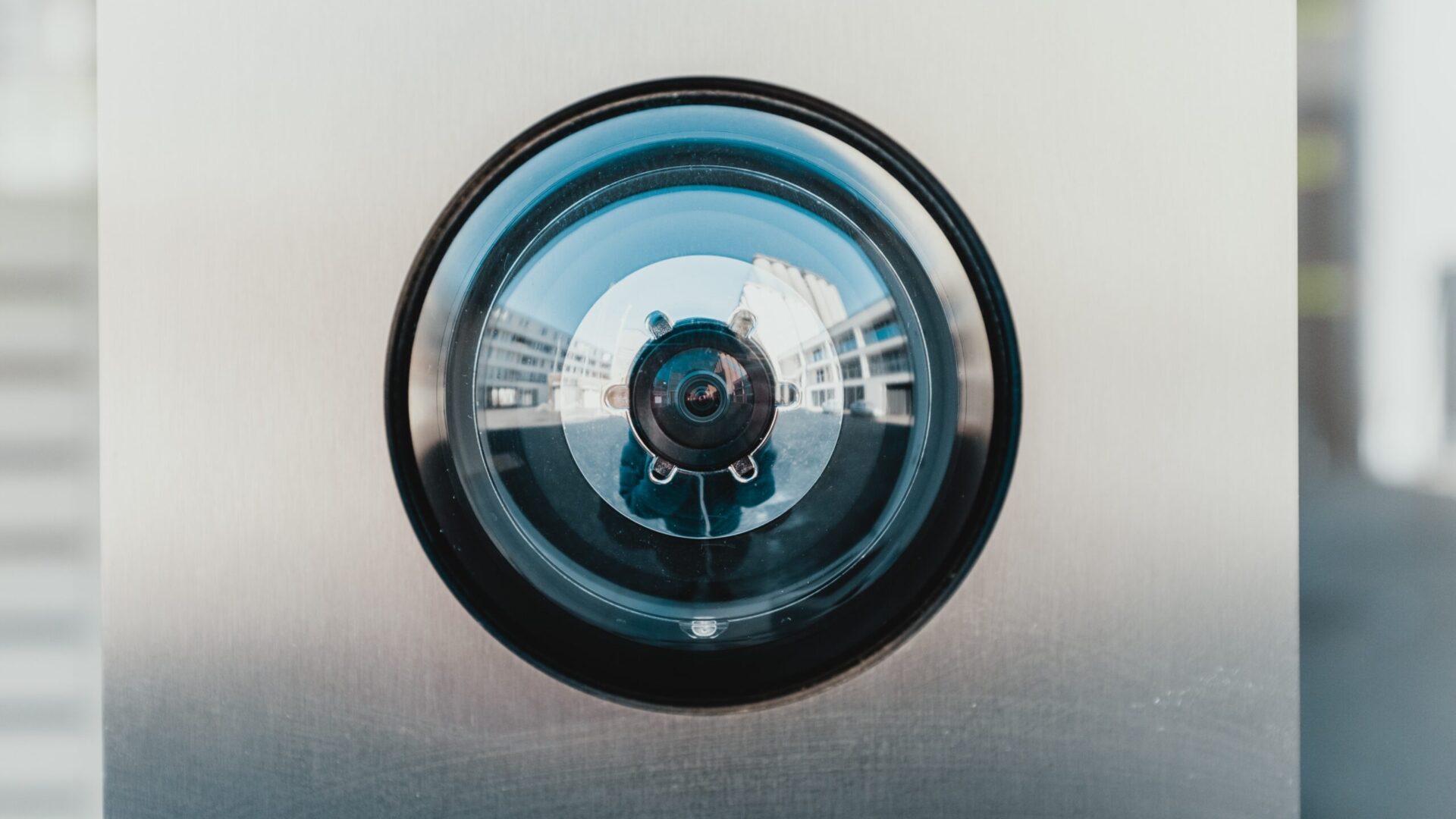 CIMA Overview
At a moment of existential threat to independent journalism, the Center for International Media Assistance (CIMA) promoted and informed a growing global effort to safeguard news media as a pillar of democracy throughout the world.   
In 2021, autocrats took advantage of the ongoing global health crisis to impose harsh new restrictions on media. These growing pressures on independent journalism demand a decisive response.  
In October, CIMA published Tipping Point: Democratic Erosion and the Assault on Press Freedom, which underscored the need to bolster democratic institutions by supporting independent media. The report made it clear that attacks on journalism and democracy are on the rise. To weather this crisis, NED President and CEO Damon Wilson and CIMA Senior Director Nick Benequista called for increased financial support to media.  
The ongoing global democratic erosion has led to the emergence of new threats to independent journalism in the digital sphere. In August, CIMA launched Spyware: An Unregulated and Escalating Threat to Independent Media. The report explored the chilling effect of the growing commercial spyware industry on media all over the world. In light of the interest in this topic, CIMA hosted a follow-up public event and partnered with Fundamedios to host a Spanish-language event. 
Throughout the year, the importance of cross-border collaboration emerged as a key theme of CIMA's research and convenings. In March, CIMA launched The Untapped Potential of Regional Cooperation for Media Reform in Southern Africa. Based on the results of consultative research, the report made the case for the creation of a regional coalition to advocate for media reform in Southern Africa.  
In May-July 2021, CIMA hosted the fifth in its series of regional consultations. The consultation brought together experts from across Southeast Europe, highlighting new approaches to confront media capture and growing authoritarian influences in the region's media sector.   
CIMA Overview photo: Photo by Bernard Hermant on Unsplash. Creative Commons 2.0 license.
Learn more about the Center for International Media Assistance.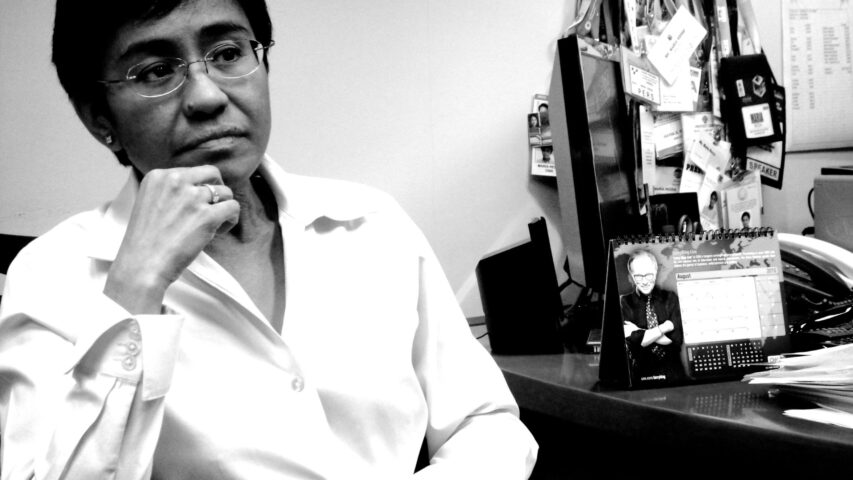 In Focus: Defending Press Freedom
2021 was a dangerous year for independent media. CIMA published Tipping Point: Democratic Erosion and the Assault on Press Freedom, a report that highlights the link between media development and democratic governance and underscores the urgency of international assistance in this time of crisis.
Read More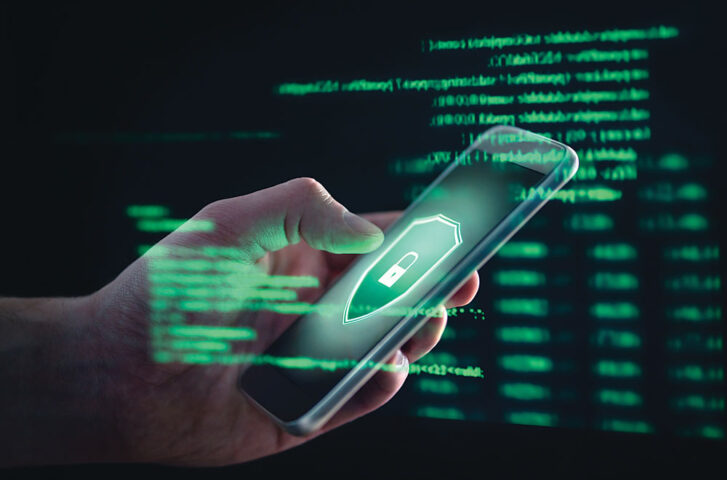 In Focus: Spyware's Threat to Independent Media
One of CIMA's focuses in 2021 was examining issues of internet governance and how they relate to media development and the defense of freedom of expression. In a CIMA report, digital rights expert Samuel Woodhams describes how the unchecked growth of the commercial spyware industry has had a chilling effect on journalism in countries with repressive governments.
Read More
International Forum for Democratic Studies
Year in Review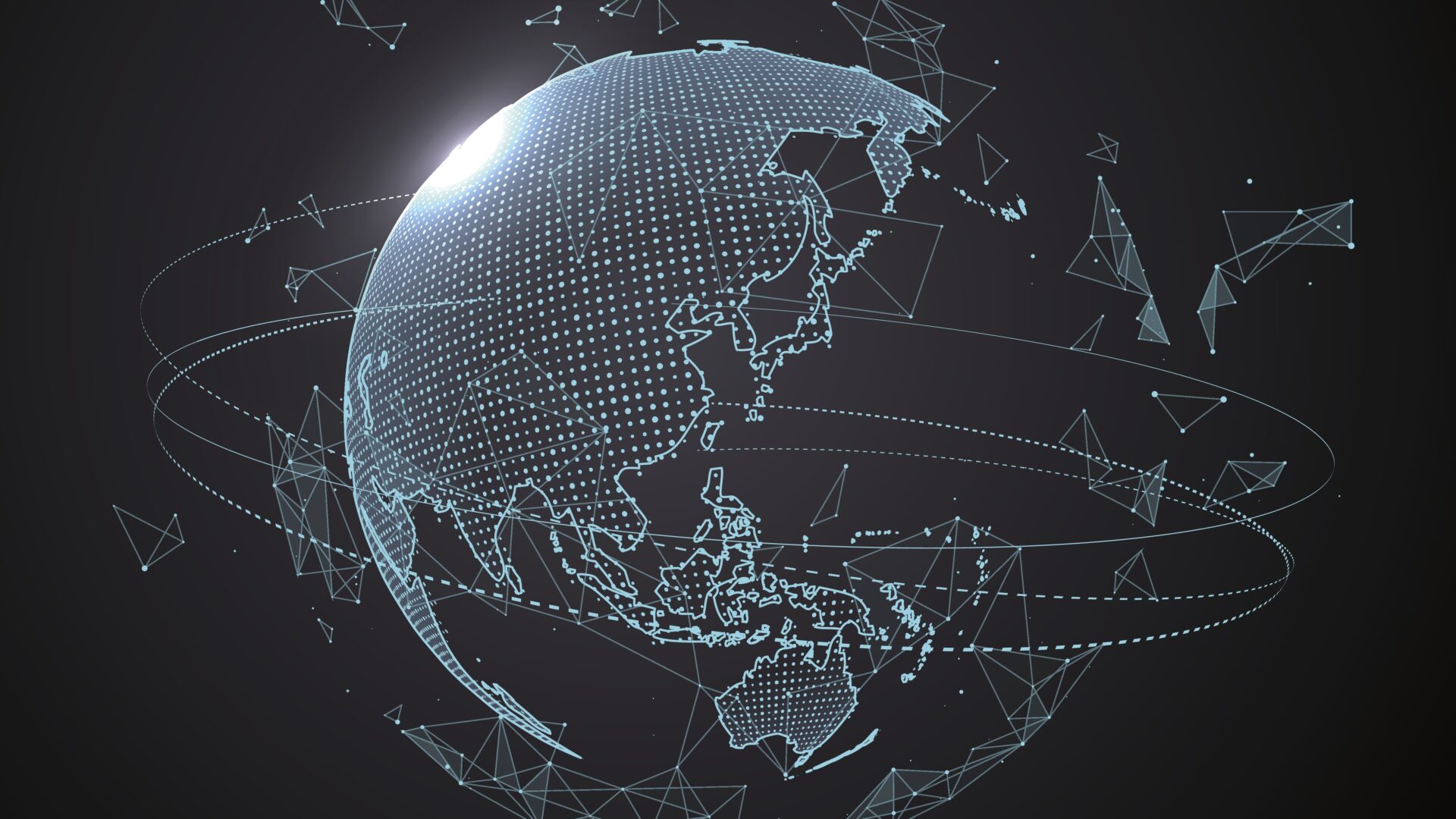 International Forum for Democratic Studies Overview
The International Forum for Democratic Studies at NED is a leading center for analysis and discussion of the theory and practice of democracy around the world.  
In 2021, the Forum published a total of 22 publications on four main issue areas: authoritarian influence and sharp power, the democratic response to illiberal forces in the information space, transnational kleptocracy, and the impact of emerging technology on democratic norms and institutions. The Forum published three Global Insights essay collections and released three reports in the Sharp Power and Democratic Resilience series. The Power 3.0 blog featured articles on topics including disinformation, reputation laundering, and cybersecurity. The Forum also launched two public newsletters— Pandemic Ploys, which tracks authoritarian manipulation and democratic responses to the Covid-19 pandemic, and Digital Directions, which examines authoritarian manipulation and democratic resilience in the digital domain.  
The 18th Annual Seymour Martin Lipset Lecture on Democracy in the World was delivered by Ronald Deibert, director of the Citizen Lab at the University of Toronto's Munk School for Global Affairs and Public Policy on December 1, 2021. Deibert spoke about the rise of digital subversion tactics such as surveillance and disinformation and the threat to democracy. The Forum also hosted five additional public events and several private events and workshops on kleptocracy, the information space, and research conducted by fellows. 
To increase the understanding of authoritarian sharp power, the Forum launched the Sharp Power Research Portal, an interactive digital tool with – at its launch – over 750 resources in five languages. The Portal serves as a resource hub for journalists, researchers, activists, and policymakers seeking to understand how authoritarians are influencing societies and institutions beyond their borders.  
Forum initiatives also include publishing the Journal of Democracy, the academic journal on democratization, and administering fellowship programs for democracy activists and researchers. In 2021, the Reagan-Fascell Democracy Fellows program hosted democratic activists and scholars hailing from countries around the world including Nigeria, Georgia, Armenia, Tibet, Cameroon, Uganda, and Iran. The Forum also hosts the Democracy Resource Center library and coordinates the Network of Democracy Research Institutes (NDRI), a global think tank network. 
Forum Overview photo: Futuristic globalization interface. (iStock via Getty images)
Learn more about the International Forum for Democratic Studies. 
Journal of Democracy
Year in Review
Journal of Democracy
The Journal of Democracy is the world's leading publication on the theory and practice of democracy, engaging both activists and intellectuals in critical discussions surrounding the challenges and prospects for democracy around the world. The Journal includes articles dealing with every region of the world as well as clusters of articles on key topical themes. Since its establishment in 1990, the publication has shaped thinking on the major social, political, and cultural challenges that confront emerging and established democracies alike.  
The Journal of Democracy is published quarterly by the Johns Hopkins University Press in January, April, July, and October. It is also available online through Project MUSE. In 2021, top articles included essays on the future of democratic self-government, Russia's road to autocracy, China's actions in international organizations, and the rise of authoritarian populists around the world. 
In December 2021, NED named Tarek Masoud as the new co-editor of the Journal of Democracy. Dr. Masoud is a professor of public policy at Harvard University's John F. Kennedy School of Government and was formerly a member of the Journal's editorial board. Masoud succeeds founding co-editor Larry Diamond, who retired after decades of service. 
2021 ISSUES IN BRIEF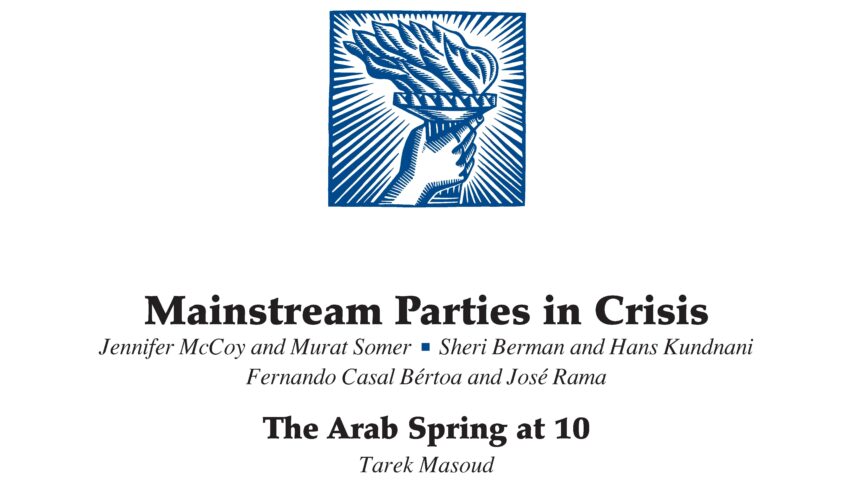 January 2021 Issue
The lead set of articles in the Journal of Democracy's January issue examined the trends contributing to mistrust in mainstream parties around the globe and the options for strengthening democratic systems. The issue also featured an article by Tarek Masoud reflecting on the 10th anniversary of the Arab Spring, a piece by Roberto Stefan Foa arguing that chaos and corruption are driving support for populist strongmen in weak states, and an essay by Madhav Khosla and Milan Vaishnav warning about a dangerous illiberal transformation in India's constitutional order.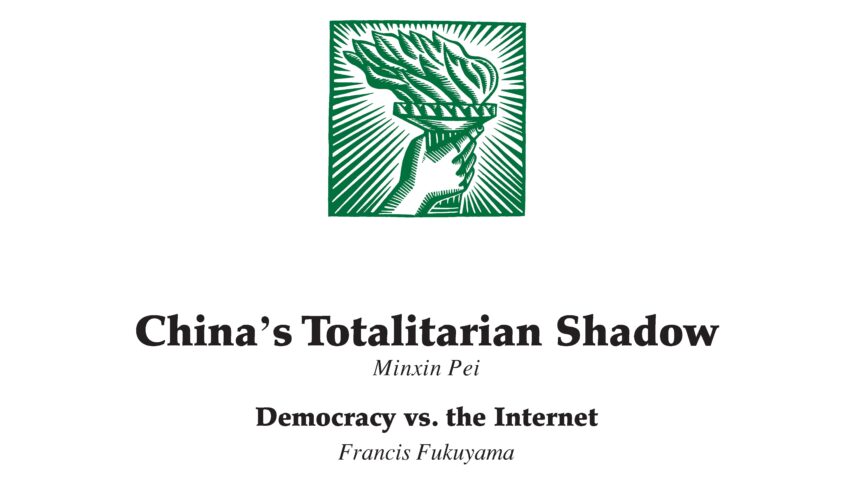 April 2021 Issue
In the April issue, expert contributors considered what shifting world values mean for the future of democracy, how enduring China's dictatorship will be, and the mixed legacies of the 2020 U.S. election. Minxin Pei wrote about whether Xi Jinping's "neo-Stalinist political revolution" disproves the link between modernization and democracy, while Christian Welzel argued that shifting values around the world actually bode well for liberal democracy's long-term fortunes. Francis Fukuyama outlined a plan for diluting internet giants' outsized power over public discourse, and Nathaniel Persily and Charles Stewart III assessed the administration of the 2020 U.S. election amid the Covid-19 pandemic.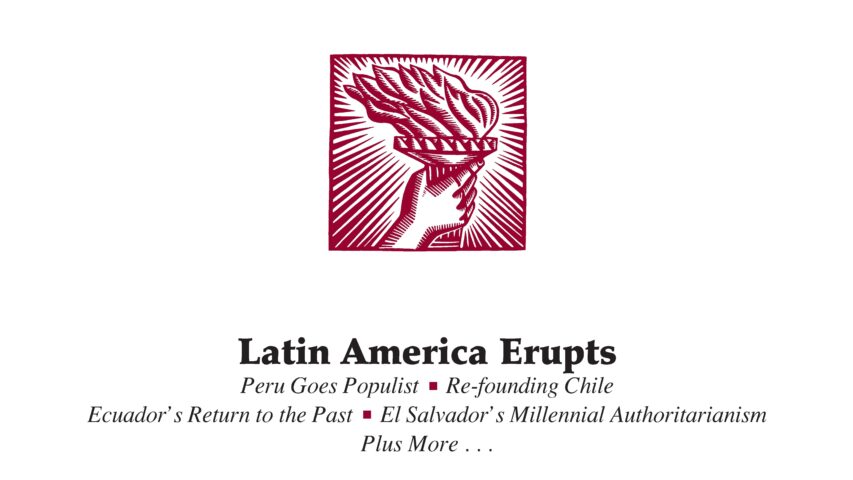 July 2021 Issue
The lead set of articles in the July issue explored Latin America's political upheaval in the wake of mass protests by citizens weary of corruption, inequality, and rising crime rates. Manuel Meléndez-Sánchez argued that Nayib Bukele in El Salvador is employing a unique strategy of "millennial authoritarianism." Paula Muñoz explained how Peru ended up in a crisis with two populist candidates. Elsewhere in the issue, Rana Siu Inboden wrote that China is blocking civil society's participation within the UN to avoid unwanted criticism on issues like human rights and to enforce its own positions, including the one-China policy, and Péter Krekó argued that foreign autocracies are less powerful than their propaganda makes them seem.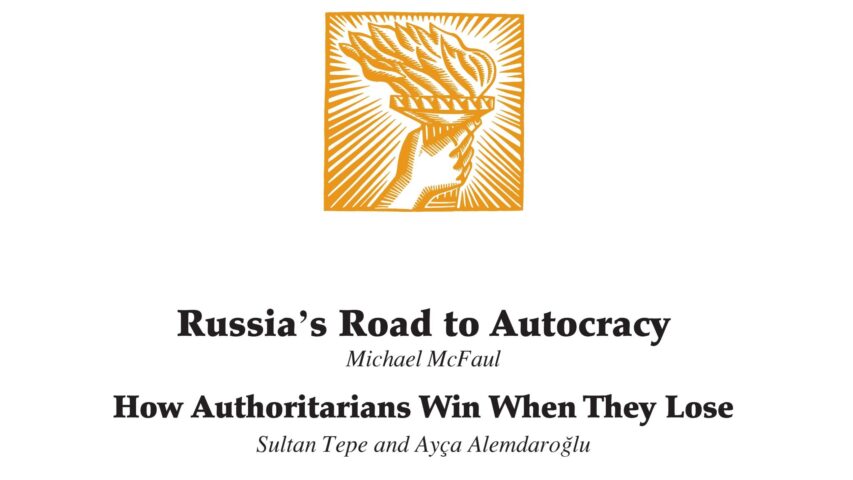 October 2021 Issue
The October 2021 issue focused on autocracy in Russia, political violence in the U.S., and political fragmentation. Michael McFaul, former U.S. ambassador to Russia, detailed Russia's path since the collapse of Soviet rule and the factors that shaped the country's return to authoritarianism. Rick Pildes argued that political fragmentation is undermining effective government in Western democracies, while Rachel Kleinfeld explained what makes the United States vulnerable to rising political violence. Also in the issue, Marc F. Plattner reflected on the storied career of Carl Gershman, who stepped down as head of NED in July after nearly four decades. 
Journal of Democracy
Editorial Board
Steven R. Levitsky and Lucan A. Way (Co-Chairs) 
Anne Applebaum 
Anne-Marie Brady 
Sheri Berman 
Nancy Bermeo 
Ladan Boroumand 
Daniel Brumberg 
Thomas Carothers 
Yun-han Chu 
Ronald Deibert 
Larry Diamond 
Michele Dunne 
João Carlos Espada 
Abdou Filali-Ansary 
M. Steven Fish 
Francis Fukuyama 
Šumit Ganguly 
Anna Grzymała-Busse 
E. Gyimah-Boadi 
Richard Joseph 
Robert Kagan 
Rachel Kleinfeld 
Ivan Krastev 
Peter Lewis 
Cynthia McClintock 
Jennifer McCoy 
Michael McFaul 
Alina Mungiu-Pippidi 
Andrew J. Nathan 
Ghia Nodia 
Minxin Pei 
Thitinan Pongsudhirak 
Benjamin Reilly 
Rachel Beatty Riedl 
Andreas Schedler 
Lilia Shevtsova 
Dan Slater 
Amy Erica Smith 
Victoria Tin-bor Hui 
Joshua A. Tucker 
Laurence Whitehead 
International Advisory Committee
Martin C.M. Lee 
Arend Lijphart 
Pratap Bhanu Mehta 
Adam Michnik 
Leonardo Morlino 
Condoleezza Rice 
Philippe C. Schmitter 
Lourdes Sola 
Hung-mao Tien 
World Movement for Democracy
Year in Review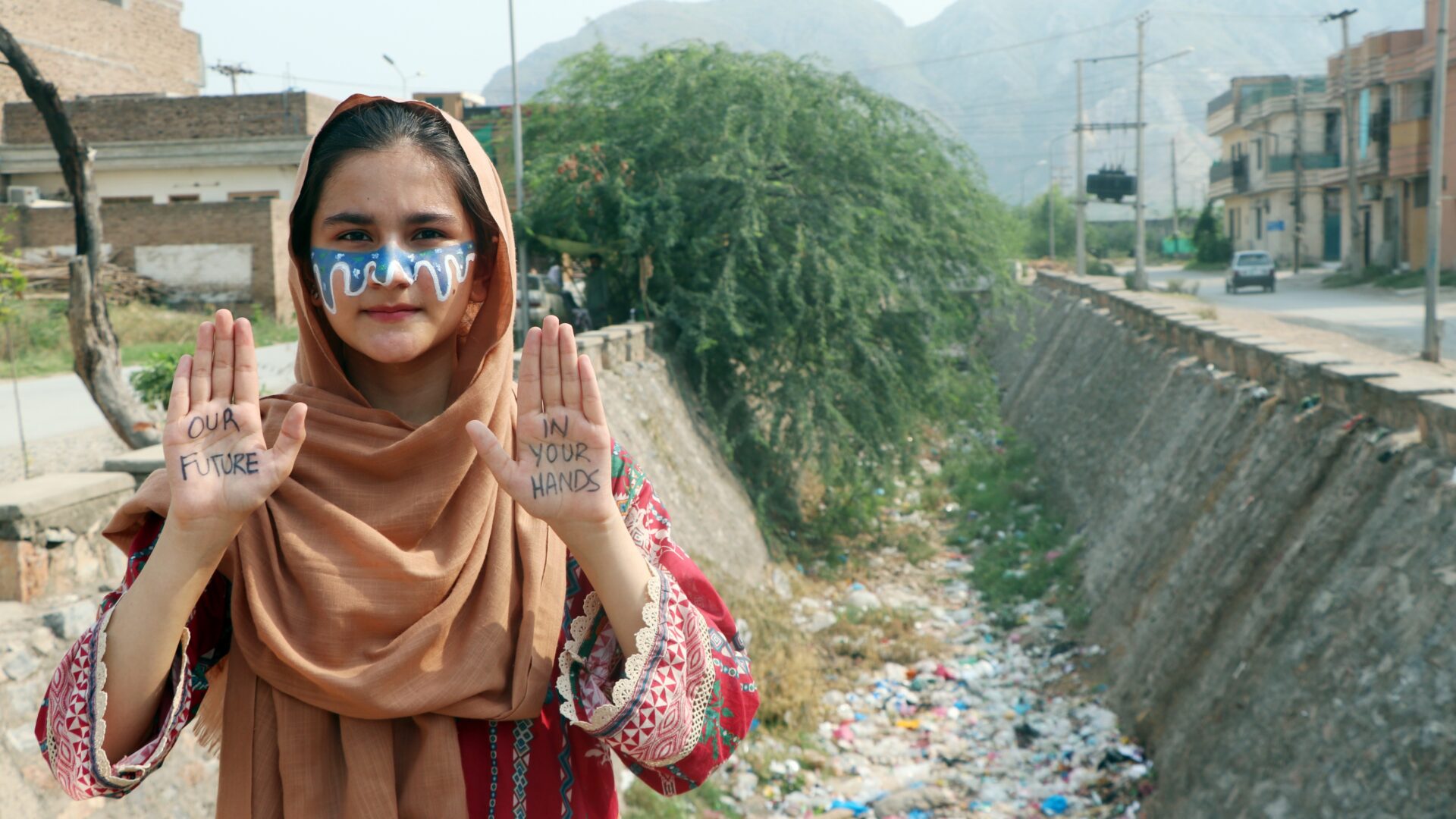 Overview
Launched in 1999 by the National Endowment for Democracy, the World Movement for Democracy is a global network of democrats including activists, practitioners, scholars, policy makers, and funders who collaborate to promote democracy. The World Movement Secretariat at NED facilitates information sharing, networking, and solidarity building to bolster democratic movements and leverage support provided by democracy assistance organizations. 
In 2021, the World Movement held its 10th Global Assembly, bringing together hundreds of democracy advocates from around the world. The assembly included a virtual Global Exchange in July, as well as national and regional discussions focused on empowering civil society actors in democratic transitions and mobilizing global solidarity for democracy activists in severely restrictive environments.  
Throughout the year, the World Movement galvanized support for civic activists who faced extraordinary challenges. After the February coup in Burma, the World Movement organized a social media campaign including a video from Jose Ramos-Horta, Nobel Prize winner and Chair of the World Movement's Steering Committee. In addition, the World Movement continued the #SetThemFree campaign, which builds solidarity for prisoners of conscience in crisis or activists being threatened with government persecution. In 2021, the campaign advocated for Luis Manuel Otero Alcantara and Cuban activists. 
Through video interviews and podcasts, the World Movement's Crossover Initiative documented and shared experiences of activists who transitioned from civil society activism to governance. The project featured activists from Nicaragua, Mexico, East Timor, Bosnia, and others who have sought to open political space for advancing democratic reforms. 
Each year, the World Movement selects youth leaders from across the world to participate in the Hurford Youth Fellowship. The 2021 cohort included Patricia Zanella from Brazil, Nishchhal Kharal from Nepal, Stefani Spirovska from North Macedonia, and Marr Nyang from The Gambia. To illustrate youth perspectives of democracy, the fellows jointly launched the Democracy Through My Eyes series, a collection of photos taken by youth activists around the world to represent democracy in their communities. 
World Movement Overview photo: "In Our Hands" was selected as a featured photo by a panel of Hurford Youth Fellows as part of the Democracy Through My Eyes photo series. (Photo by Jamaima Afridi, Pakistan)
World Movement for Democracy
Report of the Independent Auditors
Report of the Independent Auditors