The Allen Overland Collection
Named after the Democracy Resource Center's (DRC) founding librarian and director, Allen Overland, this rich and diverse collection of print and digital works contains nearly 20,000 books, journals, reports, and DVDs on democracy and supporting disciplines of study. Assembled over Mr. Overland's 19-year tenure leading the DRC, the Collection features many of the prominent thinkers within the field of democracy and democracy assistance and also includes publications produced by National Endowment for Democracy grantees.
The Allen Overland Collection is open to the public for research by appointment and is searchable using the DRC's online catalog.
---
Trying to find information on aspects of democracy, such as human rights, civic education, and more? Check out the bibliographies in the Democracy Research Guide.
The Democracy Resource Center does not keep archives on site. NED's Founding Papers (1982-1994) were gifted to the Manuscripts Division of the Library of Congress (LOC) in an agreement signed in 2007.
There are two other ways to access the Democracy Resource Center's resources: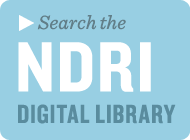 The NDRI Digital Library on Democracy
Includes full-text publications on democracy promotion and related issues produced by member institutions of the Network of Democracy Research Institutes (NDRI).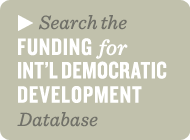 The Funding for International Democratic Development Database
Discover grant, fellowship and award opportunities from philanthropic or development organizations.
---
If you wish to contact the library, please use the form below:
---
Hours of Operation:
Monday – Friday
9:00am to 5:30pm
Email: drcATned.org
The library is accessible to outside users by appointment.