After the Taliban seized control of Afghanistan in August 2021, the National Endowment for Democracy (NED) helped facilitate the evacuation and relocation of 926 Afghans—including NED grantees and their family members—to third countries through an institution-wide emergency response. As of March 2022, 291 NED partners from Afghanistan live in Albania, awaiting resettlement. In December 2021, these partners, NED staff, and other activists gathered together to paint a mural on a building in the center of Tirana, the Albanian capital.
"It's a tribute, a way to thank people of Albania for their generosity, for them to open up their hearts and their homes," explained ArtLords Co-Founder Omaid Sharifi, who established the organization in 2014 to promote critical thinking and healing through art. "I think for the NED partners who have been out of Afghanistan, painting here with their Albanian friends and hosts, I think it shows a lot of respect and thanking each other, and also coming together to show our culture, art, and also tolerance and acceptance." (Read more about the mission of ArtLords.)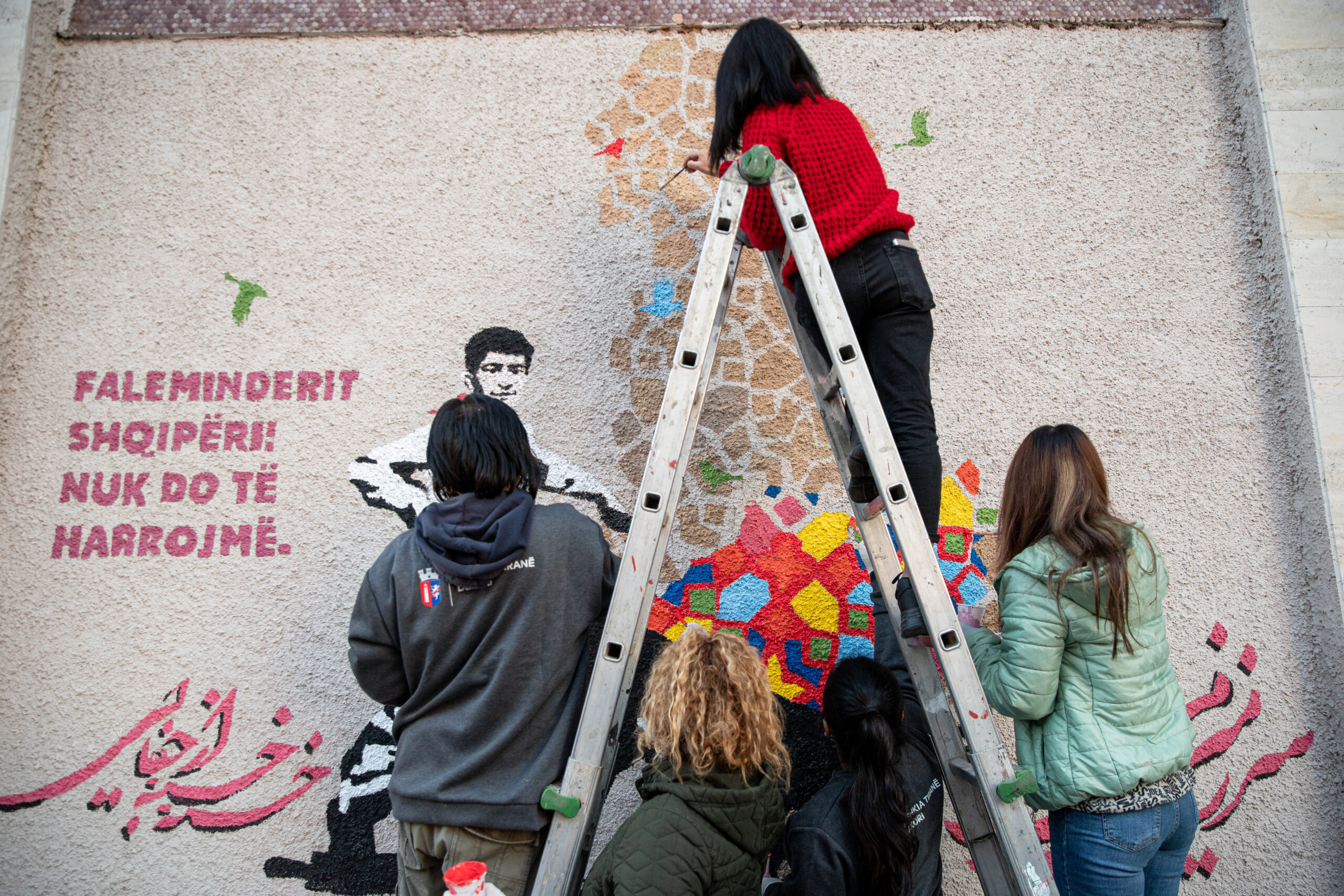 Since 1984, NED has supported hundreds of groups of artists, journalists, advocates for women's rights, political leaders, educators, and other activists who risked their lives to champion a democratic future. While NED has evacuated hundreds of Afghan partners to date, many remain in Afghanistan and continue to faces risks and threats for their work.
"At the National Endowment for Democracy, we're so proud to be partnering with Albania to welcome Afghan partners here, but we're also so proud of our Afghan partners," said Damon Wilson, NED president and chief executive officer, while helping to paint the mural in Tirana. "Our goal is to help you all resettle in the United States, and I know as an American what that means for my country to be enriched by you, your talents, your family, your culture. It will make my country stronger."
NED helps to sustain partners in third countries, providing housing, food, medical, and child education expenses, as well as support to help them continue their professional work. "While we are working on the process of resettlement for our partners in the United States, we make sure not only to meet the daily needs, but also fulfill their professional talents and create that space where everybody can express who they are and what they've done while they were living in Afghanistan," said Gonxhe Kandri, a field coordinator for NED in Albania.
At this critical juncture, and with decreasing international engagement in Afghanistan, NED remains a committed partner for civil society and media, both inside and outside the country. Meanwhile, the Taliban painted over many of the murals that ArtLords created on the blast walls lining the city streets across Afghanistan, attempting to erase their messages of hope.
"So it was a great day," said Sharifi as the group finished the mural, accompanied by text to thank Albania and remind others not to forget those still struggling for democracy and freedom inside Afghanistan. "Everybody is painting, everybody is enjoying, and I think it's also a sort of healing for all of us who are out of Afghanistan."