On September 21, 2021, the National Endowment for Democracy (NED) celebrated founding President Carl Gershman and his 37 years of leadership. A reception on Capitol Hill gathered activists and grantees, leading democracy experts, NED staff, and members of Congress—including Speaker Nancy Pelosi, and Representatives Gregory Meeks, David Price, Jim McGovern, and Mario Diaz-Balart—to pay tribute to Gershman's legacy and NED's mission to support democracy, freedom, and universal human rights.
"Carl, tonight we honor your remarkable service to the institution, to the nation, and to the cause of democracy around the world." said Damon Wilson, NED president and chief executive officer. "Tonight, however, is not just about the past … it's also about the future, about how Carl's 37 years of service has helped prepare NED for the mounting challenges all free peoples face today." [Learn more about Damon Wilson, NED's new president and chief executive officer.]
Speaker Nancy Pelosi remarked that Gershman taught her this is a long struggle. "Thank you for all of you who support NED," she said. "Carl made it easy because he always had a plan, a vision to get some things done. Always values-based, always cheerful about it, and always a blessing to our country, what we care about, what we stand for. I speak on behalf not only myself, which I feel very personally appreciative of Carl, but also for your many, many friends in the Congress of the United States on both sides of the aisle, on both sides of the Capitol."
Congressman David Price continued, "I'm profoundly grateful for the resource that we have in the National Endowment for Democracy and these constituent institutes and the work they do every day in some of the most difficult and challenging environments in the world. For that legacy, we owe enormous credit to Carl Gershman."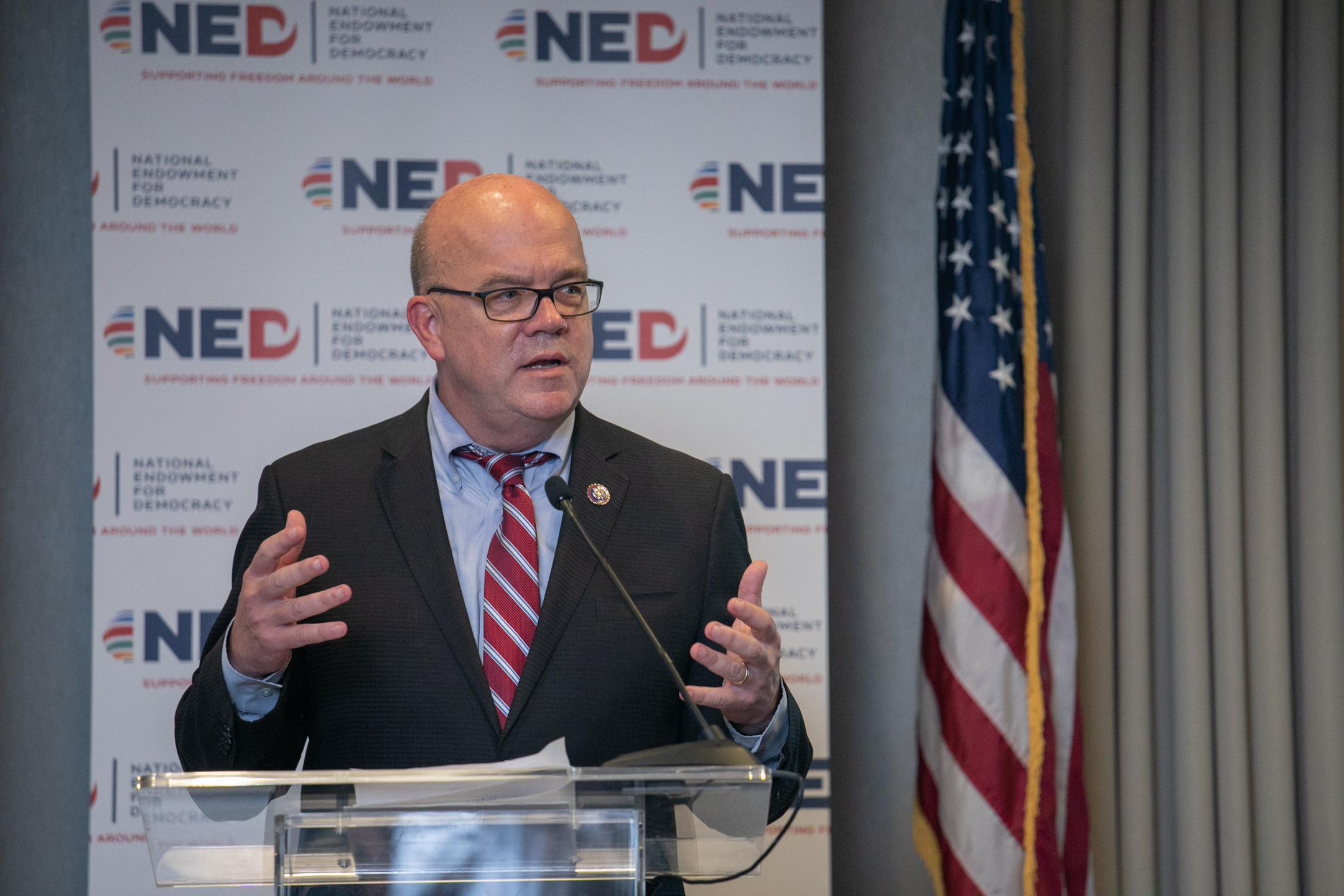 Congressman Jim McGovern said, "One of the things he understands is that you can't have democracy without a respect for human rights and so [Carl] has helped educate members of Congress about the challenges that journalists face, that those who are trying to form labor unions face, that those who are trying to worship the way they believe, what they face.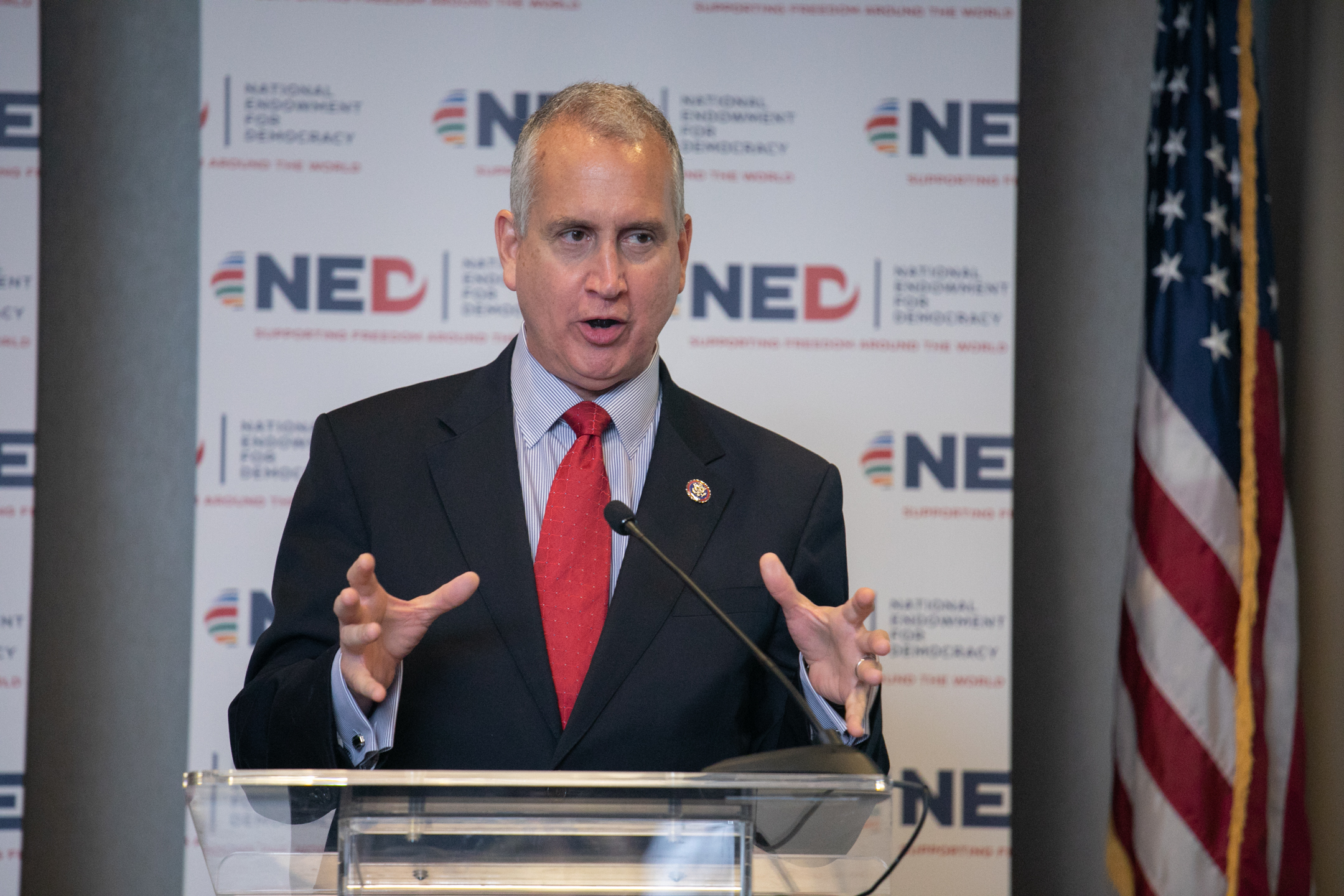 Congressman Mario Díaz-Balart praised Gershman's commitment: "Folks who are in the gulags, folks who are struggling—whether it's in Belarus or it's in Cuba or Venezuela or Nicaragua or North Korea—there's a name that they all know and they know that he has been fighting on their side day in and day out and they know that they've never been alone because Carl has always been on the forefront of their fight, of their struggle.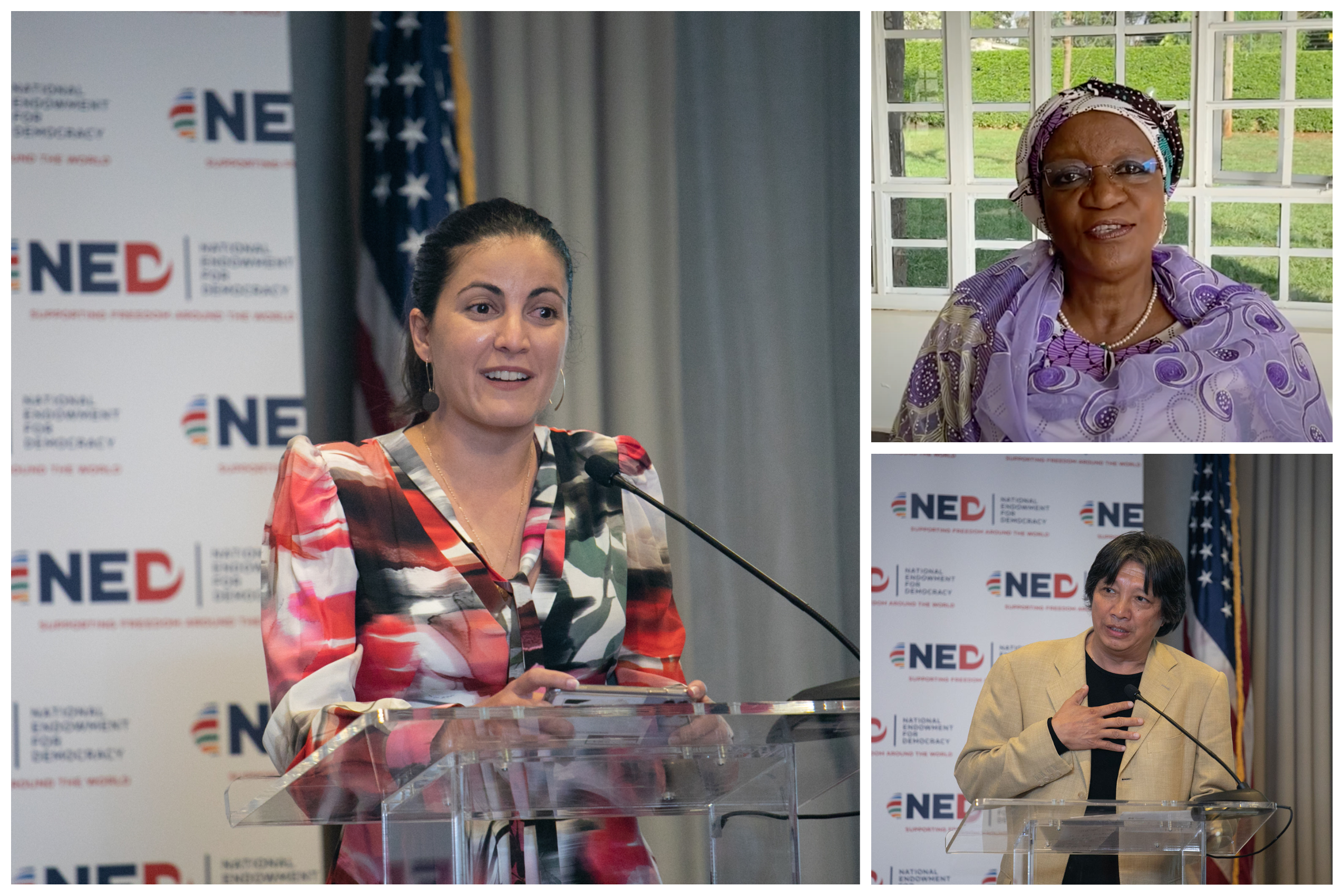 Activists from around the world expressed gratitude for the impact that NED and Gershman made on their work. Zainab Bangura, former grantee from Sierra Leone and current Director-General of the United Nations Office at Nairobi, provided remarks virtually: "I can say with confidence that I am amongst thousands of activists around the world whose lives were touched, enriched, supported and mentored by you. You always had a way of bringing the best out of us." [Watch activists and experts discuss challenges to democracy at the Carl Gershman Symposium: Fight for Democratic Future ]
Founder and editor-in-chief of NED grantee China Digital Times Xiao Qiang continued: "I wouldn't be able to do this work without the enabling funding and the moral support of National Endowment for Democracy, without you, Carl. You touched me, you supported me, [and] just remind people we actually made a difference." [Read more about China Digital Times here.]
Cuban democracy activist and human rights defender Rosa María Payá said, "Thank you for your legacy of defense of human rights," remarked Ms. Payá. "Thank you for your fight against communism, against dictatorship, against evil. Thank you for your support [of] democracy [and] freedom everywhere. Thank you because even in those places where the rest of the world already gave up, you stand in solidarity. Thank you because dissidents all around the globe are a little less lonely because of you."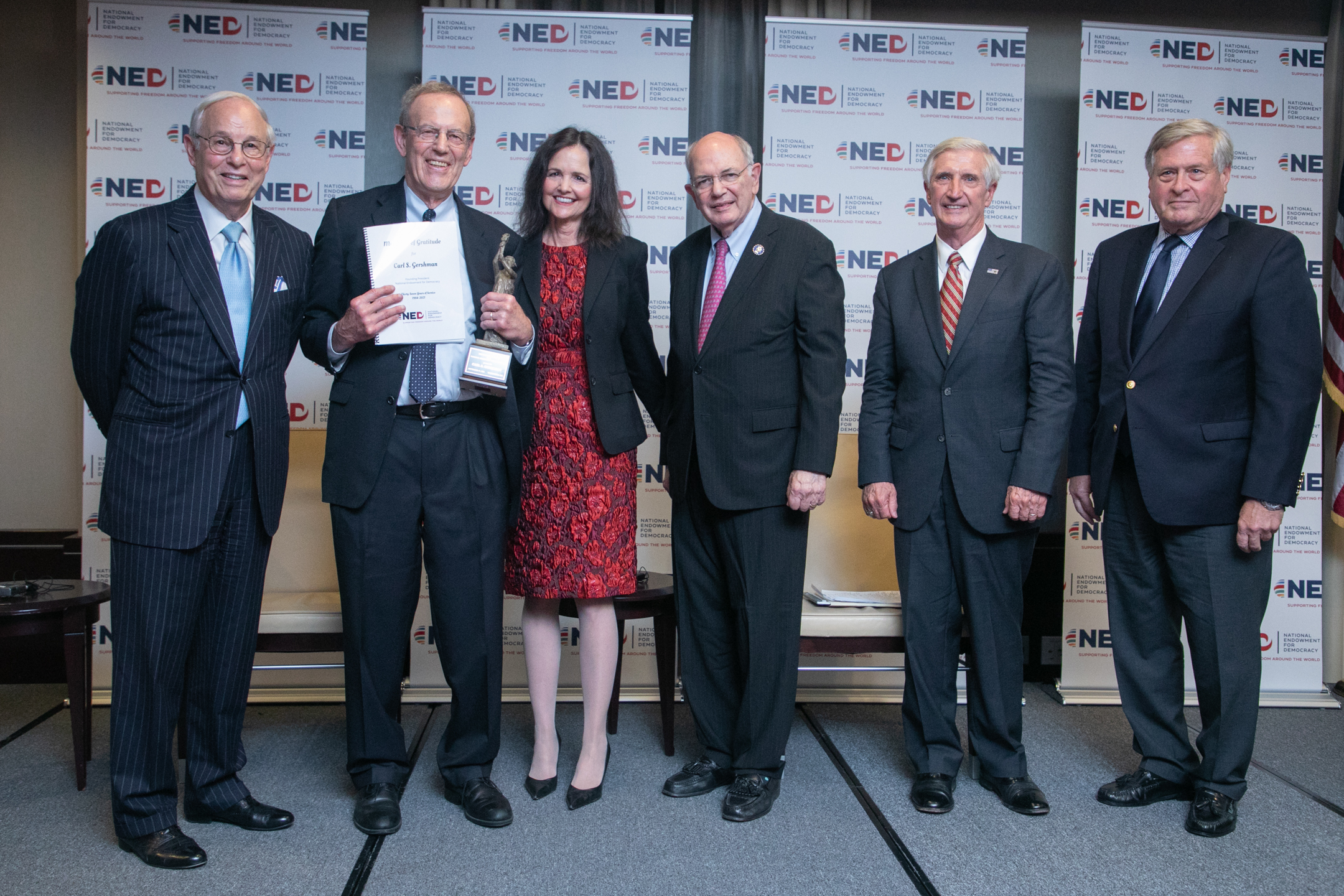 At the end of the program, Gershman was honored with a surprise presentation of NED's Democracy Award, with past leaders of the NED Board of Directors joining him on stage. Wilson also announced the establishment of the Gershman Fund for Democrats at Risk, which will provide emergency support and fellowships to activists at grave risk. "The Carl Gershman Fund will help build the capacity, renew the energies, and expand the influence of courageous democracy advocates, with a focus on those targeted by repressive governments for their work advancing human rights and democracy," said Wilson.
With Gershman in the lead, NED became home to thousands of thinkers, journalists, and grassroots activists from across the world, said Barbara Haig, deputy to the president of NED and acting chief operating officer. "NED did not give up on what others often treated as a lost cause.
Standing firm in his commitment to NED and its important mission, Mr. Gershman concluded: "These autocrats and these dictators, they can put people in prison, they can kill people as they have, but you know they can't wipe out the human desire for freedom and dignity."
Watch a video of the event to celebrate NED's founding President Carl Gershman here.