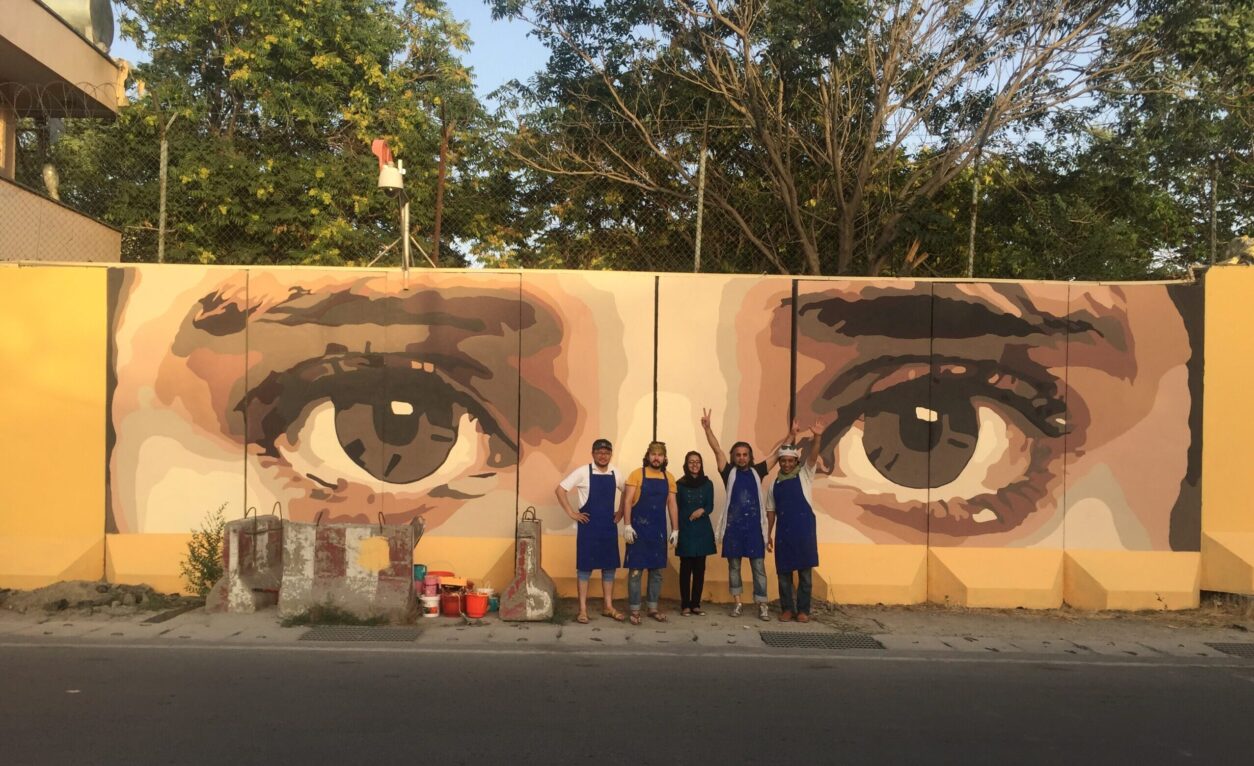 Editor's Note: This story—originally published by NED in 2020—was updated on March 15, 2022, to reflect ArtLords' number of years of operation. In March 2022, ArtLords Co-Founder Omaid Sharifi updated NED about the current work of ArtLords since the Taliban's takeover of Afghanistan in August 2022: "The first act of Taliban, even before announcing their cabinet, was to destroy ArtLords murals and put their own slogans and propaganda messages over them," he said. "Knowing they were being hunted, most of the artists destroyed their own art pieces to try and remain unknown. Despite all of this, ArtLords established offices in Virginia, United States, and Istanbul, Turkey, and has continued to work with and support Afghan artists to increase global advocacy for Afghanistan people's rights and freedom."
A maze of thick barricades proliferates Kabul to shield citizens from suicide bombers, car bombs, and other attacks that Afghans have suffered for decades. Turning streets into concrete canyons, the blast walls strategically protect government buildings and homes of the wealthy and powerful, while leaving many others exposed. A group of artists and volunteers in Afghanistan, ArtLords—a grantee of the National Endowment for Democracy (NED)—reimagines these bleak reminders of conflict as blank canvases for vivid murals with messages of hope.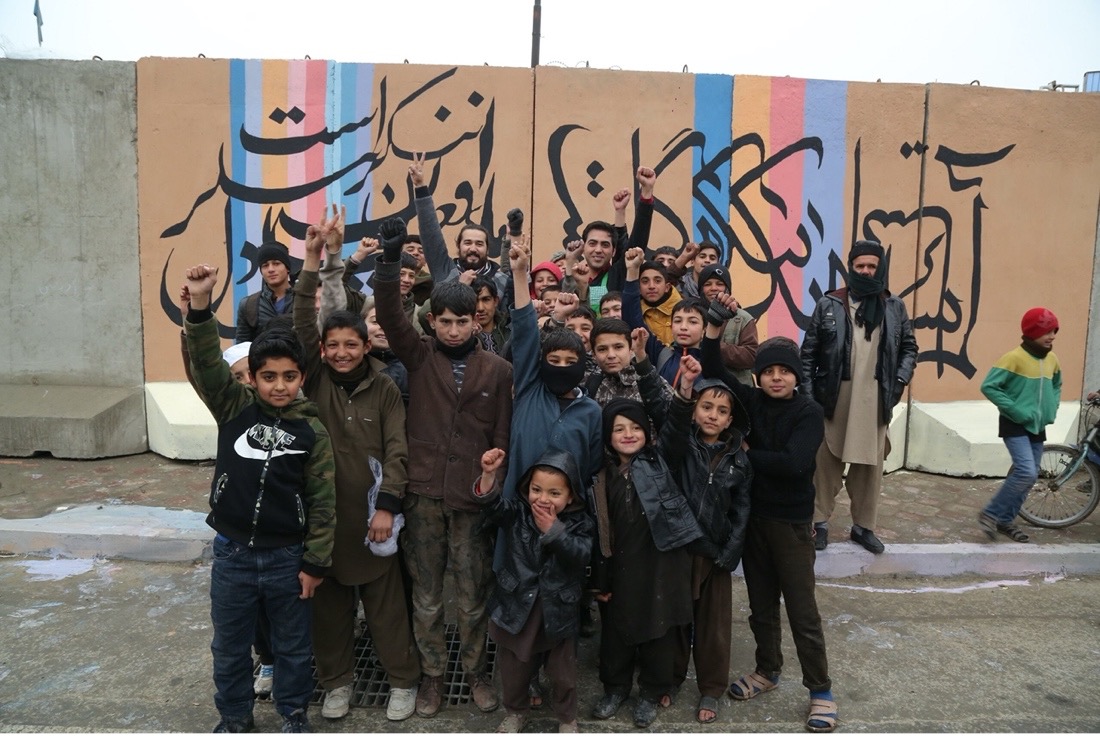 "We aim to promote critical thinking and heal Afghanistan with our art, and encourage empathy, kindness, and love in an environment that has only known and felt war and violence for the last 43 years," says ArtLords co-founder, Omaid Sharifi, who established the organization with artist Kabir Mokamel in 2014. Now they employ 18 people, or "artivists," that collaborate with a network of 54 local artists. "We chose [the name] ArtLords because the word 'lords' was associated with many negative people such as warlords, drug lords. We wanted to be the positive and constructive lords of Afghanistan."
One of the first murals that ArtLords created featured a pair of giant eyes that stare at traffic from the blast wall obscuring the National Directorate of Security, the Afghan intelligence agency. The accompanying text—"I See You," and "Corruption is not hidden from God and people's gaze"—compels passers-by to consider unseen issues facing the country.
Another mural portrays the head of a Japanese aid agency, Tetsu Nakamura, who was shot by gunmen along with his colleagues in December 2019 while working on an irrigation project. More recently, ArtLords painted George Floyd—the 46-year-old black man killed by police in Minneapolis in May 2020—alongside an image of Afghan refugees, drowning in a river of Iran after fleeing their home country, with "We can't breathe," written in Farsi. [Read more about NED's work in the Middle East and North Africa.
Over the last eight years, ArtLords completed around 2,200 murals in 24 provinces of Afghanistan that raise awareness about key issues confronting the country—such as human rights, corruption, drugs and warlords, public health, and more—while engaging fellow citizens to participate in the artistic process. "We are welcomed and accepted in every village and district that we started working," explains Sharifi of their process, which encourages anyone on the street to pick up a paintbrush. "We also used street theater, videos, and animation to connect with our countrymen."
Despite their growing movement, the work of ArtLords faces many difficulties. Securing the permission to paint on these "T-shaped" security walls presents many administrative challenges. The group also encounters real danger. "Explosions, suicide attacks, kidnapping is constantly on our minds when we are completing any projects," says Sharifi. "We have received threats and hate messages too."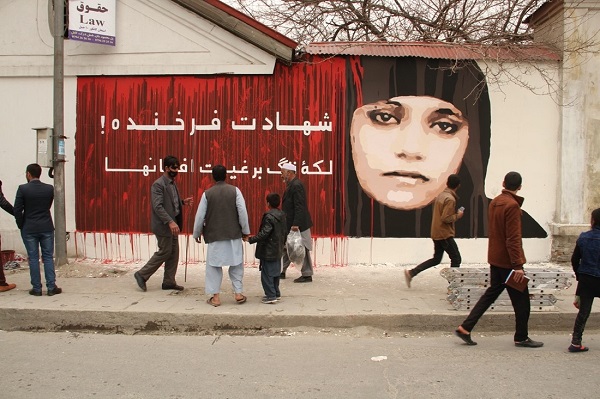 Afghanistan's art, cultural heritage, and artistic expression suffered destruction and suppression by the past regimes of Mujahideen and the Taliban. "In a country devastated and dominated by warlords and drug lords, ArtLords' activists, armed with paintbrushes, promote a powerful vision of a peaceful, pluralistic, accountable, and democratic Afghanistan," remarks Khalid Majidyar, a senior program manager and regional expert at NED. "ArtLords' work transcends language and cultural barriers and promotes peace and co-existence among different communities that have increasingly become polarized across ethnic lines by engaging Afghan youth at the community level, listening to their needs, and giving them the opportunity to express those concerns and demands using a brush and paint instead of resorting to violence."
Although war, violence, and poverty overshadowed contemporary art in Afghanistan in recent years, organizations like ArtLords help to put artistic expression in the spotlight again. "In the last decade, individuals and organizations such as ArtLords have worked hard to re-introduce the lost values of art and culture in Afghanistan. New galleries have opened in Kabul and some big cities, and one can see news of exhibitions and works of art more regularly."
Beyond supporting the contemporary art scene in Afghanistan and beautifying the blast walls that line the cities, the murals paint a new vision of a democratic, inclusive future for Afghanistan throughout its streets, backed by concrete and steel. ArtLords created a movement that values freedom of expression, advocates for the voiceless, and engages citizens to find solutions for the country's problems. Now the organization wants to take their message to other places dealing with conflict, says Sharifi. "ArtLords aims to help artists in the frontline of war and conflict and use public art to change perceptions and attitudes all over the world."
Photographs courtesy of ArtLords.