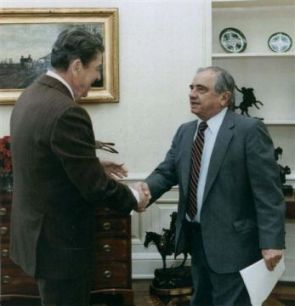 In 1983, the National Endowment for Democracy was mandated by an Act of Congress as an independent, nonprofit, nongovernmental grantmaking organization dedicated to strengthening democratic institutions and values around the world.
At NED's inception 40 years ago, fewer than 60 countries were considered free. NED—along with its four core institutes, the Center for International Private Enterprise, the International Republican Institute, the National Democratic Institute, and the Solidarity Center—responded to the growing needs of democracy movements throughout Central and Eastern Europe, Latin America, the Asia-Pacific region, and Africa.
Earlier efforts to establish a transparent and accountable approach to supporting freedom abroad, such as Congressman Dante Fascell's proposal in 1967 for an Institute of International Affairs, did not materialize, but sparked discussions among U.S. policymakers. By the mid-1970s, the success of Germany's political foundations in aiding the democratic transitions in Spain and Portugal inspired the creation of the bipartisan American Political Foundation (APF) in 1980.
With the APF gaining traction, President Ronald Reagan delivered a major foreign policy address in 1982 before the British Parliament (known as the Westminster Address), in which he called for a new initiative to "foster the infrastructure of democracy– the system of a free press, unions, political parties, universities – which allows a people to choose their own way, to develop their own culture, to reconcile their own differences through peaceful means." He announced that the APF would research how to best support "the global campaign for democracy now gathering force." Later known as "The Democracy Program," this study was led by a cross-section of American political actors: the two major parties, labor unions, businesses, and activists.
On its recommendation, NED was incorporated as a 501(c)(3) private nonprofit organization, to be led by an independent Board of Directors, on November 18, 1983. Congress, led by Rep. Fascell, then passed the NED Act (22 U.S.C. §4411-§4416) on November 22, 1983. The Act created a unique framework that ensured NED would be nongovernmental while receiving a Congressional appropriation subject to oversight and audit. This recognized that NED's success would rely on institutional accountability, transparency, flexibility, and a structure that would allow it to pursue its singular mission independently from the U.S. government.  Following Rep. Fascell's service as acting chair, former Assistant Secretary of State John Richardson became the first chairman. Carl Gershman became NED's founding president.
NED makes grants to its four core institutes and independent civil society and media to advance democracy abroad. To inform and enhance its work, NED established the Journal of Democracy in 1990, the International Forum for Democratic Studies in 1994, and the Center for International Media Assistance in 2006. In addition to NED's Reagan-Fascell Democracy Fellows Program, the World Movement for Democracy, established in 1999, serves as a platform for democracy advocates worldwide to connect, exchange experiences and ideas, and foster international solidarity.
Recent geopolitical trends, including authoritarian resurgence, technological shifts, and strategic competition among global powers, have made the world more volatile. Yet NED's long-term, demand-driven approach to grantmaking and ongoing Congressional support make the organization resilient. NED is nimble, quickly adapting to changes and able to act on opportunities.
Thanks to the U.S. Congress, NED has grown as an institution in recent years with new leadership, a sharper focus on strategic priorities, innovative responses to technological change, and enhanced support for grassroots groups and emerging leaders, such as through the Carl Gershman Fund for Democrats at Risk.
Since its founding, NED has stood alongside those at the forefront of democratic struggles in over 130 countries, serving as a hub for resources, learning, and intellectual exchange. Supporting freedom is the cause of our time.
Additional Reading on NED History: