Sponsored by the National Endowment for Democracy and the Embassy of Lithuania.
---
Agenda
Welcoming Remarks
Carl Gershman, NED President
Screening of The Other Dream Team with an introduction by Marius A. Markevicius, Director
Remarks by
Eric Rubin, Deputy Assistant Secretary of State for European and Eurasian Affairs
Bill Sarpalius, former congressman (D-TX)
Nadia Diuk, NED Vice President, Programs for Europe and Eurasia, Africa, Latin America and the Caribbean
Presentation of the Medal
Martin Frost, NED Chairman
Acceptance
Vytautas Landsbergis
Concluding Remarks
Amb. Zygimantas Pavilionis, Lithuania
---
Vytautas Landsbergis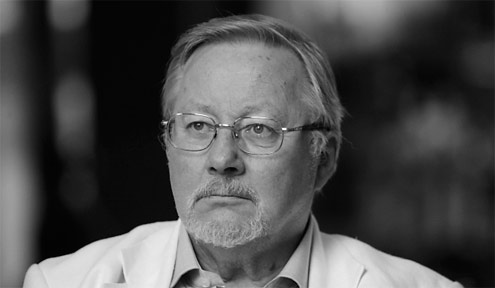 Vytautas Landsbergis, who led the Lithuanian struggle for democracy after nearly 50 years of Soviet occupation, was honored by NED with the Democracy Service Medal at a March 13 event in Washington, DC. NED's new chairman Martin Frost, Lithuania's Ambassador Zygimantas Pavilionis, and former Congressman Bill Sarpalius (D-TX) were among those present to pay tribute to the man considered by many to be "Lithuania's George Washington."
"Vytautas Landsbergis was a very unusual politician," said NED President Carl Gershman. "Not just a political leader but also a moral voice and a philosopher of democracy."
In June of 1988, a group of courageous intellectuals, including musicologist Landsbergis, met at the Lithuanian Academy of Sciences to press for democratic reform and founded the pro-independence Sajudis reform movement.
Landsbergis's work with Sajudis led Lithuania to be the first Soviet state to declare independence from the USSR, inspiring movements across the region. Following his term as president, he served as Speaker of the Lithuanian Parliament and as a representative in the European Parliament.
Sarpalius, who is of Lithuanian descent, recalled meeting Landsbergis soon after the start of his first term in the US Congress.
"His dream was to someday get [Sajudis] on the ballot. And he said if we could ever get them on the ballot, the Sajudis party would win a majority," Sarpalius said. He added that Landsbergis felt this could lead to the fall of communism.
"If you'd have heard that dream in 1989 you'd have thought he was crazy. But I saw him make that dream come true," Sarpalius said. NED Chairman Frost presided over the award ceremony.
Also the descendent of a Lithuanian immigrant, Frost worked to assist the democracy movements of Central and Eastern Europe in the 1980s though the Frost –Solomon Task Force, which provided assistance and training to newly elected members of parliament and parliamentary staffs, and the established libraries across the region.
"I did this because of my Lithuanian ancestry," he said. "And Lithuania was the first county where we did this work."
The Other Dream Team
The Medal presentation was preceded by the screening of a compelling documentary filmy by Marius A. Markevicius titled, "The Other Dream Team." Intertwining the story of Lithuania's democracy movement and the country's love of basketball, the critically acclaimed movie tells story of the newly-independent nation's 1992 Olympic basketball team and its historic brnze medal victory over the former USSR at the Barcelona games.
"[The film] is a reminder that a small group of determined people that have truth and justice on their side can overcome great odds, and can indeed change the course of history," Nadia Diuk, NED vice president of programs for Africa, Central Europe and Eurasia, and Latin America and the Caribbean said.
Diuk noted Landsbergis's role in Lithuania's push for independence.
"Most of these national democratic movements looked to the program and to the decisions of Sajudis as their model," she said. "They also looked at the personal example of Professor Landsbergis; he was a moderate person, mild in manner, but he was very tough and firm in his convictions … a very important quality to have during those crucial years."
Frost agreed. "Like his fellow heroes of democracy Vaclav Havel and Arped Goncz, Professor Landsbergis made a seamless transition from an intellectual dissident to a democratic statesman," he said.
"For his democratic vision, his courageous leadership, and his lifelong commitment to the well-being of his people, the National Endowment for Democracy is proud to bestow upon Vytautas Landsbergis the Democracy Service Medal."
Landsbergis said he was honored to receive the award and spoke about the importance of cultivating a spirit of democracy.
"We see democracy only as the accountability of elected governors, but those who are governing are accountable to the people. Democracy is much deeper, or should be much deeper. There should be democracy governing people's minds. We should be governed not only by democratic institutions, but by the democracy inside of us," said Landsbergis.
Landsbergis cautioned that without this deep, personal commitment to democratic values, democracies become dangerously vulnerable to corruption.
"Can democracy be criminal? Unfortunately, sometimes it can," he said. "I've seen so often, even in democratic parliaments, how democracy is skillfully manipulated, [leading to] lack of trust from the people, disappointment from the people, [and] disappointment in our seemingly democratic institutions."
The event was made possible with generous support from the Kazicas Family Foundation, Albinas Markevicius, Chevron, Strategic Staffing Solutions, and Dr. J.V. Prunskis. A concluding reception was sponsored by the Lithuanian Embassy.
Proceeds from the event will benefit the Parliamentary Forum for Democracy (PFD), an international network of parliamentarians working to further democracy and human rights around the world. A founding member of the PFD, Professor Landsbergis sits on its Governing Council.
---
Event Photos