The rapid growth of independent media was seen as a remarkable success story in Afghanistan. The country's independent media, particularly NED's partners in Afghanistan, played an instrumental role in the country's democratic development by providing citizens with factual information, holding political leaders accountable, and strengthening democratic governance and rule of law in the country. But the country's once thriving media sector has been facing myriad challenges under Taliban rule.
More than 300 media outlets–nearly half of all outlets in the country–have closed since the Taliban takeover in 2021 and thousands of journalists have lost their jobs. Women journalists have been dismissed from government-run media outlets, and those working with private outlets are under increasing pressure. The UN recorded more than 200 cases of violations against journalists in Afghanistan in 2022, including arbitrary arrests and persecution. Despite all challenges, however, independent Afghan media persists. Afghan journalists from inside and outside the country continue to provide Afghans and the international community with factual, objective news and information and counter the Taliban's propaganda.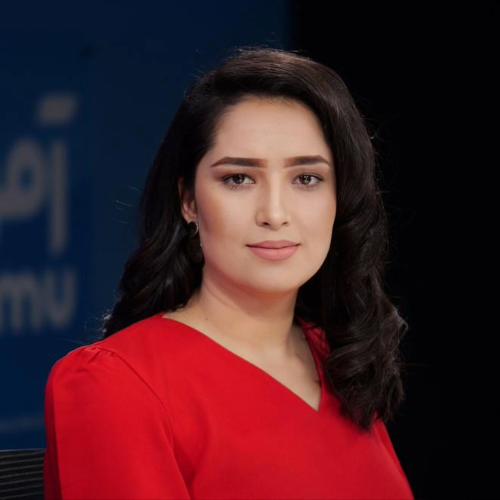 Nazia Hashimyar, a journalist with Amu TV, will accept the Democracy Award on behalf of Afghan Independent Media.
Hashimyar was born in Kabul during civil war in Afghanistan in a conservative and religious family. In August 2021, while she was pursuing a master's degree in International Relations, the government in Kabul collapsed and the Taliban announced a ban on women's education. Like millions of other Afghan women and girls, Hashimyar was deprived of her dreams for higher education. Hashimyar started her journey with Afghanistan National Radio and Television (RTA) as news presenter in 2016. She worked at the Administrative Office of the President as Communication Expert. After the fall of Kabul in August 2021, she fled Afghanistan and resettled in the United States. Hashimyar currently works as a journalist at Amu TV in Washington, D.C.
LEARN MORE:
'My Job is For Humanity': Afghan Journalists Keep the News Flowing
Afghan Democracy Activists Adapt to Build a Better Future