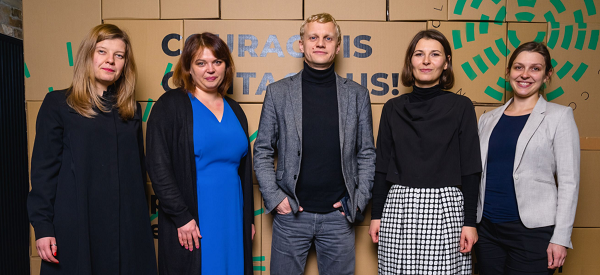 Before Russia's full-scale invasion of Ukraine, corruption was one of the major challenges facing Ukrainian democracy. The Anti-Corruption Action Center (AntAC), a National Endowment for Democracy (NED) grantee and 2022 NED Democracy Award honoree, was on the frontlines of the reform movement fighting for transparency and the rule of law. Today, AntAC is using its expertise in anti-corruption campaigns and advocacy to rally international support, focused on victory and a stronger, democratic Ukraine.
"Corruption was the key root of all other problems in Ukraine," said Daria Kaleniuk, co-founder and executive director of AntAC. "During the last eight years, we focused a lot on building rule of law and fighting for proper anti-corruption infrastructure in Ukraine and we were quite successful. But after February 24, our organization switched what we were doing. Now a significant part of our team is focusing on advocating for everything Ukraine needs to win this war as soon as possible and to prevent losses of human lives and human suffering." [Watch the 2022 NED Democracy Award.]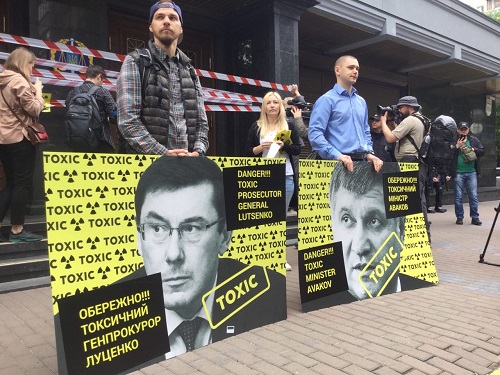 Kaleniuk first became involved in anti-corruption work when she joined a youth civil society organization during her legal studies in Kharkiv, Ukraine. She participated in various advocacy projects, but she noticed that persistent corruption was hampering progress on most issues. So Kaleniuk founded AntAC with colleague Vitaliy Shabunin to advocate for systemic changes in Ukraine and use international legal tools to tackle political corruption.
AntAC and anti-corruption activists in Ukraine have made important progress in recent years. As Kaleniuk wrote in a Foreign Policy article in December 2021, after the 2014 Revolution of Dignity, Ukraine passed several anti-corruption reforms: a central public procurement database, electronic asset declarations for public servants, and the establishment of the National Anti-Corruption Bureau of Ukraine and the High Anti-Corruption Court.
"It's not an easy task to tackle corruption, and therefore it took the last 10 years of my life," said Kaleniuk. "But now I see that some progress and results in building rule of law and fighting corruption in Ukraine posed a serious threat to the Russian totalitarian regime and Russian kleptocracy. And I think that was one of the reasons why Vladimir Putin decided to invade Ukraine—success in Ukraine, success for people living in dignity means the end of authoritative kleptocracy in Russia."
Since Russia's full-scale invasion in February, Kaleniuk and several of her colleagues left Ukraine as refugees. But this has not stopped their advocacy. In early February, AntAC launched the campaign Block Putin Wallets, successfully urging Western countries to seize the assets of Russian oligarchs.
"Anticorruption Action Center's track record of pushing forward the most difficult anticorruption reforms has been a pivotal part of Ukraine's democratic trajectory over the last decade," said Assia Ivantcheva, senior director of Europe programs at NED. "Following the full-scale Russian invasion, the group turned the mirror on the rest of the democratic world as well, showing how corruption and influence-buying is a global sickness that reinforces Russia's agenda. Joining forces with other civil society leaders, AntAC is building global support for Ukraine's cause while simultaneously forcing democratic countries to reevaluate how their own policies and practices align with their stated values."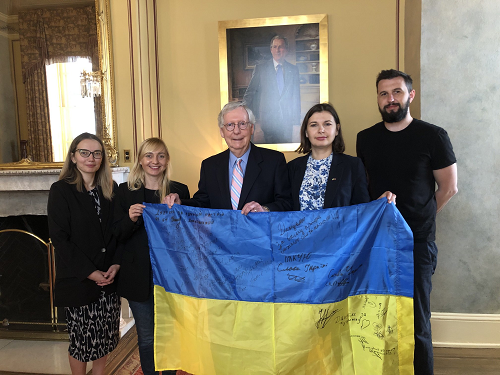 AntAC also joined several other civil society organizations to establish the International Center for Ukrainian Victory in Warsaw, Poland. The civil society coalition works together to advocate for military assistance, strengthening sanctions, and funding for rebuilding Ukraine after the war. Kaleniuk and her colleagues have organized protests and advocacy actions in cities including Paris, Berlin, Brussels, and Washington, DC, met with officials and politicians, and provided interviews to media from around the world. [Watch a Conversation with NED Partners on the Situation in Ukraine]
"We have the role of being ambassadors, non-official, non-formal ambassadors of Ukrainian civil society, to reinforce the pledge of our government and the governmental officials for a quick EU accession, for tougher sanctions, for quicker delivery of advanced weapons," she said. "We're not big experts in all of these issues. We're human rights activists, media organizations, anti-corruption activists. Everybody is now focusing on the same goal: Ukrainian victory."
Even during war, AntAC plans for the future. Kaleniuk said the organization will work on reforms to advance the rule of law and guarantee business competitiveness, as well as transparency mechanisms to make sure that reconstruction aid is used effectively.
"In Ukraine, we paid very high price for ability and for chance to live in freedom and in dignity. We are now paying with human lives, with thousands of human lives," Kaleniuk said. "We don't want corruption or lack of rule of law to be an excuse for not providing enough support for Ukrainian people."