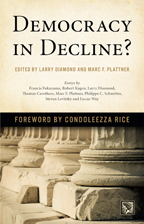 For almost a decade, Freedom House's annual survey has highlighted a decline in democracy in most regions of the globe. While some analysts draw upon this evidence to argue that the world has entered a "democratic recession," others dispute that interpretation, emphasizing instead democracy's success in maintaining the huge gains it made during the last quarter of the twentieth century.
Discussion of this question has moved beyond disputes about how many countries should be classified as democratic to embrace a host of wider concerns about the health of democracy: the poor economic and political performance of advanced democracies, the new self-confidence and assertiveness of a number of leading authoritarian countries, and a geopolitical weakening of democracies relative to these resurgent authoritarians.
In Democracy in Decline?, eight of the world's leading public intellectuals and scholars of democracy—Francis Fukuyama, Robert Kagan, Philippe C. Schmitter, Steven Levitsky, Lucan Way, Thomas Carothers, and editors Larry Diamond and Marc F. Plattner—explore these concerns and offer competing viewpoints about the state of democracy today. This short collection of essays is essential reading for anyone wanting to understand the latest thinking on one of the most critical questions of our era.