Young activists from Zimbabwe, Pakistan, Russia and Cuba honored with 2013 Democracy Award
View Photos from the 2013 Democracy Award
Our Democratic Future: The Role of Youth in Advancing Democracy was the theme for the 2013 NED Democracy Awards, presented on July 17 at a Capitol Hill ceremony in the U.S. Congress.
Remarks of honorees and speakers:
Gululai Ismail
Tribute given by Carl Gershman, NED President
Gulalai's Remarks
Harold Cepero
Tribute given by Carl Gershman, NED President
Rosa Maria Paya's Remarks
Vera Kichanova
Tribute given by Judy Shelton, NED Vice-Chair
Vera Kichanova's Remarks
Glanis Changachirere
Tribute given by Judy Shelton, NED Vice-Chair
Glanis Changachirere's Remarks
Remarks by Members of Congress
The Endowment honored three outstanding young people who are working in extraordinarily challenging environments to create a democratic future in their respective countries. NED also made a posthumous award to a fourth young democrat whose life was cut short in the midst of his struggle. Read more about the honorees:
Gulalai Ismail, 26
Ismail is founder and chairperson of Aware Girls, a young women-led organization that seeks to provide a leadership platform to young women and girls of Khyber Pakhtunkhwa province in northwest Pakistan. She has more than 10 years of experience working on leadership development for girls and young women; addressing gender based violence; encouraging peace and pluralism; promoting and protecting human rights; and striving to bring women in to the political mainstream.
Vera Kichanova, 22
Kichanova was elected in March 2012 as a municipal deputy in Moscow's Yuzhnoye Tushino district. As a member of the municipal council she fights for more transparency on the part of the local authorities. Kichanova is an avid journalist and civic activist who has been arrested for her outspoken defense of democratic principles.
Glanis Changachirere, 30
Changachirere is the founding director of the Institute for Young Women Development (IYWD), which encourages marginalized young women in farming, mining, and rural communities to participate in Zimbabwean politics. IYWD has played an important role in calling for peaceful, democratic elections, and the need to guarantee space for the participation of all Zimbabweans in the political system, including the prevention of gender-based violence.
Harold Cepero, (1980-2012)
Cepero was the leader of the youth wing of Cuba's Christian Liberation Movement (MCL), the group that organized the Varela project — a citizen petition movement that called for a popular referendum to establish the foundation for a democratic system in Cuba. With more than 25,000 Cubans publicly signing the petition, the Varela Project became one of the most creative challenges to the country's totalitarian rulers. On July 22, 2012, Cepero was killed in a suspicious car crash along with Cuba's most prominent democratic activist and founder of the MCL, Oswaldo Payá.
Rosa María Payá Acevedo, another young leader of the MCL and the daughter of Oswaldo Payá, will accept the award on behalf of Cepero and the Christian Liberation Movement.
"At a time when so many regimes are rolling back the democratic gains of recent decades, it is truly inspiring to see the creative, enthusiastic, and courageous efforts of young democrats who are insisting on their rights, demanding accountability, and engaging in politics to achieve democratic progress," said NED president Carl Gershman. "NED is very proud to recognize the work of these honorees and to hold them up as an example for youth around the world who want to have a say in the future of their countries and the world."
The event began with a panel discussion featuring the honorees and moderated by NED board member Michele Dunne, vice president of the Atlantic Council and director of its Rafik Hariri Center for the Middle East. The panel touched on subjects ranging from the motivations that spurred the young activists' involvement in their causes to the day-to-day logistics and very real risks of operating in countries that are often hostile to democratization efforts.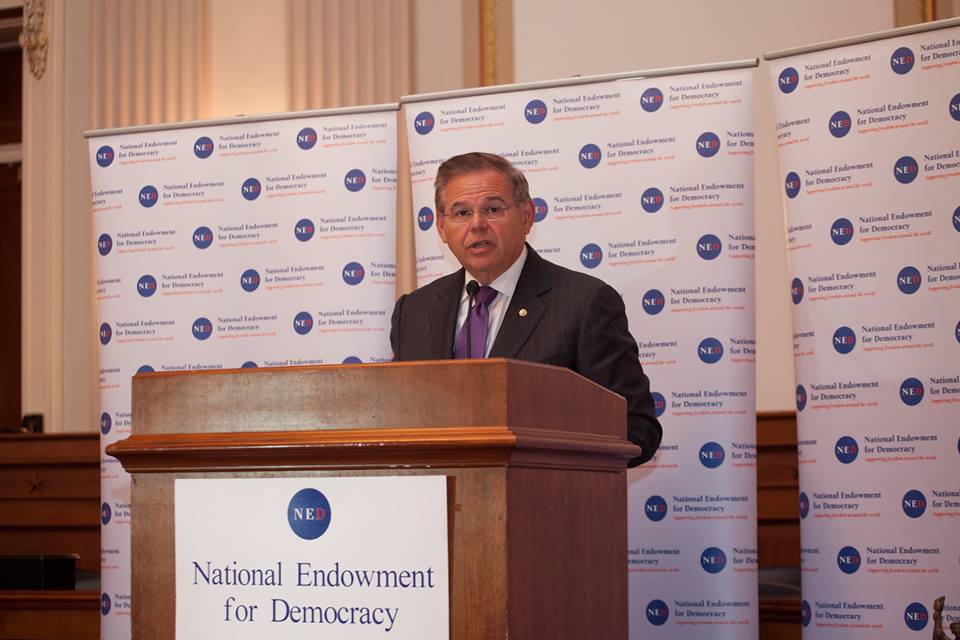 U.S. Senator Robert Menendez (D-NJ), who chairs the Senate Foreign Relations Committee, was on hand to pay tribute to the young activists. He was joined by members of the House of Representatives Ileana Ros-Lehtinen (R-FL), and Mario Diaz-Balart (R-FL).
"These four brave women are role models who truly illustrate the hard work and the dedication that are vital to improve today's world," Rep. Ros-Lehtinen said. "They make the choice to be engaged. They make the choice to be active. They make the choice to lead the cause for freedom and democracy that many of us take for granted every day."
Rep. Diaz-Balart added, "[I want to] thank NED and all of [the attendees] for honoring these four very special individuals who are heroes to all of us," he said. "[They are] four individuals who the world can look to as shining examples of great sacrifice and great pain."
Changachirere dedicated her award to Zimbabwe's upcoming elections at the end of July.
"This is a very important day in the life of many Zimbabweans and this award represents what we want to see prevailing in Zimbabwe," she said. "I will take it with me as a symbol of the strength and the spirit that Zimbabwe needs as we go to the polls on July 31."
Gulalai Ismail thanked the young women of Pakistan with whom she works: "Young women in Pakistan are taking their roles as active citizens, as voters, as politicians, and as critics of the political processes. They have been contributing to the political processes in many different ways. And today, I want to dedicate this award to all those young women who have always spoken for the empowerment of young women, for change, and for sustaining democracy in Pakistan. I believe that democracy, and sustaining democracy, is a slow process. We have to be patient about it."
Sen. Menendez echoed Ismail's statement. "The struggle for democracy requires real, honest, political change and real political change requires the kind of courage we see represented in this year's honorees," he said. "Their courage should not be overlooked as many pro-democracy activists are threatened by the government or are detained by the police for participation in non-violent, pro-democracy protests."
Kichanova, the 22-year-old honoree from Russia, is one such example; she was detained by the police several times for her participation in pro-democracy rallies throughout Moscow. She was recently elected as a municipal deputy in Moscow, leading transparency and accountability initiatives in the local government.
Accepting her award, Kichanova remembered her compatriots, "I am sure that this award is not my award. It is the award of the generation of young Russians who keep fighting, who keep protesting, who keep going out in the streets and participating in some local activities and local elections."
While activists like Ismail are threatened with violence—Aware Girls had to move their office of operation in Pakistan due to the rising levels of danger in the region—there are others like Harold Cepero who pay the ultimate price for their work for freedom and democracy.
"I would like that this recognition could be used to channel all this solidarity not just to remember Harold, but also to act in favor of the things that Harold was working for," said Rosa Maria Payá, who accepted the award on his behalf. "[We must] act in favor of democracy in Cuba, in favor of the demands of the Cuban people, in favor of the demand for a plebiscite in my country, and also in favor of an international investigation to really know what happened with my father and Harold."
In his concluding remarks, NED President Carl Gershman said, "The challenges we've heard about today from each of our awardees vary in some ways: The growing repression in Russia, the violence and clampdown preceding the coming election in Zimbabwe, the marginalization of women and religious extremism in Pakistan, and the continuing dictatorship in Cuba, along with increasing violence against activists like Harold Cepero and Oswaldo Payá. But there is one thing that runs through each situation, which is the commitment, the determination and the courage of these activists in their struggle to build a better and more democratic society. The fact that they all represent a new generation should give us hope for the future. We pledge to them and others fighting for democracy our continued moral and political solidarity."
Gershman then announced that the Endowment would continue to focus on inspiring stories of young activists through the Endowment's upcoming "30 under 30" campaign, which will highlight young activists and small grants (under $30,000) that have made a significant impact on the democracy movement. The campaign will help celebrate NED's 30th anniversary, which takes place in November of this year.