NED Staff book recommendations
Looking for a new book to wrap up the end of summer with? From novels to nonfiction, NED Staff has you covered! Check out these favorites from team members across the organization.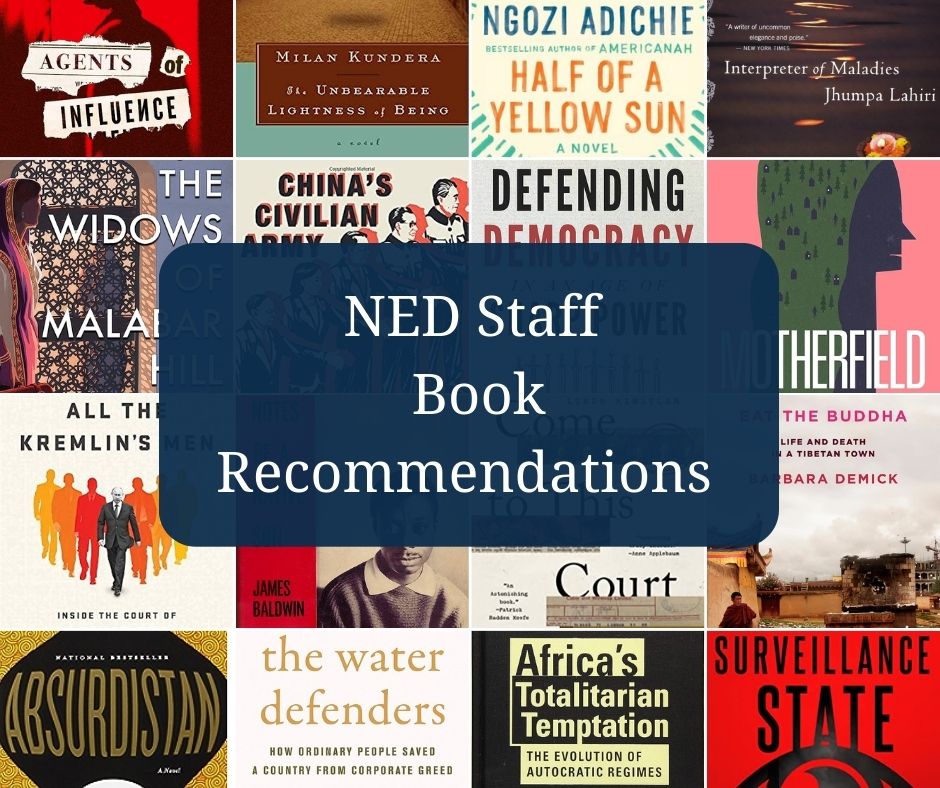 The page was created by the staff of the Democracy Resource Center.
---
All the Kremlin's Men : Inside the Court of Vladimir Putin by Mikhail Zygarʹ
Recommended by Damon Wilson, CEO and President of NED – Find this book at the NED Library!
All the Kremlin's Men is a gripping narrative of an accidental king and a court out of control. Based on an unprecedented series of interviews with Vladimir Putin's inner circle, this book presents a radically different view of power and politics in Russia. The image of Putin as a strongman is dissolved. In its place is a weary figurehead buffeted — if not controlled — by the men who at once advise and deceive him.
The regional governors and bureaucratic leaders are immovable objects, far more powerful in their fiefdoms than the president himself. So are the gatekeepers-those officials who guard the pathways to power-on whom Putin depends as much as they rely on him. The tenuous edifice is filled with all of the intrigue and plotting of a Medici court, as enemies of the state are invented and wars begun to justify personal gains, internal rivalries, or one faction's biased advantage.
A bestseller in Russia, All the Kremlin's Men is a shocking revisionist portrait of the Putin era and a dazzling reconstruction of the machinations of courtiers running riot.
Half of a Yellow Sun by Chimamanda Ngozi Adichie
Recommended by Damon Wilson, CEO and President of NED – Find this book in the NED Library!
With effortless grace, celebrated author Chimamanda Ngozi Adichie illuminates a seminal moment in modern African history: Biafra's impassioned struggle to establish an independent republic in southeastern Nigeria during the late 1960s. We experience this tumultuous decade alongside five unforgettable characters: Ugwu, a thirteen-year-old houseboy who works for Odenigbo, a university professor full of revolutionary zeal; Olanna, the professor's beautiful young mistress who has abandoned her life in Lagos for a dusty town and her lover's charm; and Richard, a shy young Englishman infatuated with Olanna's willful twin sister Kainene.
Half of a Yellow Sun is a tremendously evocative novel of the promise, hope, and disappointment of the Biafran war.
Defending Democracy in an Age of Sharp Power by William J. Dobson, Tarek Masoud, and Christopher Walker
Recommended by a team member of the Research and Conferences Program in the International Forum for Democratic Studies – Find this book in the NED Library!
The world's dictators are no longer content with shoring up control over their own populations—they are now exploiting the openness of the free world to spread disinformation, sow discord, and suppress dissent. In Defending Democracy in an Age of Sharp Power, editors William J. Dobson, Tarek Masoud, and Christopher Walker bring together leading analysts to explain how the world's authoritarians are attempting to erode the pillars of democratic societies—and what we can do about it.
Popular media, entertainment industries, universities, the tech world, and even critical political institutions are being manipulated by dictators who advance their regimes' interests by weakening democracies from within. Autocrats' use of "sharp power" constitutes one of the gravest threats to liberal, representative government today. The optimistic, early twenty-first-century narrative of how globalization, the spread of the internet, and the rise of social media would lead to liberalization everywhere is now giving way to the realization that these same forces provide inroads to those wishing to snuff out democracy at the source. And while autocrats can do much to wall their societies off from democratic and liberal influences, free societies have not yet fully grasped how they can resist the threat of sharp power while preserving their fundamental openness and freedom.
Far from offering a counsel of despair, the international contributors in this collection identify the considerable resources that democracy provides for blunting sharp power's edge. With careful case studies of successful resistance efforts in such countries as Australia, the Czech Republic, and Taiwan, this book offers an urgent message for anyone concerned with the defense of democracy in the twenty-first century.
Come to This Court & Cry: How the Holocaust Ends by Linda Kinstler
Recommended by a team member of the Eurasia Programs – Find this book in the NED Library!
Investigating the death of Herberts Cukurs, a fugitive Nazi from Latvia who had served in her grandfather's unit, and modern efforts to exonerate him for his past actions, the author explores both her family story and the legacy of the post-Holocaust era in Europe, and how that legacy extends into the present.In 1965, five years after the capture of Adolf Eichmann in Buenos Aires, one of his Mossad abductors was sent back to South America to kill another fugitive Nazi, the so-called "butcher of Riga," Latvian Herberts Cukurs. Years later, the Latvian prosecutor general began investigating the possibility of redeeming Cukurs for his past actions. Researching the case, Kinstler discovered that her grandfather, Boris, had served in Cukurs's killing unit and was rumored to be a double agent for the KGB. The proceedings, which might have resulted in Cukurs's pardon, threw into question supposed "facts" about the Holocaust at the precise moment its last living survivors were dying. Kinstler's book is an examination of how history can become distorted over time, and how carelessly the guilty are sometimes reprieved.
Absurdistan by Gary Shteyngart
Recommended by a team member of the Research and Conferences Program in the International Forum for Democratic Studies
From the critically acclaimed, bestselling author of The Russian Debutante's Handbook comes the uproarious and poignant story of one very fat man and one very small country.
Meet Misha Vainberg, aka Snack Daddy, a 325-pound disaster of a human being, son of the 1,238th-richest man in Russia, proud holder of a degree in multicultural studies from Accidental College, USA (don't even ask), and patriot of no country save the great City of New York. Poor Misha just wants to live in the South Bronx with his hot Latina girlfriend, but after his gangster father murders an Oklahoma businessman in Russia, all hopes of a U.S. visa are lost.
Salvation lies in the tiny, oil-rich nation of Absurdistan, where a crooked consular officer will sell Misha a Belgian passport. But after a civil war breaks out between two competing ethnic groups and a local warlord installs hapless Misha as minister of multicultural affairs, our hero soon finds himself covered in oil, fighting for his life, falling in love, and trying to figure out if a normal life is still possible in the twenty-first century.
With the enormous success of The Russian Debutante's Handbook, Gary Shteyngart established himself as a central figure in today's literary world—"one of the most talented and entertaining writers of his generation," according to The New York Observer. In Absurdistan, he delivers an even funnier and wiser literary performance. Misha Vainberg is a hero for the new century, a glimmer of humanity in a world of dashed hopes.
Eat the Buddha: Life and Death in a Tibetan Town by Barbara Demick
Recommended by a team member of Programs in the Office of the Vice President – Find this book in the NED Library!
Set in Aba, a town perched at 12,000 feet on the Tibetan plateau in the far western reaches of China that has been the engine of Tibetan resistance for decades, Eat the Buddha tells the story of a nation through the lives of ordinary people living in the throes of this conflict. Award-winning journalist Barbara Demick illuminates a part of China and the aggressions of this superpower that have been largely off limits to Westerners who have long romanticized Tibetans as a deeply spiritual, peaceful people. She tells a sweeping story that spans decades through the lives of her subjects, among them a princess whose family lost everything in the Cultural Revolution ; a young student from a nomadic family who becomes radicalized in the storied monastery of Kirta ; an upwardly mobile shopkeeper who falls in love with a Chinese woman ; a poet and intellectual who risks everything to voice his resistance. Demick paints a broad canvas through an intimate view of these lives, depicting the tradition of resistance that results in the shocking acts of self-immolation, the vibrant, enduring power of Tibetan Buddhism, and the clash of modernity with ancient ways of life. Her depiction is nuanced, unvarnished, and at times shocking.
The Widows of Malabar Hill by Sujata Massey
Recommended by a team member of the Research and Conferences Program in the International Forum for Democratic Studies
1920s India: Perveen Mistry, Bombay's only female lawyer, is investigating a suspicious will on behalf of three Muslim widows living in full purdah when the case takes a turn toward the murderous. The author of the Agatha and Macavity Award–winning Rei Shimura novels brings us an atmospheric new historical mystery with a captivating heroine.
Perveen Mistry, the daughter of a respected Zoroastrian family, has just joined her father's law firm, becoming one of the first female lawyers in India. Armed with a legal education from Oxford, Perveen also has a tragic personal history that makes women's legal rights especially important to her.
Mistry Law has been appointed to execute the will of Mr. Omar Farid, a wealthy Muslim mill owner who has left three widows behind. But as Perveen examines the paperwork, she notices something strange: all three of the wives have signed over their full inheritance to a charity. What will they live on? Perveen is suspicious, especially since one of the widows has signed her form with an X—meaning she probably couldn't even read the document. The Farid widows live in full purdah—in strict seclusion, never leaving the women's quarters or speaking to any men. Are they being taken advantage of by an unscrupulous guardian? Perveen tries to investigate, and realizes her instincts were correct when tensions escalate to murder. Now it is her responsibility to figure out what really happened on Malabar Hill, and to ensure that no innocent women or children are in further danger.
Inspired in part by the woman who made history as India's first female attorney, The Widows of Malabar Hill is a richly wrought story of multicultural 1920s Bombay as well as the debut of a sharp new sleuth.
The Water Defenders: How Ordinary People Saved a Country from Corporate Greed by Robin Broad, John Cavanagh
Recommended by a team member of the World Movement for Democracy
At a time when countless communities are resisting powerful corporations—from Flint, Michigan, to the Standing Rock Reservation, to Didipio in the Philippines, to the Gualcarque River in Honduras—The Water Defenders tells the inspirational story of a community that took on an international mining corporation at seemingly insurmountable odds and won not one but two historic victories.
In the early 2000s, many people in El Salvador were at first excited by the prospect of jobs, progress, and prosperity that the Pacific Rim mining company promised. However, farmer Vidalina Morales, brothers Marcelo and Miguel Rivera, and others soon discovered that the river system supplying water to the majority of Salvadorans was in danger of catastrophic contamination. With a group of unlikely allies, local and global, they committed to stop the corporation and the destruction of their home.
Based on over a decade of research and their own role as international allies of the community groups in El Salvador, Robin Broad and John Cavanagh unspool this untold story—a tale replete with corporate greed, a transnational lawsuit at a secretive World Bank tribunal in Washington, violent threats, murders, and—surprisingly—victory. The husband-and-wife duo immerses the reader in the lives of the Salvadoran villagers, the journeys of the local activists who sought the truth about the effects of gold mining on the environment, and the behind-the-scenes maneuverings of the corporate mining executives and their lawyers. The Water Defenders demands that we examine our assumptions about progress and prosperity, while providing valuable lessons for those fighting against destructive corporations in the United States and across the world.
Agents of Influence: How the KGB Subverted Western Democracies by Mark Hollingsworth
Recommended by a team member of the Research and Conferences Program in the International Forum for Democratic Studies
Agents of Influence reveals the secret history of an intelligence agency gone out of control, accountable to no one but itself and intent on subverting Western politics on a near-inconceivable scale. In 1985, 1,300 KGB officers were stationed in the USA. The FBI only had 350 counter-intelligence officers. Since the early days of the Cold War, the KGB seduced parliamentarians and diplomats, infiltrated the highest echelons of the Civil Service, and planted fake news in papers across the world.
More disturbingly, it never stopped. Putin is a KGB man through and through. Journalist Mark Hollingworth reveals how disinformation, kompromat and secret surveillance continue to play key roles in Russia's war with Ukraine. It seems frighteningly easy to destabilize Western democracy.
China's Civilian Army: The Making of Wolf Warrior Diplomacy by Peter Martin
Recommended by a team member at the Journal of Democracy – Find this book in the NED Library!
China's Civilian Army charts China's transformation from an isolated and impoverished communist state to a global superpower from the perspective of those on the front line: China's diplomats. They give a rare perspective on the greatest geopolitical drama of the last half century.
In the early days of the People's Republic, diplomats were highly-disciplined, committed communists who feared revealing any weakness to the threatening capitalist world. Remarkably, the model that revolutionary leader Zhou Enlai established continues to this day despite the massive changes the country has undergone in recent decades.
Little is known or understood about the inner workings of the Chinese government as the country bursts onto the world stage, as the world's second largest economy and an emerging military superpower. China's Diplomats embody its battle between insecurity and self-confidence, internally and externally. To this day, Chinese diplomats work in pairs so that one can always watch the other for signs of ideological impurity. They're often dubbed China's "wolf warriors" for their combative approach to asserting Chinese interests.
Drawing for the first time on the memoirs of more than a hundred retired diplomats as well as author Peter Martin's first-hand reporting as a journalist in Beijing, this groundbreaking book blends history with current events to tease out enduring lessons about the kind of power China is set to become. It is required reading for anyone who wants to understand China's quest for global power, as seen from the inside.
The Unbearable Lightness of Being by Milan Kundera
Recommended by a team member of the Research and Conferences Program in the International Forum for Democratic Studies
In The Unbearable Lightness of Being, acclaimed author Milan Kundera tells the story of two couples: a young woman in love with a man torn between his love for her and his incorrigible womanizing, and one of his mistresses and her humbly faithful lover. In a world in which lives are shaped by irrevocable choices and by fortuitous events, a world in which everything occurs but once, existence seems to lose its substance, its weight. Hence, we feel "the unbearable lightness of being" not only as the consequence of our pristine actions but also in the public sphere, and the two inevitably intertwine.
This magnificent novel is a story of passion and politics, infidelity and ideas, and encompasses the extremes of comedy and tragedy, illuminating all aspects of human existence.
Africa's Totalitarian Temptation: The Evolution of Autocratic Regimes by Dave Peterson
Recommended by a team member of the Africa Program – Find this book in the NED Library!
Disappointment with the ability of democracy to deliver economic rewards in much of Africa―and with the persistence of instability, corruption, and poor governance in democratic regimes―has undermined democracy's appeal for many on the continent. At the same time, many external actors are expressing sympathy for regimes that have demonstrated an ability to impose stability and deliver economic growth, despite the limits placed on their citizens' freedom. In this context, Dave Peterson asks: Is totalitarianism emerging as an acceptable alternative to democracy in Africa? And if so, with what consequences? Peterson draws on extensive research in countries across the continent to thoroughly explore the dilemma of the totalitarian temptation.
Motherfield: Poems & Belarusian Protest Diary by Julia Cimafiejeva, Hanif Abdurraqib (Translator), Valzhyna Mort (Translator)
Recommended by a team member of the Research and Conferences Program in the International Forum for Democratic Studies – Find this book in the NED Library!
Julia Cimafiejeva was born in an area of rural Belarus that became a Chernobyl zone when she was a child. The book opens with a poet's diary that records the course of violence unfolding in Belarus since the 2020 presidential election. It paints an intimate portrait of the poet's struggle with fear, despair, and guilt as she goes to protests, escapes police, longs for readership, learns about the detention of family and friends, and ultimately chooses life in exile.
But can she really escape the contaminated farmlands of her youth and her impure Belarusian mother tongue? Can she really escape the radiation of her motherfield? This is the first collection of Julia Cimafiejeva's poetry in English, prepared by a team of co-translators and poets Valzhyna Mort and Hanif Abdurraqib.
Interpreter of Maladies by Jhumpa Lahiri
Recommended by a team member of Asia and Global Grants
Winner of the Pulitzer Prize for fiction, this stunning debut collection unerring charts the emotional journeys of characters seeking love beyond the barriers of nations and generations. In stories that travel from India to America and back again, Lahiri speaks with universal eloquence to everyone who has ever felt like a foreigner.
Notes of a Native Son by James Baldwin
Recommended by a team member at the Center for International Media Assistance
Written during the 1940s and early 1950s, when Baldwin was only in his twenties, the essays collected in Notes of a Native Son capture a view of black life and black thought at the dawn of the civil rights movement and as the movement slowly gained strength through the words of one of the most captivating essayists and foremost intellectuals of that era. Writing as an artist, activist, and social critic, Baldwin probes the complex condition of being black in America. With a keen eye, he examines everything from the significance of the protest novel to the motives and circumstances of the many black expatriates of the time, from his home in "The Harlem Ghetto" to a sobering "Journey to Atlanta."
Notes of a Native Son inaugurated Baldwin as one of the leading interpreters of the dramatic social changes erupting in the United States in the twentieth century, and many of his observations have proven almost prophetic. His criticism on topics such as the paternalism of white progressives or on his own friend Richard Wright's work is pointed and unabashed. He was also one of the few writing on race at the time who addressed the issue with a powerful mixture of outrage at the gross physical and political violence against black citizens and measured understanding of their oppressors, which helped awaken a white audience to the injustices under their noses. Naturally, this combination of brazen criticism and unconventional empathy for white readers won Baldwin as much condemnation as praise.
Notes is the book that established Baldwin's voice as a social critic, and it remains one of his most admired works. The essays collected here create a cohesive sketch of black America and reveal an intimate portrait of Baldwin's own search for identity as an artist, as a black man, and as an American.
Surveillance State: Inside China's Quest to Launch a New Era of Social Control by Josh Chin, Liza Lin
Recommended by a team member of the Research and Conferences Program in the International Forum for Democratic Studies – Find this book in the NED Library!
Josh Chin and Liza Lin's Surveillance State is a groundbreaking work of investigative nonfiction on life in China's burgeoning surveillance state. People living in democracies have for decades drawn comfort from the notion that their form of government, for all its flaws, is the best history has managed to produce. Surveillance State documents with startling detail how even as China's Communist Party pays lip service to democracy as a core value of "socialism with Chinese characteristics," it is striving for something new: a political model that shapes the will of the people not through the ballot box but through the sophisticated–and often brutal–harnessing of data. On the country's remote Central Asian frontier, where a separatist movement strains against Party control, China's leaders have built a dystopian police state that keeps millions under the constant gaze of security forces armed with AI. Across the country in the city of Hangzhou, the government is weaving a digital utopia, where tech giants help optimize the friction out of daily life. Award-winning journalists Josh Chin and Liza Lin take readers on a journey through both places, and several in between, as they document the Party's ambitious push–aided, in some cases, by American technology–to engineer a new society around the power of digital surveillance. China is hardly alone. As faith in democratic principles wavers, advances in surveillance have upended debate about the balance between security and liberty in countries around the globe, including the US. Succeed or fail, the Chinese experiment has implications for people everywhere.