Take a trip around the world with the NED Library
Take a look at the regions NED works in and learn more about the challenging political environments where our grantees work with our hand-picked book list.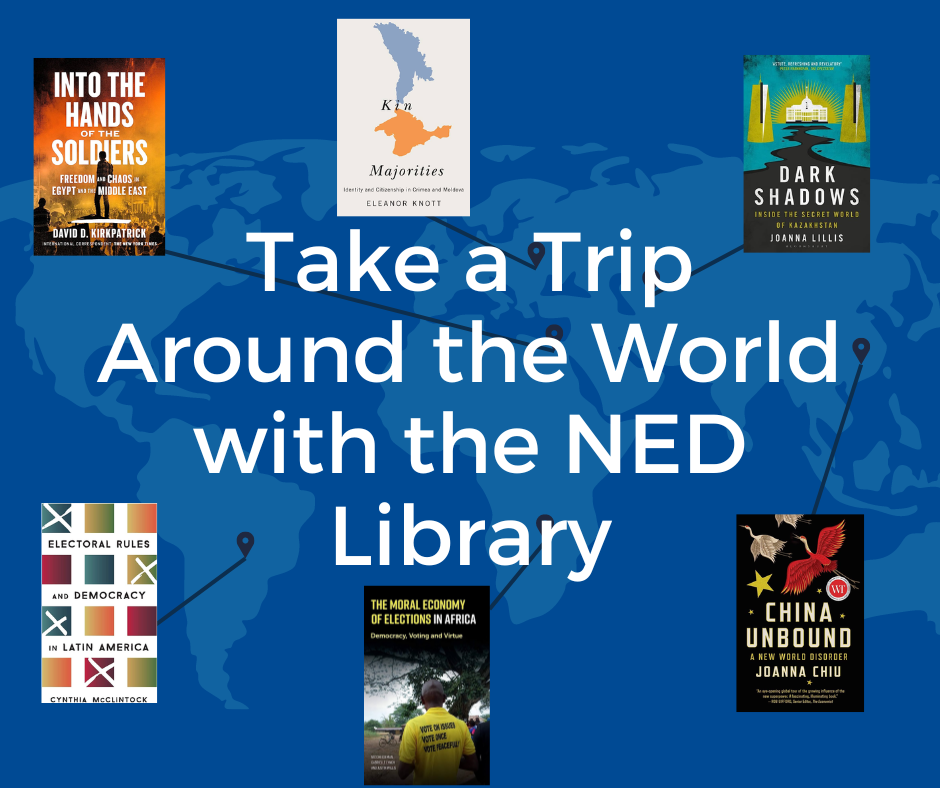 Click here to find out where NED works. The page was created by the staff of the Democracy Resource Center.
---
Africa
Electoral Politics and Africa's Urban Transition: Class and Ethnicity in Ghana by Noah L Nathan
Two aspects of contemporary urban life in Africa are often described as sources of political change: the emergence of a large urban middle class and high levels of ethnic diversity and inter-ethnic social contact. Many expected that these factors would help spark a transition away from ethnic competition and clientelism toward more programmatic elections. Focusing on urban Ghana, this book shows that the growing middle class and high levels of ethnic diversity are not having the anticipated political effects. Instead, urban Ghana is stuck in a trap: clientelism and ethnic voting persist in many urban neighborhoods despite changes to the socio-economic characteristics and policy preferences of voters. Through a unique examination of intra-urban variation in patterns of electoral competition, Nathan explains why this trap exists, demonstrates its effects on political behavior, and explores how new democracies like Ghana can move past it.
Humor, Silence, and Civil Society in Nigeria by Ebenezer Obadare
In Humor, Silence, and Civil Society in Nigeria, Ebenezer Obadare offers an innovative perspective on the idea and reality of civil society. Mobilizing a wide range of concepts and insights from political science, African studies, sociology, cultural studies, media studies, anthropology, communications theory, and international development, Obadare develops a notion of civil society that radically departs from the literature's axiomatic focus on voluntary civic associations and focuses instead on more informal strategies of resistance, such as humor and silence. Compellingly argued, Humor, Silence, and Civil Society in Nigeria raises provocative questions on a topic of keen importance for students, scholars, and policymakers.
The Moral Economy of Elections in Africa: Democracy, Voting, and Virtue by Nic Cheeseman, Gabrielle Lynch, Justin Willis
Taken together, reciprocity, commonality and preference make for a sense of moral virtue that is rooted in privileged relationships between those who share some form of collective identity. Claims for assistance and support based on this kind of reciprocity are seen not only to have power but also to be legitimate, for patrimonialism is a moral force. As Lonsdale (1992b) has argued of the Kikuyu community in Kenya, leaders are expected to give back to the community, but not because there is any notion of a deserving poor. While 'wealth ineluctably incurred obligations' (1992b: 5), the moral purchase of claims on the wealthy come not from a shared belief in the virtue of redistributing wealth per se, but from the fact that the individuals concerned were embedded within a specific ethnic and moral community and were therefore subject to an established set of reciprocal expectations. At the same time, patrimonial virtue is internally contested. Personal ties, ethnicity and locality do not always pull in the same direction; claims or obligations may arise from shared school experience or involvement in a business organization or a club. These ties may enable electoral work: a candidate may raise campaign funds from former schoolmates (their OBs and OGs, as Ugandans call them) or fellow businessmen (Vokes 2016). But politicians, and voters, may have to weigh the relative significance of different kinds of tie: is it proper to trust, or help, other people from your ethnic group more than people who went to the same school? Your kin, rather than your neighbours? The sense that you must not let someone down – and its corollary, the belief that someone owes you something – is a powerful force, but patrimonial morality is chronically jealous: each patron therefore lives in constant fear of being replaced as a result of not having been attentive enough to their supporters' needs, and voters readily suspect their MPof favouring immediate kin over the wider ethnic group, or – worst of all – of forgetting voters and becoming part of an exclusive elite. We use the term 'patrimonial' and not the more common 'neopatrimonial' here for three main reasons. First, our aim is to describe different schools of thought and so our focus is on ideas and the conceptions of virtue that they are rooted in, rather than seeking to define or identify.
Asia
Duterte Harry: Fire and Fury in the Philippines by Jonathan Miller
The first biography of Rodrigo Duterte, the murderous, unpredictable President of the Philippines, whose war on drugs has seen thousands of people killed in cold blood. Rodrigo Duterte was elected President of the Philippines in 2016. In his first six months in office, 5,000 people were murdered on the streets, gunned down by police officers and vigilante citizens — all with his encouragement and blessing. Duterte is a serial womaniser and a self-confessed killer, who has called both Barack Obama and Pope Francis 'sons of whores'. He is on record as saying he does not 'give a shit' about human rights. Yet he is beloved of the 16.6 million Filipinos who voted for him, seen as down and dirty, vulgar but honest, a breath of fresh air, and an iconoclastic, anti-imperialist rebel. In this revelatory biography, reporter Jonathan Miller charts Duterte's meteoric rise to success, and shows how this fascinating, fearsome man can be seen as the embodiment of populism in our time. Through interviews with Duterte himself, his sister, daughter and son, two former presidents, old friends, death squad hitmen, and relatives of his victims, Miller shows that far from the media cartoon of The Godfather, John Wayne, Hugo Chavez, and Donald Trump rolled into one, Duterte is a sinister, dangerous man, who should not be taken lightly.
Tragic Nation : Burma: Why and How Democracy Failed by Amitav Acharya
A decade ago, Burma was full of light and hope. Today, it has descended into darkness and despair. The once promising political and opening up of the country has been set back, possibly for a long time. How did this happen?
Why? Many outside observers are surprised by the developments, but it was predictable. For those watching Burma the February 2021 coup was in the making for some time. Its seeds were planted in the constitution, which created false expectations on both the military and the civilian parties that both sides are going to emerge as long-term winners. The political leadership of Aung San Suu Kyi, the determination of her supporters to gain absolute control of the country at the expense of the military, and the over-dependence on her by her party without a succession plan, were other contributing factors. The international community, including ASEAN, was blindsided by short-term business considerations.
ASEAN saw Burma's entry into the regional grouping as a major geopolitical gain, without keeping an eye on the gathering political storm inside the country. ASEAN's principle of non-interference led to lack a lack of concern for Burma's domestic developments. This book will provide a timely and insightful account of the political situation in Burma, assessing why the country experienced the coup, what the implications are for the people of Burma and the Southeast Asian region, and what role the international community can play to prevent Burma becoming a failed state.
Censorship in Vietnam : Brave New World by Thomas A Bass
What does censorship do to a culture? How do censors justify their work? What are the mechanisms by which censorship-and self-censorship-alter people's sense of time and memory, truth and reality? Thomas Bass faced these questions when The Spy Who Loved Us, his account of the famous Time magazine journalist and double agent Pham Xuan An, was published in a Vietnamese edition. When the book finally appeared in 2014, after five years of negotiations with Vietnamese censors, more than four hundred passages had been altered or cut from the text.
After the book was published, Bass flew to Vietnam to meet his censors, at least the half dozen who would speak with him. In Censorship in Vietnam, he describes these meetings and examines how censorship works, both in Vietnam and elsewhere in the world. An exemplary piece of investigative reporting, Censorship in Vietnam opens a window into the country today and shows us the precarious nature of intellectual freedom in a world governed by suppression.
China Unbound: A New World Disorder by Joanna Chiu
As the world's second-largest economy, China is extending its influence across the globe with the complicity of democratic nations. Joanna Chiu has spent a decade tracking China's propulsive rise, from the political aspects of the multi-billion-dollar 'New Silk Road' global investment project to a growing sway on foreign countries and multilateral institutions through 'United Front' efforts. Chiu offers readers background on the protests in Hong Kong, underground churches in Beijing, and exile Uighur communities in Turkey, and exposes Beijing's high-tech surveillance and aggressive measures that result in human rights violations against those who challenge its power. The new world disorder documented in China Unbound lays out the disturbing implications for global stability, prosperity, and civil rights everywhere.
Eurasia
Black Garden: Armenia and Azerbaijan Through Peace and War by Thomas De Waal
Part contemporary history, part travel book, part political analysis, the book is based on six months traveling through the south Caucasus, more than 120 original interviews in the region, Moscow, and Washington, and unique historical primary sources, such as Politburo archives. The historical chapters trace how the conflict lay unresolved in the Soviet era; how Armenian and Azerbaijani societies unfroze it; how the Politiburo failed to cope with the crisis; how the war was fought and ended; how the international community failed to sort out the conflict. What emerges is a complex and subtle portrait of a beautiful and fascinating region, blighted by historical prejudice and conflict.
The revised and updated 10th-year anniversary edition includes a new forward, a new chapter covering developments up to-2011, such as the election of new presidents in both countries, Azerbaijan's oil boom and the new arms race in the region, and a new conclusion, analysing the reasons for the intractability of the conflict and whether there are any prospects for its resolution. Telling the story of the first conflict to shake Mikhail Gorbachev's Soviet Union, Black Garden remains a central account of the reality of the post-Soviet world.
Dark Shadows: Inside the Secret World of Kazakhstan by Joanna Lillis
Dark Shadows is a compelling portrait of Kazakhstan, a country that is little known in the West. Strategically located in the heart of Central Asia, sandwiched between Vladimir Putin's Russia, its former colonial ruler, and Xi Jinping's China, this vast oil-rich state is carving out its place in the world as it contends with its own complex past and present. Journalist Joanna Lillis paints a vibrant picture of this emerging nation through vivid reportage based on 13 years of on-the-ground coverage, and travels across the length and breadth of this enigmatic country that lies along the ancient Silk Road and at the geopolitical and cultural crossroads where East meets West.
Featuring tales of murder and abduction, intrigue and betrayal, extortion and corruption, this book explores how a president, Nursultan Nazarbayev, transformed himself into a potentate and the economically-struggling state he inherited at the fall of the USSR into a swaggering 21st-century monocracy. A colourful cast of characters brings the politics to life: from strutting oligarch to sleeping villagers, from principled politicians to striking oilmen, from crusading journalists to courageous campaigners.
Traversing dust-blown deserts and majestic mountains, taking in glitzy cities and dystopian landscapes, Dark Shadows conjures up Kazakhstan as a living, breathing place, full of extraordinary people living extraordinary lives.
Conflict, Crime, and the State in Postcommunist Eurasia by Svante E Cornell, Michael Jonsson
In the years after the collapse of the Soviet Union and its zone of influence, few insurgent groups had the resources necessary to confront regular armies. At the same time, state-sponsored financial support for insurgencies dramatically decreased. The pressing need to raise funds for war and the weakness of law enforcement in conflict zones create fertile conditions for organized crime; indeed, there is a mounting body of evidence correlating armed conflict and illicit economy, though the nature of this link and its impact on regional politics has not been well understood. This book explores the relationship between ideologically motivated insurgents and profit-motivated criminal organizations in eight conflict zones. Through detailed case studies, the contributors demonstrate how the operations and incentives of insurgents may emerge and shift over time: for some armed groups, crime can become an end in itself beyond a financial means, but not all armed groups equally adapt to illicit commerce. This book places the case studies along a continuum of political and criminal behavior, examining the factors that motivate insurgents to seek out criminal alliance, how this connection affects the dynamics of conflict, and what risks remain during postconflict transition. These findings will provide a better understanding of the types of challenges likely to confront peacekeeping and statebuilding endeavors in other parts of the world.
Europe
Youth Movements and Elections in Eastern Europe by Olena Nikolayenko
At the turn of the twenty-first century, a tide of nonviolent youth movements swept across Eastern Europe. Young people demanded political change in repressive political regimes that emerged since the collapse of communism. The Serbian social movement Otpor (Resistance) played a vital role in bringing down Slobodan Milosevic in 2000. Inspired by Otpor's example, similar challenger organizations were formed in Azerbaijan, Belarus, Georgia, and Ukraine. The youth movements, however, differed in the extent to which they could mobilize citizens against the authoritarian governments on the eve of national elections. This book argues that the movement's tactics and state countermoves explain, in no small degree, divergent social movement outcomes. Using data from semi-structured interviews with former movement participants, public opinion polls, government publications, non-governmental organization (NGO) reports, and newspaper articles, the book traces state-movement interactions in five post-communist societies: Azerbaijan, Belarus, Georgia, Serbia, and Ukraine"– Provided by publisher."Another salient feature of the protest campaign was the creation of the carnivalesque atmosphere during the protest events. Whistle-blowing was a signature element of the protest marches in the winter of 1996-1997. Additionally, protesters used ringing alarm-bells to symbolize the imminent end of Milosevic's presidency. Later, the image of the alarm clock would appear on Otpor's stickers, suggesting that it was time to vote the incumbent out of office. The opposition forces, including political parties and student protesters, organized one of the largest New Year's street parties on 31 December 1996. To call for a new phase in Serbian politics, students showcased a rubber reptile with the sign "the last Slobosaurus," referring to Milosevic's first name.
Kin Majorities: Identity and Citizenship in Crimea and Moldova by Eleanor Knott
In Moldova, the number of dual citizens has risen exponentially in the last decades. Preceding annexation, many saw Russia as granting citizenship to–or passportizing–large numbers in Crimea. Both are regions with 'kin majorities': local majorities claimed as co-ethnic by external states offering citizenship, among other benefits. As functioning citizens of the states in which they reside, kin majorities do not need to acquire citizenship from an external state. Yet many do so in high numbers. Kin Majorities explores why these communities engage with dual citizenship and how this intersects, or not, with identity. Analyzing data collected from ordinary people in Crimea and Moldova in 2012 and 2013, just before Russia's annexation of Crimea, Eleanor Knott provides a crucial window into Russian identification in a time of calm. Perhaps surprisingly, the discourse and practice of Russian citizenship was largely absent in Crimea before annexation. Comparing the situation in Crimea with the strong presence of Romanian citizenship in Moldova, Knott explores two rarely researched cases from the ground up, shedding light on why Romanian citizenship was more prevalent and popular in Moldova than Russian citizenship in Crimea, and to what extent identity helps explain the difference. Kin Majorities offers a fresh and nuanced perspective on how citizenship interacts with cross-border and local identities, providing crucial implications for the politics of geography, nation, and kin-states, as well as broader understandings of post-Soviet politics.
The War in Ukraine's Donbas: Origins, Contexts, and the Future by David R Marples
This collective work analyzes the ongoing conflict in Ukraine, providing a coherent picture of Ukraine and Eastern Europe in the period 2013-2020. Giving voice to different social groups, scholarly communities and agencies relevant to Ukraine's recent history, The War in Ukraine's Donbas goes beyond simplistic media interpretations that limit the analysis to Vladimir Putin and Russian aims to annex Ukraine. Instead, the authors identify the deeper roots linked to the autonomy and history of Donbas as a region. The contributions explore local society and traditions and the alienation from Ukraine caused by the events of Euromaidan, which saw the removal of the Donetsk-based president Viktor Yanukovych. Other chapters address the refugee crisis, the Minsk Accords in 2014 and the impact of the new president Volodymyr Zelensky and his efforts to bring the war to an end by negotiations among Russia, Ukraine, France, and Germany. The book concludes with four proposals for a durable peace in Donbas: territorial power-sharing; the conversion of rebels into legitimate political parties; amnesty for all participants of the armed conflict; and a transitional period of several years until political institutions are fully re-established.
Latin America and Caribbean
Electoral Rules and Democracy in Latin America by Cynthia McClintock
During Latin America's third democratic wave, a majority of countries adopted a runoff rule for the election of the president, effectively dampening plurality voting, opening the political arena to new parties, and assuring the public that the president will never have anything less than majority support. In a region in which undemocratic political parties were common and have often been dominated by caudillos, cautious naysayers have voiced concerns about the runoff process, arguing that a proliferation of new political parties vying for power is a sign of inferior democracy. This book is the first rigorous assessment of the implications of runoff versus plurality rules throughout Latin America, and demonstrates that, in contrast to early scholarly skepticism about runoff, it has been positive for democracy in the region. Primarily through qualitative analysis for each country, the author argues that, indeed, an important advantage of runoff is the greater openness of the political arena to new parties–at the same time that measures can be taken to inhibit party proliferation. In this context, it is also the first volume to address whether or not a runoff rule with a reduced threshold (for example, 40% with a 10-point lead) is a felicitous compromise between majority runoff and plurality. The book considers the potential for the superiority of runoff to travel beyond Latin America–in particular, and rather provocatively, to the United States.
Precarious Democracies: Understanding Regime Stability and Change in Colombia and Venezuela by Ana María Bejarano, Helen Kellogg Institute for International Studies
Why has democracy in Colombia and Venezuela evolved in very different directions? In Precarious Democracies, Ana Maria Bejarano provides a comparative historical analysis of how the democratic regimes in these two countries have diverged, following similar transitions from authoritarian rule to democracy in the late 1950s.
Rather than focusing on resource-driven explanations, such as the role of oil in Venezuela and coffee in Colombia, or on short-term elite choices and calculations, Bejarano argues that democratic development in Colombia and Venezuela is best understood from a vantage point that privileges political history, especially the history of institutional evolution. The book makes the case that a comparative historical institutional framework―focused both on institutional legacies from the distant past (such as the state and political parties) and on those from more recent critical junctures (the foundational pacts)―provides the best lens to account for the divergent trajectories followed by democratic regimes in Colombia and Venezuela in the second half of the twentieth century.
The Double Life of Fidel Castro: My 17 years as Personal Bodyguard to El Líder Máximo by Juan Reinaldo Sánchez, Axel Gyldén, Catherine Spencer
In The Double Life of Fidel Castro, one of Castro's soldiers of 17 years breaks his silence and shares his memoir of years of service, and eventual imprisonment and torture for displeasing the notorious dictator, and his dramatic escape from Cuba. Responsible for protecting the Lider maximo for two decades, Juan Reinaldo Sánchez was party to his secret life – because everything around Castro was hidden. From the ghost town in which guerrillas from several continents were trained, to his immense personal fortune – including a huge property portfolio, a secret paradise island, and seizure of public money – as well as his relationship with his family and his nine children from five different partners. Sanchez's tell-all expose reveals countless state secrets and the many sides of the Cuban monarch: genius war leader in Nicaragua and Angola, paranoid autocrat at home, master spy, Machiavellian diplomat, and accomplice to drug traffickers. This extraordinary testimony makes us re-examine everything we thought we knew about the Cuban story and Fidel Castro Ruz.
Middle East and North Africa
The Burning Shores: Inside the Battle for the New Libya by Frederic M Wehrey
The death of Colonel Muammar Qadhafi freed Libya from forty-two years of despotic rule, raising hopes for a new era. But in the aftermath, the country descended into bitter rivalries and civil war, paving the way for the Islamic State and a catastrophic migrant crisis. In a fast-paced narrative that blends frontline reporting, analysis, and history, Frederic Wehrey tells the story of what went wrong. An Arabic-speaking Middle East scholar, Wehrey interviewed the key actors in Libya and paints vivid portraits of lives upended by a country in turmoil: the once-hopeful activists murdered or exiled, revolutionaries transformed into militia bosses or jihadist recruits, an aging general who promises salvation from the chaos in exchange for a return to the old authoritarianism. He traveled where few Westerners have gone, from the shattered city of Benghazi, birthplace of the revolution, to the lawless Sahara, to the coastal stronghold of the Islamic State in Qadhafi's hometown of Sirt. He chronicles the American and international missteps after the dictator's death that hastened the country's unraveling. Written with bravura, based on daring reportage, and informed by deep knowledge, The Burning Shores is the definitive account of Libya's fall.
Tribes and Politics in Yemen tells the story of the Houthi conflict in Sa'dah Province, Yemen, as seen through the eyes of the local tribes. In the West the Houthi conflict, which erupted in 2004, is often defined through the lenses of either the Iranian-Saudi proxy war or the Sunni–Shia divide. Yet, as experienced by locals, the Houthi conflict is much more deeply rooted in the recent history of Sa'dah Province. Its origins must be sought in the political, economic, social and sectarian transformations since the 1960s civil war and their repercussions on the local society, which is dominated by tribal norms. From the civil war to the Houthi conflict these transformations involve the same individuals, families and groups, and are driven by the same struggles over resources, prerogatives, and power.
This book is based on years of anthropological fieldwork expertise both on the ground and through digital anthropological approaches. It offers a detailed account of the local complexities of the Houthi conflict and its historical background and underscores the absolute imperative of understanding the highly local, personal, and non-ideological nature of internal conflict in Yemen.
Into the Hands of the Soldiers: Freedom and Chaos in Egypt and the Middle East by David D Kirkpatrick
A candid narrative of how and why the Arab Spring sparked, then failed, and the truth about America's role in that failure and the subsequent military coup that put Sisi in power–from the Middle East correspondent of the New York Times. In 2011, Egyptians of all sects, ages, and social classes shook off millennia of autocracy, then elected a Muslim Brotherhood president. The 2013 military coup replaced him with a vigorous strongman, Abdel Fattah el-Sisi, who has cracked down on any dissent or opposition with a degree of ferocity Mubarak never dared. What went wrong? Is the Arab world stuck between military and theocratic authoritarianism? And how did Washington manage to be so feckless and reactive? Egypt has for centuries set in motion every major trend in politics and culture across the Arab world, from independence and Arab nationalism to Islamic modernism, political Islam, and the jihadist thought that led to Al Qaeda and ISIS. The Arab Spring revolts of 2011 spread from Cairo, so Americans naturally look to its disastrous democratic experiment with cynical exasperation; but they fail to understand the dynamic of the uprising, the hidden story of its failure, and Washington's part in that tragedy. David D. Kirkpatrick arrived in Egypt less than six months before the uprising broke out. The book juxtaposes his account of Tahrir Square, the elections, and the eventual coup, with new reporting on the conflicts within the Obama administration over how to handle the tumult. It is the story of Kirkpatrick's education in the Arab world, in a time of revolution and violence.