Women's History Month Book List
The NED library presents a curated list of books that commemorates and celebrates women's history, achievements, and legacy.
Find all of these exciting reads in the NED Library.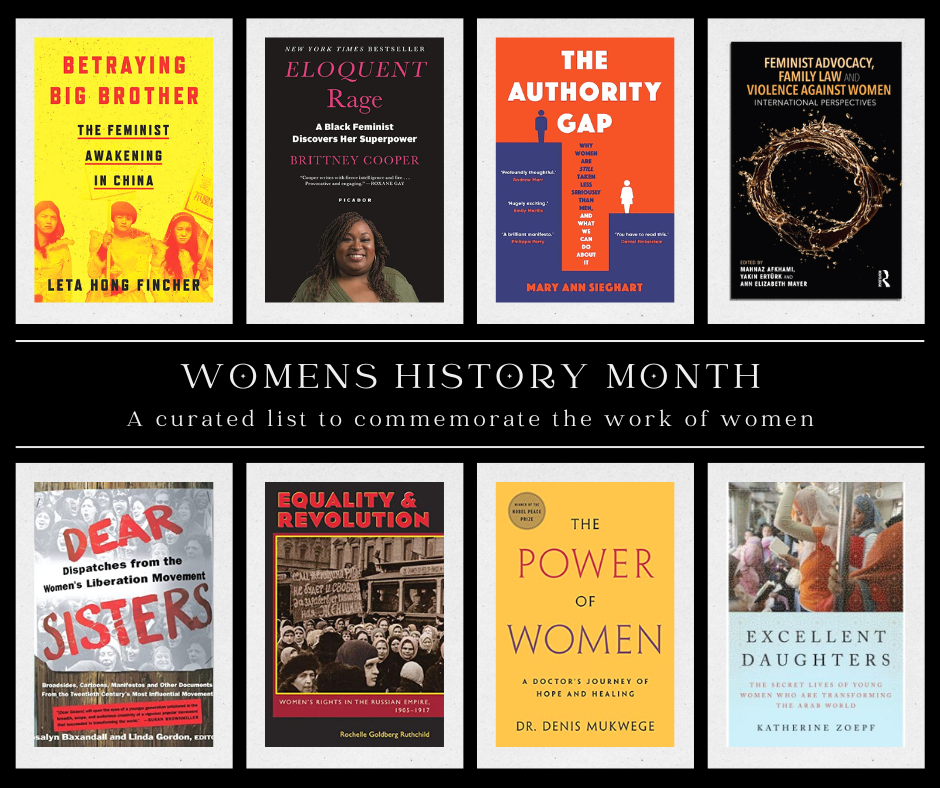 ---
Equality & Revolution: Women's Rights in the Russian Empire, 1905-1917 by Rochelle Goldberg Ruthchild
On July 20, 1917, Russia became the first major power to grant women the right to vote and hold public office. But after the October Revolution and the establishment of the Soviet Union, those who had pioneered the suffragist cause were all but erased from accounts of Russian history. The women's movement, when mentioned at all, was portrayed as rooted in the elitist and bourgeois culture of the tsarist era, meaningless to proletarian and peasant women, and even counter to socialist ideology. Ruthchild reveals that in fact Russian feminists appealed to all classes and were an integral force for revolution and social change. She profiles the individuals and organizations that were vital to the feminist struggle, particularly during the monumental uprisings of 1905-1917, and presents a significant reinterpretation of a decisive period of Russian—and world—history.
---
Human Rights are Women's Rights by Amnesty International
For millions of women the 1990's have meant terror, deprivation, and the imperative of fighting for justice. Today, what unites women internationally – transcending class, race, culture, religion, nationality and ethnic origin – is their vulnerability to abuse of their fundamental human rights, and their dedicated efforts to claim those rights.Every year millions of women suffer every abuse and violation known to the modern world. Certain violations, such as rape, are primarily directed at women. The report highlights the situation of women in some 75 countries and shows how much work must be done if we are indeed to have Equality by the Year 2000.
---
Arab Women Writers: An Anthology of Short Stories by Dalya Cohen-Mor
Consisting of sixty short stories by forty women writers from across the Arab world, this collection opens numerous windows onto Arab culture and society and offers keen insights into what Arab women feel and think. The stories deal not only with feminist issues but also with topics of a social, cultural, and political nature. Different styles and modes of writing are represented, along with a diversity of techniques and creative approaches, and the authors present many points of view and various ways of solving problems and confronting situations in everyday life. Lively, outspoken, and provocative, these stories are essential reading for anyone interested in the Arab world.
---
The power of Women: A Doctor's Journey of Hope and Healing by Denis Mukwege
From Nobel laureate, world-renowned doctor, and noted human rights activist Dr. Denis Mukwege comes an inspiring clarion call-to-action to confront the scourge of sexual violence and better learn from women's resilience, strength, and power. At the heart of Dr. Mukwege's message will be the voices of the many women he has worked with over the years. Dr. Mukwege will use individual cases to reassure all survivors that, even if their psychological wounds may never fully heal, they can recover and thrive with the right care and support. Dr. Mukwege's dramatic personal story is interwoven throughout as he explores the bigger issues that have become a focus of his advocacy. He will seek to explain why sexual violence is so often overlooked during war, and how governments need to recognize and compensate victims. He will also stress the importance of breaking down the taboos surrounding assault, and the necessity of building a system that supports women who come forward. His words advocate for saying 'no' to indifference and he asks readers to reckon with the West's involvement in perpetuating sexual violence in places like the Democratic Republic of Congo, and to confront the abuse taking place in their own communities. Sexual violence does not occur in a vacuum. The conflict in the Democratic Republic of Congo, which has raged for over 20 years and has claimed an estimated 5 million lives, is inseparable from Western patriarchy and economic colonization. And this cycle of violence and spoils is not limited to Congo. Dr. Mukwege's work has led him to South Korea, Latin America, the Middle East, and elsewhere in Africa, where he has found striking similarities in women's testimonies. The truth is, through the intricate ties of the global economy, we are all implicated in violence against women – whether it occurs amidst the fighting in the Democratic Republic of Congo or on college campuses in the West. And Dr. Mukwege's writing will address men as well, encouraging and guiding them to become allies in the fight against sexual abuse, in war and in peace. Building more inclusive, gender-balanced societies will require developing what he calls "positive masculinity" – a systemic change in male behavior and attitudes towards women. Dr. Mukwege hopes to inspire other men to speak out and join the struggle, rather than leaving women to fight the battle alone. He will also make the case, drawing from his experience and a wealth of research on the topic, that when women are involved as economic and political decision makers, all of society benefits. The Power of Women will illuminate the enduring strength of women in the face of violence and trauma, and give hope for the potential of individuals to turn the tide.
---
Betraying Big Brother: The Feminist Awakening in China by Leta Hong Fincher
On the eve of International Women's Day in 2015, the Chinese government arrested five feminist activists and jailed them for thirty-seven days. The Feminist Five became a global cause célèbre, with Hillary Clinton speaking out on their behalf and activists inundating social media with #FreetheFive messages. But the Five are only symbols of a much larger feminist movement of civil rights lawyers, labor activists, performance artists, and online warriors prompting an unprecedented awakening among China's educated, urban women. In Betraying Big Brother, journalist and scholar Leta Hong Fincher argues that the popular, broad-based movement poses the greatest challenge to China's authoritarian regime today. Through interviews with the Feminist Five and other leading Chinese activists, Hong Fincher illuminates both the difficulties they face and their "joy of betraying Big Brother," as Wei Tingting–one of the Feminist Five–wrote of the defiance she felt during her detention. Tracing the rise of a new feminist consciousness now finding expression through the #MeToo movement, and describing how the Communist regime has suppressed the history of its own feminist struggles, Betraying Big Brother is a story of how the movement against patriarchy could reconfigure China and the world.
---
Eloquent Rage: A Black feminist Discovers Her Superpower by Brittney C Cooper
Far too often, Black women's anger has been caricatured into an ugly and destructive force that threatens the civility and social fabric of American democracy. But Cooper shows us that there is more to the story than that. Black women's eloquent rage is what makes Serena Williams such a powerful tennis player. It's what makes Beyoncé's girl power anthems resonate so hard. It's what makes Michelle Obama an icon. Eloquent rage keeps us all honest and accountable. It reminds women that they don't have to settle for less. In the Black feminist tradition of Audre Lorde, Brittney Cooper reminds us that anger is a powerful source of energy that can give us the strength to keep on fighting.
---
The Authority Gap: Why Women are Still Taken Less Seriously Than Men, and What We Can Do About It by Mary Ann Sieghart
An incisive, intersectional look at the mother of all gender biases: a resistance to women's authority and power. Every woman has a story of being underestimated, ignored, challenged, or patronized in the workplace. Maybe she tried to speak up in a meeting, only to be talked over by male colleagues. Or a client addressed her male subordinate instead of her. Despite the progress we've made toward equality, we still fail, more often than we might realize, to take women as seriously as men. In The Authority Gap, journalist Mary Ann Sieghart examines the wide-ranging implications of this critical gender bias. She explores its intersections with race and class biases and the measures we can take to bridge the gap. With precision and insight, she marshals a wealth of data from a variety of disciplines–including psychology, sociology, politics, and business – and interviews pioneering women like Booker Prize winner Bernardine Evaristo and Janet Yellen. The Authority Gap offers a "a credible roadmap that is capable of taking women from the margins to the center" (Mary McAleese, former president of Ireland). Includes interviews with pioneering women such as: Baroness Hale, Mary Beard, Bernadine Evaristo, Mary McAleese, Julia Gillard, Dolly Alderton and Pandora Sykes, Cherie Blair, Liz Truss, Amber Rudd, Frances Morris, Laura Bates.
---
Women of the Midan: The Untold Stories of Egypt's Revolutionaries by Sherine Hafez
Though the testimonies of Egyptian women who participated in the revolution, Women of the Midan foregrounds the role of the gendered body as an agent of collective action and transformation–a practice and process that challenges traditional notions of how women are represented in the Middle East.
---
The Other Side of Silence: A Memoir of Exile, Iran, & the Global Women's Movement by Mahnaz Afkhami
When Mahnaz Afkhami picked up the phone in a New York hotel room early one morning in November 1978, she learned she could never go home again: she had been declared an apostate and enemy of the Iranian Revolution and was now on its death list. Afkhami, Iran's first minister for women's affairs, began to rebuild her life in the United States, becoming an architect of the women's movement in the Global South. Along the way, she encountered familial, cultural, political, and organizational hurdles that threatened to derail her quest to empower women and change the very structure of human relations. A skilled storyteller who has spent her life in two worlds, Mahnaz Afkhami shares her unexpected and meteoric rise from unassuming English professor to a champion of women's rights in Iran; the clash between Western feminists and those from the Global South; and the challenges of international women's rights work during the so-called war on terror.
---
Feminist Advocacy, Family Law and Violence Against Women: International Perspectives by Mahnaz Afkhami, Yakın Ertürk, Ann Elizabeth Mayer, International Development Research Centre
Around the world, discriminatory legislation prevents women from accessing their human rights. It can affect almost every aspects of a woman's life, including the right to choose a partner, inherit property, hold a job, and obtain child custody. Often referred to as family law, these laws have contributed to discrimination and to the justification of gender-based violence globally. This book demonstrates how women across the world are contributing to legal reform, helping to shape non-discriminatory policies, and to counter current legal and social justifications for gender-based violence.
---
Excellent Daughters: The Secret Lives of Young Women Who are Transforming the Arab World by Katherine Zoepf
For more than a decade, Katherine Zoepf has lived in or traveled throughout the Arab world, reporting on the lives of women, whose role in the region has never been more in flux. Only a generation ago, female adolescence as we know it in the West did not exist in the Middle East. There were only children and married women. Today, young Arab women outnumber men in universities, and a few are beginning to face down religious and social tradition in order to live independently, to delay marriage, and to pursue professional goals. Hundreds of thousands of devout girls and women are attending Qur'anic schools–and using the training to argue for greater rights and freedoms from an Islamic perspective. And, in 2011, young women helped to lead antigovernment protests in the Arab Spring. But their voices have not been heard. Their stories have not been told. In Syria, before its civil war, she documents a complex society in the midst of soul searching about its place in the world and about the role of women. In Lebanon, she documents a country that on the surface is freer than other Arab nations but whose women must balance extreme standards of self-presentation with Islamic codes of virtue. In Abu Dhabi, Zoepf reports on a generation of Arab women who've found freedom in work outside the home. In Saudi Arabia she chronicles driving protests and women entering the retail industry for the first time. In the aftermath of Tahrir Square, she examines the crucial role of women in Egypt's popular uprising. Deeply informed, heartfelt, and urgent, Good Daughters brings us a new understanding of the changing Arab societies–from 9/11 to Tahrir Square to the rise of ISIS–and gives voice to the remarkable women at the forefront of this change.
---
Factory girls: From Village to City in a Changing China by Leslie T Chang
An eye-opening and previously untold story, Factory Girls is the first look into the everyday lives of the migrant factory population in China. China has 130 million migrant workers – the largest migration in human history. In Factory Girls, Leslie T. Chang, a former correspondent for the Wall Street Journal in Beijing, tells the story of these workers primarily through the lives of two young women, whom she follows over the course of three years as they attempt to rise from the assembly lines of Dongguan, an industrial city in China's Pearl River. Factory Girls demonstrates how the mass movement from rural villages to cities is remaking individual lives and transforming Chinese society, much as emigration to America's shores remade our own country a century ago.
---
Women and Politics: The Pursuit of Equality by Lynne E Ford
Women and Politics is a comprehensive examination of women's use of politics in pursuit of gender equality. How can demands for gender equality be reconciled with sex differences? Resolving this paradoxical question has proceeded along two paths: the legal equality doctrine, which emphasizes gender neutrality, and the fairness doctrine, which recognizes differences between men and women. The text's clear analysis and presentation of theory and history helps students to think critically about the difficulties faced by women in politics, and about how public policies in education, labor and the economy, and family and fertility, impact gender equality.
---
Dear Sisters: Dispatches From the Women's Liberation Movement by Rosalyn Baxandall, Linda Gordon
Today's women are so comfortable in their authority that they often forget to credit the women's liberation movement of the 1960s and '70s for paving the way—from the kitchen to the boardroom, from sexual harassment to self-defense, from cheerleading on the sidelines to playing center on the team. Distinguished scholars and active participants in the movement, Linda Gordon and Rosalyn Baxandall have collected a colorful array of documents—songs, leaflets, cartoons, position papers—that illustrate the range of people, places, organizations, and ideas that made up the movement. Dear Sisters chronicles historical change in such broad areas as health, work, and family, and captures the subtle humor, unceasing passion, and overwhelming diversity that defined the women's liberation movement.