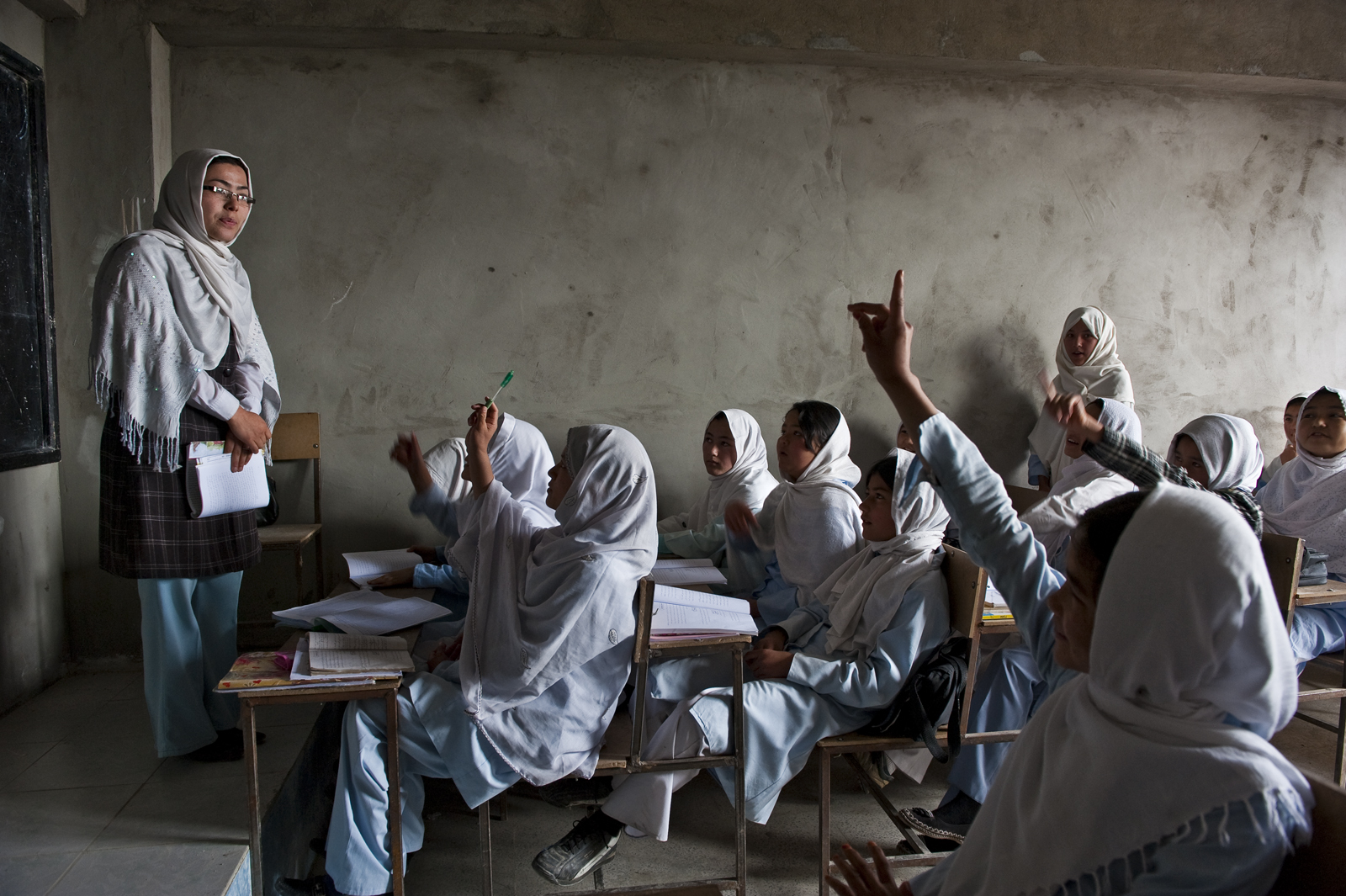 On the outskirts of Kabul in an area mostly populated by ethnic minority Hazaras, the private Marefat High School opened two decades ago to provide civic education to Afghan children, regardless of gender or ethnicity. Girls and boys learn critical thinking, conflict resolution, and democratic principles. They participate in student council, martial arts, musical performances, and other community-building activities, including running an edutainment TV channel with 24-hour broadcasting. Most importantly, they discover a world of possibilities for the future through a unique approach to education in the country.
In August 2021, when the Taliban took over Afghanistan, Marefat High School—a National Endowment for Democracy (NED) partner working in Kabul since 2002—was forced to adapt its teaching methods.
"The school administrators have received constant threats and phone calls, so we have decided to stop formal education for girls, which would be regarded as a sign of disobeying the Taliban rule," says Aziz Royesh, founder of Marefat High School and former fellow at NED. He recently stepped back from the school due to increasing threats against the administration and teachers. "We are thinking about other ways to continue our cluster education for girls, though in a more low-profile manner. It will affect the impact and progress of the educational program but will mitigate the security risks for the students and faculty." (A cluster education model means classrooms formed by ability, not age.)
The Taliban restricted many freedoms when taking power, including rolling back the rights of women and girls. Mixed messaging around girls' education included an initial commitment from the Taliban to continue education for female students, while only allowing boys to attend school in September 2021 through the winter. Then eager girls lined up for the first day of school in March 2022, after seven months without education, just to be sent home in tears by armed Taliban guards when the regime reneged on their promise. Afghan girls over the age of 11 remain banned from schools.
Despite the Taliban's education ban, Marefat High School kept its doors open to female students until recent attacks on schools in Kabul. Most worrisome, the Taliban have started recruiting teenage students from schools to work as spies.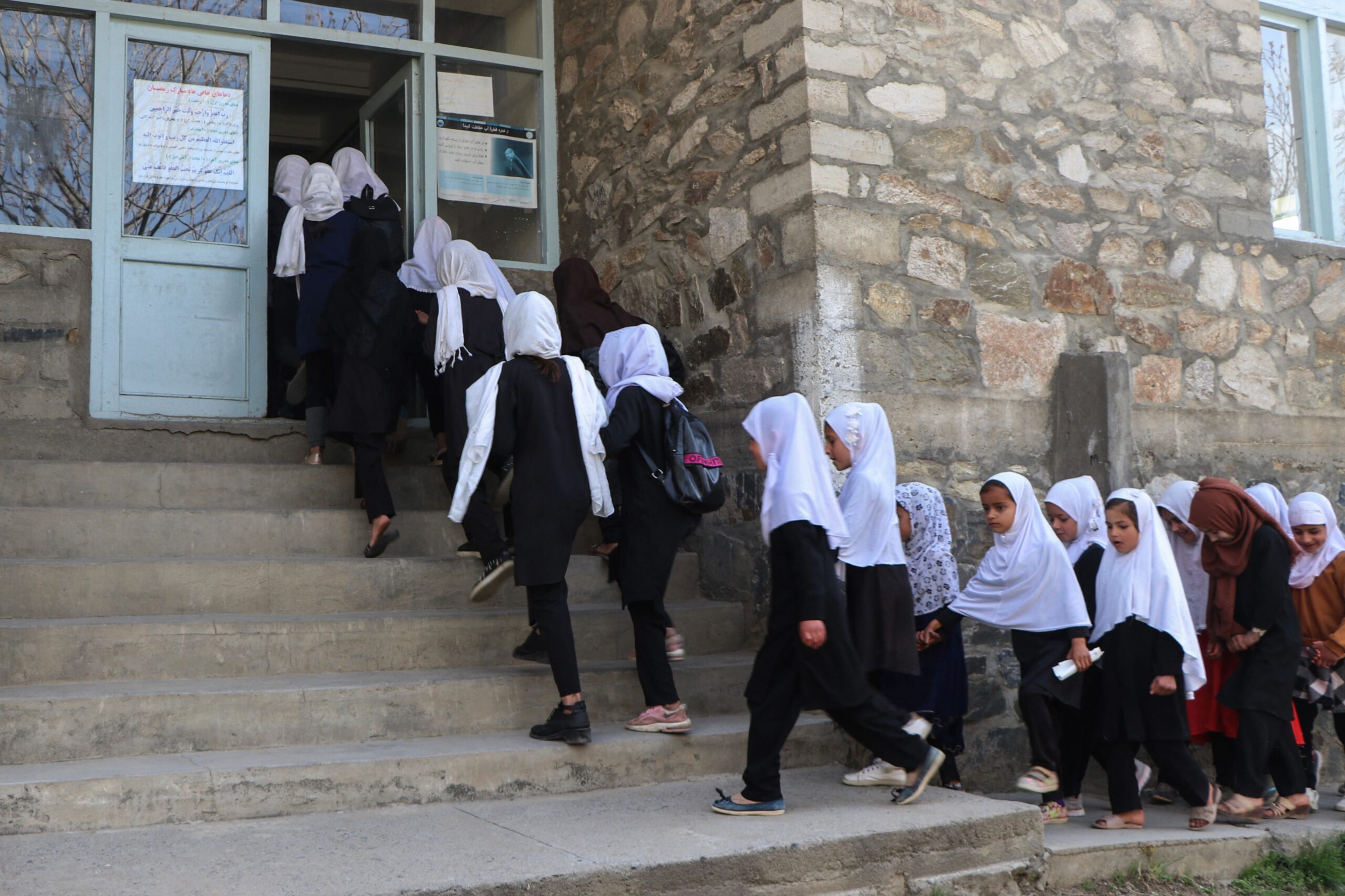 "The privilege for collaborating is the ability to easily pass any Taliban's checkpoints and enter their official buildings," explains Royesh. The children are introduced by their friends to the Taliban as trusted people. "They are watchful to find those who are committing adultery, drinking alcohol, or acting against the Islamic Emirate. Now, it is estimated that there are more than 50 people recruited only from one small district in West Kabul."
Although spying is a new level of risk, Marefat has long experienced threats for its curriculum and mission. In 2008, the school's female students gathered for a demonstration against a controversial law proposed to limit the rights of women, including victims of rape. An angry mob of clerics descended upon Marefat, throwing stones and calling to burn the school and execute Royesh, an outspoken advocate for education. The Ministry of the Interior eventually sent special forces to break up the violence.
"The students, then over 3,400 boys and girls, returned to the school, hand in hand with their parents when the school reopened just three days after the attack," says Royesh. "It was a successful sign of our educational method, which linked the children of the school with their respective families across the community."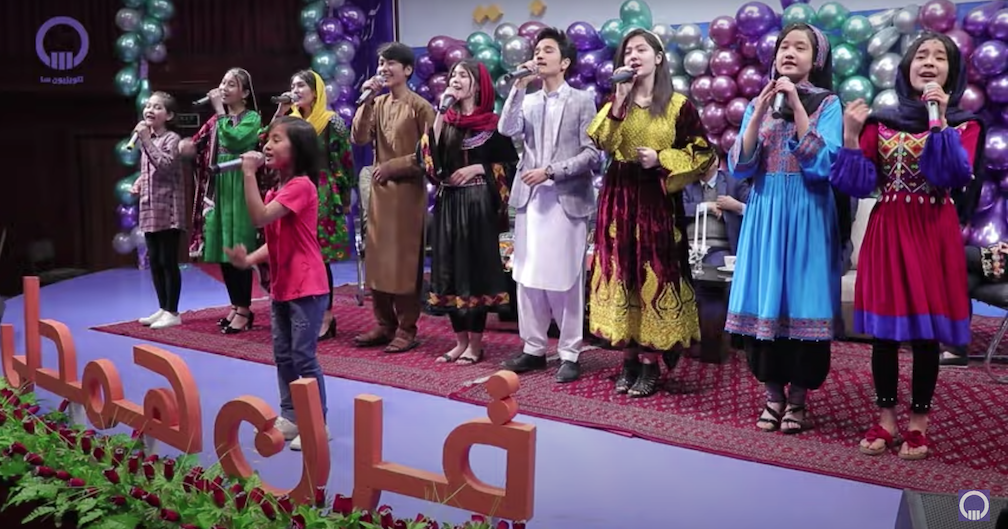 Eventually Marefat accepted the pressure from fanatical clerics backed by the Islamic Republic Council of Clergy to stop its civic education subjects in the classrooms, but still continued mixed student parliament and extracurricular activities—including a radio station and TV edutainment channel, both sponsored by NED. Girls participated in martial arts and formed a popular singing group in Afghanistan called SA (Sound of Afghanistan). The school's holistic system of education helped students widen their perspectives and find enlightenment.
"How can you tell the students that they should perceive everything from their own eyes and that they should be exploring through education, not just collecting and memorizing formulas?" asks Royesh. "Education should go beyond that to give them something as an insight."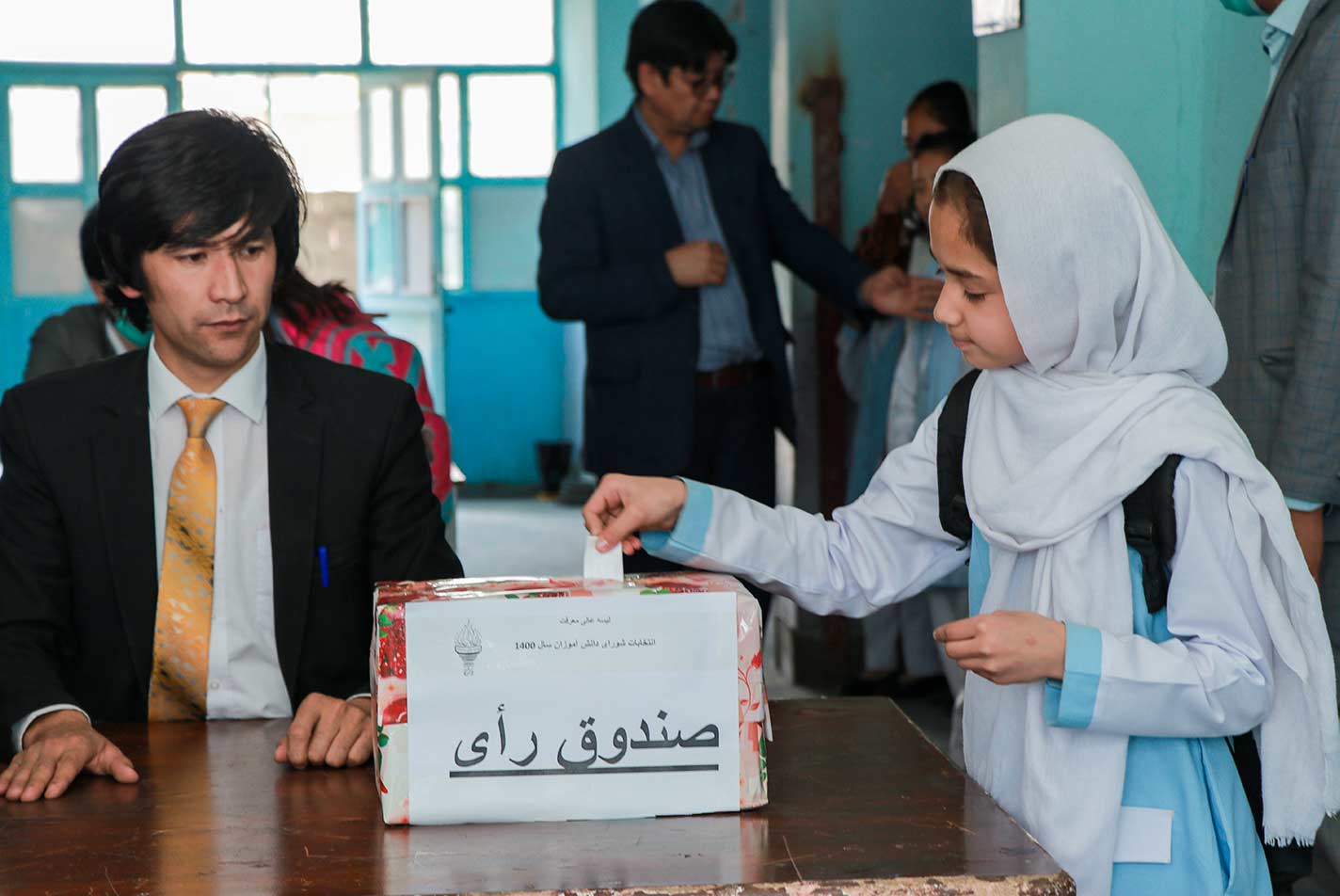 Royesh has spent a lifetime championing this belief in educational exploration. Although lacking formal schooling past the age of 10, Royesh committed himself to education as a young boy while a refugee in Pakistan, alone and struggling to survive. Upon returning to Afghanistan at the age of 16, he taught many in his local community, including his own siblings. Later in exile again during the Taliban's first rule in the late 1990s, Royesh and his colleagues established a new school in the refugee camps of Pakistan, developing the civic education curriculum that served as the basis for Marefat High School when it transferred to Kabul in 2002.
"Marefat is a value-driven school that promotes ideals that the Afghanistan society needs to rebuild itself upon," explains Habib Rahiab, program officer for the Middle East and North Africa program at NED, which has provided support for hundreds of Afghan civil society groups since 1984. "The school teaches gender equality, tolerance, and acceptance and by doing so, it counters extremism narratives that have plagued the Afghanistan society."
Two decades after Marefat High School opened in Kabul, Afghan women across the country are more educated than ever. The Marefat community now stretches around the world, including the students who have fled the country during the past year to settle in Pakistan, Canada, the United States, and other locations. Many stay committed to their education inside Afghanistan however possible. Tutors gather groups of girls in homes to risk their lives and learn in secret to defy the Taliban's education ban.
"The well-being of girls and women in Afghanistan is under threat, and to me, education is a very important method to help them," says Royesh. "Education will not feed them now, but it will help them to look forward, have a vision, and perceive the realities of life in another way. That gives them hope for the future."