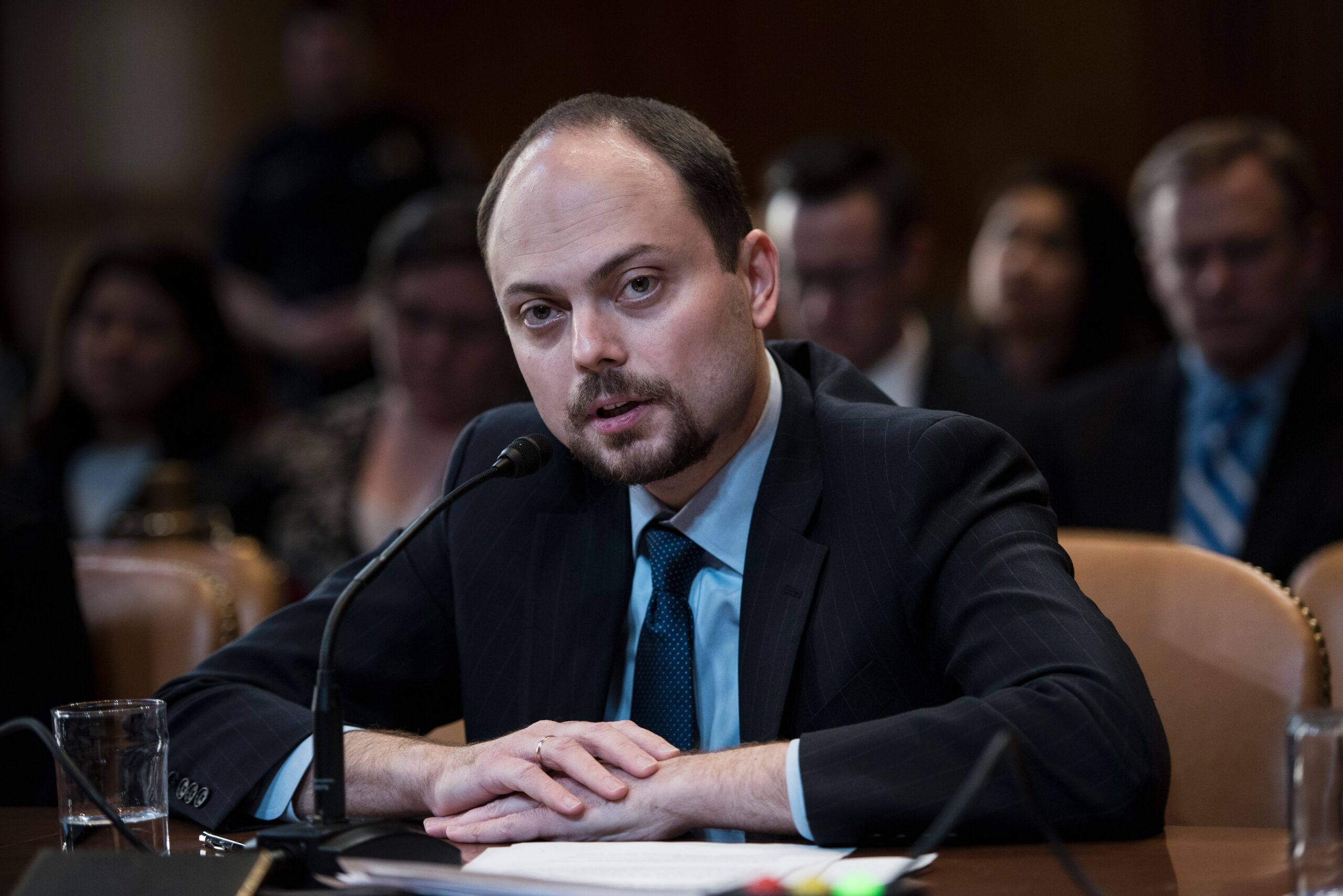 Vladimir Kara-Murza—a prominent Russian activist and politician who has suffered two suspected poisoning attacks by the Russian government in recent years—was detained on Monday near his Moscow home and sentenced to 15 days in prison for disobeying a police order. The arrest took place hours after a CNN interview, during which Kara-Murza called President Vladimir Putin's government a "regime of murderers" and denounced Russia's war in Ukraine.
"Twice have the Russian authorities tried to kill my husband for advocating for sanctions against thieves and murderers, and now they want to throw him in prison for calling their bloody war a WAR," said his wife Evgenia Kara-Murza on Twitter. "I demand my husband's immediate release!"
An outspoken critic of the Kremlin, Kara-Murza is an author, filmmaker, and former candidate for the Russian parliament. He is a longtime colleague of the late Russian opposition leader Boris Nemtsov, who was assassinated in 2015. An active leader in Russia's human rights movement and opposition politics, he was host of a weekly program on the now-closed Echo of Moscow radio station and is a regular contributor to The Washington Post, among other top publications.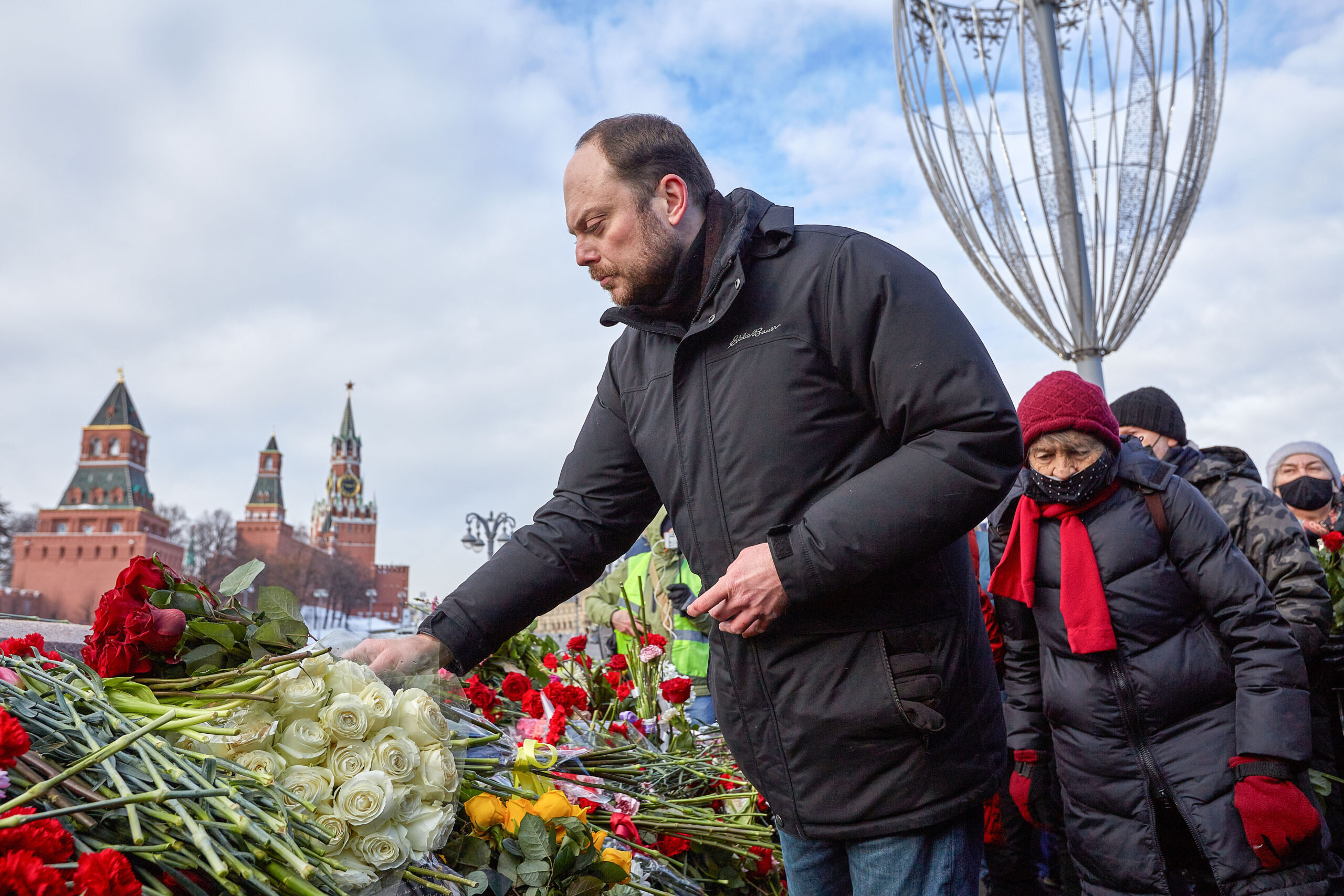 Many supporters expressed surprise by Kara-Murza's recent decision to return to Moscow, given the growing attacks on civil society leaders and crackdown by Russian authorities on any criticism of the ongoing war in Ukraine.
President and Chief Executive Officer of the National Endowment for Democracy (NED) Damon Wilson describes his last conversation with Kara-Murza before returning to Russia in April 2022. "He explained his decision to return home by citing a woman who was one of seven participants on Red Square protesting the August 1968 invasion of Czechoslovakia. She told [Kara-Murza] her reasoning: 'A nation minus even one person is no longer an entire nation. A nation minus me is not an entire nation … So they could no longer say that there was nationwide approval in the Soviet Union for the invasion of Czechoslovakia.'"
A long-time champion of democracy in Russia, Kara-Murza believes every voice matters for democratic progress. "Even if we accept a dictatorship's false narrative that the majority of the population is on board with them, every voice in opposition is precious," he told Wilson. "And even seven people can sometimes save the honor of an entire nation—let alone more than 15,000—the number of Russians arrested for protesting Putin's war on Ukraine since February 24."
Over 15,000 citizens have been arrested for participating in anti-war demonstrations in 150 cities across Russia, according to the latest statistics from human rights group OVD-Info.
"Since starting this war, the Russian government has gone to extreme lengths to silence anti-war voices," explains Dylan Myles-Primakoff, a regional expert and senior manager of the Eurasia program at NED. "In the first month of the war, over 60 Russians—including activists, journalists, and ordinary citizens—were charged under a new law that makes even publicly acknowledging Russia's military aggression in Ukraine a crime that's punishable by up to 15 years in prison. Despite these risks, brave Russians such as Vladimir Kara-Murza continue to speak out for peace and deserve all possible support and solidarity."
Kara-Murza represents all Russians who believe this war is a tragedy not only for Ukraine, but also for Russia. "Vladimir Kara-Murza is a true leader and represents the best of Russia's future," says Wilson. "He has worked tirelessly to support Russians' desire to live free. Now authorities have deprived him of his freedom in their effort to repress dissent of Putin's unprovoked war against Ukraine. He should be released immediately."