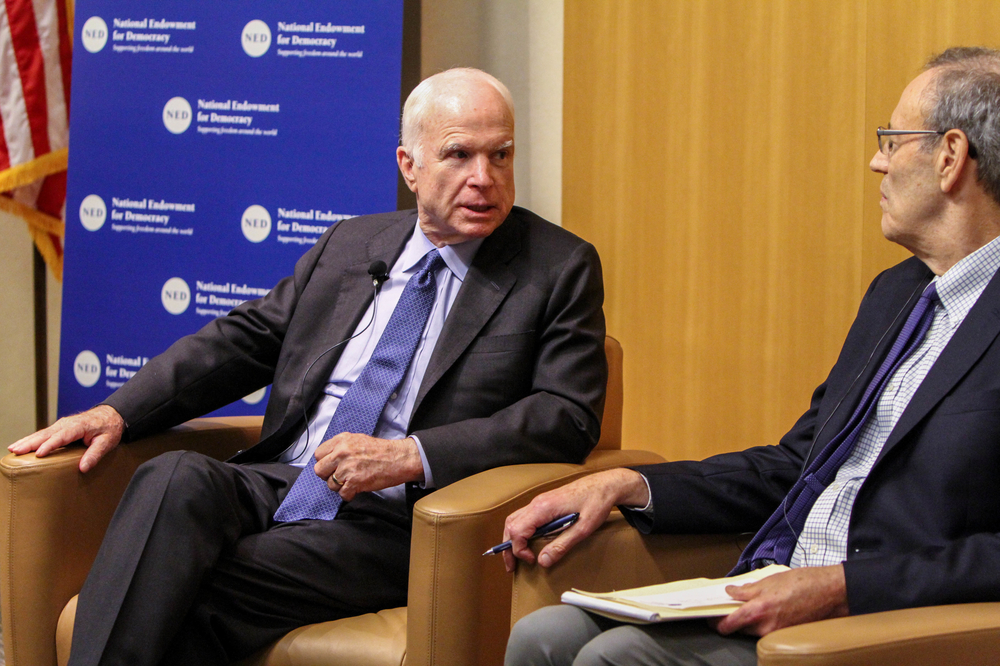 The Board of Directors and staff of the National Endowment for Democracy were deeply saddened to learn of the death of Senator John McCain, who, among his many great contributions to American public life, served as Chairman of the NED's close partner, the International Republican Institute (IRI) from 1993-2018.
"John McCain was one of the great freedom fighters of all time," said NED President Carl Gershman. "He was a champion of democracy wherever it was being challenged and needed his support. His powerful voice gave hope to dissidents and political prisoners everywhere and gave them confidence that they were not alone. As a result, his death is mourned by democrats in Russia and Ukraine, in China and Burma, in Cuba and Venezuela, and in Egypt, Iran, Zimbabwe, and so many other countries. He was also a great and decades-long friend of the NED, chairing the International Republican Institute for more than a quarter of a century and leading the effort to build support in the U.S. Congress for NED's mission and work. He was a proud American, and he made countless others proud to be American. As we mourn his death, we pledge to continue the fight for freedom to which he devoted his life."
The entire NED family extends its sincere condolences and deepest sympathy to the McCain family, staff, and to our colleagues at IRI.