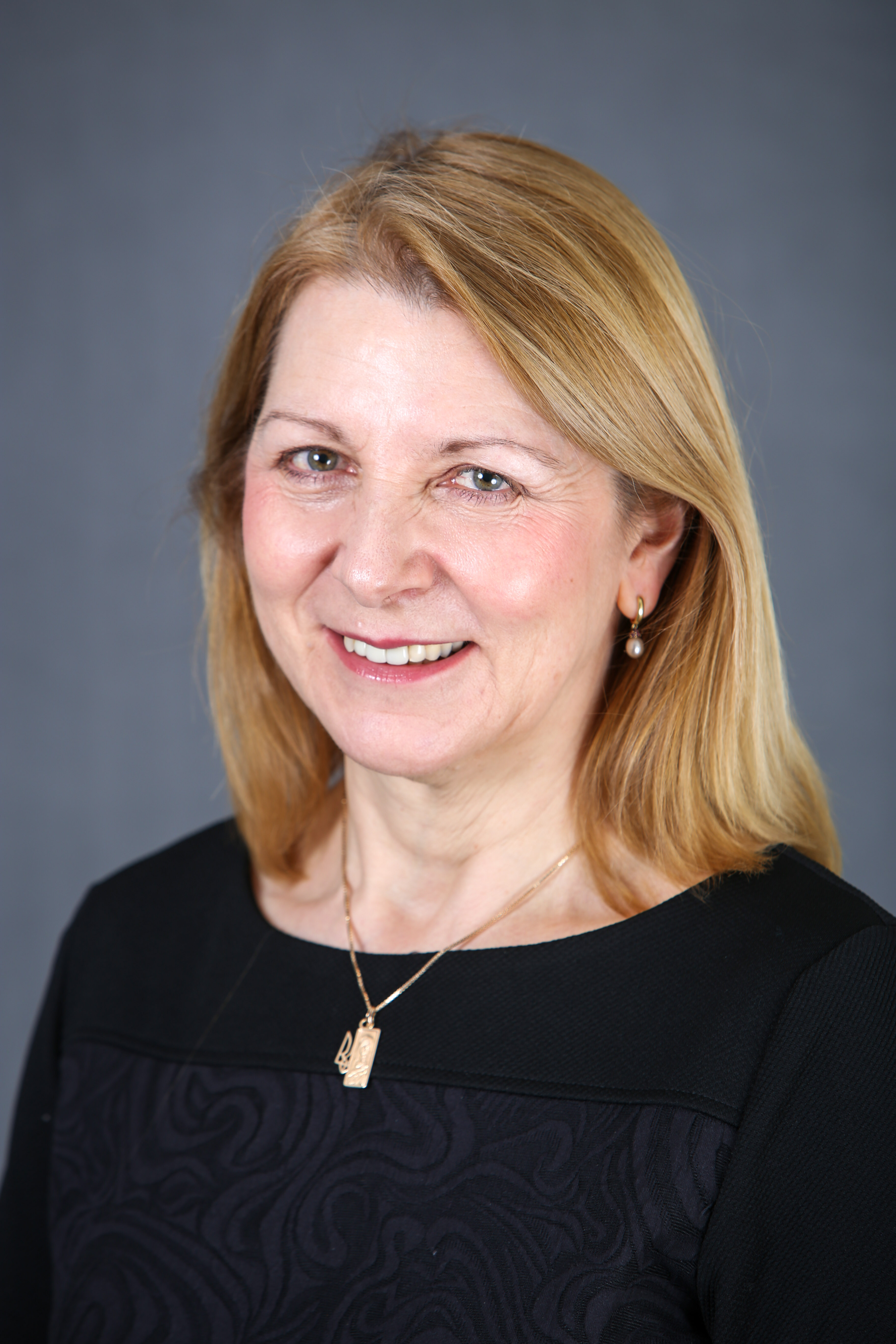 It was with deep sadness the Board and staff of the National Endowment for Democracy (NED) learned of the passing of our long-time colleague and friend Nadia Diuk. Nadia, who had served the Endowment for 32 years, most recently as Senior Advisor and previously as Vice President for Programs, died at home on January 23, 2019 after a long illness.
National Endowment for Democracy President Carl Gershman spoke for all who knew and worked with Nadia, saying, "Nadia blessed us with her work, her dedication, her brilliance, and her friendship. We loved her deeply, and she will be missed by us all. May her soul rest in peace."
The daughter of Ukrainian refugees who fled to Great Britain during World War II, Nadia dedicated her life and work to the advancement of freedom and democracy not just in Ukraine, but throughout the entire region that had been dominated by, and later liberated from, the Soviet Union.
Nadia came to NED as a program officer in 1987, three years after the Endowment's founding, and went on to lead the NED's grant making in Europe and Eurasia, providing crucial support to countless civil-society groups throughout Eastern Europe and the Soviet Union. Later in her career, she added Latin America and the Caribbean and Africa programs to her NED portfolio.
On January 22, 2019, a day before her passing, Nadia received The Order of Princess Olga (III degree), one of Ukraine's highest state honors, from the President of Ukraine in recognition of her life's work in furthering democracy and supporting Ukraine's sovereignty.
Marc Plattner, the co-editor of NED's Journal of Democracy and first Director of Programs, and who worked closely with Nadia throughout her tenure at NED, reflected that "Nadia was deeply committed to her Ukrainian heritage, but she was no less committed to freedom and democracy–not only for the people of Ukraine, but for peoples everywhere. She will be sorely missed by all who witnessed her unrelenting labors in support of democracy in the former Soviet bloc and around the world."
A historian by training, Nadia's work was informed by her deep knowledge and research about the diverse peoples of the Soviet Union and the "Captive Nations." She co-authored two books, the Hidden Nations (1990), and New Nations Rising (1992), detailing the struggles of these populations for freedom and self-determination. In 2012, she authored a third book, The Next Generation in Russia, Ukraine, and Azerbaijan.
Barbara Haig, NED's Deputy to the President for Policy and Strategy, who worked hand in hand with Nadia for decades, said, "Nadia's contribution to NED, Ukraine, and the democracy world writ large cannot be measured. With her calm grace she fought the good fight, finding and nurturing younger generations of democratic activists throughout Eurasia, and helping them to define and find constructive ways to work toward achieving their dreams." On a personal note, Barbara added that Nadia "loved to walk the side streets of cities in Eastern Europe, tracking down the best historical maps of Ukraine and the borderlands in small dusty shops, and was a dedicated member of the choir at her church and at NED Holiday parties. She demonstrated so much courage these last two years of struggle — she uplifted and inspired us all. We loved her and will miss her."
Read NED President Carl Gershman's eulogy delivered at Nadia Diuk's memorial service.
Share a memory of Nadia or send condolences to her family
32 entries.
My condolences to Nadia's colleagues at NED and her family for great loss,may her soul rest in peace.
I met Nadia in 2012 or so when my first documentary film on Ukraine was screened at the NED. I came to know her well later, when she and I found ourselves in Kyiv together at the beginning of the Euromaidan Revolution. I learned she was a friend of Myroslava Gongadze, whom I had met making that film. We got acquainted through a couple chance meetings at first - once stumbling into each other in a small 'Produkty' off of the Maidan one night for example - neither knowing the other was in Kyiv, then longer conversations about the course of the protests cum revolution, then dinners when I returned to film after Yanukovych had fled or occasionally in DC. There I learned that she had been doing everything to support the furtherance of democracy in the nation of her ancestors. Nadia was forever gracious and brilliant and warm, open with her advice and guidance to this filmmaker who knew so little about the country's history. From that first meeting until now, I came to know her as a good friend, never aware of her laurels from Oxford and beyond, but clearly understanding that this was a brilliant, wise and wonderful person whom I was lucky to know, to share dinners with occasionally, to chat with in her office as I was trying to do more for the cause of Ukraine, to call for advice, and more than all, to be considered a friend. We talked at length after she was diagnosed, now about life and the universe and healing, this time asking me for advice, sharing feelings and concerns, and all the while making me feel that finally I had something to offer her (not nearly enough, certainly, except a caring ear) after all she had given me without ever knowing that she did. I will be eternally grateful to have known Nadia Diuk, and I, too, will miss her sorely. Would that I had known her as long or as well as others who have written here.
It has been a privilege to work with and later for, and to be friends with Nadia since 2006, since I joined NED. She has always been a mysterious Ukrainian Brit, who has never raised her voice, even in the most peculiar situations. She has always been the étalon of a calm reason to me. I will always remember our many Ukrainian Christmas Eve celebrations at her house, always with various friends. She was the one, who brought a traditional Ukrainian wedding cake with intricate birds on top, made out of dough for me and Tom, which she baked herself. We will miss you! Земля пухом!
I first met Nadia in 1992, when I just joined a new Ukrainian NGO, the Ukrainian Center for Independent Political Research that brought together a bunch of young university graduates who sought to contribute to Ukraine's emergent democracy. Like in so many other transitions worldwide, NED was the first to support the local self-organized groups in their strife for freedom, human rights and dignity. But Nadia brought with her something beyond her commitment to enabling Ukraine's democratic transition and her great knowledge of democracy and civil society. A true Ukrainian in her heart, she inspired people to discover their identity and campaigned vigorously for making Ukraine matter on the international agenda. She worked tirelessly to help Ukrainian activists connect and collaborate with their peers in other countries of Eastern Europe, Eurasia and beyond. When a history of civil society and it's role in the post-Communist transition will be written, Nadia's contribution will be at the most prominent place. For me Nadia was always a model: brilliant, dedicated, brave, gentle, caring, enthusiastic about meeting people, hearing stories of their pursuits of freedom and positive change. Nadia was a person of great integrity and moral strength but also of great kindness. I could see how people tried to be kinder yet more proactive and committed when they met her. In Washington DC, her wonderful hospitable home hosted hundreds of people - dissidents, emerging leaders, human rights defenders, journalists and activists of all generation and geographies. She opened the world for me and many people she so generously helped to learn from her vision and blessing guidance. Her trust in people was amazingly powerful. She knew everyone who mattered to the democratic transition processes. Every time when she came to Ukraine we would bring together a few friends and colleagues to talk about developments in the state and the civil society but also about other, very human things, sharing dreams and ideas for the future. She cared. It is heart-breaking to know that Nadia will not be coming back to her beloved Ukraine. With her passing an essential place in the circle of champions of democracy and freedom is now so sorely empty but her great spirit and dedication will live forever in our loving memories and hearts. Missing you, Nadia, our dear civil society angel
I am deeply saddened by Nadia's passing. I have known her since the early nineties, from the times when her contribution to the work of National Forum Foundation was really changing Central East Europe. She was and remained throughout her life a truly inspiring person to so many in CEE. Her insight, commitment, dedication to the large causes, coupled with her attention and care for the smallest personal detail, was making a real difference in the world. Nadia's life is a shining proof that personal efforts are not too small if invested for a big cause. Thank you, Nadia. Rest in peace and happiness.
Dear Colleagues, On behalf of the Promo-LEX team, please accept our deepest condolences on the loss of your colleague and friend Nadia Diuk. We were very sorry to learn about her death and we mourn with you. During our collaboration with NED, we had the honor and the pleasure to meet Nadia on several occasions. She was one of the kind and made a great contribution to the endowment of the democracy though a life dedicated to this cause. Nadia inspired and supported many in their strugle for democracy thoughout the world. Her contribution will never be forgotten! We will carry on her memory. May her soul rest in peace. Sincerely yours, Ion Manole and Promo-LEX Association team, Moldova
I have just learned about Nadia passing away. It is a very big loss for NED as an organization, it is clear, but it is indeed a very big loss for all of us who have had the good chance of meeting her, sharing thoughts and dreams of democracy and freedom. I will always remember the very personal combination of softness of spirit and steel of determination that was the aura she carried with her. May her spirit be guided by light.
On behalf of Freedom House, we would like to express our deepest condolences on the loss of Nadia Diuk. She was a dear friend to Freedom House, and one of the original creative minds and visionaries, together with Adrian Karatnycky, behind the very concept of our seminal Nations in Transit reports. Her expertise and knowledge of Ukraine was unparalleled, and she was a leading voice in Washington on the matter. Nadia was an extraordinary advocate for democracy and freedom in Europe and Eurasia, and an avid, unflagging supporter of Ukraine and its people. She found creative ways, often in very challenging conditions, to support the Europe and Eurasia region's most embattled activists. From the Solidarity movement in Poland in the 1980s to the Revolution of Dignity in Ukraine in 2014, Nadia listened to and gained the trust of so many of the best and brightest democracy advocates. What is more, she empowered local activists to bring their vision of democracy to the fore, and to never give up even in the most desperate situations of violent conflict or consolidated authoritarianism. We will miss Nadia greatly - with her passing, we lose one of our dearest friends, experts, and advocates for democracy in the region. We hope to channel her unparalleled vision and passion for democracy into our own work.
As a student of history, Nadia knew first hand that, as Shakespeare wrote "What is past is prologue." What it was about Nadia that struck me the most when I first met her was her keen and insightful understanding of the past, not necessarily about the Soviet Union, but rather about the intricate current of interpersonal relationships which flowed through the decades of NED's existence prior to my arrival – as well as her willingness to share that understanding with me in order to further my success. As with anyone who first comes into a well-established organization, especially one like NED where so many individuals had been there for 20 years or more, and where, just like "Lake Wobegon", everyone was above average, there exists at NED a bountiful past of which I was oblivious when I first arrived but which would prove to be of immeasurable value to me in learning the culture of NED if only I could understand it. Nadia made it her mission to ensure that I did. It was Nadia's initial eagerness to share which impressed me the most about her when I first came to NED. As I came to know her better and came to increasingly rely upon her wisdom and counsel, there was so much more that I came to admire and respect. She never failed to radiate warmth and compassion. She was always co-operative, patient and kind in her communication with me and others. I always found Nadia to rely more on friendly persuasion than power or authority. She never failed to express her opinions in anything other than a thoughtful and deliberate manner. At the same time, Nadia exhibited a firm minded and analytical approach in meeting challenges head-on. She was also a strong visionary. It was always obvious that her views and opinions were a reflection of who she was as a person and that they came from deep within and from the heart of her core values. For nine years, to include the years she was on extended sick leave, I never ceased to rely on Nadia's counsel. In a world rent by destruction and despair in the face of authoritarian attacks on basic, universal human rights, Nadia never lost hope – she never ceased to remain positive that humanity's better attributes will eventually prevail. While I always admired that aspect of Nadia's nature, it was over the last two years that I came to know and admire it in an even deeper context. Nadia never failed to amaze me that in the face of all the health challenges she confronted, as with her professional career, she never lost her determination to focus on that which was in her power to control and not succumb to the fear or hopelessness of that which was beyond her control. It wasn't that she was blind or oblivious to the challenges – rather, she recognized that all the good in the world comes about by focusing on the possible rather than the impediments to real change. To the very end, Nadia lived the life of the activist that she was.
Rest in peace, chère Nadya..Покойтесь с миром Надежда, спасибо за все что Вы сделали для России и людей.
Even though Nadia's passing was expected, the intense loss to the world hit me like a blast. Not only was she adored and admired by the many people who knew her, who worked with her—she had also just received the high honor and distinction of being awarded the Order of Princess Olga. I pray she was fully aware of having been so recognized by the President of Ukraine, and that she drew comfort from it. I can see in my mind that calm, caring face of Nadia. She was so wise; she always understood things that were happening three levels deeper than others could truly appreciate. But somehow, even though her knowledge and judgment could have easily been intimidating, she managed to calibrate her explanations and responses to queries about geopolitical events in a way that gently encouraged further questions. She was a patient teacher who rewarded her pupils—I was grateful to be one of them—by helping them to better understand through her shared perspective. I always left my meetings with Nadia (including the last two, which took place in her home) feeling uplifted and inspired. I'll never forget being in Kiev with her, seeing her introduce President Yushchenko, and then watching him take the podium, turn to her with a casual smile, and thank her as someone who was a genuine friend of the family. It makes me think of the poem "If" by Rudyard Kipling—that line about being someone who can walk with kings yet never lose the common touch. That was Nadia. During my earliest years at NED, when I was trying to get a better grasp on how we worked with activists to support them in their efforts to bring about a more democratic future for their nations, I remember it was Nadia who gave me some very good advice. I asked, how do we know we are working with the people who are actually committed to helping their fellow citizens, who truly care? She said: As I tell my program officers here at NED, if you find yourself sipping cocktails in a plush, wood-paneled room, chuckling about the latest political development—you are probably with the wrong guys. The ones who depend on NED, who know us and trust us, don't send a limousine to pick you up when you land at the airport. Now, if you find yourself instead on the back of a motorcycle, whizzing along back roads to keep a rendezvous with eager reformers, who end up being sincerely grateful for your visit and want to do more—that probably means you're with the right guys. I love Nadia's spirit and wisdom, and her dedication, and join you all in mourning the loss of such a force for good in the world.
I am deeply saddened by Nadia's death. She was such an institution and an inspiration to those, like me, who came into the democracy field behind her. My heart goes out to her NED colleagues, who have lost a member their family. The story Pat Merloe tells about Nadia sitting on the ballot box in Azerbaijan is legendary at NDI. Not only was she protecting the ballots, but as Miriam Lanskoy recounts, she was concerned the young election monitors in the precinct would get hurt if she abandoned post. The incident says so much about Nadia. She could go head to head with any scholar on the nuances of democracy analysis and theory. But when the light switch got pulled, her activist core was revealed. Among her legacies are the thousands – perhaps millions – of democrats whom the NED has empowered under her leadership. She will be remembered for her immeasurable contributions to democratic transition in Eurasia and beyond.
Nadia was not only a representative of NED but for us she was our friend and a person who gave us a lot of advice and attention in the momentum, when we needed it. I met Nadia in 1992 and since that time our ways were crossing in Warsaw, Minsk, Kiev and Washington. She was never angry or offended, even though I was late, to put her to a train or I did not react on time in different occasion. Nadia was the person who convinced us to start work in Ukraine, when we had difficulties in Belarus and some of us were expelled. She was always helpful with her advice and contacts among people in Kiev and looking carefully on results of our work, opened always for new partners and new challenge. Her knowledge on Ukraine and her love to her cultural fatherland was a strong motivation for building democratic changes in Eastern Europe and Ukraine especially. We talked a lot about history and culture of the Country. We discussed issues of old cartography especially, as far as both of us were collecting old maps of Ukraine and the Great Lithuanian Duchy. Today we are together in your pain with all Staff of the National Endowment for Democracy and All her friends especially and we compassion to all of you, who cooperate with us for so many years. We miss you Nadia! We will remember you in all our new activities.
Nadia and I were friends since her arrival in New York back in the '80s. There were pizza parties on East Village tenement roof-tops (tar beach), and so many Sunday afternoons spent in spirited discussions and laughter after Mass at St. Georges. She was sharp, witty, wry, kind and unwaveringly committed to human rights and democracy, not only in Ukraine, but around the globe. She was loyal and inspired loyalty. She was deeply loyal to NED, and its mission and her colleagues. I had the wonderful fortune of being Nadia's friend and working with her while I was in the foreign service. She was passionate belied by the quiet composure and decorum befitting her English and Oxford background. Her abiding love for Ukraine, her family, her friends, her commitment to empowering human dignity in the face of brutality and injustice animated Nadia's indefatigable spirit up to the end. A bright star has gone out, and we shall miss its light and its beauty, but Nadia's legacy will live in the hearts and minds of the activists she mentored and those us who shared her values and dedication.
Over the course of 25 years I knew her, Nadia always provided valuable insights, critical probing, and creative approaches to countering autocratic rule. These speak to her vast intellectual contributions. And, an example of Nadia in action illustrates her grit; while she observed a rigged election in the Caucasus the lights went out during the vote count. Nadia reacted by sitting on top of the ballot box to prevent it being stuffed with a bundle of pre-marked ballots that flew in through the window. She reported this to our observer delegation with her characteristic smile and a tone of impish satisfaction. -- She never hesitated to step up to a challenge.
With great sorrow and regret we received the sad news regarding our Big friend Nadia Diuk. Being Ukrainian by origin and American by citizenship she dedicated the most significant part of her life for constructing bridges between American and Ukrainian states and societies for democratic development of her historical motherland, strengthening its civil society institutions. Thank you for great cooperation and support for establishing democracy in Ukraine! She would stay forever in the memories and hearts of Lion Society members and everyone she was cooperating with. Rest in peace, dear Nadia!
Slightly revised Nadia was a rock of support for democracy, expanding from in Ukraine, then the entire former USSR, then Eurasia before adding Latin America, the Caribbean, and Africa. From the 1990 founding of democracy and governance programs in the US Government, Nadia was an encyclopedic source of information on almost every person and group in Central Europe and the former USSR. In her quiet, understated way, she seemed to know, or know about, everyone and everything, large and small in the region. She was enormously generous with her knowledge and advice and also such a pleasure personally. She will be much missed and hopefully knew how much she contributed to the development of democracy, her passion. Farewell, Nadia, and thank you.
Nadia was a rock of support for democracy, expanding from in Ukraine, then the entire former USSR, then Eurasia before adding Latin America, the Caribbean, and Africa. From the 1990 founding of democracy and governance programs in the US Government, Nadia was an encyclopedic source of information on almost every person and group in Central Europe and the former USSR. In her quiet, understated way, she seemed to know, or know about, everyone and everything, large and small in the region. She was enormously generous with her knowledge and advice and also such a pleasure personally. She will be much missed and hopefully knew how much she contributed to the development of democracy, her passion.
Deepest condolences from Ukrainian Institute for International Politics team to Nadia's family, friends and colleagues. We will remember Nadia as a courageous and wise person. R.I.P Ukraine will miss you so much!
We will always remember wonderful Nadia. My deepest condolences to all her family, friends and colleagues. Rest in Peace.