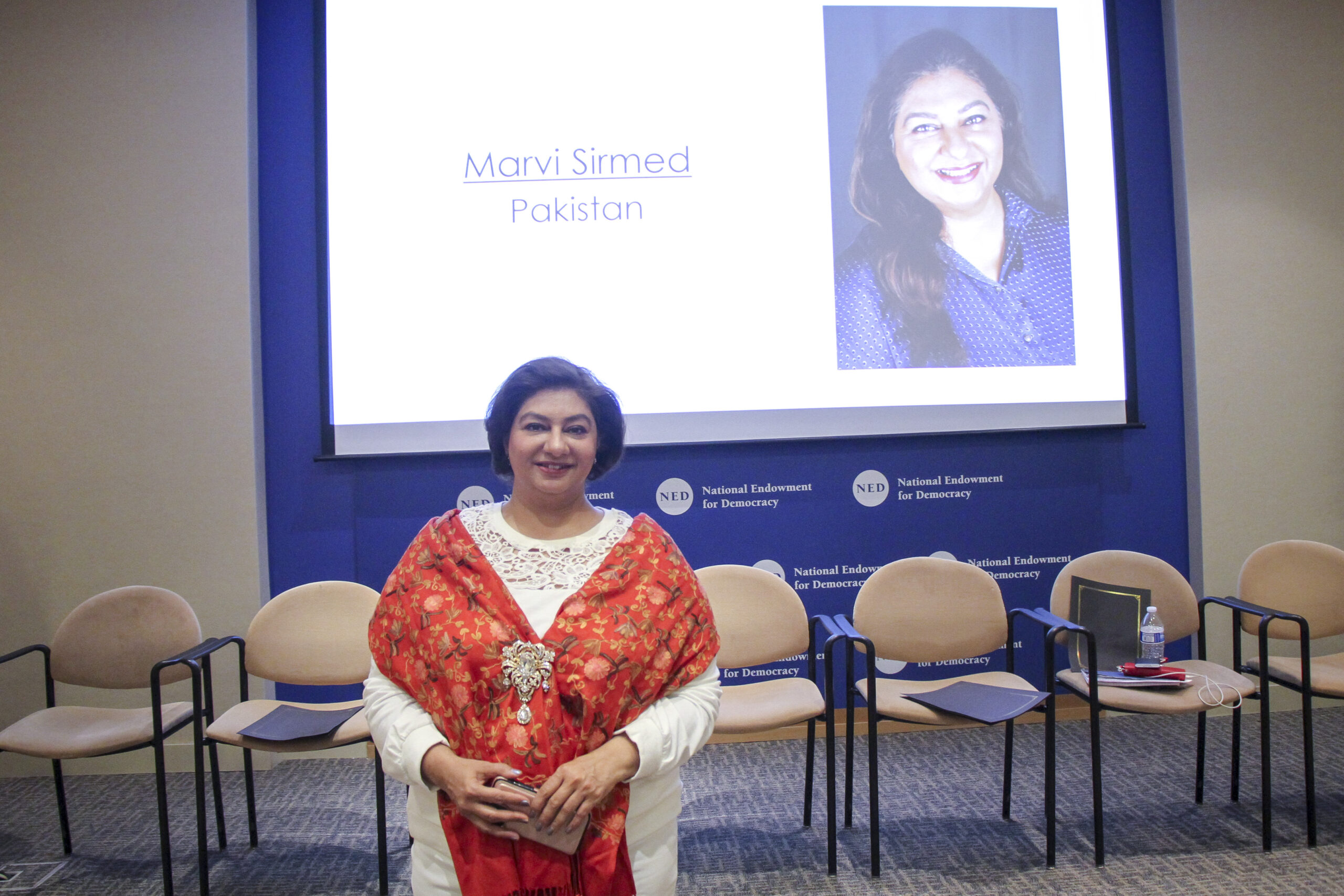 Scholars, journalists, lawyers, and artists ask big questions as part of their work. But in many countries, asking those questions can also put them in danger. Marvi Sirmed, a Pakistani journalist and former Reagan-Fascell Democracy Fellow at the National Endowment for Democracy (NED), was charged with blasphemy and received death threats based on comments she made on Twitter. When she was unable to return to Pakistan, the Reagan-Fascell Fellows Program and Scholars at Risk (SAR)—a NED partner—collaborated in arranging a placement for her at the University of Connecticut to protect her safety and academic freedom.
"When SAR placed me in residency with the University of Connecticut, not only did I get an opportunity to share and refine my ideas as an adjunct professor, but I also was able to continue writing and researching," said Sirmed. "This program allowed me to keep myself alive, not just physically but in spirit too."
Scholars at Risk is an international network of over 650 higher education institutions in 43 countries. The organization works with its members to arrange temporary research and teaching positions at universities for scholars and practitioners who are facing threats from governments or non-state actors.
"Scholars at Risk's mission is to protect threatened scholars and to promote academic freedom," said SAR's Executive Director Robert Quinn. "We do this because scholars and academic freedom are essential to quality research, teaching, and discourse. But we do this also because they are essential to democratically-legitimate, rights-respecting societies."
In addition to providing fellowships, SAR monitors academic freedom and documents attacks on higher education through its Academic Freedom Monitoring Project. The project publishes the annual Free to Think report, and uses its findings to brief international institutions such as the United Nations and the European Union Special Representative for Human Rights on freedom of expression. SAR's Scholars in Prison Project also advocates on behalf of scholars jailed for their research, writing, and teaching. SAR also offers advice, legal referrals, and career advising services, as well as emergency grants and virtual fellowships for scholars who cannot leave their own countries.
In the past two years, SAR has seen applications for assistance skyrocket. As the Taliban banned education for women and girls in Afghanistan, the organization expedited placements for scholars who fled the country. In response to Russia's full-scale invasion of Ukraine, SAR mobilized its network to provide resources for displaced Ukrainian scholars and practitioners, as well as scholars fleeing Russia in the wake of increasing repression.
"Scholars at Risk has leveraged its extensive network to create placement opportunities for both academics and non-traditional scholars– including writers, artists, journalists, judges, lawyers, civil society leaders, and human rights defenders targeted for their courageous work," said Bridget Millman, senior program officer for global programs at NED. "The need for this support is more pressing than ever, as scholars flee Afghanistan, Russa, Ukraine and many other countries where their lives are at risk."