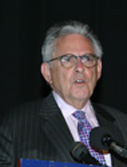 Democracy lost a true leader with the recent death of Robert Miller. The staff and Board of Directors of the National Endowment for Democracy (NED) join Miller's family and friends in mourning his loss and remembering his legacy as a former NED Board member and Chairman of the Hurford Foundation.
"Bob was a pillar of support for NED," said NED President and CEO Damon Wilson. "He stressed the importance of ensuring a new generation was at the heart of NED's work. He recognized that the health of democracy in the future would be determined in part by the engagement, energy, and ideas of young people around the world today."
"Miller served on the NED Board from 2003 to 2012—including distinguished service on NED's Budget, Audit, and Administration Committee and advocacy for the World Movement for Democracy, a global network working to spark change and commitment for democracy around the world. As chairman of the Hurford Foundation, Miller rallied support for NED Democracy Awards and the World Movement for Democracy at NED, which he said, "profoundly humbled me as I see firsthand the grit and courage of those who are at the barricades promoting and defending freedom."
At the World Movement's 2008 Global Assembly in Kyiv, Ukraine, Miller recognized the need to engage the next generation of democracy advocates and helped to create the Hurford Youth Fellowship for young democracy activists. He was also instrumental in the creation of the Gershman Fund for Democracy Advocates at Risk with NED's Founding President Carl Gershman.
Gershman offered a tribute to Miller in 2013, following his retirement, "Those who know Bob should not be misled by his droll sense of humor and wry insights. Beneath the surface of this New York sophisticate, one will find an almost Lincolnesque commitment to democracy and human equality. […] Bob described his service on the [NED] Board 'as among the most fulfilling experiences of my lifetime.'"
The NED community is grateful for Robert Miller's leadership, expertise, and long-time friendship.