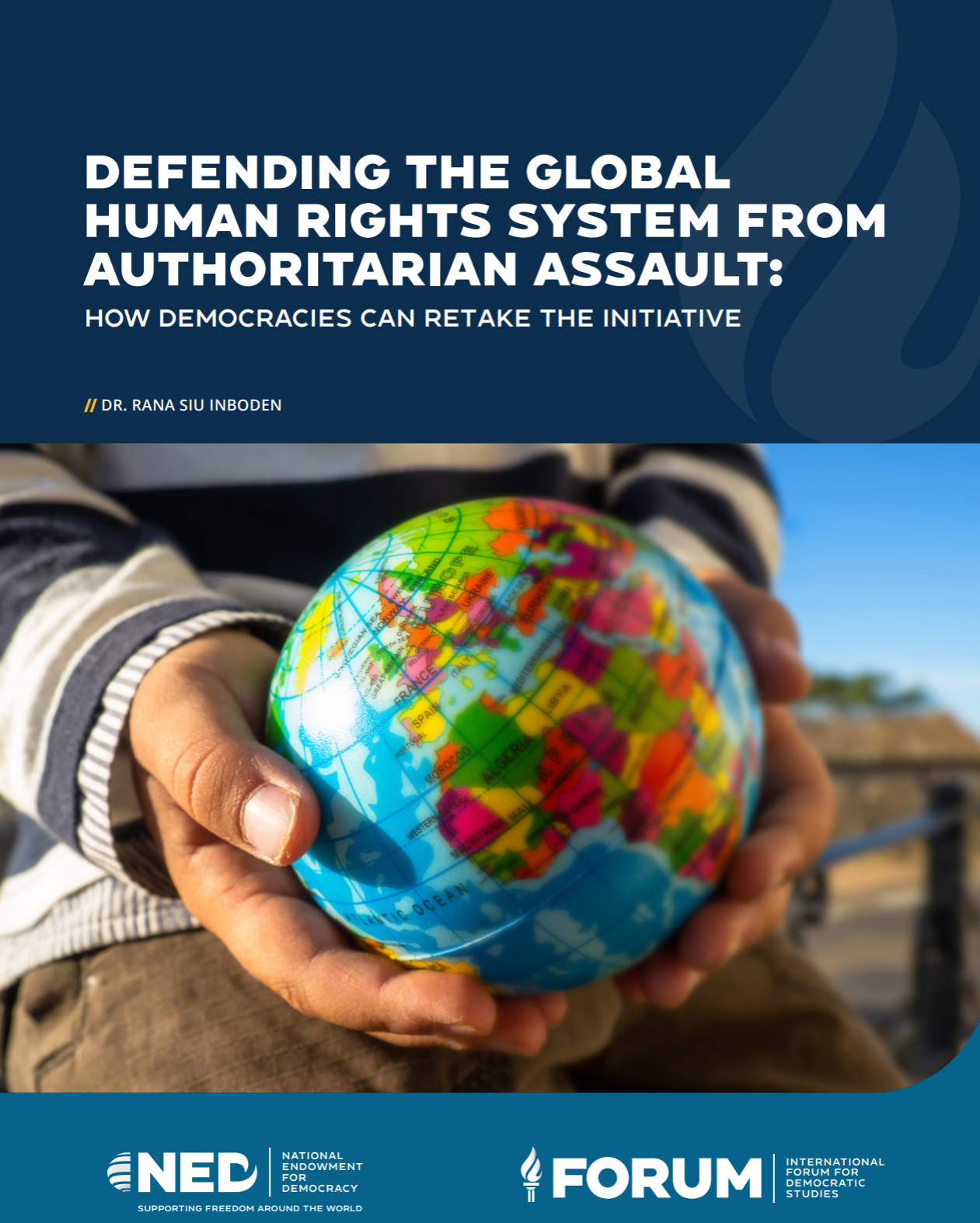 WASHINGTON, DC – Authoritarian states are on the offensive in the international human rights system, with the Chinese Communist Party and the Kremlin leading the charge. Defending the Global Human Rights System from Authoritarian Assault: How Democracies Can Retake the Initiative, a new report released by the International Forum for Democratic Studies at the National Endowment for Democracy (NED), details the growing threat of authoritarian influence and how democracies can rally behind the global human rights system.
"Democratic societies must not allow authoritarian states to water down human rights standards in order to escape accountability for human rights abuses," said Christopher Walker, Vice President for Studies and Analysis at NED. "Without a robust response, repressive governments in just a few years could destroy half a century of progress on international human rights, leaving activists and victims without any venue to seek justice and protection and putting the world's most vulnerable people in even greater danger."
In the report, Dr. Rana Siu Inboden, Senior Fellow with the Robert Strauss Center for International Security and Law at the University of Texas-Austin, details the actions of the Like-Minded Group of countries within the United Nations human rights system. This cohort of mostly authoritarian countries acts collectively to roll back democratic and human rights principles and oppose accountability for their poor human rights records.
The report recommends action steps to sharpen the scrutiny of repressive states and ensure that the global human rights system remains capable of assisting activists and victims around the world. The recommendations include consistently competing for positions in multilateral bodies, forging coalitions and networks, and investing in long-term diplomatic campaigns. Read the report here.
On Monday, July 10 from 10:30 – 11:30 am ET, NED will host a public event launching the report. The event will include a discussion with the author and Dr. Sophie Richardson (China Director at Human Rights Watch). Register to attend the discussion virtually here. A recording will be available on NED's website and YouTube after the event concludes.
ABOUT THE NATIONAL ENDOWMENT FOR DEMOCRACY
The National Endowment for Democracy (NED) is an independent, nonprofit, grant-making foundation dedicated to the development and strengthening of democratic institutions around the world. With an annual appropriation from Congress, NED funds more than 2,000 grants in 100 countries. NED's grants program is augmented by the International Forum for Democratic Studies; the World Movement for Democracy; and the Center for International Media Assistance.
MEDIA CONTACTS
Christine Bednarz, christineb@ned.org; +1-202-200-6872