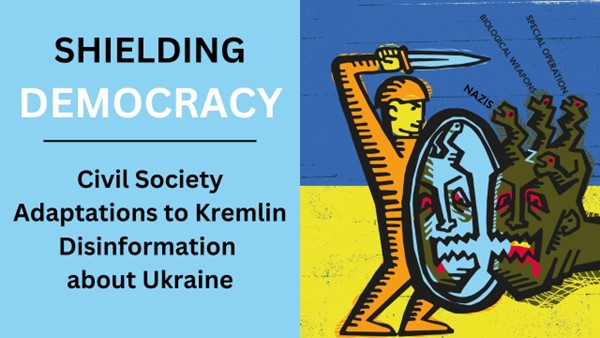 Washington, D.C.—One year after Russia's full-blown invasion, Ukraine has emerged as a leader in contesting the Kremlin's industrial scale dissembling, according to a new report released by the National Endowment for Democracy's International Forum for Democratic Studies.
Relying on dozens of interviews and a series of convenings with experts from across Europe, Shielding Democracy: Civil Society Adaptions to Kremlin Disinformation about Ukraine examines how crucial adaptations by civil society organizations are helping Ukraine push back on the Kremlin's multi-pronged effort to justify its unprovoked invasion. Authored by Galyna Petrenko of Detector Media; Veronika Víchová of European Values Center for Security Policy; and Adam Fivenson of the International Forum, the report identifies key advantages—deep preparation, open networks of cooperation, and active utilization of new technology—that have allowed Ukraine to tell its story and build resilience.
"Ukraine has distinguished itself as a powerful counterforce to Kremlin aggression, including important innovation in the information sphere. The nongovernmental sector has served as a catalyst for Ukraine's success," said Christopher Walker, Vice President for Studies and Analysis at NED. "The world has much to learn from our Ukrainian partners, who are at the leading edge of the response to the ever-adapting threat posed by the Kremlin's corrosive ambitions in the information domain."
On Wednesday, February 22, from 10:30—11:30 am EST, NED will host a virtual discussion with Peter Pomerantsev (Johns Hopkins University), Olha Bilousenko (Detector Media, Ukraine), and report authors Veronika Víchová and Adam Fivenson to share lessons from civil society's innovative efforts to neutralize and repel Moscow's malign narratives. The event will be available on NED's website and YouTube.
ABOUT THE NATIONAL ENDOWMENT FOR DEMOCRACY
The National Endowment for Democracy (NED) is an independent, nonprofit, grant-making foundation dedicated to the development and strengthening of democratic institutions around the world. With an annual appropriation from Congress, NED funds more than 2,000 grants in 100 countries. NED's grants program is augmented by the International Forum for Democratic Studies; the World Movement for Democracy; and the Center for International Media Assistance.
MEDIA CONTACTS
Christine Bednarz, Director of Communications; christineb@ned.org; +1-202-200-6872