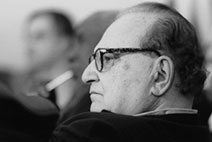 Seymour Martin Lipset (1922-2006) was one of the most influential and prolific social scientists of the period beginning in the second half of the twentieth century. The son of Russian immigrants, Lipset studied sociology at the City College of New York, whose "Alcove One" brought him into contact with other rising intellectuals of the anti-Stalinist left.
One of Lipset's major scholarly interests throughout his career has been the question of why socialism never took hold in the United States. This led him to write his doctoral dissertation at Columbia University on the Cooperative Commonwealth Federation (CCF), a Canadian agrarian socialist party that at the time was experiencing significant electoral success in Western Canada. Thus marked the beginning of a lifelong interest in Canada and comparative study of the two great democracies of North America.
Early in his career his interest in the failure of social democracy turned to the comparative study of the conditions for democracy. His major work was in the fields of political sociology, trade union organization, social stratification, public opinion, and the sociology of intellectual life. Lipset's academic affiliations included Columbia, Stanford, Berkeley, Harvard and George Mason University.
He authored or coauthored numerous books and monographs. Translations of some of these have appeared in eighteen languages. In addition, he edited twenty-four books and published more than four hundred articles. Lipset received the MacIver Prize for Political Man and the Gunnar Myrdal Prize for The Politics of Unreason. His book The First New Nation was a finalist for the National Book Award, and his scholarship has been recognized with many other awards.
Elected to several academic and honorific societies in the United States and abroad, Lipset is the only person to have been president of both the American Sociological Association (1992-93) and the American Political Science Association (1979-80). His many other affiliations include leadership roles in organizations that span the realm of the arts and sciences, public policy, international affairs and the Jewish community. Lipset, who died December 31, 2006, is survived by his three children, David, Daniel and Cici, and his wife Sydnee Guyer.