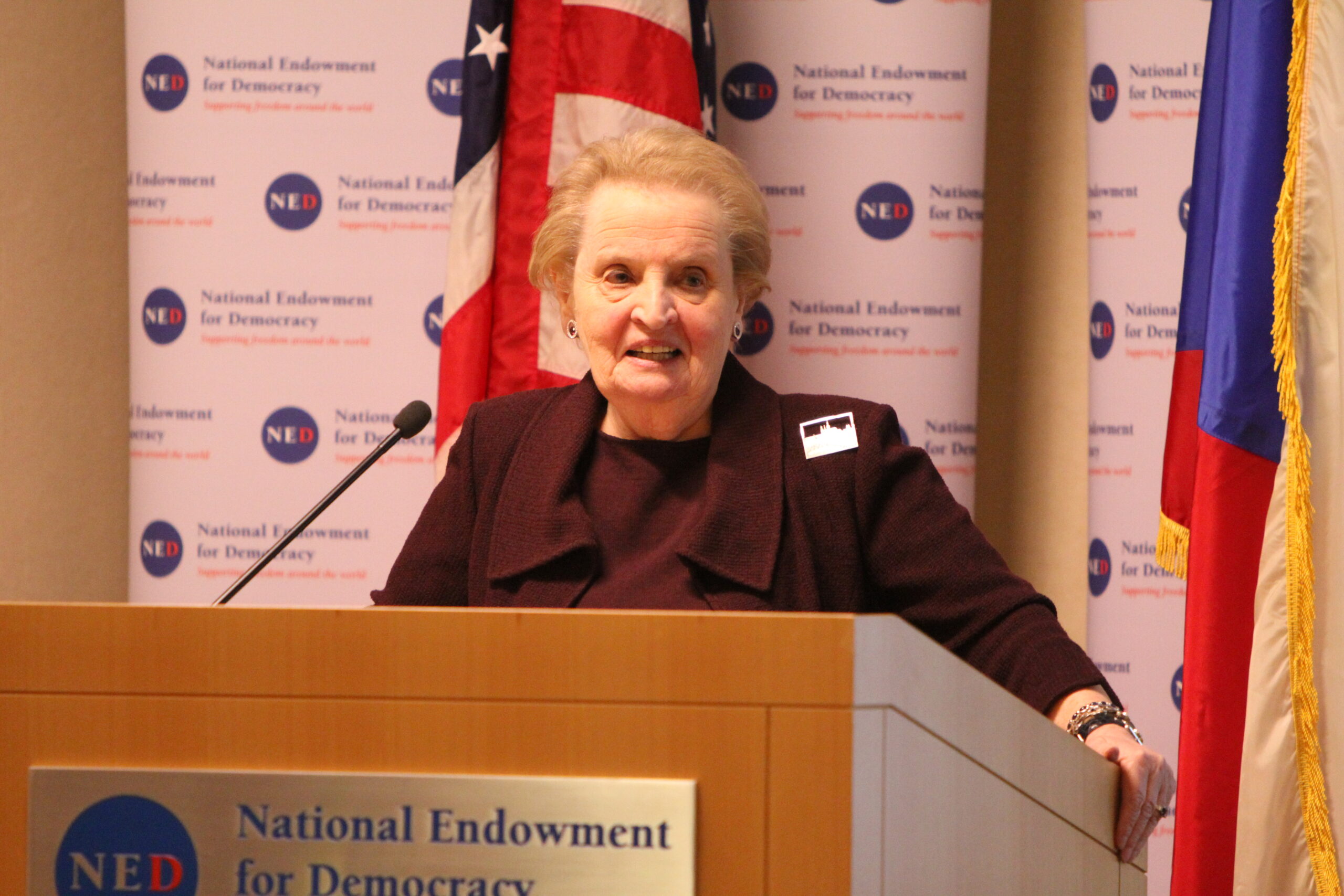 "Madeleine Albright was known to have called America the 'indispensable nation.' Our country and the world have lost an indispensable and irreplaceable leader who was a passionate advocate for democracy at home and freedom abroad. Madeleine was the founding vice chair and, for the past two decades, the chairman of the National Democratic Institute (NDI) where I served as president for 25 years. She was a friend, a mentor, an inspiration—not only to me personally, but to the entire Institute and to millions of courageous democrats worldwide whose cause she championed.
Her passion was to help people who most needed help, whether they be women, refugees, victims of human trafficking, or those trying to escape poverty and confront oppression. She always believed that people needed and deserved food, shelter, and security, but no less a say about what happens in their lives. 'People want to eat and vote,' she often said. To Madeleine, democracy was about values and principles and she believed that national security advances when these things intertwine. She was a forceful advocate for those values and principles because they had concrete meaning in her own life. Her family twice escaped the country of her birth to secure not only physical safety but personal freedom.
Madeleine Albright's boundless energy came from the depth of her convictions about the value of politics, the importance of leadership, the possibilities for international cooperation, and the potential for the world to make progress. On a more personal level, she was incapable of saying 'no' to those who wanted her autograph, or her thoughts and ideas about global issues. Whether in the halls of Congress, in the offices of prime ministers and presidents, in gatherings of political dissidents and civic activists, or on the streets most anywhere in the world, people genuinely wanted to hear her views. The exceptions were the dictators who rarely welcomed her presence or admonitions; she was in their countries, after all, to demonstrate solidarity with the democratic aspirations of their citizens. Madeleine Albright was simply a force of nature… and a force for good.
As Secretary of State, she was a successor to Thomas Jefferson, the founder of the world's oldest political party. Unfortunately, as a naturalized U.S. citizen, she could never have held Jefferson's other job. A loss for our country. May her legacy be honored and her memory be a blessing."
~ Kenneth Wollack
Chairman, National Endowment for Democracy
Former President, National Democratic Institute