[Lea el anuncio del Premio a la Democracia 2021 de la NED en español aquí.]
The National Endowment for Democracy (NED) 2021 Democracy Award will honor four organizations from Central America that represent civil society's courageous efforts to advance democracy, the rule of law, accountability, and transparency across the region.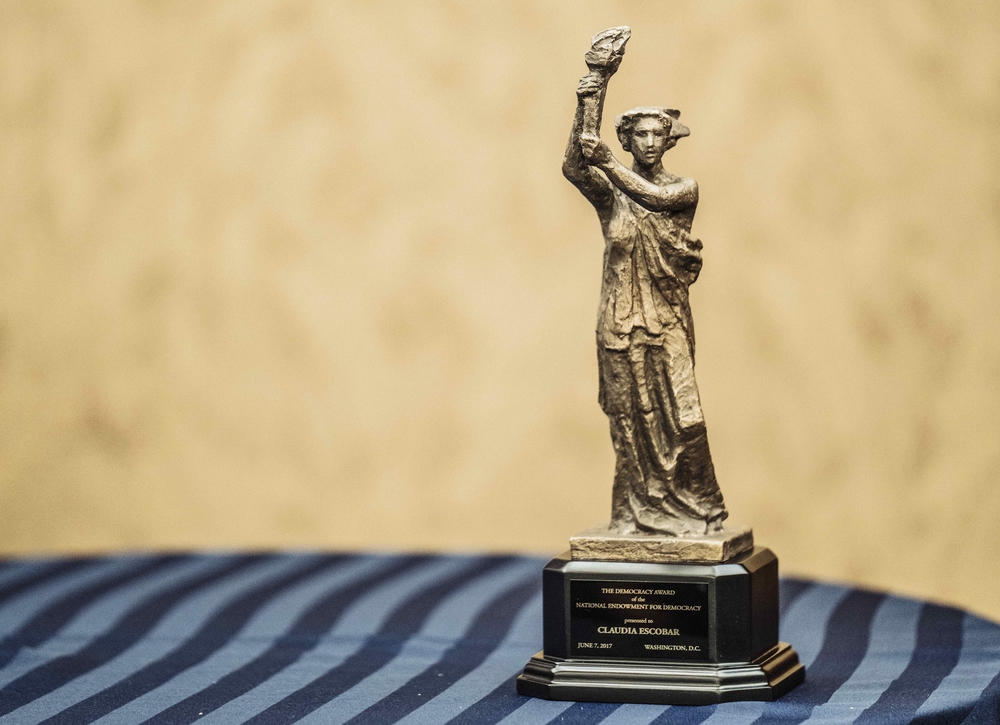 The 2021 Democracy Award honorees are:
Nicaragua: Human Rights Collective Nicaragua Nunca Más
Honduras: Contracorriente
Guatemala: The Myrna Mack Foundation
El Salvador: Transparency, Social Oversight, and Open Data Association
"The 2021 Democracy Award pays tribute to four civil society groups whose outstanding efforts to bolster the rule of law, fight corruption, protect independent media, and advocate for human rights are essential to building a democratic future in Central America," said NED President and Chief Executive Officer Damon Wilson.
The award ceremony will take place on October 20, 2021 as part of a conference that will focus on the current crisis of democracy and governance in Central America, including remarks by U.S. Senator Tim Kaine and U.S. Special Envoy for the Northern Triangle Ricardo Zúñiga. Two panel discussions will feature NED's honorees, as well as regional experts including Santiago Cantón of the Inter-American Dialogue, Commissioner Antonia Urrejola Noguera President of the Inter-American Commission on Human Rights, and Luis Botello of the International Center for Journalists (ICFJ).
About NED's Democracy Award: The Democracy Award is given annually by NED's Board of Directors to recognize the courageous and creative work of individuals and organizations advancing the cause of human rights and democracy around the world. (Learn more about the annual awards and past honorees here.)
The 2021 Democracy Award Honorees:
Human Rights Collective, Nicaragua Nunca Más is dedicated to preserving historical memory in Nicaragua and seeking justice for victims of the state-led violence unleashed by the Ortega regime in 2018. The organization documents cases of torture and other human rights violations, and engages in national, regional, and international advocacy to promote and protect the rights of victims. It also provides much-needed psychosocial support to victims.
Contracorriente: Established during the Indignados ('Outraged') protests of 2015 in Honduras, Contracorriente emerged from a need to provide citizens with objective and accurate information on critical issues such as human rights and corruption. Co-founded by two women journalists, Contracorriente provides Hondurans with in-depth coverage on topics not typically covered by the media. The organization has collaborated with other regional digital media outlets and has received increasing recognition as a source of reliable information and analysis.
The Myrna Mack Foundation was established in 1993 to fight against impunity and to help build democratic rule of law in Guatemala, following the death of Myrna Elizabeth Mack—murdered by state forces in 1990 for her work to uncover internal forced displacement during the armed conflict. Since its founding, the foundation has trained civil society and government agencies on democratic governance, political participation, transparency, and citizen security with a comprehensive view on human rights.
Transparency, Social Oversight, and Open Data Association (TRACODA) is an organization of young professionals with diverse backgrounds who are devoted to strengthening democracy and fighting against corruption in public and private spheres. Previously, the group worked on promoting electoral reforms, conducting oversight of the Salvadoran congress, and overseeing selection processes for the Attorney General and Supreme Court Justice magistrates. In 2018, TRACODA created a citizen observatory of the Corte de Cuentas, the country's fiscal oversight court.
Media Contacts: