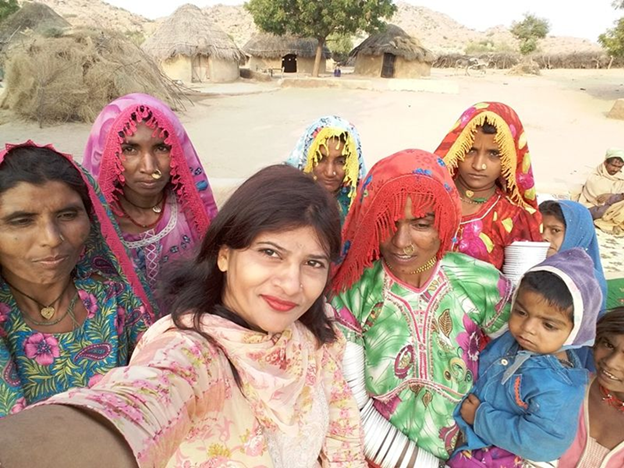 Ms. Krishna Kumari made history on March 3, 2018, when she became the first lower-caste Hindu woman elected to the Senate in Pakistan. Kumari is chairperson and project director of Development, Awareness and Management of Natural Resources (DAMAN), a NED grantee since 2013.
Kumari and her family were formerly bonded laborers from Tharparkar, a desert region in southern Pakistan. After gaining their freedom, Kumari and her brother helped to establish DAMAN in order to raise awareness within their communities about bonded labor, provide legal assistance to liberate hundreds of families still in bondage, and work to transform victims of bonded labor into agents of social change. DAMAN conducts awareness and advocacy campaigns to eliminate bonded labor, working with police, government officials, lawyers, the media, and civil society groups to generate momentum for legal reforms and improve enforcement of existing laws. DAMAN also carries out civic and voter education for women, youth and religious minorities so that marginalized communities will have a voice and can work towards a more pluralistic and tolerant democratic future.
Dr. Fouzia Saeed and Maliha Hussain, leaders of another NED grantee, Mehergarh, know Kumari well from her days as a participant in Mehergarh's Human Rights Youth Leadership Training in 2007. They commented on Kumari's historic election and the importance of cultivating political talent from all sectors of society. "We have seen Krishna bloom from a housewife and a mother of four in an extremely disadvantaged community to an activist for social change, a lobbyist for Hindu marriage registration bill to a representative of Thar Desert in the rest of the country, ending up now in the Senate of Pakistan. This is how identifying potential and continuous grooming helps to bring the voices in the neglected peripheries to the center and strengthen democracies."
Read more about Krishna Kumari on the Democracy Digest.
EXPLORE NED'S WORK IN Asia.