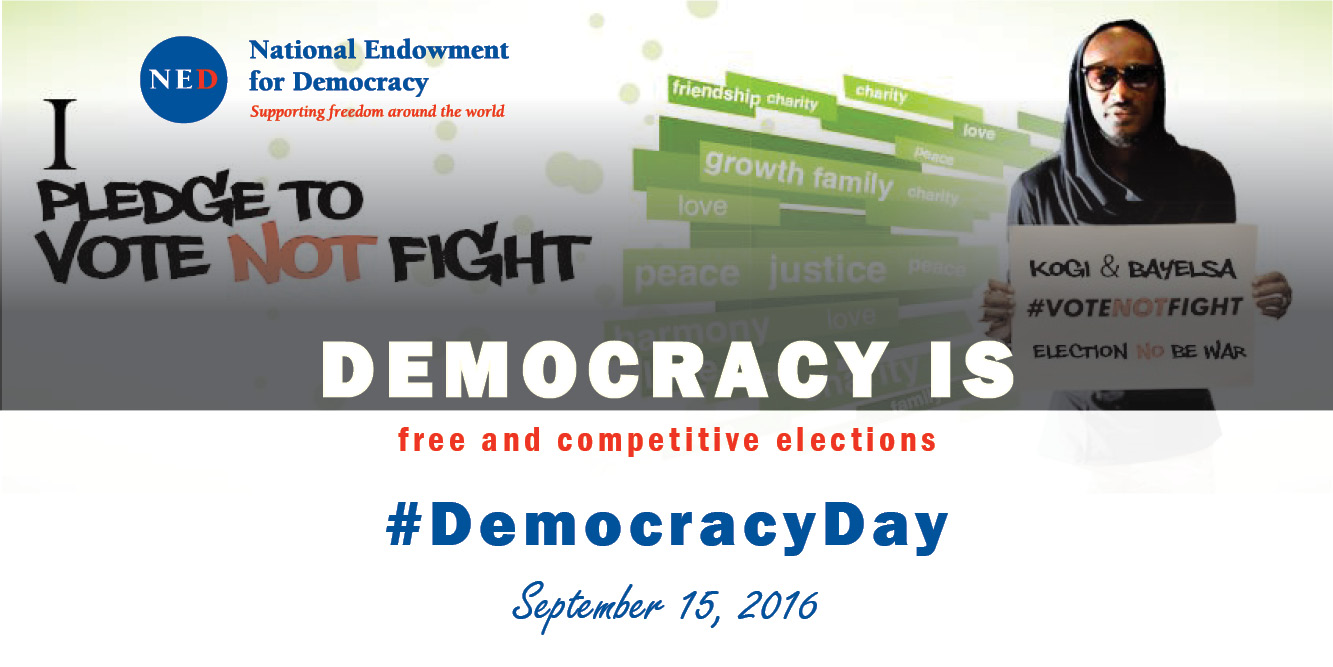 For over 20 years, NED has funded dozens of civil society organizations that challenged military dictatorship and helped achieve Nigeria's democratic restoration. But as Nigeria headed to the polls in March 2015, Nigerians and the international community alike were deeply concerned about the potential for a disputed and violent election. Political parties deployed inflammatory language and aggressive tactics to mobilize their supporters and intimidate their competitors. But in 2015, civil society activists and their partners guided the first peaceful and democratic alternation of power between parties in Nigeria's history.
In 2015, NED funded 30 civil society groups to encourage Nigerians to not only register to vote and cast their ballots peacefully, but also to run for office, question candidates, investigate campaign financing, observe the elections, and demand the independence of the Independent National Election Commission (INEC).
NED's long-time youth partner, the Youngstars Foundation, implemented a "Vote Not Fight" campaign starring the popular Nigerian singer 2Face Idiba to discourage electoral violence with NDI support funded by USAID. Youngstars tapped into its national young leaders' alumni network, the outgrowth of 10 years of NED support to its core young civil society leadership program, to garner over 25,000 pledges from the public committing themselves to peaceful elections. Similarly, drawing on five years of NED support that fostered a national youth network, Youth Initiative for Advocacy Growth and Advancement (YIAGA) mobilized 6,400 volunteers to support INEC's voter education campaigns.
The "Vote Not Fight" campaign reached an estimated six million Twitter feeds through the hashtag #votenotfight, gathered more than 100,000 likes on the campaign Facebook page and reached approximately 62,874,034 individuals through radio and TV based on listenership figures for the states where the "Vote Not Fight" programs were aired.
Meanwhile, the International Republican Institute (IRI) built on NED's support to the Nigerian Women Trust Fund (WF) to mobilize women to participate in the elections. With NED support, WF produced a pseudo-documentary, which civil society organizations and government ministries distributed throughout Nigeria, to encourage women to run for office. IRI further supported WF to monitor women's participation in the elections in Abuja on Election Day.
The long-term core support provided by NED helped these civil society groups achieve these successes. The concerted, sustained, and collaborative effort led by Nigerian civil society delivered a credible, peaceful, and ultimately transformative election that has solidified Nigeria's commitment to democracy.
Explore NED's work in Africa.