presented by
The International Forum for Democratic Studies at the National Endowment for Democracy, the Legatum Institute, and the Institute of Modern Russia.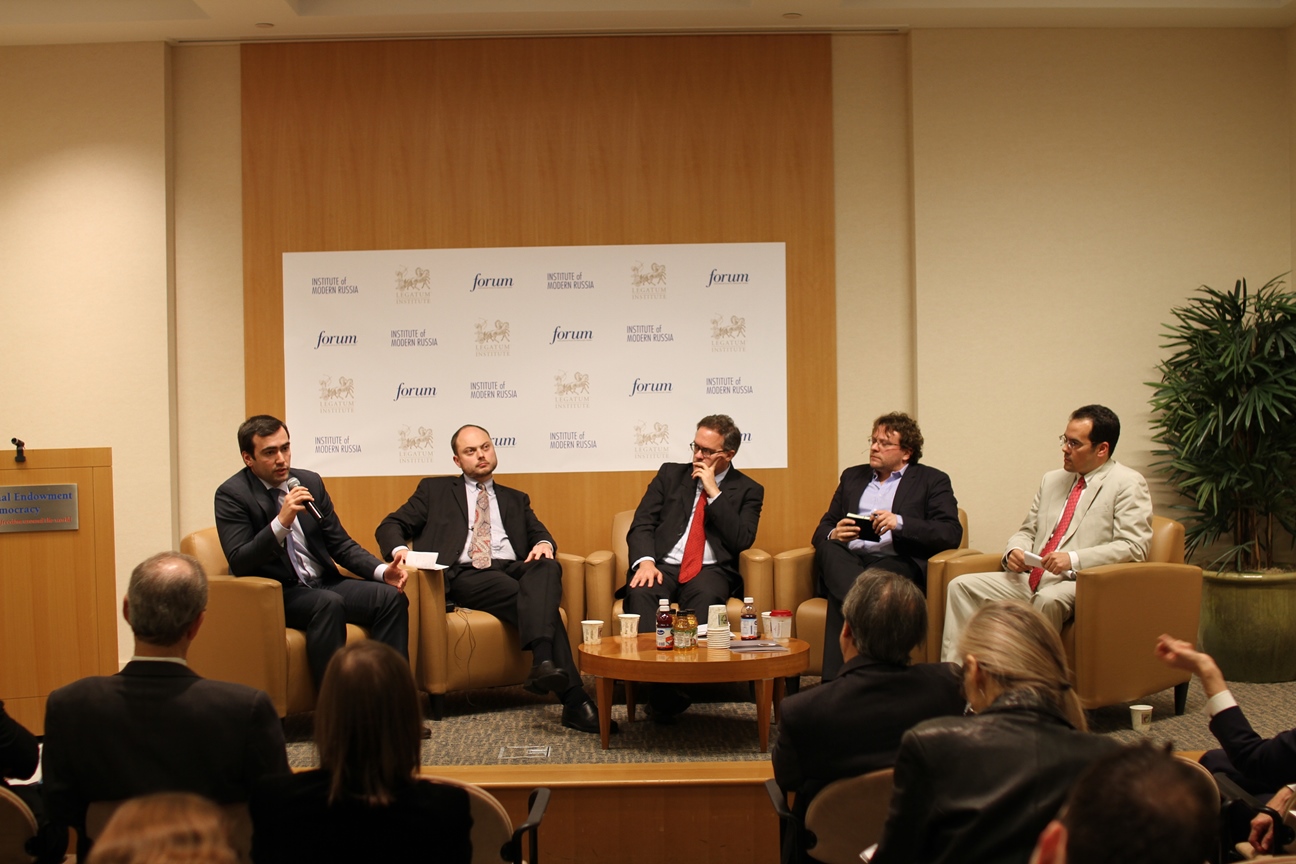 With
Introductory Remarks
Moderated by Christian Caryl, Editor, Democracy Lab and a Senior Fellow at the Legatum Institute.
Tuesday, October 15, 2013
4:00–5:30 pm
See photos from the event. ::MORE
Watch a recording of the event:
About the Event
With his third (de facto fourth) term well underway, Vladimir Putin continues to use the language and institutions of democratic capitalism to consolidate his power. The panel discussed how Russia's democratic façade has masked the construction of a new authoritarian model.
The appearance of democratic institutions, including pseudo-elections, some elements of media freedom, and a quasi-market economy, has helped subdue external criticism, while Russia's hard-edged influence in its region and in global affairs remains strong. Christian Caryl moderated a conversation on how this new authoritarianism works inside Russia, what it means for relationships with the West, and how it affects what Russia's leadership views as its "near abroad."
The discussion was based on "Russia: A Postmodern Dictatorship?" by Peter Pomerantsev. This was the first in a series of studies commissioned jointly by the Legatum Institute and the Institute of Modern Russia to analyze the challenges of transition in the former Soviet Union.
About the Speakers
Peter Pomerantsev is a British author and documentary producer. His writing on Russia features regularly in the London Review of Books, Newsweek/Daily Beast, openDemocracy, Le Monde Diplomatique and other European and US publications. He has also worked as a consultant on EU and World Bank development projects in the former USSR. He is the winner of the SOPA (Society of Press in Asia) award for writing about Mongolia and was a fellow of the 'Russia in Global Dialogue' program at the Institut für die Wissenschaften vom Menschen (IWM) in Vienna. His first book on society and politics in 21st Century Russia will be published by Faber in 2013.
Vladimir V. Kara-Murza is a member of the federal council of the Republican Party of Russia–People's Freedom Party. He was a candidate for the Russian parliament in 2003, and has served as the campaign chairman for presidential candidate Vladimir Bukovsky (2007–08) and as an advisor to Duma opposition leader Boris Nemtsov (2000–03). He is a senior policy advisor at the Institute of Modern Russia and a member of the Coordinating Council of the Russian Opposition.
Christopher Walker is executive director of the National Endowment for Democracy's International Forum for Democratic Studies, a leading center for the analysis of the theory and practice of democratic development. Prior to joining the NED in July 2012, Walker was vice president for strategy and analysis at Freedom House. He has been published in the Wall Street Journal, New York Times, Washington Post, Journal of Democracy, and a range of other publications.
Carl Gershman has been president of the National Endowment for Democracy since its founding in 1984. He presides over the Endowment's grants program in Africa, Asia, the Middle East, Eastern Europe, the former Soviet Union, and Latin America, and has overseen the creation of NED's signature programs and publications.
Pavel Khodorkovsky founded the Institute of Modern Russia (IMR) in 2010 to continue the work his father Mikhail Khodorkovsky began through the Open Russia Foundation. IMR is committed to strengthening respect for human rights, the rule of law, and civil society in Russia, and to promoting a principles-based approach to U.S.-Russia relations and Russia's integration into the community of democracies.
Christian Caryl is editor of Democracy Lab, a Legatum Institute website published in partnership with Foreign Policy magazine. Democracy Lab follows global transitions from authoritarianism to democracy. Caryl worked for a year as Washington bureau chief of RFE/RL, and from 2000 to 2009 he was a foreign correspondent for Newsweek, running the magazine's bureaus in Moscow and Tokyo.