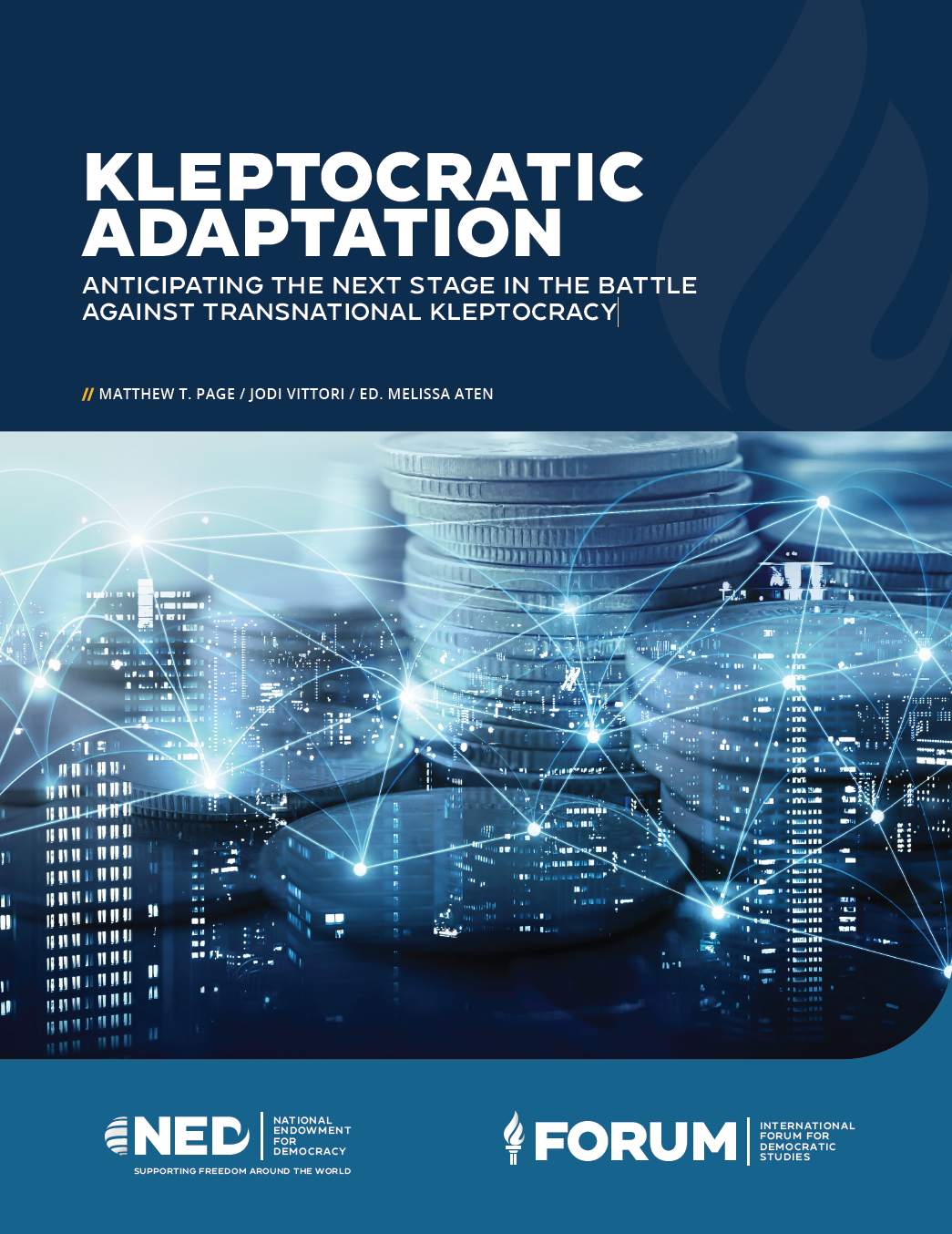 WASHINGTON, DC – As the United States and other democracies seek to crack down on global kleptocracy, Russia and other authoritarian regimes are quickly adapting and finding new ways to launder their ill-gotten wealth, according to a new report released by the National Endowment for Democracy's International Forum for Democratic Studies.
Using timely case studies from Russia, Turkey, and the United Arab Emirates, the report demonstrates that kleptocratic networks are circumventing new rules targeting dirty money, exploiting weak links in international financial systems, and moving their laundering operations to new countries.
The report also makes the case that kleptocracy poses a fundamental threat to democracies, since autocrats' illicit funds can be used to undermine democratic institutions, challenge democratic values, and deepen social divisions. Authors Matthew T. Page and Jodi Vittori argue that the Kremlin's full-scale invasion of Ukraine is a powerful political justification for democracies to enact reforms across multiple sectors to shore up their anti-kleptocracy defenses.
"When Russia invaded Ukraine, a lot of countries got more serious about taking action against international corruption and dirty money," said Melissa Aten, a senior program officer at NED and editor of the Kleptocratic Adaptation report. "But the kleptocrats are getting smarter in their tactics to get around the new restrictions, and the pace at which they are adapting should be an urgent warning for democracies to pay more attention to this security threat."
On January 20, 2023, from 1:00 – 02:30 pm ET, NED hosted a virtual discussion with the report authors about how democracies can continue the fight against kleptocracy as autocrats adapt. The event recording will be available on NED's website and YouTube. Learn more here.
ABOUT THE NATIONAL ENDOWMENT FOR DEMOCRACY
The National Endowment for Democracy (NED) is an independent, nonprofit, grant-making foundation dedicated to the development and strengthening of democratic institutions around the world. With an annual appropriation from Congress, NED funds more than 2,000 grants in 100 countries. NED's grants program is augmented by the International Forum for Democratic Studies; the World Movement for Democracy; and the Center for International Media Assistance.
MEDIA CONTACTS
Christine Bednarz, christineb@ned.org; +1-202-200-6872