22 Notable books of 2022
From our shelves to yours! 22 recommended reads published in 2022 from NED's Library – the Democracy Resource Center.
Book descriptions provided by publishers.
---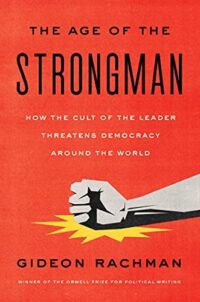 The Age of the Strongman : How the Cult of the Leader Threatens Democracy Around the World
by Gideon Rachman
This is the most urgent political story of our time: authoritarian leaders have become a central feature of global politics. Since 2000, self-styled strongmen have risen to power in capitals as diverse as Moscow, Beijing, Delhi, Brasilia, Budapest, Ankara, Riyadh, and Washington. These leaders are nationalists and social conservatives, with little tolerance for minorities, dissent, or the interests of foreigners. At home, they claim to be standing up for ordinary people against globalist elites; abroad, they posture as the embodiments of their nations. And everywhere they go, they encourage a cult of personality. What's more, these leaders are not just operating in authoritarian political systems but have begun to emerge in the heartlands of liberal democracy.
---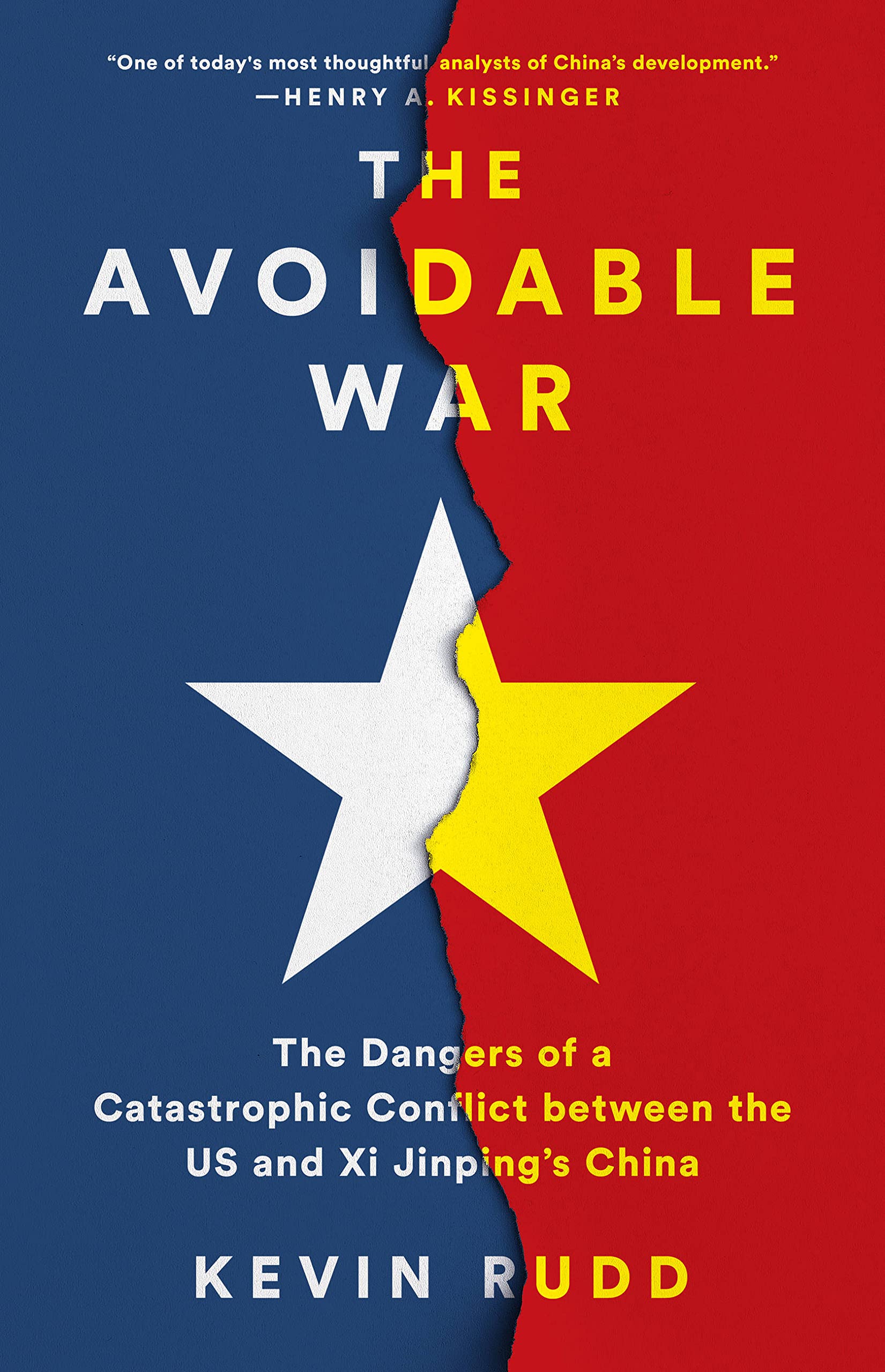 The Avoidable War: The dangers of a catastrophic conflict between the US and Xi Jinping's China
by Kevin Rudd
The relationship between the US and China, the world's two superpowers, is peculiarly volatile. It rests on a seismic fault—of cultural misunderstanding, historical grievance, and ideological incompatibility. No other nations are so quick to offend and be offended. Their militaries play a dangerous game of chicken, corporations steal intellectual property, intelligence satellites peer, and AI technicians plot. The capacity for either country to cross a fatal line grows daily.
Kevin Rudd, a former Australian prime minister who has studied, lived in, and worked with China for more than forty years, is one of the very few people who can offer real insight into the mindsets of the leadership whose judgment will determine if a war will be fought. The Avoidable War demystifies the actions of both sides, explaining and translating them for the benefit of the other. Geopolitical disaster is still avoidable, but only if these two giants can find a way to coexist without betraying their core interests through what Rudd calls "managed strategic competition." Should they fail, down that path lies the possibility of a war that could rewrite the future of both countries, and the world." — Provided by publisher.
---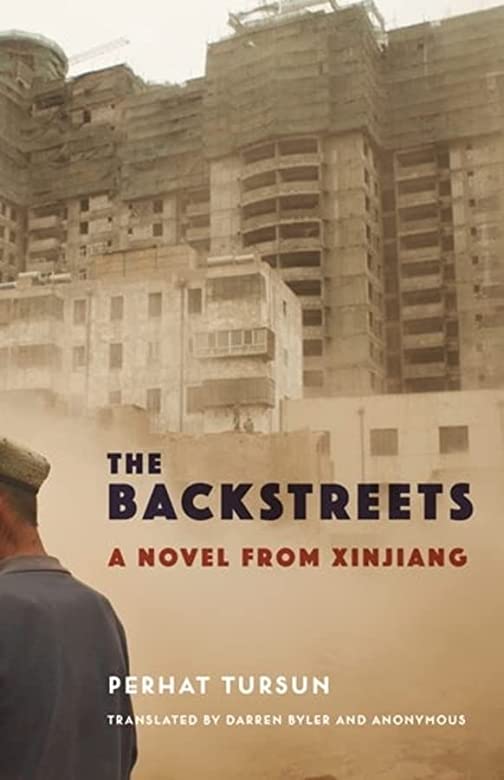 The Backstreets : A Novel from Xinjiang
by Perhat Tursun
The Backstreets is an astonishing novel by a preeminent contemporary Uyghur author who was disappeared by the Chinese state. It follows an unnamed Uyghur man who comes to the impenetrable Chinese capital of Xinjiang after finding a temporary job in a government office. Seeking to escape the pain and poverty of the countryside, he finds only cold stares and rejection. He wanders the streets, accompanied by the bitter fog of winter pollution, reciting a monologue of numbers and odors, lust and loathing, memories and madness.
Perhat Tursun's novel is a work of untrammeled literary creativity. His evocative prose recalls a vast array of canonical world writers—contemporary Chinese authors such as Mo Yan; the modernist images and rhythms of Camus, Dostoevsky, and Kafka; the serious yet absurdist dissection of the logic of racism in Ellison's Invisible Man—while drawing deeply on Uyghur literary traditions and Sufi poetics and combining all these disparate influences into a style that is distinctly Perhat Tursun's own. The Backstreets is a stark fable about urban isolation and social violence, dehumanization and the racialization of ethnicity. Yet its protagonist's vivid recollections of maternal tenderness and first love reveal how memory and imagination offer profound forms of resilience. A translator's introduction situates the novel in the political atmosphere that led to the disappearance of both the author and his work.
---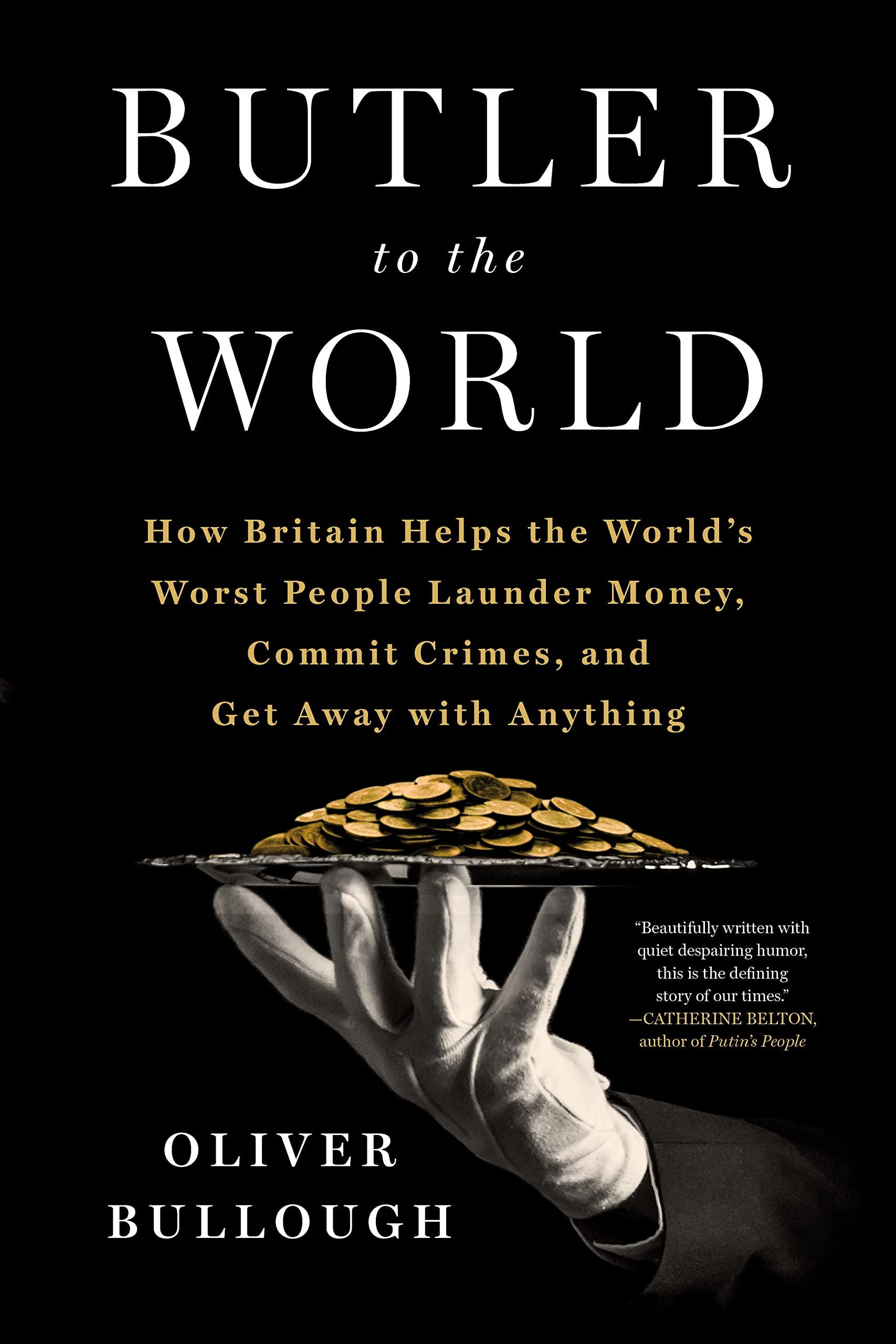 Butler to the world: How Britain helps the world's worst people launder money, commit crimes, and get away with anything
by Oliver Bullough
In his forceful follow-up to Moneyland, Oliver Bullough unravels the dark secret of how Britain placed itself at the center of the global offshore economy and at the service of the worst people in the world.
The Suez Crisis of 1956 was the nadir of Britain's twentieth century, the moment when the once-superpower was bullied into retreat. "Great Britain has lost an empire and not yet found a role," said Dean Acherson, a former US secretary of state. Acheson's line has entered into the canon of great quotations: but it was wrong. Britain had already found a role. The leaders of the world just hadn't noticed it yet.
Butler to the World reveals how Britain came to assume its role as the center of the offshore economy. Written polemically, but studded with witty references to the butlers of popular fiction, it demonstrates how so many elements of modern Britain have been put at the service of the world's oligarchs.
---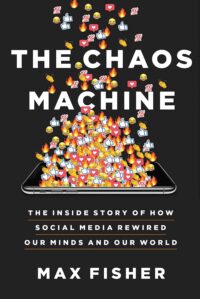 The Chaos Machine : The Inside Story of How Social Media Rewired Our Minds and Our World
by Max Fisher
We all have a vague sense that social media is bad for our minds, for our children, and for our democracies. But the truth is that its reach and impact run far deeper than we have understood. Building on years of international reporting, Max Fisher tells the gripping and galling inside story of how Facebook, Twitter, YouTube, and other social network preyed on psychological frailties to create the algorithms that drive everyday users to extreme opinions and, increasingly, extreme actions. As Fisher demonstrates, the companies' founding tenets, combined with a blinkered focus on maximizing engagement, have led to a destabilized world for everyone.
Traversing the planet, Fisher tracks the ubiquity of hate speech and its spillover into violence, ills that first festered in far-off locales, to their dark culmination in America during the pandemic, the 2020 election, and the Capitol Insurrection. Through it all, the social-media giants refused to intervene in any meaningful way, claiming to champion free speech when in fact what they most prized were limitless profits. The result, as Fisher shows, is a cultural shift toward a world in which people are polarized not by beliefs based on facts, but by misinformation, outrage, and fear.
---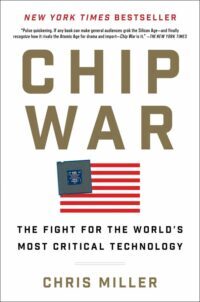 Chip War : The Fight for the World's Most Critical Technology
by Chris Miller
You may be surprised to learn that microchips are the new oil—the scarce resource on which the modern world depends. Today, military, economic, and geopolitical power are built on a foundation of computer chips. Virtually everything—from missiles to microwaves—runs on chips, including cars, smartphones, the stock market, even the electric grid. Until recently, America designed and built the fastest chips and maintained its lead as the #1 superpower, but America's edge is in danger of slipping, undermined by players in Taiwan, Korea, and Europe taking over manufacturing. Now, as Chip War reveals, China, which spends more on chips than any other product, is pouring billions into a chip-building initiative to catch up to the US. At stake is America's military superiority and economic prosperity.
Economic historian Chris Miller explains how the semiconductor came to play a critical role in modern life and how the U.S. became dominant in chip design and manufacturing and applied this technology to military systems. America's victory in the Cold War and its global military dominance stems from its ability to harness computing power more effectively than any other power. But here, too, China is catching up, with its chip-building ambitions and military modernization going hand in hand. America has let key components of the chip-building process slip out of its grasp, contributing not only to a worldwide chip shortage but also a new Cold War with a superpower adversary that is desperate to bridge the gap.
---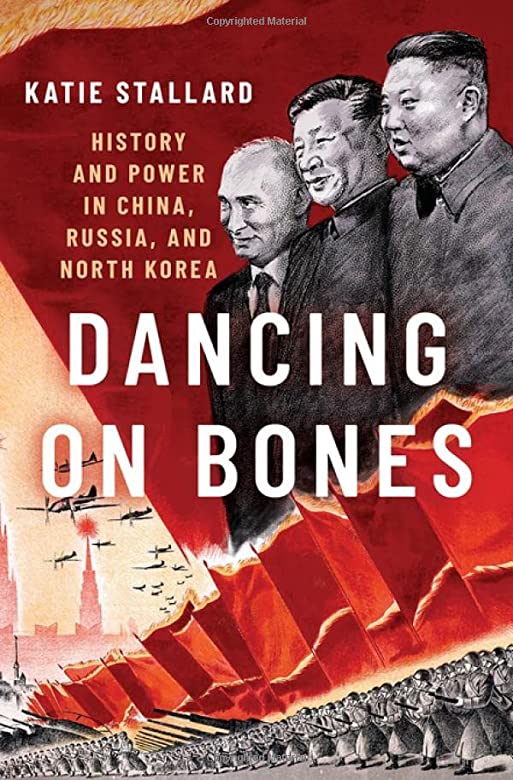 Dancing on Bones : History and Power in China, Russia and North Korea
by Katharine Stallard
History didn't end. Democracy didn't triumph. America's leading role in the world is no longer assured. Instead, autocrats and populist strongmen are on the rise, and the global order established after 1945 is under attack. This is the phenomenon Katie Stallard tackles in Dancing on Bones, as she examines how the leaders of China, Russia, and North Korea manipulate the past to serve the present and secure the future of authoritarian rule.
Russia has annexed Crimea, started a war in eastern Ukraine, and repeatedly massed troops on its borders. China has stepped up war games near Taiwan and militarized the South China Sea, while North Korea has resumed missile testing and blood-curdling threats against the United States. These three states consistently top lists of threats to US and European security, and yet the leaders of all three insist that it is their country that is threatened, rewriting history and exploiting the memory of the wars of the last century to justify their actions and shore up popular support. Since coming to power, Xi Jinping has almost doubled the length of China's World War II, Vladimir Putin has elevated the memory of the Great Patriotic War to the status of a national religion, and Kim Jong Un has invested vast sums in rebuilding war museums in his impoverished state, while those who try to challenge the official version of history are silenced and jailed. But this didn't start with Putin, Xi, and Kim, and it won't end with them.
---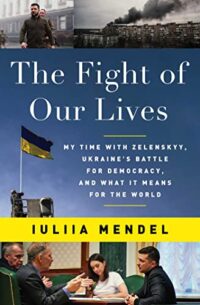 The Fight of Our Lives : My Time with Zelenskyy, Ukraine's Battle for Democracy, and What It Means for the World
by Iuliia Mendel
In this frank and moving inside account, Zelenskyy's former press secretary tells the story of his improbable rise from popular comedian to the president of Ukraine. Mendel had a front row seat to many of the key events preceding the 2022 Russian invasion. From attending meetings between Zelenskyy and Putin and other European leaders, visiting the front lines in Donbas, to fielding press inquiries after the infamous phone calls between Donald Trump and Zelenskyy that led to Trump's first impeachment.
Mendel saw firsthand Zelenskyy's efforts to transform his country from a poor, backward Soviet state into a vibrant, prosperous European democracy. Mendel sheds light on the massive economic problems facing Ukraine and the entrenched corrupt oligarchs in league with Russia. She witnessed the Kremlin's repeated attacks to discredit Zelenskyy through disinformation and an army of bots and trolls.
Woven into her account are details about her own life as a member of Zelenskyy's new Ukraine. Written with the sound of Russian bombs and exploding shells in the background, Mendel details life lived under Russian siege in 2022. She says goodbye to her fiancé who joins the front lines, like so many other Ukrainian men. Throughout this story of Zelenskyy, Ukraine, and its extraordinary people, Iuliia Mendel reminds us of the paramount importance of truth and human values, especially in these darkest of times.
---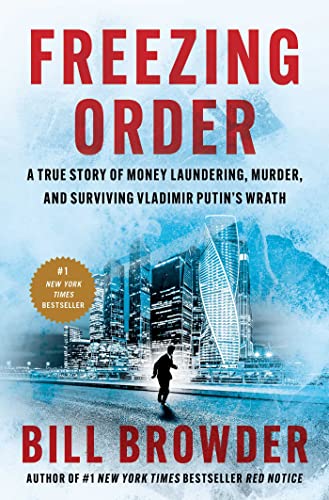 Freezing Order: A True Story of Money Laundering, Murder, and Surviving Vladimir Putin's Wrath
by Bill Browder
When Bill Browder's young Russian lawyer, Sergei Magnitsky, was beaten to death in a Moscow jail, Browder made it his life's mission to go after his killers and make sure they faced justice. The first step of that mission was to uncover who was behind the $230 million tax refund scheme that Magnitsky was killed over. As Browder and his team tracked the money as it flowed out of Russia through the Baltics and Cyprus and on to Western Europe and the Americas, they were shocked to discover that Vladimir Putin himself was a beneficiary of the crime.
As law enforcement agencies began freezing the money, Putin retaliated. He and his cronies set up honey traps, hired process servers to chase Browder through cities, murdered more of his Russian allies, and enlisted some of the top lawyers and politicians in America to bring him down. Putin will stop at nothing to protect his money. As Freezing Order reveals, it was Browder's campaign to expose Putin's corruption that prompted Russia's intervention in the 2016 US presidential election.
At once a financial caper, an international adventure, and a passionate plea for justice, Freezing Order is a stirring morality tale about how one man can take on one of the most ruthless villains in the world—and win.
---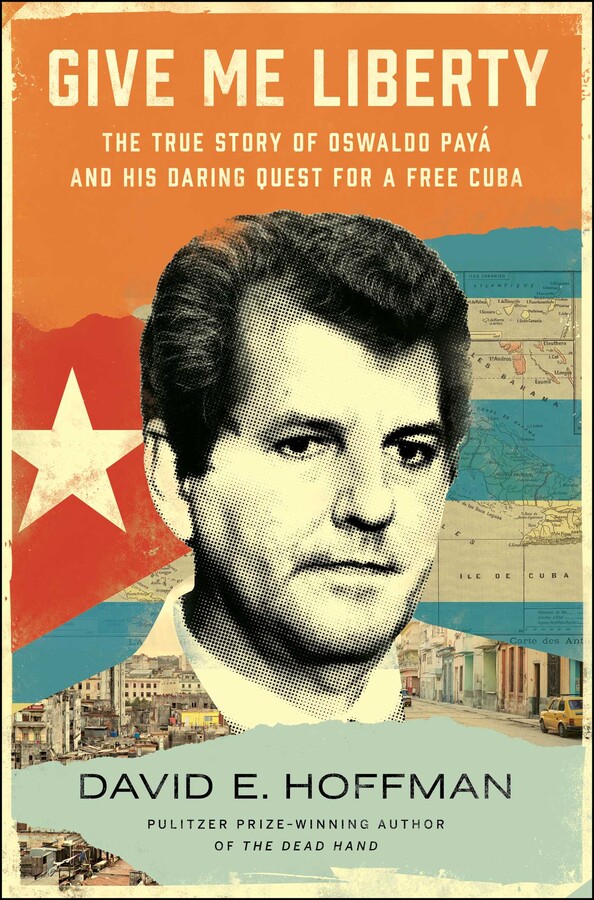 Give Me Liberty : The True Story of Oswaldo Payá and His Daring Quest for a Free Cuba
by David E. Hoffman
Oswaldo Payá was seven years old when Fidel Castro seized power in Cuba, promising to create a "free, democratic, and just Cuba." But Castro instead created an authoritarian regime with little tolerance of free speech or thought. His secret police were trained to crush dissent by East Germany's ruthless Stasi.
Throughout Cuba's 20th century history, the dream of democracy was often just within reach, only to be dashed by dictatorship and revived again by a new generation. Payá inherited this dream and it became his life's work. As a teenager in Communist Cuba, he led a protest against the Soviet-led shattering of the Prague Spring. Before long, he was sent to Castro's forced labor camps. Payá later became a leading voice of opposition and formed a pro-democracy movement. A devoted Catholic, he championed a simple, bedrock belief that rights are bestowed by God, and not the state. Every day, he witnessed these rights trampled in Cuba. He could not stay silent.
---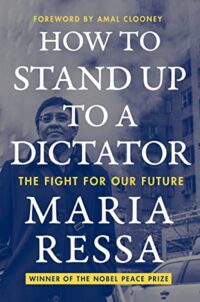 How to Stand Up to a Dictator : The Fight for Our Future
by Maria Ressa and Amal Clooney
From the recipient of the 2021 Nobel Peace Prize and World Movement for Democracy at NED Chairperson.
Maria Ressa is one of the most renowned international journalists of our time. For decades, she challenged corruption and malfeasance in her native country, the Philippines, on its rocky path from an authoritarian state to a democracy. As a reporter from CNN, she transformed news coverage in her region, which led her in 2012 to create a new and innovative online news organization, Rappler. Harnessing the emerging power of social media, Rappler crowdsourced breaking news, found pivotal sources and tips, harnessed collective action for climate change, and helped increase voter knowledge and participation in elections.
Democracy is fragile. How to Stand Up to a Dictator is an urgent cry for Western readers to recognize and understand the dangers to our freedoms before it is too late. It is a book for anyone who might take democracy for granted, written by someone who never would. And in telling her dramatic and turbulent and courageous story, Ressa forces readers to ask themselves the same question she and her colleagues ask every day: What are you willing to sacrifice for the truth?
---
In the Mouth of the Wolf: (En La Boca Del Lobo) : A Murder, a Cover-Up, and the True Cost of Silencing the Press
by Katherine Corcoran
Former AP Mexico bureau chief Katherine Corcoran's pulsating investigation into the murder of a legendary woman journalist on the verge of exposing government corruption in Mexico.
Regina Martínez was no stranger to retaliation. A journalist out of Mexico's Gulf Coast state of Veracruz, Regina's stories for the magazine Proceso laid out the corruption and abuse underlying Mexican politics. She was barred from press conferences, and copies of Proceso often disappeared before they made the newsstands. In 2012, shortly after Proceso published an article on corruption and two Veracruz politicians, and the magazine went missing once again, she was bludgeoned to death in her bathroom. The message was clear: No journalist in Mexico was safe.
Katherine Corcoran, then leading the Associated Press coverage of Mexico, admired Regina Martínez's work. Troubled by the news of her death, Corcoran journeyed to Veracruz to find out what had happened. Regina hadn't even written the controversial article. But did she have something else that someone didn't want published? Once there, Katherine bonded with four of Regina's grief-stricken mentees, each desperate to prove who was to blame for the death of their friend. Together they battled cover-ups, narco-officials, red tape, and threats to sift through the mess of lies-and discover what got Regina killed.
---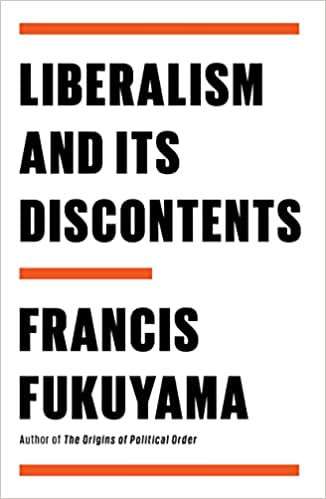 Liberalism and its Discontents
by Francis Fukuyama
Classical liberalism is in a state of crisis. Developed in the wake of Europe's wars over religion and nationalism, liberalism is a system for governing diverse societies, which is grounded in fundamental principles of equality and the rule of law. It emphasizes the rights of individuals to pursue their own forms of happiness free from encroachment by government.
It's no secret that liberalism didn't always live up to its own ideals. In America, many people were denied equality before the law. Who counted as full human beings worthy of universal rights was contested for centuries, and only recently has this circle expanded to include women, African Americans, LGBTQ+ people, and others. Conservatives complain that liberalism empties the common life of meaning. As the renowned political philosopher Francis Fukuyama shows in Liberalism and Its Discontents, the principles of liberalism have also, in recent decades, been pushed to new extremes by both the right and the left: neoliberals made a cult of economic freedom, and progressives focused on identity over human universality as central to their political vision. The result, Fukuyama argues, has been a fracturing of our civil society and an increasing peril to our democracy. In this short, clear account of our current political discontents, Fukuyama offers an essential defense of a revitalized liberalism for the twenty-first century.
---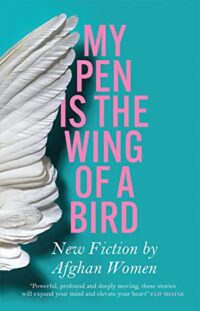 My Pen Is the Wing of a Bird : New Fiction by Afghan Women
with introduction by Lyse Doucet and afterword by Lucy Hannah
Eighteen Afghan women living in, speaking about, and writing from the country itself tell stories that are powerful and illuminating, unique and universal – stories of family, work, childhood, friendship, war, gender identity, and cultural traditions.
A woman's fortitude saves her village from disaster. A teenager explores their identity in a moment of quiet. A tormented girl tries to find love through a horrific act. A headmaster makes his way to work, treading the fine line between life and death.
These and more original, vital, and unexpected stories hail from extraordinary voices rooted in Afghanistan's two main linguistic groups (Pashto and Dari), and were developed over two years through the writer development program Untold's Write Aghanistan Project. My Pen Is the Wing of a Bird comes at a pivotal moment in Afghanistan's history, when these voices must be heard.
---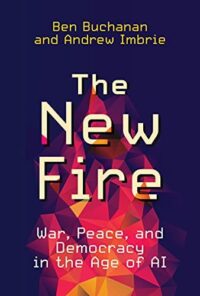 The New Fire : War, Peace, and Democracy in the Age of Ai
by Ben Buchanan and Andrew Imbrie
AI is revolutionizing the world. Here's how democracies can come out on top.
Artificial intelligence is revolutionizing the modern world. It is ubiquitous—in our homes and offices, in the present and most certainly in the future. Today, we encounter AI as our distant ancestors once encountered fire. If we manage AI well, it will become a force for good, lighting the way to many transformative inventions. If we deploy it thoughtlessly, it will advance beyond our control. If we wield it for destruction, it will fan the flames of a new kind of war, one that holds democracy in the balance. As AI policy experts Ben Buchanan and Andrew Imbrie show in The New Fire, few choices are more urgent—or more fascinating—than how we harness this technology and for what purpose.
The new fire has three sparks: data, algorithms, and computing power. These components fuel viral disinformation campaigns, new hacking tools, and military weapons that once seemed like science fiction. To autocrats, AI offers the prospect of centralized control at home and asymmetric advantages in combat. It is easy to assume that democracies, bound by ethical constraints and disjointed in their approach, will be unable to keep up. But such a dystopia is hardly preordained. Combining an incisive understanding of technology with shrewd geopolitical analysis, Buchanan and Imbrie show how AI can work for democracy. With the right approach, technology need not favor tyranny.
---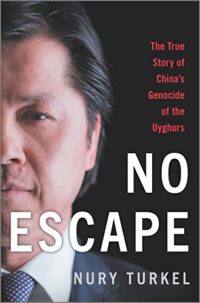 No Escape : The True Story of China's Genocide of the Uyghurs
by Nury Turkel
A powerful memoir by Nury Turkel that lays bare China's repression of the Uyghur people. Turkel is cofounder and board chair of the Uyghur Human Rights Project and a commissioner for the United States Commission on International Religious Freedom.
In recent years, the People's Republic of China has rounded up as many as three million Uyghurs, placing them in what it calls "reeducation camps," facilities most of the world identifies as concentration camps. There, the genocide and enslavement of the Uyghur people are ongoing. The tactics employed are reminiscent of the Cultural Revolution, but the results are far more insidious because of the technology used, most of it stolen from Silicon Valley. In the words of Turkel, "Communist China has created an open prison-like environment through the most intrusive surveillance state that the world has ever known while committing genocide and enslaving the Uyghurs on the world's watch."
As a human rights attorney and Uyghur activist who now serves on the US Commission on International Religious Freedom, Turkel tells his personal story to help explain the urgency and scope of the Uyghur crisis. Born in 1970 in a reeducation camp, he was lucky enough to survive and eventually make his way to the US, where he became the first Uyghur to receive an American law degree. Since then, he has worked as a prominent lawyer, activist, and spokesperson for his people and advocated strong policy responses from the liberal democracies to address atrocity crimes against his people.
---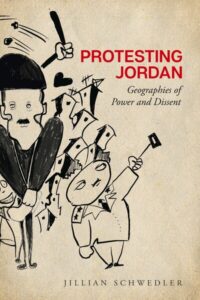 Protesting Jordan : Geographies of Power and Dissent
by Jillian Schwedler
Protest has been a key method of political claim-making in Jordan from the late Ottoman period to the present day. More than moments of rupture within normal-time politics, protests have been central to challenging state power, as well as reproducing it—and the spatial dynamics of protests play a central role in the construction of both state and society. With this book, Jillian Schwedler considers how space and geography influence protests and repression, and, in challenging conventional narratives of Hashemite state-making, offers the first in-depth study of rebellion in Jordan.
Based on twenty-five years of field research, Protesting Jordan examines protests as they are situated in the built environment, bringing together considerations of networks, spatial imaginaries, space and place-making, and political geographies at local, national, regional, and global scales. Schwedler considers the impact of time and temporality in the lifecycles of individual movements. Through a mixed interpretive methodology, this book illuminates the geographies of power and dissent and the spatial practices of protest and repression, highlighting the political stakes of competing narratives about Jordan's past, present, and future.
---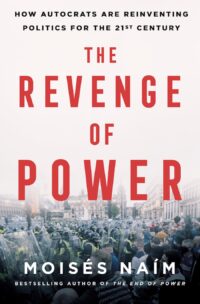 The Revenge of Power : How Autocrats Are Reinventing Politics for the 21st Century
by Moisés Naím
In his bestselling book The End of Power, Moisés Naím examined power-diluting forces. In The Revenge of Power, Naím turns to the trends, conditions, technologies and behaviors that are contributing to the concentration of power, and to the clash between those forces that weaken power and those that strengthen it. He concentrates on the three "P"s—populism, polarization, and post-truths. All of which are as old as time, but are combined by today's autocrats to undermine democratic life in new and frightening ways. Power has not changed. But the way people go about gaining it and using it has been transformed.
The Revenge of Power is packed with alluring characters, riveting stories about power grabs and losses, and vivid examples of the tricks and tactics used by autocrats to counter the forces that are weakening their power. It connects the dots between global events and political tactics that, when taken together, show a profound and often stealthy transformation in power and politics worldwide. Using the best available data and insights taken from recent research in the social sciences, Naím reveals how, on close examination, the same set of strategies to consolidate power pop up again and again in places with vastly different political, economic, and social circumstances, and offers insights about what can be done to ensure that freedom and democracy prevail.
---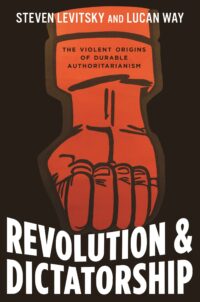 Revolution and Dictatorship : The Violent Origins of Durable Authoritarianism
by Steven Levitsky and Lucan Way
Revolution and Dictatorship explores why dictatorships born of social revolution—such as those in China, Cuba, Iran, the Soviet Union, and Vietnam—are extraordinarily durable, even in the face of economic crisis, large-scale policy failure, mass discontent, and intense external pressure. Few other modern autocracies have survived in the face of such extreme challenges. Drawing on comparative historical analysis, Steven Levitsky and Lucan Way argue that radical efforts to transform the social and geopolitical order trigger intense counterrevolutionary conflict, which initially threatens regime survival, but ultimately fosters the unity and state-building that supports authoritarianism.
Although most revolutionary governments begin weak, they challenge powerful domestic and foreign actors, often bringing about civil or external wars. These counterrevolutionary wars pose a threat that can destroy new regimes, as in the cases of Afghanistan and Cambodia. Among regimes that survive, however, prolonged conflicts give rise to a cohesive ruling elite and a powerful and loyal coercive apparatus. This leads to the downfall of rival organizations and alternative centers of power, such as armies, churches, monarchies, and landowners, and helps to inoculate revolutionary regimes against elite defection, military coups, and mass protest—three principal sources of authoritarian breakdown.
---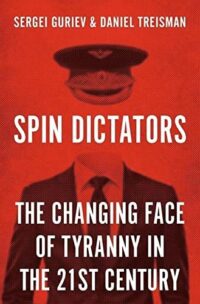 Spin Dictators : The Changing Face of Tyranny in the 21st Century
by Sergei Guriev and Daniel Treisman
Hitler, Stalin, and Mao ruled through violence, fear, and ideology. But in recent decades a new breed of media-savvy strongmen has been redesigning authoritarian rule for a more sophisticated, globally connected world. In place of overt, mass repression, rulers such as Vladimir Putin, Recep Tayyip Erdogan, and Viktor Orbán control their citizens by distorting information and simulating democratic procedures. Like spin doctors in democracies, they spin the news to engineer support. Uncovering this new brand of authoritarianism, Sergei Guriev and Daniel Treisman explain the rise of such "spin dictators," describing how they emerge and operate, the new threats they pose, and how democracies should respond.
Spin Dictators traces how leaders such as Singapore's Lee Kuan Yew and Peru's Alberto Fujimori pioneered less violent, more covert, and more effective methods of monopolizing power. They cultivated an image of competence, concealed censorship, and used democratic institutions to undermine democracy, all while increasing international engagement for financial and reputational benefits. The book reveals why most of today's authoritarians are spin dictators—and how they differ from the remaining "fear dictators" such as Kim Jong-un and Bashar al-Assad, as well as from masters of high-tech repression like Xi Jinping.
---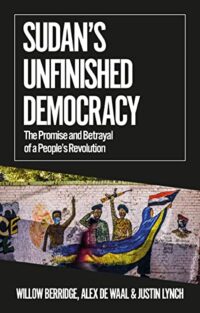 Sudan's Unfinished Democracy : The Promise and Betrayal of a People's Revolution
by Willow Berridge, Justin Lynch, Raga Makawi, and Alex De Waal
This book tells the story of the Sudanese revolution of 2019; of how it succeeded in bringing down the long-standing rule of President Omar al-Bashir; and of the troubled transitional civilian-led government that was installed in his place. It sets the scrupulously non-violent uprising in its historical context, showing how the protesters drew upon the precedents of earlier civic revolutions and adapted their practices to the challenges of the al-Bashir regime. The book also explores how that regime was brought to its knees through its inability to manage the intersecting economic and political crises caused by the secession of South Sudan and the loss of oil revenue, alongside the uncontrolled expansion of a sprawling security apparatus.
The civilian protesters called for–and expected–a total transformation of Sudanese politics, but they found themselves grappling with a still-dominant cabal of generals, who had powerful regional backers and a strong hold over the economy. Internally divided, and faced with a deepening economic crisis, the civilian government led by Prime Minister Abdalla Hamdok has found itself in office, but with less and less real power, unable to change the conduct of political business as usual.
---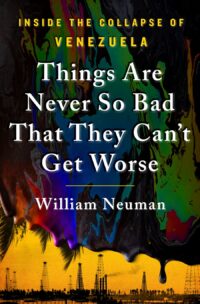 Things Are Never so Bad That They Can't Get Worse : Inside the Collapse of Venezuela
by William Neuman
Today, Venezuela is a country of perpetual crisis—a country of rolling blackouts, nearly worthless currency, uncertain supply of water and food, and extreme poverty. In the same land where oil—the largest reserve in the world—sits so close to the surface that it bubbles from the ground, where gold and other mineral resources are abundant, and where the government spends billions of dollars on public works projects that go abandoned, the supermarket shelves are bare and the hospitals have no medicine. Twenty percent of the population has fled, creating the largest refugee exodus in the world, rivaling only war-torn Syria's crisis. Venezuela's collapse affects all of Latin America, as well as the United States and the international community.
Republicans like to point to Venezuela as the perfect example of the emptiness of socialism, but it is a better model for something else: the destructive potential of charismatic populist leadership. The ascent of Hugo Chávez was a precursor to the emergence of strongmen that can now be seen all over the world, and the success of the corrupt economy he presided over only lasted while oil sold for more than $100 a barrel. Chávez's regime and policies, which have been reinforced under Nicolás Maduro, squandered abundant resources and ultimately bankrupted the country.
---