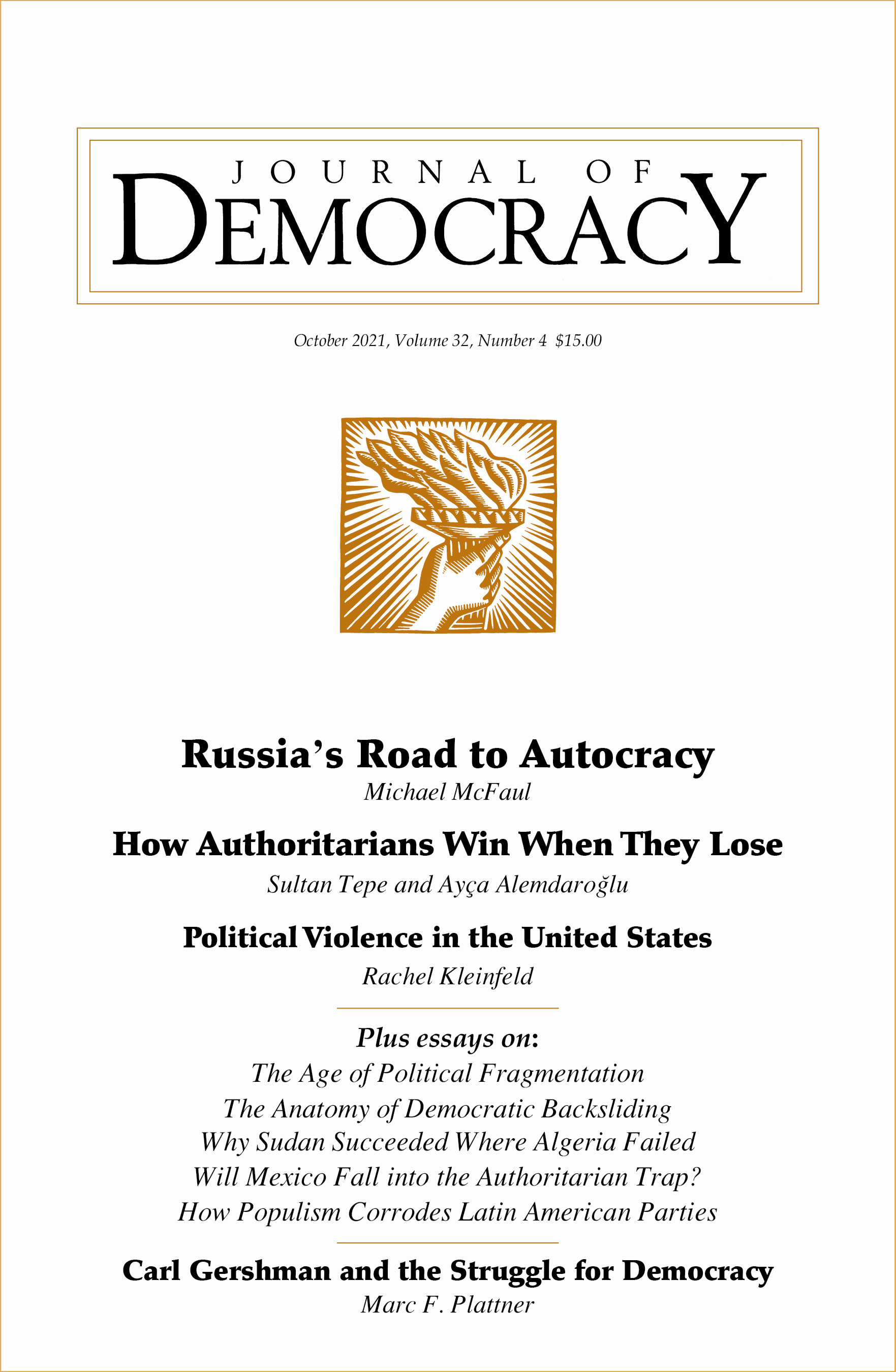 Amid declining popularity, Putin and his regime are cracking down harder than ever. But 30 years ago, with the collapse of the Soviet Union, Russia was an aspiring democracy. How did it wind up an authoritarian power all over again?
Plus: Political violence is on the rise in the United States, and the number of people who think it justified is growing; and among the many ills afflicting Western democracies is the splintering of political authority.
Read the Journal of Democracy's October 2021 issue, available for free on Project MUSE through November 18.
Michael McFaul, former U.S. ambassador to Russia, follows the country's path since the collapse of Soviet rule—from fledgling democracy to Putin's "managed democracy" to full-blown autocracy—detailing the factors and personalities that shaped its return to authoritarianism.
Political violence in the United States is not new, but it is escalating today. Rachel Kleinfeld explains how the threats have changed and what makes the United States particularly vulnerable to more violence.
Rick Pildes argues that political fragmentation is undermining effective government in Western democracies. As the power to make and influence policy becomes more diffuse, legislatures and political parties are becoming more dysfunctional.
Also in this issue:
Plus:
Marc F. Plattner reflects on the storied career of Carl Gershman, who stepped down as head of the National Endowment for Democracy in July after nearly four decades.
In a review of Debasish Roy Chowdhury and John Keane's To Kill a Democracy: India's Passage to Despotism, Šumit Ganguly considers how governance and election issues may be hastening India's autocratic turn.