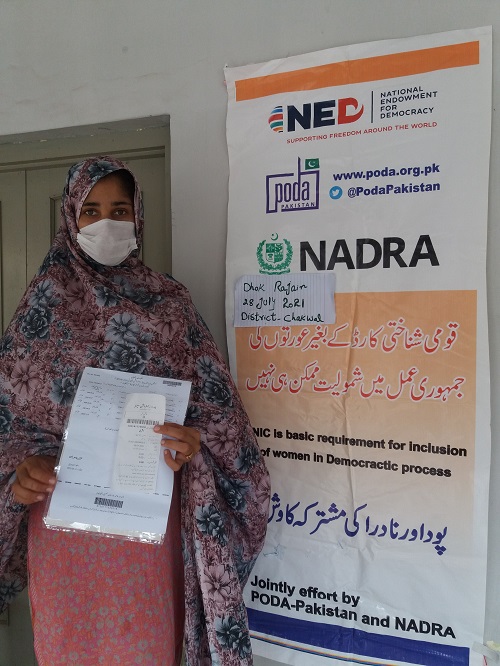 Through an annual leadership conference and creating a weekly webinar series, the women's rights NGO Potohar Organization for Development Advocacy (PODA)—a National Endowment for Democracy grantee—has founded the largest network of independent rural women leaders to amplify their voice and visibility. By working with PODA, women leaders from throughout Pakistan, including some its most remote areas, come together to discuss ways to solve problems at the local level and to seek changes regarding women's greater participation in politics, combatting gender-based violence, and other key concerns affecting their communities.
"Our vision is for a democratic society based on gender equity, economic justice, and peace," said Sameena Nazir, the president of PODA. "PODA facilitates the empowerment of rural women and youth through education about fundamental human rights guaranteed in the Constitution of Pakistan and Universal Declaration of Human Rights." (Read more stories about empowering women around the world.)
Established in 2004, PODA works to examine issues affecting women in Pakistan from every possible angle—legal, social, and economic—and creates innovative approaches to address these issues through advocacy, training, and action. PODA's annual Rural Women in Leadership Conference brings together women from all parts of the country and connect them with policy makers, legislators, national and international organizations, media, academia and government officials.
"The three-day conference has many thematic sessions where rural women leaders raise and discuss their issues, suggest solutions, and take part in framing recommendations for the politicians as well as policymakers," said Nazir. "The conference produces valuable recommendations which are subsequently shared with relevant policymakers. We work hard to listen to the voices of the women we serve–addressing their needs and ensuring their inclusion in all processes drives our program decisions."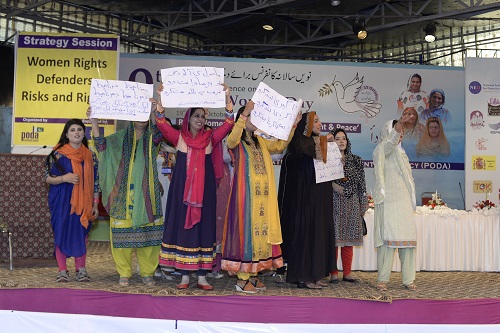 Throughout the year, PODA organizes human rights gatherings, public rallies, solidarity sit-ins, press conferences, and other events to raise awareness, mentor younger activists, and support women's rights and human rights advocates and workers at the rural level. Sessions on the voting process have helped to facilitate rural women's access to Computerized National Identity Cards (CNIC) and have provided assistance in registering to vote ahead of the upcoming general elections in 2023.
"In Pakistan, recent studies show that women legislators in the National Assembly are more active than their male counterparts, particularly in sponsoring legislation," said Wilson Lee, a regional expert and senior program officer for Asia at NED. "Since the last census showed that Pakistan remains a predominantly rural society, PODA's efforts to nurture and strengthen rural women political leadership and civic participation is vital for the country's development as an inclusive democracy."
As Covid-19 curtailed PODA's field activities and office operations, PODA had to pivot to amplify its digital advocacy efforts. In 2021, PODA launched a weekly series, "Wednesday Webinars with Rural Women Leaders of Pakistan," that linked hundreds of rural women in remote villages of Pakistan with their peers around the country, allowing them to share their work and learn from a much wider network to maximize reach and impact.
Although focused on the local level, PODA is also committed to supporting human rights defenders and journalists on the global level. After the Taliban seized power in Afghanistan in August 2021, PODA facilitated the evacuation of 86 Afghan civil society members through Pakistan. The organization also arranged logistics such as transportation, accommodations, flights and provided them with medical and psychosocial support.
"This was an unexpected and challenging endeavor, but the PODA team worked day and night to make it happen as smoothly as humanly possible," said Nazir. "Although this humanitarian effort took a lot of time during our busiest and most important annual event in October, PODA staff remained committed to support our Afghan neighbors and fellow civil society community."
After a successful 2021, PODA aims to continue supporting democracy in rural Pakistan and beyond. Ahead of the upcoming general elections in 2023, PODA plans to focus on voter registration and promoting women's participation in civil society. "The rise of extremist elements in Pakistan that are more intolerant to women's autonomy and pluralism in the society can impact the work of women's rights groups, said Nazir. "PODA will continue its efforts for the promotion and protection of human rights in Pakistan."