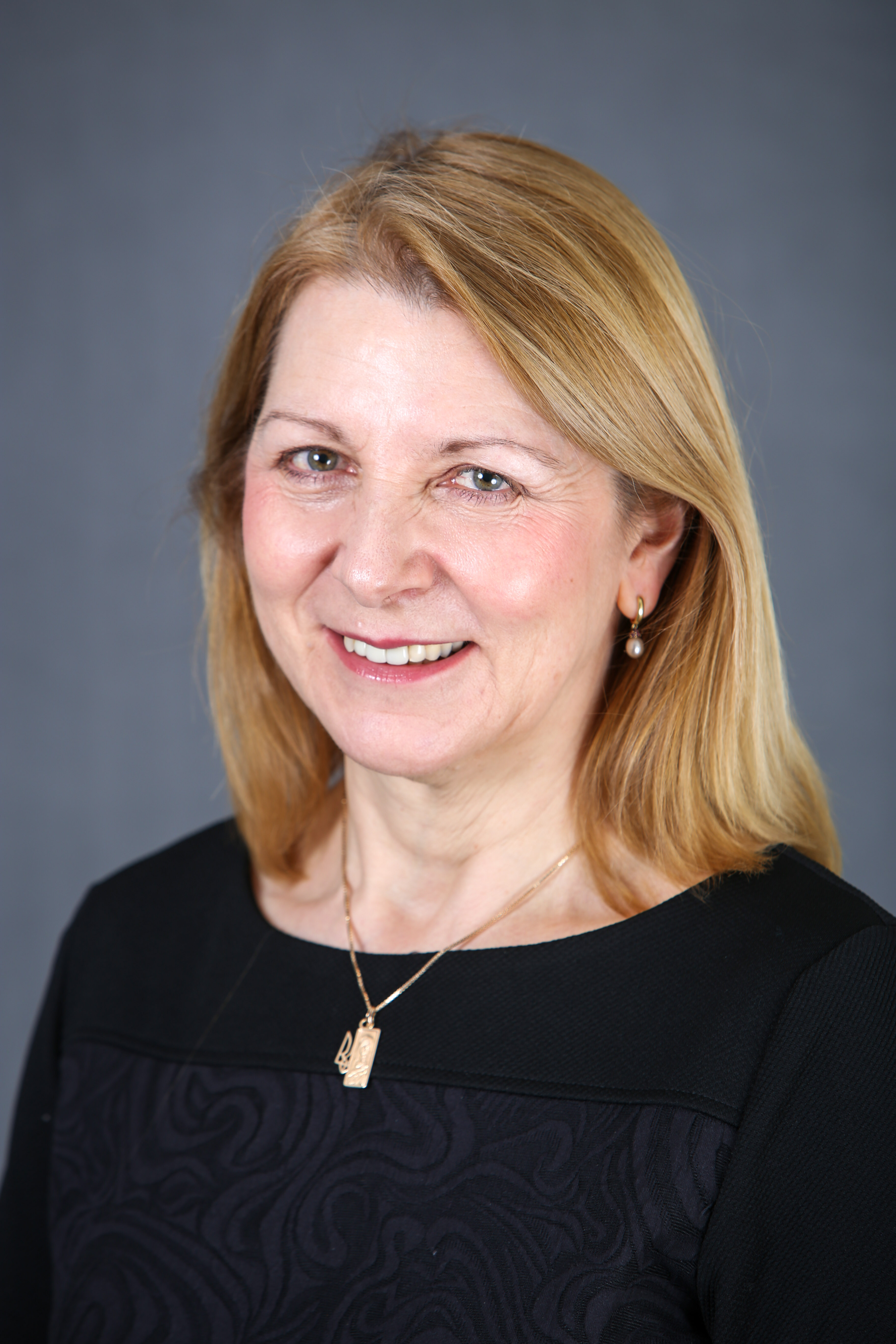 It was with deep sadness the Board and staff of the National Endowment for Democracy (NED) learned of the passing of our long-time colleague and friend Nadia Diuk. Nadia, who had served the Endowment for 32 years, most recently as Senior Advisor and previously as Vice President for Programs, died at home on January 23, 2019 after a long illness.
National Endowment for Democracy President Carl Gershman spoke for all who knew and worked with Nadia, saying, "Nadia blessed us with her work, her dedication, her brilliance, and her friendship. We loved her deeply, and she will be missed by us all. May her soul rest in peace."
The daughter of Ukrainian refugees who fled to Great Britain during World War II, Nadia dedicated her life and work to the advancement of freedom and democracy not just in Ukraine, but throughout the entire region that had been dominated by, and later liberated from, the Soviet Union.
Nadia came to NED as a program officer in 1987, three years after the Endowment's founding, and went on to lead the NED's grant making in Europe and Eurasia, providing crucial support to countless civil-society groups throughout Eastern Europe and the Soviet Union. Later in her career, she added Latin America and the Caribbean and Africa programs to her NED portfolio.
On January 22, 2019, a day before her passing, Nadia received The Order of Princess Olga (III degree), one of Ukraine's highest state honors, from the President of Ukraine in recognition of her life's work in furthering democracy and supporting Ukraine's sovereignty.
Marc Plattner, the co-editor of NED's Journal of Democracy and first Director of Programs, and who worked closely with Nadia throughout her tenure at NED, reflected that "Nadia was deeply committed to her Ukrainian heritage, but she was no less committed to freedom and democracy–not only for the people of Ukraine, but for peoples everywhere. She will be sorely missed by all who witnessed her unrelenting labors in support of democracy in the former Soviet bloc and around the world."
A historian by training, Nadia's work was informed by her deep knowledge and research about the diverse peoples of the Soviet Union and the "Captive Nations." She co-authored two books, the Hidden Nations (1990), and New Nations Rising (1992), detailing the struggles of these populations for freedom and self-determination. In 2012, she authored a third book, The Next Generation in Russia, Ukraine, and Azerbaijan.
Barbara Haig, NED's Deputy to the President for Policy and Strategy, who worked hand in hand with Nadia for decades, said, "Nadia's contribution to NED, Ukraine, and the democracy world writ large cannot be measured. With her calm grace she fought the good fight, finding and nurturing younger generations of democratic activists throughout Eurasia, and helping them to define and find constructive ways to work toward achieving their dreams." On a personal note, Barbara added that Nadia "loved to walk the side streets of cities in Eastern Europe, tracking down the best historical maps of Ukraine and the borderlands in small dusty shops, and was a dedicated member of the choir at her church and at NED Holiday parties. She demonstrated so much courage these last two years of struggle — she uplifted and inspired us all. We loved her and will miss her."
Read NED President Carl Gershman's eulogy delivered at Nadia Diuk's memorial service.
Share a memory of Nadia or send condolences to her family
Even though Nadia's passing was expected, the intense loss to the world hit me like a blast. Not only was she adored and admired by the many people who knew her, who worked with her—she had also just received the high honor and distinction of being awarded the Order of Princess Olga. I pray she was fully aware of having been so recognized by the President of Ukraine, and that she drew comfort from it. I can see in my mind that calm, caring face of Nadia. She was so wise; she always understood things that were happening three levels deeper than others could truly appreciate. But somehow, even though her knowledge and judgment could have easily been intimidating, she managed to calibrate her explanations and responses to queries about geopolitical events in a way that gently encouraged further questions. She was a patient teacher who rewarded her pupils—I was grateful to be one of them—by helping them to better understand through her shared perspective. I always left my meetings with Nadia (including the last two, which took place in her home) feeling uplifted and inspired. I'll never forget being in Kiev with her, seeing her introduce President Yushchenko, and then watching him take the podium, turn to her with a casual smile, and thank her as someone who was a genuine friend of the family. It makes me think of the poem "If" by Rudyard Kipling—that line about being someone who can walk with kings yet never lose the common touch. That was Nadia. During my earliest years at NED, when I was trying to get a better grasp on how we worked with activists to support them in their efforts to bring about a more democratic future for their nations, I remember it was Nadia who gave me some very good advice. I asked, how do we know we are working with the people who are actually committed to helping their fellow citizens, who truly care? She said: As I tell my program officers here at NED, if you find yourself sipping cocktails in a plush, wood-paneled room, chuckling about the latest political development—you are probably with the wrong guys. The ones who depend on NED, who know us and trust us, don't send a limousine to pick you up when you land at the airport. Now, if you find yourself instead on the back of a motorcycle, whizzing along back roads to keep a rendezvous with eager reformers, who end up being sincerely grateful for your visit and want to do more—that probably means you're with the right guys. I love Nadia's spirit and wisdom, and her dedication, and join you all in mourning the loss of such a force for good in the world.