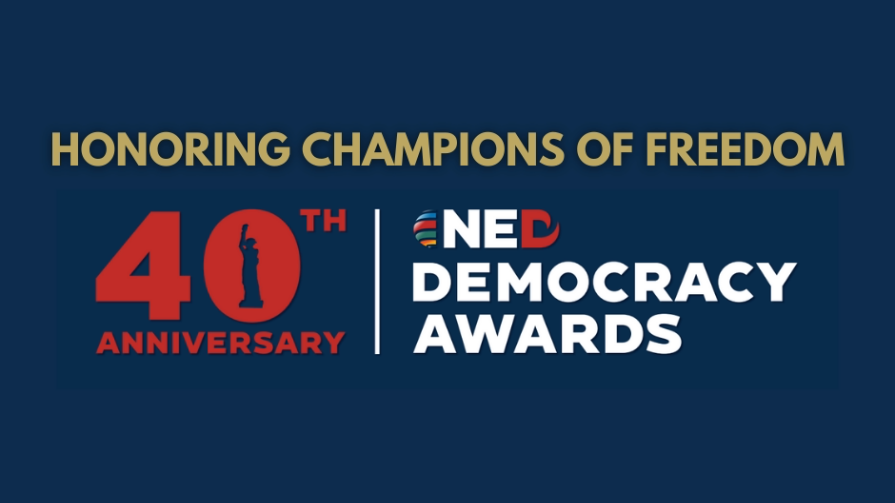 WASHINGTON, D.C.— On Tuesday, November 14, the National Endowment for Democracy (NED) will mark the past, present, and future of supporting freedom with a special 40th anniversary presentation of NED's annual Democracy Awards and Democracy Service Medals. The ceremony will gather guests from Congress, the Biden administration, democracy activists and leaders from around the world, members of the media and the diplomatic corps, and other supporters. The event will also be livestreamed for online audiences. [Watch the event livestream on November 14 at 7:00 pm here.]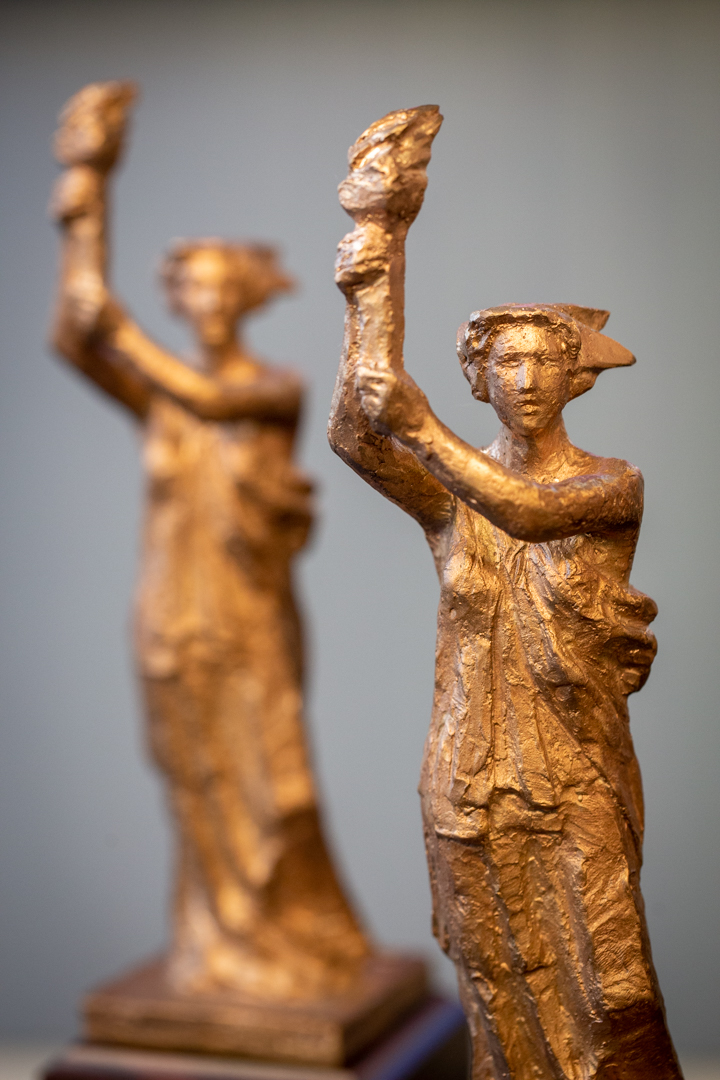 "As we look back on the four decades of NED's history, we are paying tribute to those on the forefront of the struggle for freedom and building on our legacy to adapt to today's more complex challenges to democracy," says NED President and CEO Damon Wilson. "Our 2023 honorees affirm the universal aspiration for democracy—even in the most challenging places, ordinary people are risking everything for human rights and freedom."
The Democracy Award is given annually by NED's Board of Directors to recognize the courageous and creative work of individuals and organizations advancing the cause of human rights and democracy around the world. The award is a replica of the Goddess of Democracy erected during China's 1989 Tiananmen Square protests. [Learn more about the annual awards and past honorees.]
"The NED Board is proud to support our honorees in their struggle for freedom, human rights, and democracy," says NED Board Chairman Kenneth Wollack. "NED and our core institutes will continue to stand alongside courageous journalists, activists, and citizens around the world, working in common cause for democratic renewal."
This year's Democracy Award honorees demonstrate the vitality, diversity, and necessity of NED's work, from an intrepid civic movement for women, life, and freedom, and brave individuals who paid a high price for their activism to tireless independent journalists and tech trailblazers fighting censorship and repression. [Learn more about our 2023 honorees.]
The 2023 Democracy Award Honorees are:
JOURNALISM: Afghan Independent Media, accepted by Amu TV on behalf of media ensuring the Taliban cannot isolate the Afghan people.
TRAILBLAZER: NetFreedom Pioneers, leveraging technology to counter digital authoritarians and circumventing censorship in the world's most repressive places.
INDIVIDUAL COURAGE: Individuals Imprisoned or Killed in 2023, accepted by former political prisoners Venerable Golog Jigme and Nicholas Opiyo on behalf of individuals imprisoned or killed for their democratic activism.
MOVEMENT: Women of Iran, accepted by Mersedeh Shahinkar, blinded protest crackdown victim, on behalf of resilient Iranians struggling against an oppressive regime.
U.S. Ambassador to the United Nations Linda Thomas-Greenfield and Prime Minister Kaja Kallas of Estonia will offer remarks. Members of Congress including Senators Jeanne Shaheen and Dan Sullivan, and Representatives Joaquin Castro, Mario Diaz-Balart, Barbara Lee, Joe Wilson will offer tributes to our honorees.
The evening will include a presentation of NED's Democracy Service Medals, which honor individuals who have who have demonstrated, through personal commitment, their dedication to the advancement of freedom and human rights, and to the building of democratic institutions. The NED Board has chosen Bishop Silvio José Báez Ortega, O.C.D. of Nicaragua and President Tsai Ing-wen of Taiwan as the 2023 Democracy Service Medal recipients. [Read more about the Democracy Service Medal.]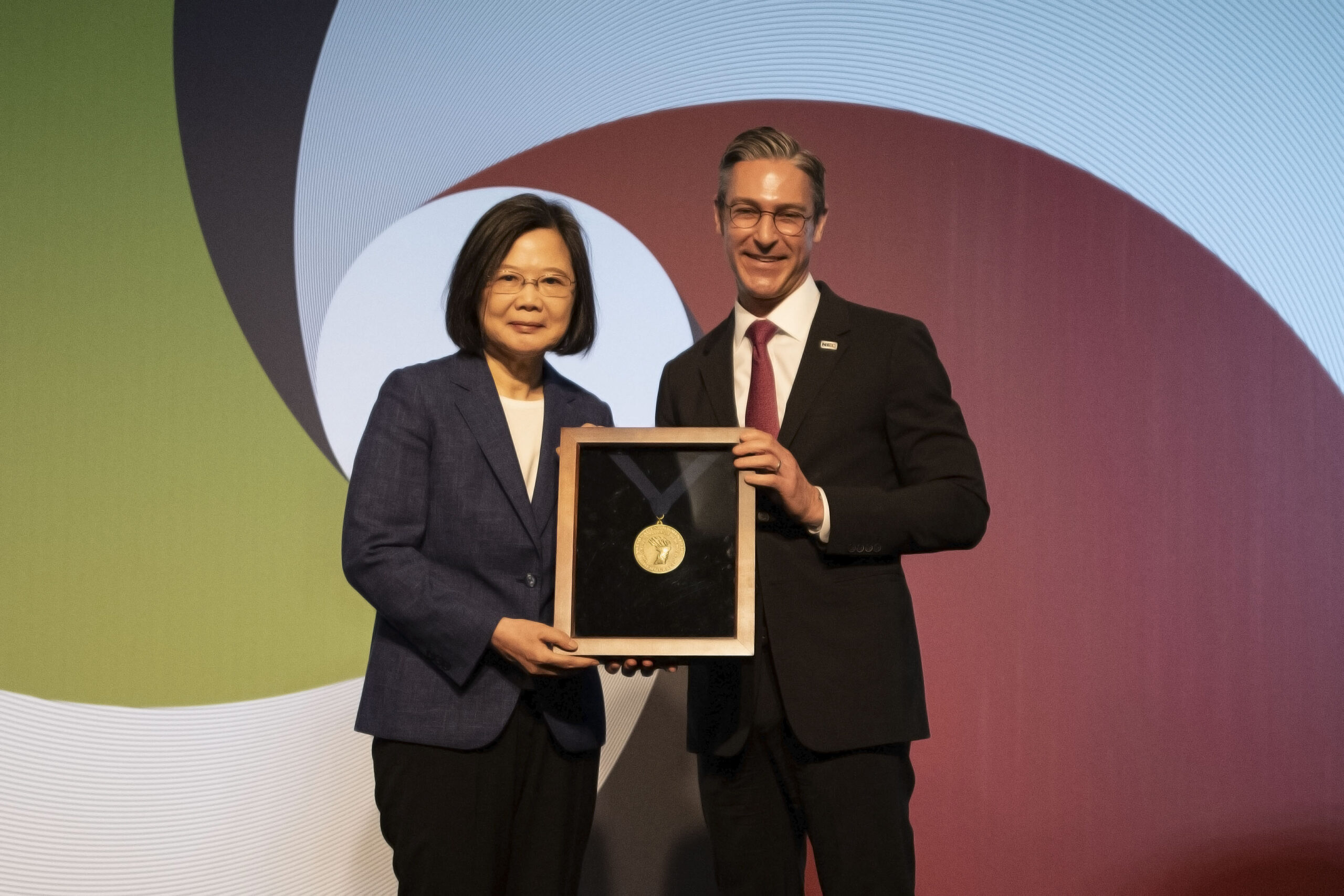 Bishop Silvio Báez, auxiliary bishop of Managua, will receive the 2023 Democracy Service Medal for his work supporting liberty, religious freedom, and on behalf of those persecuted by the state, including Catholic priests.
In July 2023, NED awarded the Democracy Service Medal to President Tsai Ing-wen, in honor of her historic contributions advancing democracy and human rights in Taiwan and around the world. She will also be recognized at the 40th Anniversary commemoration. Taiwan's former Premier, the Honorable Tseng-chang Su, will offer remarks.
The event will conclude with a special tribute to Ukraine with Ukrainian Ambassador to the US Oksana Markarova; Anna Bondarenko, head of the 2022 Democracy Award honoree Ukrainian Volunteer Service; and a musical performance by Jamala, Ukrainian singer and winner of the Eurovision song contest.
"We are not only marking NED anniversary, but also rallying our community to meet new challenges to democracy head on," said Wilson. "Together, we will make sure NED remains a dynamic catalyst for democracy and freedom for years to come."
ABOUT THE NATIONAL ENDOWMENT FOR DEMOCRACY
The National Endowment for Democracy (NED) is an independent, nonprofit, grant-making foundation dedicated to the development and strengthening of democratic institutions around the world. With an annual appropriation from Congress, NED funds more than 2,000 grants in over 100 countries. NED's grants program is augmented by the International Forum for Democratic Studies; the Reagan-Fascell Fellowships Program; the World Movement for Democracy; and the Center for International Media Assistance.
NED's approach draws on support from the two leading political parties, business, and labor. NED's core institutes include: the Center for International Private Enterprise, the International Republican Institute, the National Democratic Institute, and the Solidarity Center.
MEDIA CONTACTS
Christine Bednarz, Director of Communications, christineb@ned.org; +1-202-200-6872