July 12, 2019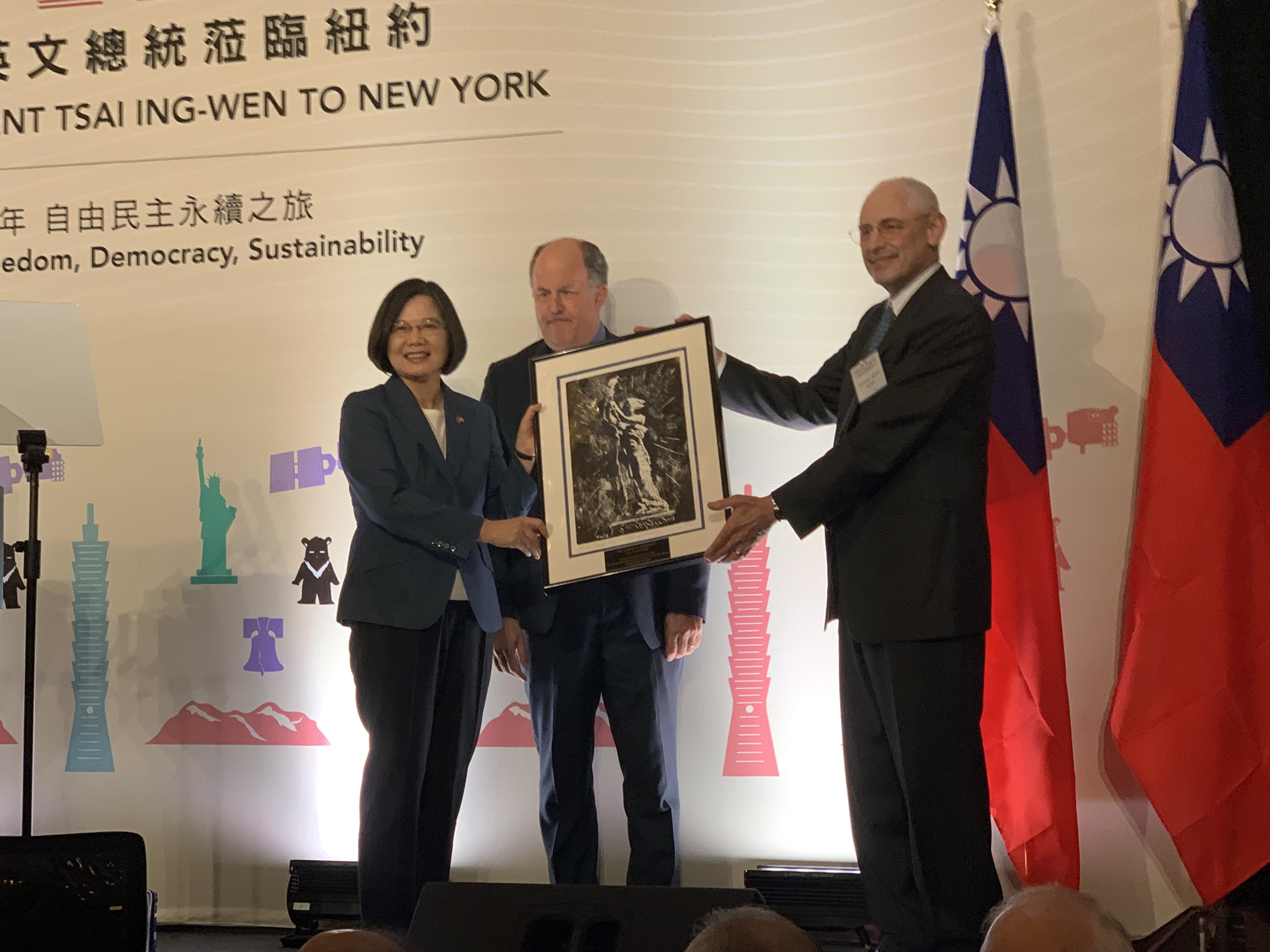 I was honored to join President Tsai Ing-wen last year in Taiwan at the celebration of the 15th anniversary of the Taiwan Foundation for Democracy (TFD), the National Endowment for Democracy's partner institution in Asia. I paid tribute to her then as an important leader for democracy in Asia. As the first woman to beelected President of Taiwan, she represents the extraordinary progress Taiwan has made in building a dynamic, stable, and successful liberal democracy.
Taiwan has a special voice and unique perspective in addressing the crisis of democracy in the world today, especially the challenge posed by China, which presents itself as an alternative model of authoritarian development and poses a growing threat to democratic norms and U.S. security interests.
Taiwan is an inspiration to people in other Asian countries – and non-Asian countries as well – who are fighting for democracy. A young Vietnamese whom I met at the conference last year of the Taiwan Foundation for Democracy, who was studying at the National Chengchi University, explained to me three compelling reasons why Taiwan's successful model of democracy inspires democracy activists like himself.
The first, he said, is that the example of Taiwan as a successful Confucian democracy counters the argument used by apologists for dictatorship in Vietnam that hierarchical Asian societies cannot become democracies and respect individual human rights.
The second is that as a small country threatened by the large neighboring dictatorship of China, Taiwan's example counters the argument that a small country must accommodate its large neighbor, which it should not provoke by becoming a democracy.
And finally, he said, as a stable and successful new democracy, Taiwan's example helps counter the argument used by apologists for authoritarianism who point to the Arab Spring or to backsliding Asian countries like Thailand and the Philippines to claim that democracy brings chaos. Taiwan shows that democracy can bring economic progress and human fulfillment.
People in Taiwan might not realize that their model is looked to in this way by democrats in a country like Vietnam. But it is, and this is an important way in which Taiwan projects its influence in Asia and beyond. President Tsai is a leader who has the stature and credibility to promote Taiwan's democratic influence internationally.
We all know that China threatens Taiwan in many different ways. Instead of backing down, though, Taiwan has responded by strengthening its own democracy. It offers a model of democratic courage and determination at a time when many democracies lack the will to defend democratic values.
Taiwan's strong alliance with the United States strengthens its security. But in the end, the decisive determinant for Taiwan's survival is the will of the Taiwanese people – forged in the battle for democracy, toughened by adversity, and strengthened by an increasingly vibrant and participatory civil society, economy, and democratic political process.
President Tsai has called Taiwan "a model citizen in global civil society." It is actually much more than that. It is an inspiration for those who aspire to democracy, a partner for democracy advocates and practitioners around the world, and an agent for democratic change at a time when democracy is under assault and even its traditional friends and spokesmen are beset by doubt.
That a small and beleaguered country can play such a role, directly and through an institution of democratic solidarity like the Taiwan Foundation for Democracy, and by the example of President Tsai's outstanding leadership, enables us to take hope that democracy, despite all the obstacles and adversaries it faces, will in the end prevail.