Empowering Youth to Engage in Sudan's Democratic Transition
Regional Centre for Development and Training of Civil Society, 2020 Democracy Award Winner
The Regional Centre for Development and Training of Civil Society (RCDCS) trains hundreds of youth across Sudan on democracy, activism, and local engagement. Currently the organization works to formalize pathways for younger people to engage and be heard by government decision-making processes and political parties, and supported neighborhood committees to maintain citizen engagement during the country's transitional period. 
"Most of the youth who took a leading part in the revolution, they had been trained in the Regional Centre—whether through our benefit work in institution building, whether in civic education about democracy, about conflict resolution, about peaceful resistance," says Dr. Mutaal Girshab, President of RCDCS. 
RCDCS was originally founded as the Institute for the Development of Civil Society (IDCS) in November 2006. IDCS undertook research, capacity building, and training programs related to youth civic education, political participation, and democracy promotion. Following intimidation and harassment from the Humanitarian Affairs Commission, which regulates civil society organizations in Sudan, IDCS closed and re-registered as RCDCS in February 2013. 
Now RCDCS continues to strengthen and empower youth and civil society organizations to play a more effective role in achieving peace, democracy, and sustainable development in Sudan. "These are the areas [in] which we would like to see that young people in the new Sudan can have a really good kind of political participation—whether in their own political parties, or whether having a leading role in the parties, or as a watchdog for the local governance," explains Dr. Girshab. "Not all civil societies have given enough room for the young people to lead."
Abdel Mitaal Mohammed Ahmed Girshab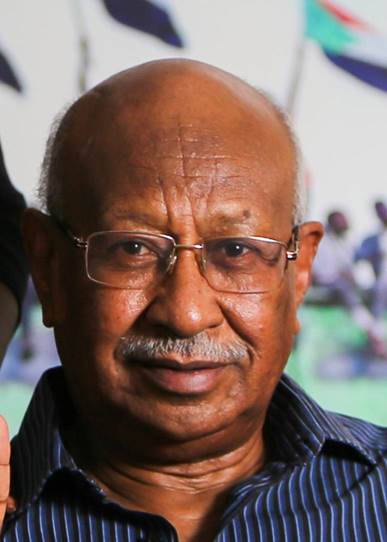 Abdel Mitaal Mohammed Ahmed Girshab
is the director general of the Regional Centre for Training and Development of Civil Society (RCDCS), a non-governmental organization based in Khartoum which works to strengthen and empower civil society organizations, to promote more productive state and civil society relations, and to further citizen participation in policies and decision-making that affect their daily lives. During his work at RCDCS, Mr. Girshab helped to create a network of non-partisan civil society organizations in northern Sudan to encourage free, fair and non-violent elections. He also helped to form a large alliance of Sudanese civil society organizations, institutions, and individuals committed to a transparent, inclusive, and participatory constitution-making process that reflects the diversity of Sudan and leads to a constitution based on democracy and fundamental human rights. Prior to joining RCDCS, Mr. Girshab previously worked at the International Secretariat of Amnesty International in London for 15 years as the Regional Development Coordinator for the Middle East & North Africa (MENA) region and was a Fulbright visiting professor to Clemson University. 
Read Abdel Mitaal Mohammed Ahmed Girshab's 2020 Democracy Award Remarks.
2020 Democracy Award Recipients
Sudan's Civil Society Honored