Be Bold For Change: Take Action to Make a DIFFERENCE
On this International Women's Day, we honor NED grantees who are "taking action to make a difference" for women around the world. Whether leading the charge to pass legislation against sexual harassment in Pakistan, or providing a voice for women before Bolivia's courts, NED grantees are leading advocates for women and women's rights, even in the most restrictive and authoritarian environments.
NED is proud to stand with these bold women as they Take Action to Make a Difference.
Zainab Bangura is the UN Special Representative of the United Nations Secretary General on Sexual Violence in Conflict. But much earlier in her career, she was a democracy activist in Sierra Leone, where she served as Executive Director of the National Accountability Groups, Chair and Co-founder of the Movement for Progress Party of Sierra Leone, and Coordinator and Co-founder of the Campaign for Good Governance. She was targeted for assassination for her forceful stand against war atrocities, and withstood political pressure for her work against corruption. She received NED's Democracy Award in 2006, and currently serves on the Steering Committee of the World Movement for Democracy. Learn more about her story in this #IWD special video.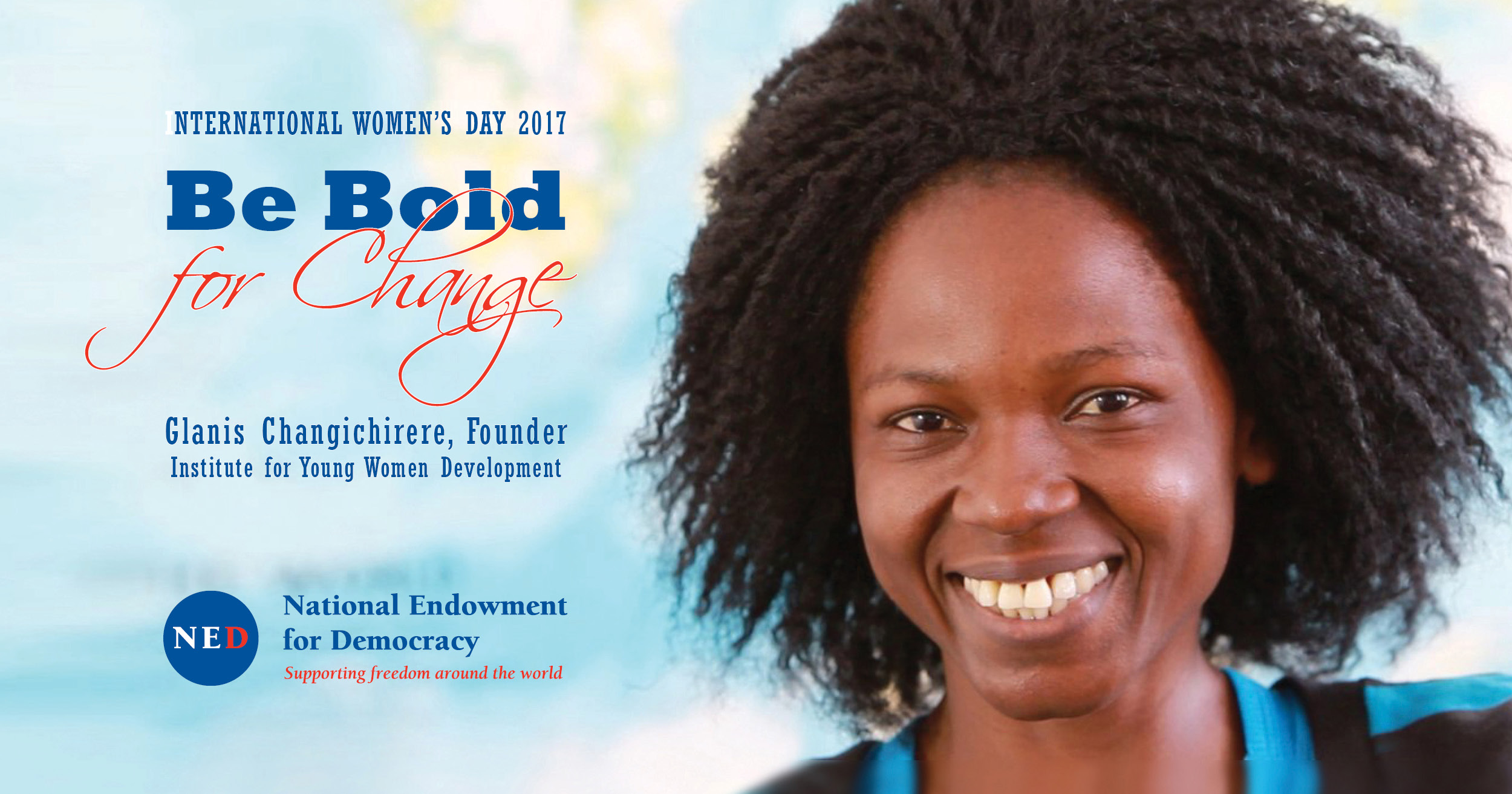 Glanis Changachirere is the Founder and Director of the Institute for Young Women Development in Zimbabwe (IYWD).
The organization provides a platform "where young women can organize and come together to live a life where they have a choice in how to lead their lives and have a sustainable livelihood." IYWD targets the most marginalized to participate: young women who live in rural communities and work in farming and mining.
Glanis became involved in her crusade for women's rights as a result of her strong desire to receive an education. She defied the norms of a highly patriarchal society and enrolled in university where she joined the Student Representatives' Council as the only woman. She says she joined the student movement to fulfill her desire to say that "women are equal to our male counterparts and can equally represent their fellow students." Watch Girl Child, the World Movement video about Glanis's work.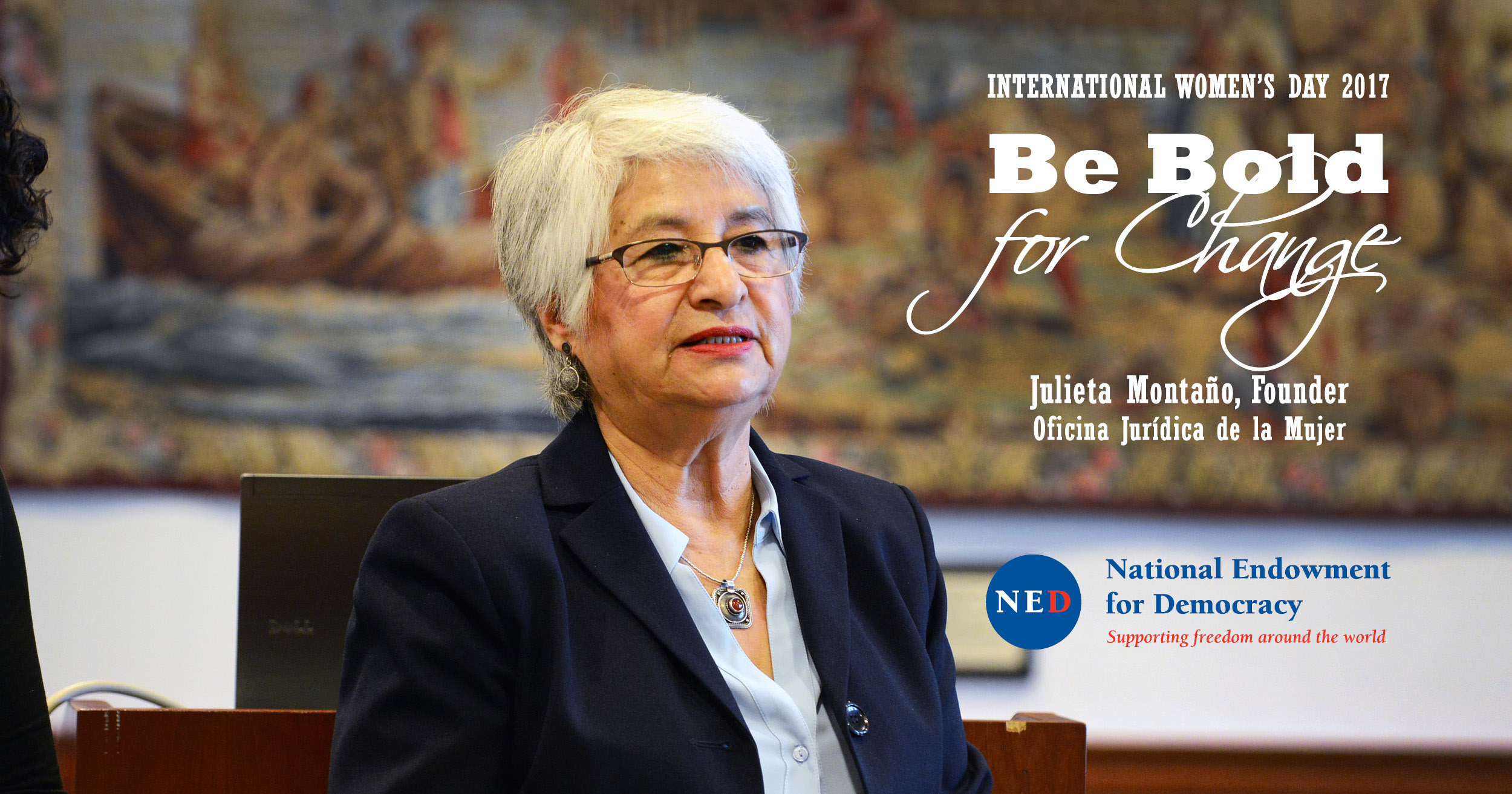 Julieta Montaño is the founder of Oficina Jurídica de la Mujer (OJM).
The organization works in Cochabamba, Bolivia, and promotes women's rights as a pillar of democratic development, offering legal assistance to women in cases of rape, sexual assault, and domestic abuse.
With NED support, OJM litigates significant women's rights cases and works with the judiciary to ensure that Law 348, which criminalizes violence against women, is enforced. To this end, OJM drafts petitions and press releases condemning anyone not brought to justice when found in violation of Law 348 – including politicians like former Santa Cruz Mayor Percy Fernández. Documenting the situation of vulnerable women, including women prisoners and police officers, OJM regularly produces shadow human rights reports, presenting them before the United Nations Human Rights Council, as well as the Inter-American Commission on Human Rights. OJM is considered one of the most authoritative voices on women's rights in Bolivia and Latin America. Read more about Julieta's work in Bolivia.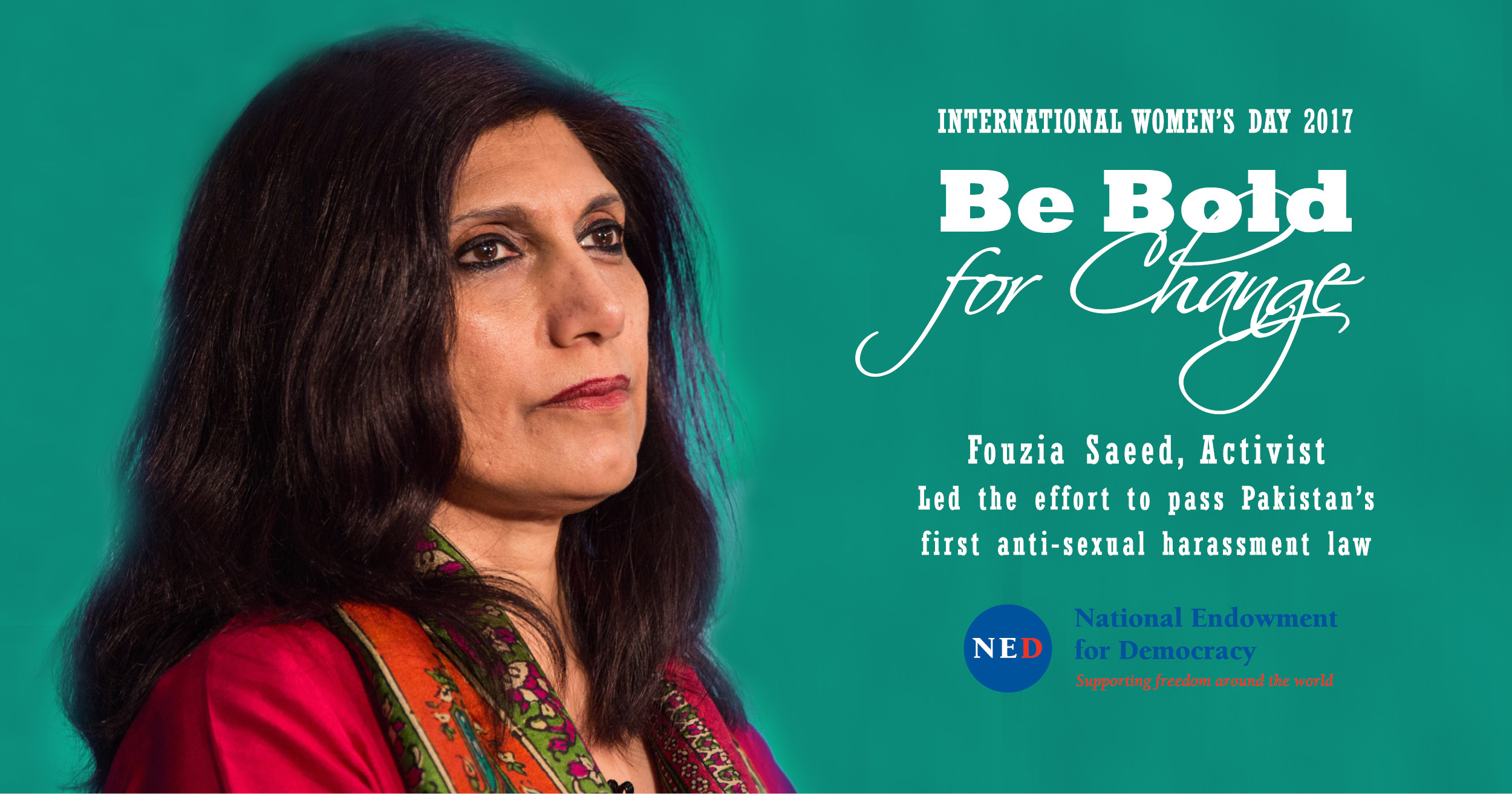 Fouzia Saeed led a nationwide alliance against sexual harassment in Pakistan.
The Alliance Against Sexual Harassment at the Workplace (AASHA) was an initiative of six organizations (Mehergarh, Action AID, Bedari, Interactive Resource Centre, Hawwa Associates, and Pakistan Institute of Labor Education and Research) committed to ending sexual harassment at the workplace. Though it took a decade of committed effort from hundreds of women, Fouzia's authorship of anti-harassment legislation, and her success in lobbying for its passage in 2010, gained recognition across Pakistan and set the foundation for future reforms.
When the AASHA movement started in 2001, no organization in Pakistan, other than the United Nations, had a sexual harassment policy. Under the law "Protection from Harassment at Workplace 2008," every organization is now required to have a sexual harassment policy in place. Watch I Was Not Alone, the World Movement video about Fouzia's charge against sexual harassment.