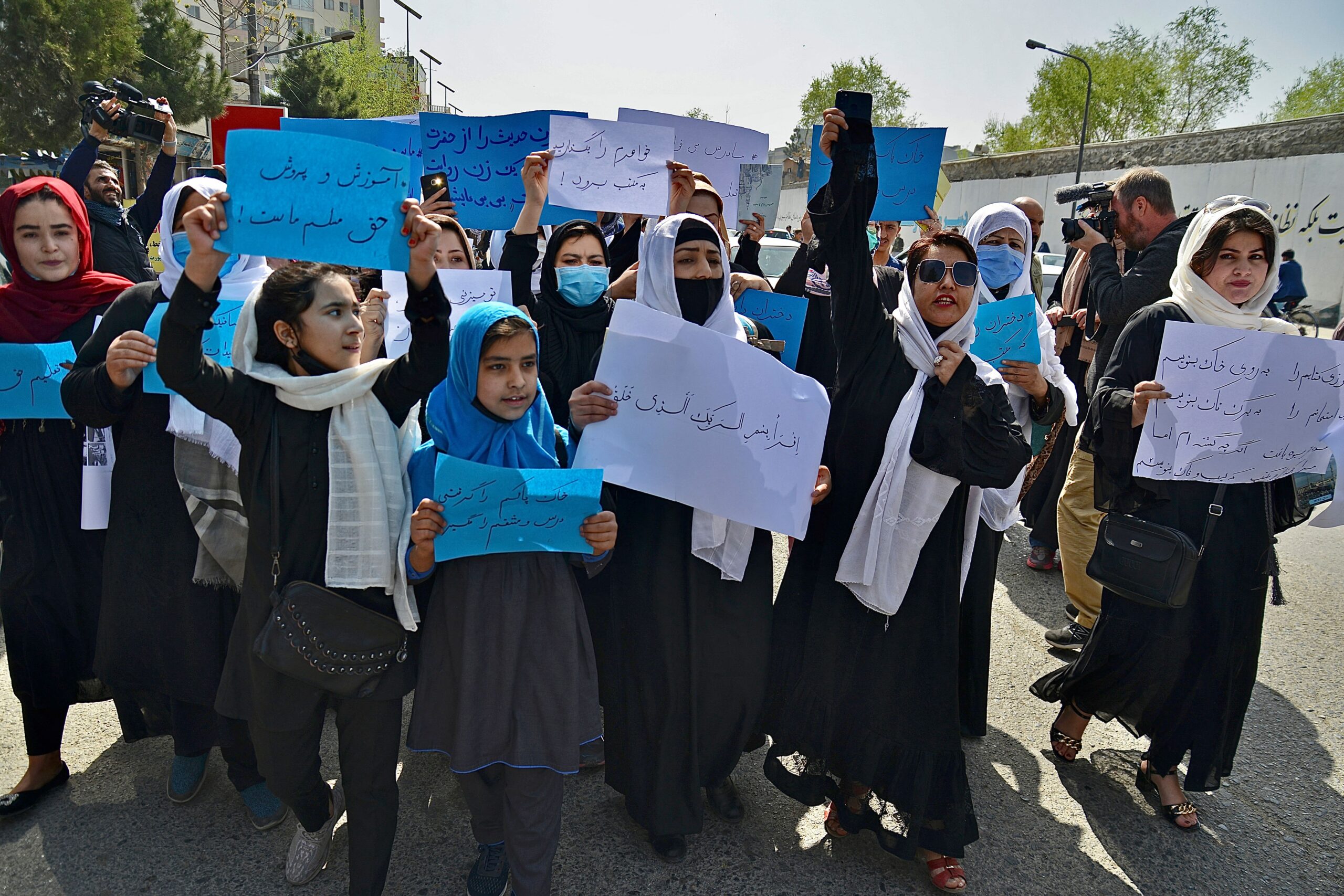 Last week, hundreds of thousands of girls re-entered classrooms across Afghanistan for the first time in seven months, only to be told a few hours later to go home until further notice. The announcement to close schools for female students above sixth grade quickly drew international condemnation of the Taliban for backtracking on their promise that all Afghan girls would be allowed to resume education. In response, more than two dozen women and girls demonstrated in front of the ministry of education in Kabul on Saturday—the latest women-led protest since the Taliban took control in August 2021.
"Afghan women are fighting heroically," said Faezeh*, one female rights activist from southern Kandahar province, the birthplace of the Taliban, wrote to the National Endowment for Democracy (NED) in an email. "This struggle [is] for obtaining their basic rights within the framework of Islamic law and the traditional culture of society." (Read more about the importance of education for girls in Afghanistan.)
When the Taliban seized power, women immediately marched day after day on the streets of Kabul, Herat, Kandahar, and other cities across Afghanistan for access to education and careers, participation in government, and other equal rights. The Taliban banned unapproved protests or slogans, yet the peaceful demonstrators continued, facing harassment, tasers and tear gas, beatings, imprisonment, or forced disappearance. Many journalists covering the protests also have been arrested and tortured.
"The Taliban began to detain and torture journalists, civil society [members,] and women activists to silence the voice of freedom and truth," said Samira, who facilitates networking among women in Afghanistan for collective advocacy work, to NED through audio message. "But these unlawful actions were not hidden from the lens of journalists because the media is now vibrant and strong."
Although returning to a changed Afghanistan with more-educated and informed citizens than during their last rule, the Taliban has rolled back many democratic gains from the past two decades: pushing women out of many government jobs, forbidding them from traveling or boarding planes without male escorts, ordering strict dress codes, closing classrooms, segregating public parks, prohibiting cell phone use in universities, and taking other measures to limit the country's nearly 20 million female citizens.
"As it is obvious, with the change of the political system of Afghanistan, the inefficiency of the governmental and non-governmental system, and the misogynistic society of Afghanistan, women are deprived of political, civil and economic participation, marginalized to the extent that their human rights and individual freedoms are endangered and taken away," continued Faezeh.
Fokal, a female activist in the northwestern Badghis Province, wrote to NED through email, describing how the Taliban have been searching homes of those suspected of dissent without a warrant or uniform. "They enter the houses without any prior notice or permission, instill fear in the hearts of the citizens and turn the whole house upside down, leaving the house like the remnants of the war, then departing." (Watch evacuated Afghan partners paint a mural in Albania.)
Despite the danger, Afghan women keep speaking up. "Women across Afghanistan tell us that they have no choice but to speak up for their rights and to keep taking steps toward defending and preserving their hard-won democratic achievements, against all odds" said Khalid Majidyar, regional expert and senior program manager for NED's grant-making programs in Iran, Turkey, Iraq, and Afghanistan. "NED has supported civil society groups in Afghanistan since 1984, including during the first Taliban rule in the 1990s, and remains committed to providing assistance for activists inside the country defending freedom and human rights for all citizens, including women."
As the Taliban denies girls the right to education, women vow to stage protests across the nation until their demands are met. "Denying a woman is denying half of the body of society," said Faezah of the need for representation and participation of all citizens for sustainable democratic progress. "A country, as long as it does not involve women in the work and development of society, will not achieve healthy progress and prosperity."
* Names and locations of Afghan women were changed for security reasons.